"Your account has been disabled in the App Store and iTunes". When this pop-up appears in front of your eyes, it means that you are unallowed to use the App Store to download or buy apps, use iTunes to download music, and all the services required Apple account are not available. With this prompt, you can do nothing but make and receive phone calls, which is a disaster for people living in modern society. In order to fix this severe issue, this article explains the main reasons causing this issue, provides seven feasible ways and other answers to the questions you may care about.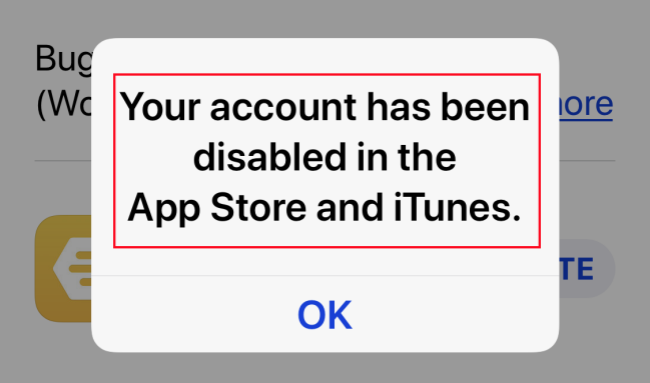 Part 1. Why Account Has Been Disabled in the App Store and iTunes
After knowing the probable reasons, you can find the proper method to troubleshoot the main problem of your Apple account. The common situations you may encounter are listed below.
Too many wrong attempts to enter your Apple ID.
Your Apple ID is treated as an abandoned account because you have not been logged in for a long time.
Restrict the purchases in the App Store or iTunes.
You are locked out for security reasons, which include that Apple suspects your account is compromised.
Unpaid bills or unavailable payment methods prevent you from using your Apple account.
You dispute the charges in the App Store or iTunes so that your account is disabled.
Part 2. 7 Methods to Fix Disabled Apple Account
2.1 Check Restrictions
There is a possibility that you enabled the restriction of purchases in the App Store and iTunes to avoid someone else making purchases on your account. To check this, go to Settings, scroll down to Screen Time, tap Content & Privacy Restrictions and enter your Screen Time passcode to toggle the first switch off. Or if you want to keep it enabled, choose iTunes & App Store Purchases to see whether the inner functions are allowed. If there is a Don't Allow option, you need to change it.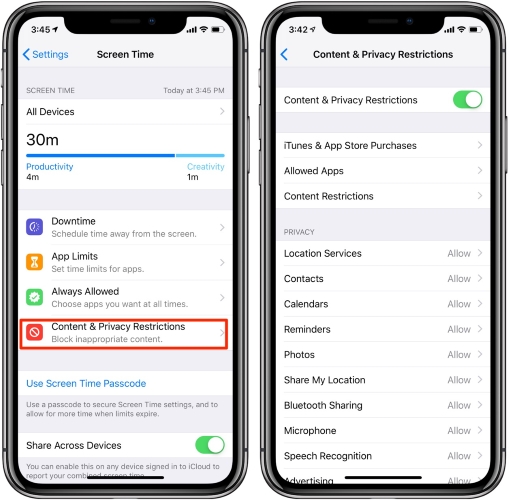 2.2 Check Payments
Check Unpaid Bills

If there exists an unpaid bill on your App Store or iTunes, or you didn't reply when the other Apple devices you organize requested to buy an application or music, this error will occur. Thus, you should troubleshoot if you paid for all the purchases, like Apple subscription or media purchases; iCloud storage, in-app purchase, etc. Head to Settings, choose your Apple ID, tap Media & Purchases, and select View Account. Then enter your Apple ID password to sign in, locate your Purchase History, and find the unpaid bills to complete your payment.

Check Family Member Purchase Request

In the other situation where a family member makes a request to buy something, you need to enter Settings, choose your Apple ID and tap Family Sharing. Then you can check if there are unpaid bills on the following screen. If it does, allow it or decline it.

Check Payment Methods

Besides, improper payment methods also affect your Apple account. It is essential to check and update them. Follow the steps mentioned earlier, enter the Apple ID interface, choose Payment & Shipping, and here you need to enter your Apple ID password. Then, change or update your credit cards on the Payment Methods screen. Or, you can tap Add Payment Methods to add a new card.
2.3 Login with Apple Account on Browser
There is another way that requires you to sign in with your Apple ID on the browser. Or if you possess other iOS devices, you can try to log in with them. This method is going to check whether the same error occurs in other places. If it does, perhaps you need to try other solutions.
2.4 Sign out and Sign in to Apple Account
If you sign in to your Apple account on too many devices, or the same problem stands when you log in to other devices, you'd better sign out of it or remove the devices bound to your Apple ID. Visit icloud.com for logging in with your Apple ID. Choose Account Settings, and delete the device you want to remove under the My Devices module. After removing all the devices, you could sign in again to examine whether your account turns to a normal state.
2.5 Wait for 24 Hours and Reset Password
Confronting the message "Your account has been disabled in the App Store and iTunes", it is not necessary to worry too much. Since there may be some bugs in the iOS system, you could put your iPhone or iPad aside and wait for about 24 hours if you indeed have no idea of the true reason. Then open your device again to see whether it can be used as usual.
If it works badly, you can try to reset the password of your Apple ID. Navigate to Settings, tap Apple ID, scroll down to Password & Security and choose Change Password. Here you are required to enter your screen passcode and then set a new password for your account. After that, you need to sign out of your Apple Store and iTunes, and sign in again later.
2.6 Unlock Apple Account
I guess that multiple wrong attempts come from you forgetting the password. To solve this problem, the only way is to unlock your Apple ID. There offers you two ways to remove your Apple account, and you can choose a more suitable one based on your situation.
Unlock Apple ID via iForgot
Step 1: Visit https://iforgot.apple.com
Step 2: Enter your Apple ID and click the Continue button
Step 3: Enter your phone number to make confirmation and continue
Step 4: Choose another Apple device to receive a notification
Step 5: Enter the verification code shown on your device
Step 6: Set up a new password
Unlock Apple ID by Joyoshare iPasscode Unlocker
Another effective way to remove your Apple ID and fix the issue, your account has been disabled in the App Store and iTunes, is to ask a third-party software for help. Joyoshare iPasscode Unlocker plays an efficient role in unlocking Apple ID without losing data. With high compatibility, it supports all modes of iPhone, iPad and iPod touch. In the meantime, the latest iOS 17 and iPadOS 17 are both available. This program ensures you 100% safe and a high rate of success, which is able to eliminate your scruple.
Main Features of Joyoshare iPasscode Unlocker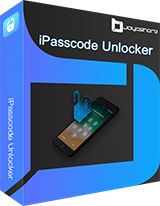 Compatible with all modes of iPhone/iPad/iPod touch
Support the latest iOS 17/iPadOS 17
Remove iOS screen lock, Screen Time passcode and MDM restrictions
Step 1

Connect Device to Computer

Connect your iPhone/iPad/iPod touch to your computer via a USB cable. Then, run Joyoshare iPasscode Unlocker. During this period, your device will be detected automatically. Choose the Unlock Apple ID section on the main interface.

Step 2

Confirm the Status of the Find My Feature

Under the disabled Find My feature, you can go straight to click the Start button skipping to the next step.

Under the situation where you enabled the Find My function, two features are required to be set up - the screen lock and the Two-Factor Authentication. Then, click the Yes button orderly so that you are able to enter the next screen.

Step 3

Unlock Disabled Apple ID in the App Store and iTunes

Check the information details of your device. If there is a mistake, remedy it on the drop-down list. After your confirmation, click the Download button to get the matched firmware package. Then it will remove your disabled Apple ID.
2.7 Contact Apple Support
If all the solutions provided above are invalid, you may consider contacting Apple support. Visit https://support.apple.com/contact, choose Apple ID, click Disabled Apple ID, select the topic " 'Your account has been disabled in the App Store and iTunes' alert" and click the Continue button. Then you will guide to an interface providing chat service and call service. You can choose one way to contact someone in Apple support.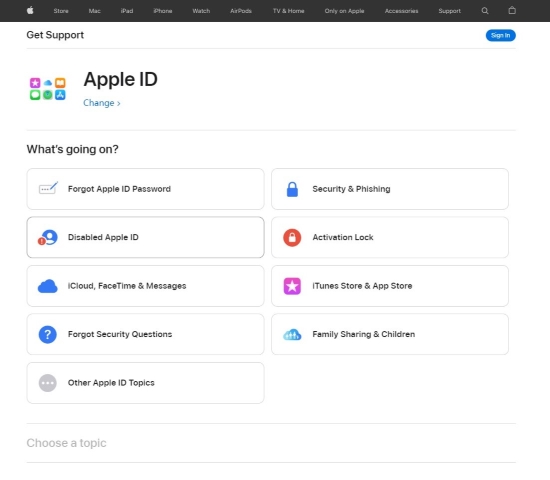 Part 3. Summary
Aiming to fix the issue – your account has been disabled in the App Store and iTunes, this post explains the probable reasons so that you can troubleshoot the real cause of your disabled Apple ID. Whereafter, seven feasible methods are offered to resolve your problem. Most importantly, the final method, unlocking Apple ID, is the quickest way to recover your Apple account to a normal state. No matter visiting Apple's website or use Joyoshare iPasscode Unlocker, you can opt for the suitable one in terms of your own situation. If you still have questions about this issue, you can get answers at the end of this article or leave your comment to us.