The advancement in technology in the multimedia industry has made audio recording far easier, convenient, and cheap - you do not need to book a recording session with a recording studio. All you need is a computer and a free MP3 recorder to capture audio in MP3. While the Internet provides us with a plethora of such freeware, choosing the best software can be overwhelmingly difficult. If you have a problem deliberating on the best free MP3 sound recorder software to record your new song, then this article is for you! We will offer a list of the top 11 best software available on the Internet.

Top Recommendation: Joyoshare VidiKit (Windows & Mac)
Joyoshare VidiKit - Audio Recorder is the ultimate and decent tool for Mac and Windows. It is designed to help professionals capture audios from popular music sites, radio stations, microphones, online chatting platforms, among other external output devices. It comes with a high-end trimming and equalizer sounds feature to enrich your output audio file. Besides MP3, this professional software supports output formats, including AC3, AAC, M4B, etc. It allows you to fix ID3 tags for audio recordings, making them easier to organize.
Key Features of Joyoshare VidiKit: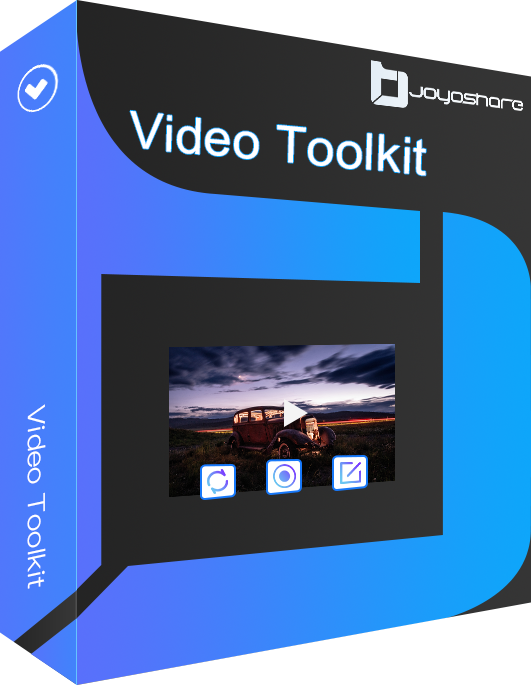 Schedule a recording task in advance
Record MP3, WAV, FLAC and more without time limit in high quality
Support popular input and output audio formats
Fix ID3 tag, trim recordings, filter silent audios and apply effects
Reset codec, sample rate, channel and bit rate, record screen, manage playlists, and more
40% Off Coupon Code: MECC40ASP
[Valid until Oct 31]
1. Free Sound Recorder
As the name depicts, Free Sound Recorder is a MP3 recorder free for both Mac and Windows users. This tool helps users capture sounds for streaming audio broadcasts, Skype, YouTube, and any other audio. Most conveniently, it allows you to schedule recording from any sources at any one given time. It has a preset quality that lets you to alter output audio quality for the best possible performances. It also has an array of audio effects that help you enhance your MP3 audio output quality.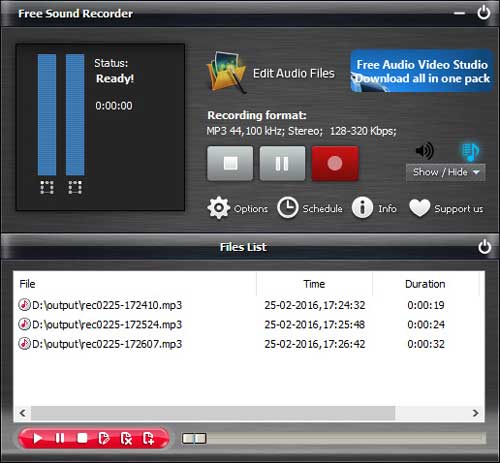 Supported OS: Windows, Mac
Pros:
Easy to use
Lots of effects to enhance quality
It's absolutely free
Cons:
2. Wavosaur
Wavosaur is a MP3 voice recorder free for Windows users only. It has a cool audio toolbox that enables you to record audio to MP3, process, edit, and convert them to your preferred audio output. Wavosaur stands out as a profound audio recording tool following its vast audio processing abilities - even when compared to many premium recording tools. This free audio recording software has no installer and does not write registry, thus providing it with smooth running on Windows PC.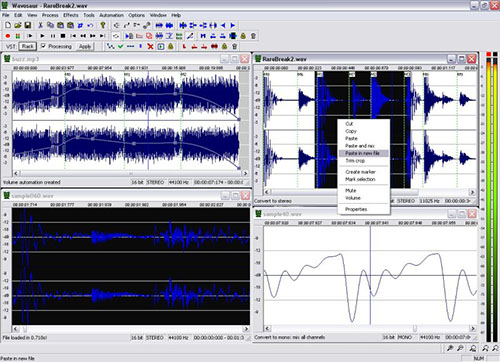 Supported OS: Windows
Pros:
Supports VST plugins
It has a deep audio editing toolbox
Easy to use
Absolutely free
Cons:
Available only for Windows OS
3. Online Voice Recorder
If you are looking for a web-based free MP3 voice recorder, then Online Voice Recorder should feature at the top list. It allows users to record their voice using a microphone for free. The tool assures your privacy, meaning that you are the only one who can access your recorded audios - no recorded audio file is uploaded to their servers. For quality recording, it allows you to adjust microphone settings to reduce echo or increase volume.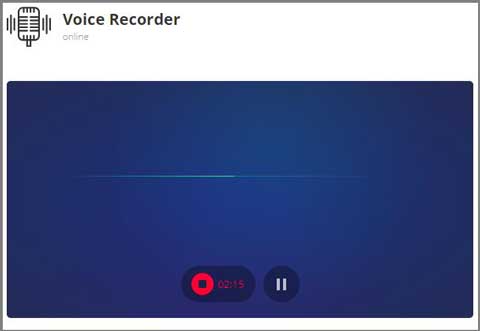 Supported OS: Windows, Mac
Pros:
Does not require installation
It is basic and easy to use
Guarantees quality audio recording
It has a robust privacy policy
Cons:
Requires strong internet connection
It has only basic editing tools
4. Apowersoft Free Online Audio Recorder
This is an all-powerful MP3 audio recorder free that allows users to record audios from streaming sites, in-game sounds, voice chats, among other sources. Apart from MP3, Apowersoft Free Online Audio Recorder also supports a whole range of audio format outputs, including WMA, AAC, FLAC, M4A, OGG, and others. It is also possible to fit ID3 tags to your output audio for easy recognition and organization.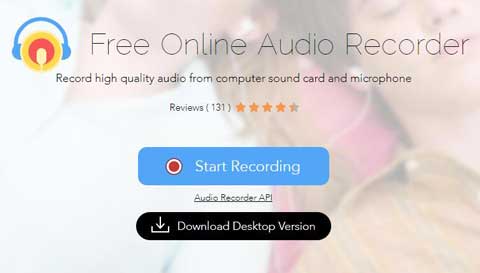 Supported OS: Windows, Mac
Pros:
No limits
Versatile and simple
Highly customizable
Cons:
Requires a plugin
Limited editing features
5. Audacity
It is a professional, cross-platform, and free MP3 recorder with an upgraded inbuilt panel that empowers users to record audios in MP3 formats. Besides audio recording, the application is fitted with a high-performance editing toolbox that allows for batch processing and editing of multiple tracks simultaneously. As you do the editing, the program allows for real time preview and close monitoring of the audio frequencies through its rich Spectrogram view mode.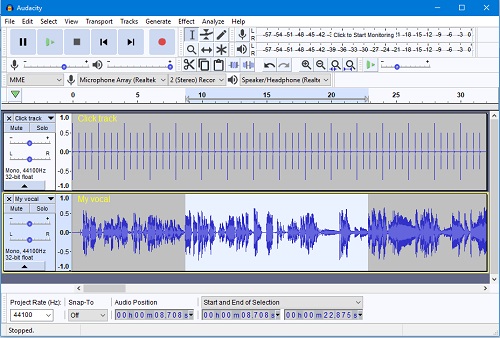 Supported OS: Windows, Mac, Linux
Pros:
Supports VST plugin
It has an intuitive interface
It has a variety of sound effects
Cons:
Noise reduction feature requires upgrade
Some features are hard to understand
6. Cok Free MP3 Recorder
Designed to run on Windows PCs only, Cok Free MP3 Recorder is a free MP3 sound recorder available for personal and professional use. The program records audio from a whole range of audio sources - mention it, and the application will get the job done for you! The saved audio files are organized to the time of record, making it easy to trace their records. Literally, this tool has a basic layout that makes it easy for beginner users to navigate and execute action.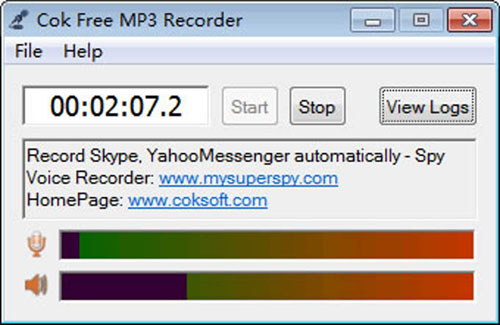 Supported OS: Windows
Pros:
Simple to use
A clean interface
Records from a range of sound sources
Cons:
Limited operating system compatibility
Interface needs updating
7. Ocenaudio
If you are an amateur musician or podcaster, then Ocenaudio free MP3 recording software will certainly work best for you. The program is simple to use and has fewer professional features that make it easy to learn and use. Besides recording, Ocenaudio has rich editing features that will help enhance the quality of your MP3 audio.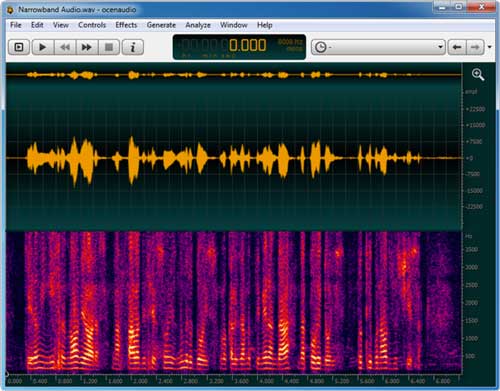 Supported OS: Windows, Mac, Linux
Pros:
Intuitive interface
It allows users to record the screen
Sound spectral analysis is highly advanced
Cons:
Work rate can be relatively slow
8. Audio Hijack
Developed by Rogue Amoeba Software, Audio Hijack is exquisite free MP3 recorder software. Unfortunately, this tool is only available for Mac users. For the record, this application has vast and unique features making it a favorite recording tool for podcasters across the world. It allows users to burn recorded audios on CDs. In addition to this, the program has deep editing tools that make it fun to use.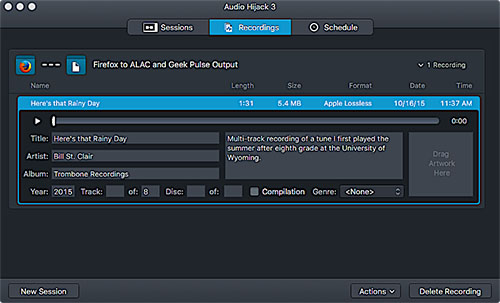 Supported OS: Mac
Pros:
Supports all major audio formats
Allows for real time preview
Can easily be personalized
Cons:
Processing options are less than other programs
It only available for Mac
9. Ardour
It is an excellent free MP3 recorder workstation designed for audio engineers, musicians, composers, and amateur users. Ardour is an open-source, versatile, and cross-platform application available for most conventional operating systems. This program has a nice interface, a versatile editing tool that allows users to stretch, copy, paste, crossfade, rename audio files to the preferred qualities.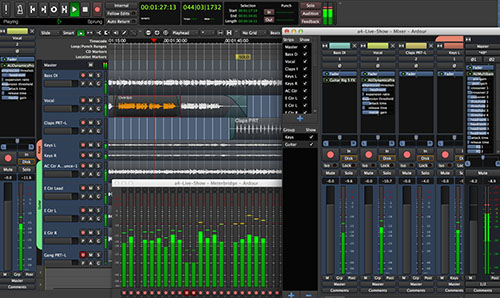 Supported OS: Windows, Mac, Linux
Pros:
It has a simple user interface
Allows users to create their midi instruments
It has a drag and drop feature, which makes it easy to import files
Cons:
Due to its many plugins, it is sometimes difficult to find an appropriate plugin
10. Vocaroo
Vocaroo is here a simple-to-use online free MP3 recorder. It has the ability to record audio from microphone and save as MP3. The interface is quite intuitive so that everyone can operate it without skills. It even functions to eliminate background noise and adjust the volume automatically.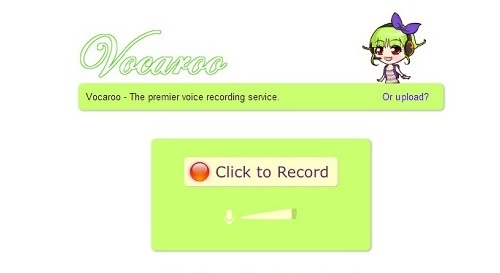 Supported OS: Windows, Mac
Pros:
Easily record sound in MP3
Remove background noise handily
Share recorded file to Facebook, Twitter, email, etc.
Cons:
Only capture sound from microphone
11. Rev Online Voice Recorder
Rev Online Voice Recorder is a free MP3 recorder online with good compatibility to Google Chrome browser on your desktop, Android, and Safari on iPhone. It captures sounds from your microphone and shows real-time audio wave. The recording process is quite simple. You can furtherly rewind, fast forward, trim and play audio as you wish. There is a "Transcribe" feature it offers to help transcribe recording to text, which however, is paid.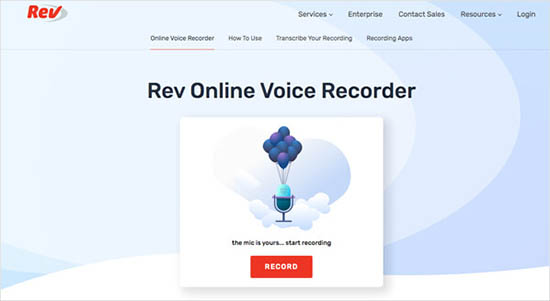 Supported OS: Windows, Mac
Pros:
Simple to record and download MP3 files
Support basic trimming
Cons:
Only save recordings in MP3
Conclusion:
The above list is a detailed roundup of some of the best free MP3 recorder software available today. The software have been tested and progressively proven to be effective and efficient by most users across the globe. If consumer reviews are anything to go by, then we can ascertain that you now in possession of the best available options to choose from. You should always make sure that your choice of sound recording software aligns with your needs - it is how you get the best software for yourself!