The automatic deletion of messages has been one of Snapchat's most enticing features. When the sender and receiver leave the chat, all messages are automatically deleted. By doing so, you can greatly ease privacy concerns while letting your friends know about your most private moments without leaving a huge digital footprint.
You might find a memorable conversation with loved families or contact information for a client, or perhaps you will find information that can prove useful in a legal matter. So how to recover Snapchat messages on iPhone? Here's the complete guide to solving it.
Part 1. When Does Snapchat Delete Chats/Snaps?
One thing to note, especially for new users, is that the Snapchat server doesn't hold your data forever. Both your chats and snaps can be removed under certain circumstances.
For chats (messages): once the messages are checked and read by you, the server will delete them immediately by default. However, you can go to "Chat Settings" → "Delete Chats" to set "24 Hours after Viewing" so that they will be erased at this specified time. If you haven't opened or checked the messages for 30 days, the Snapchat server will trash them automatically.
For snaps: the snaps from Snapchats will be deleted automatically likewise once each recipient opens and reads them. However, if they are left unchecked within 30 days from the date of sending and receiving, the server will trash them too.
Part 2. How to Recover Deleted Snapchat Messages on iPhone
Option 1. The Best-in-Class Tool – Joyoshare iPhone Data Recovery [Easy & Effective]
Using a third-party data recovery tool – Joyoshare iPhone Data Recovery to recover deleted Snapchat messages on iPhone with a high success rate. With its help, you can get the deleted Snapchat messages back from iPhone, iTunes, and iCloud backups. What's better, it applies to diverse scenarios, including virus attack, mistaken deletion, factory reset, jailbreak, water damage, etc.
Key Features of Joyoshare iPhone Data Recovery:
Recover messages, photos, videos, and documents from Snapchat
Support Kik, WhatsApp, Viber, and more possible social apps
With three ways to restore from the device itself, iTunes and iCloud backups
Strong compatibility to iPhone 13, iPad Pro, iPod touch 5, iOS 15, etc.
A superb option to preview data before recovery and selectively find messages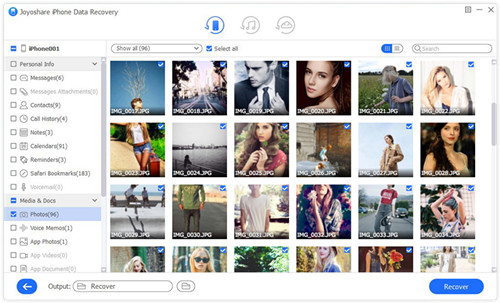 Step 1

Set "Recover from iDevice" Mode

Follow the instructions to quickly install Joyoshare iPhone Data Recovery on your computer. By default, you will start with "Recover from iDevice" mode after it launches. As prompted, connect your iPhone and authorize the "Trust" device.

Step 2

Scan Data from iPhone

After your iPhone is detected and recognized, its related device info will be shown. Also, you can see all supported data types. Simply leave all checked as they are, or you can only tick "Messages & Attachments", "App Documents", etc. to "Scan".

Step 3

Preview, Select, and Recover Snapchat Messages on iPhone

After scanning, there will be a clear classification in the left column. Now it's your time to look through them and mark whatever messages you need from Snapchat. Click on the "Recover" option to save it on the local computer.

Note: The modes, "Recover from iTunes" and "Recover from iCloud", are available to apply as long as you have backed up Snapchat data before data loss.

Option 2. Lodging a Data Request with Snapchat
Snapchat understands that you may want to view some of your messages after they have been deleted. In order to make data recovery easy, they have created a section on their website where you can access photos, texts, and videos shared through your account.
Here is how to recover unsaved messages on Snapchat:
Step 1. Sign in to the Snapchat My Data page by entering your credentials.
Step 2. The "My Data" page will automatically redirect you after signing in, where you can select which data items you wish to recover. Simply choose your desired items.
Step 3. Tap on "Submit Request".
Step 4. Once you submit a data request, Snapchat admins will immediately access your archives to find the requested data. A zipped file of the data will be sent to you via email.
Step 5. Right-click it and choose "Extract". You can now open a file titled "Mydata" in the folder containing the extracted files.
Step 6 Click the "index.html" file. The deleted Snapchat messages will now be available for viewing.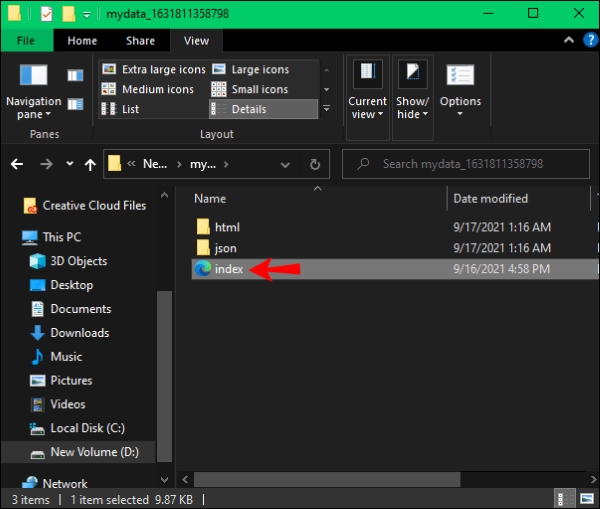 Option 3. How to Recover Unsaved Snapchat Messages on iPhone with File Manager
Have you ever wondered how to recover Snapchat messages on iPhone without a computer if they have been deleted by the server already? To be honest, all your deleted and unsaved old messages in Snapchat are renamed as .nomedia extensions, which are invisible for other apps. You can find them in your iPhone's memory by using a file manager.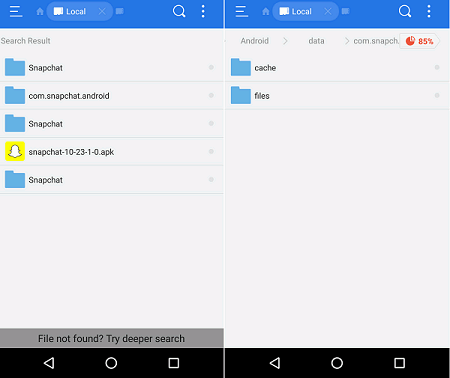 Step 1. Download and install (jailbreak) a file manager app on your iPhone;
Step 2. Launch the app and continue to find files with the .nomedia extension;
Step 3. Choose every file with this .nomedia extension;
Step 4. Now remove the .nomedia extension to rename all files so that you can view all unsaved old Snapchat messages.
Part 3. Save Messages on Snapchat Manually
Even though the Snapchat server will clean your messages and snaps automatically and permanently, you can get a simple way here to save these important messages. So, your Snapchat messages will not be erased.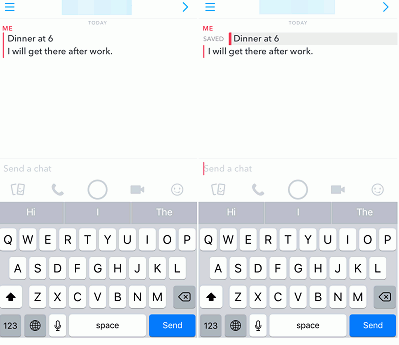 Step 1. Run the Snapchat app on your iPhone and log in to your account;
Step 2. After you're directed to the screen where you can send a snap, find the chat list by scrolling right the screen;
Step 3. Touch on "Chat" at the top-left corner, confirm the person you'd like to chat with, type in a message and "Send";
Step 4. Long-press the message you want to save, which makes it in bold text and colored grey, so that the server is unable to delete it.
Part 4. Conclusion
When you have read this article, you will know when your Snapchat messages will be automatically deleted. You can take precautionary measures to ensure that your Snapchat messages are not lost. Additionally, you already know how to recover Snapchat messages on iPhone. All of the methods we've discussed are simple, and you can try these on your own. But if you are searching for a shortcut, Joyoshare iPhone Data Recovery is the best and most specialized tool.