As one of the best social networking apps, Snapchat enables users to share their daily moments, stories, and entertaining content with friends, family, and followers. Whether it's its latest Snap Map feature or its exciting range of filters, Snapchat is attracting a large following. Just like WhatsApp and Facebook Messenger, you can also chat with friends and loved ones.
One of the most exciting features of the program is that you can have all data you send or receive including photos and videos automatically deleted after viewing or 24 hours. However, people continue to delete conversations mistakenly and sometimes intentionally. Did you ever accidentally delete a chat with a friend on Snapchat and want to recover it later? Throughout this post, Joyoshare will demonstrate how to recover data from Snapchat on iPhone devices in a comprehensive manner.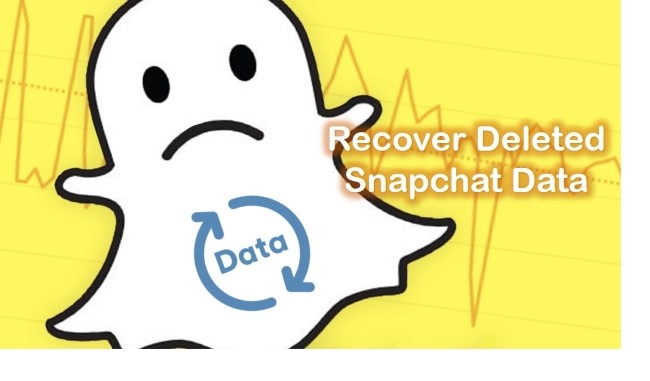 Part 1. Can You Recover Snapchat Data?
Whenever you lose Snapchat data, you're probably wondering if it's possible to recover it. The answer is YES. It is possible to retrieve deleted Snapchat data on iPhone. Actually, they are saved in the memories section of your phone where you can get access to them. Additionally, it is easy to recover deleted Snapchat data from your iPhone as long as you've backed up your device to iTunes or iCloud.
Part 2. Use the Top-Notch Data Recovery Tool – Joyoshare iPhone Data Recovery [Hot]
There are several reasons why data may be lost, including accidental deletion, software malfunctions, data corruption, or device problems. Whatever the reason, even if you do not have a backup, there is still a great chance of getting them back. Joyoshare iPhone Data Recovery is a very powerful tool that can easily recover and repair lost data from your iPhone, iPad, and iPod. To determine where your data was physically stored, it uses complex algorithms that scan pieces of data that are left on your iPhone storage disk. After it finds it correctly, the program will immediately recover your data. With it, users have successfully recovered Snapchat data on iPhone. If the deleted Snapchat data hasn't been overwritten by new data, data can still be restructured and restored in this original form by the program.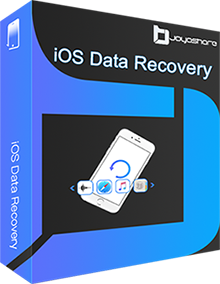 Fully compatible with the latest iOS version
Preview data files and selectively recover given data
Support retrieving 20+ types of data files
Have the ability to get data back from different situations
Follow the complete walkthrough you will know how to recover data on Snapchat to your computer quickly:
Mode 1. How to Recover Snapchat Data from iPhone Without Backup
Step 1

Install and Launch the Software on the Computer

Download and install Joyoshare iPhone Data Recovery on your PC or Mac. Connect your iPhone to the computer with a USB cable. Run the program. The main interface will automatically appear as soon as your iPhone is recognized. Choose the option "Recover from iDevice".

Step 2

Start to Scan Your Deleted Snapchats Data from iPhone

To let the program scan for Snapchat or other lost data, click on the Scan button. Depending on the amount of data on your device, the scanning process could take a few minutes. Be sure to connect the iPhone to the PC when performing the scan.

Step 3

Preview and Begin to Recover Your Data

The scan results will show both existing and deleted data after the scanning is completed. Clicking the "Only show the deleted" will only display items that have been deleted. Select the data you want. From there, click "Recover" to begin the recovery process. Your contacts will be saved to your computer by default.
Mode 2. How to Recover Deleted Snapchat Data from iTunes Backup
Step 1

Run Program and Set "Recover from iTunes"

Launch Joyoshare iPhone Data Recovery on a computer that you have synced backups to before data loss. Here you should choose "Recover from iTunes" on the top bar.

Step 2

Choose Needed Data Types to Scan

All iTunes backups will be shown in a list for your reference. Clicking the "+" button allows you to browse and select from the designated folder. Tap on its gear "Settings" icon to select the type of backup you want. Next click on the "Scan" button to proceed to the next step.

Step 3

Get Deleted Snapchat Data from iTunes Backup

The data you've selected will be scanned and classified. View your files one by one and mark the data you wish to "Recover" to your computer.
Mode 3. How to Recover Data on Snapchat with iCloud
If you have turned on the backup feature for Snapchat on your iPhone, you might as well recover the backup data from iCloud.
Step 1

Select the iCloud Recovery Mode and Log in to iCloud

Get Joyoshare iPhone Data Recovery and run it. Then, you'll be presented with a pop-out window, select "Recover from iCloud" from the top toolbar. Enter your iCloud login credentials and you'll be taken back to the iCloud recovery window.

Step 2

Download and Extract Snapchat Data from iCloud Backup

The access to the backups will be displayed on your screen. Select the one you need and download it. Afterward, tap the "Setting" icon beside the backup you just downloaded, then select the file types you want and click "Scan".

Step 3

Recover Deleted Snapchat Data on iPhone from iCloud Backup

The program allows you to preview scanned files after scanning is complete. Select all Snapchat data or some of them and restore them by clicking the "Recover" button.
Part 3. How to Look at Deleted Snaps on Snapchat and Recover them
Step 1. Open the Snapchat My Data page on your iPhone.
Step 2. You must now log in with your username/email address and password to access your account.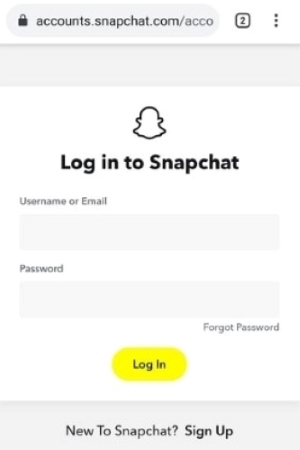 Step 3. Your My Data page will open once you have logged in successfully.
Step 4. The Submit Request button at the bottom of this page allows you to ask Snapchat to download your account data.
Step 5. As soon as your request is submitted, the team will start preparing your data. You will receive an email once your data is ready.
Step 6. Simply tap the "click here" link in the Snapchat email you received.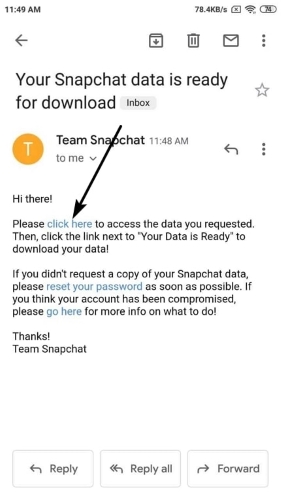 Step 7. You will be directed to the My Data page, where you should tap the mydata.zip link. Your device will begin to download the zip file automatically.
Step 8. Mydata.zip should be extracted on your iPhone device, and then you will get a new folder.
Step 9. To view deleted data, go to that folder and open the index.html file.
Step 10. Following that, you will see all of the Snapchat data you have made from day one.
Part 4. How to Prevent Losing Your Snapchat Data in the Future?
The best cure is prevention. Rather than deleting your data and regretting them later, you must take precautions to save them.
Option 1. Automatically Backup Data with iTunes on iPhone
Use iTunes to sync content to your Mac or Windows PC if you are using Mojave or earlier.
Step 1: Connect your iPhone to your computer using its original USB cable.
Step 2: Click your iPhone icon in the upper-left corner of the iTunes window.
Step 3: To sync or remove a particular type of content, choose it from the list under Settings on the left side of the iTunes window. Selected the checkbox next to Sync to enable syncing for a specific content type.
Step 4: Select the checkbox next to each item you would like to sync.
Step 5: On the window's lower-right corner, click the Apply button. To sync, click the Sync button if it doesn't begin automatically.
Option 2. Backup Your Device to iCloud
Ensure you have enough free space on iCloud before you proceed. Tap Settings → [your name] → iCloud → Manage Storage, from which you can see how much iCloud storage you consume and which apps are the biggest consumers.
If you want your device to be automatically backed up every day, then enable iCloud Backup via Settings → [your name] → iCloud → iCloud Backup then toggle iCloud Backup to on. Go to Settings → iCloud → Backup if you are using iOS 10.2 or older. Your phone will then automatically back up once it's powered on, locked, and connected to Wi-Fi.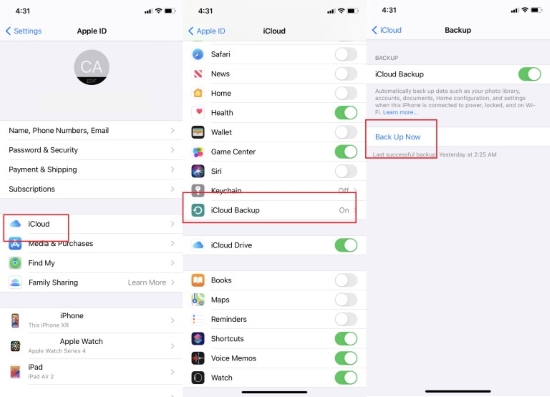 Manually backing up your phone via iCloud is simple. Just navigate to Setting → [your name] → iCloud → iCloud Backup → Back Up Now. Moreover, you can view the last time your device was backed up successfully here.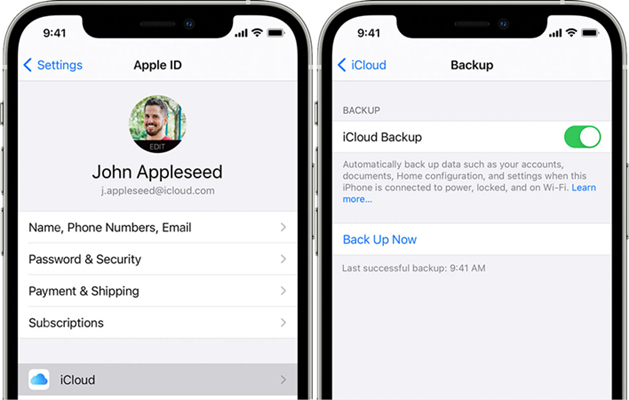 Option 3. Save Your Snapchat Data
Luckily, Snapchat data can be saved quite easily. The following steps will help you save your data:
Step 1: Run Snapchat and log into the account.
Step 2: Open the chat section by swiping right.
Step 3: Navigate to the data you want to save.
Step 4: To save a message, long press it and tap on Save in Chat.
Step 5: Data that have been saved are highlighted in gray and bold. But keep in mind that the other person will also know that their message was saved.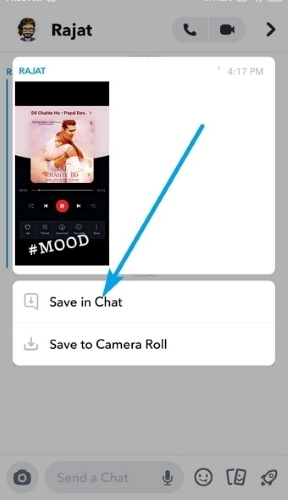 Part 5. Final Verdict
Here we've explained how to recover data from Snapchat in effective ways. No matter the reason for the Snapchat data gone or other data loss, the professional data recovery software should be able to recover it. Joyoshare offers this guarantee regardless of whether the data loss was caused by an accident, a firmware update, a system crash, or restoring settings to factory settings.
It does not matter why you lost your Snapchat data; you can still recover them. You can be sure that you have chosen a reliable application. Hence, don't feel blue after losing your data. Let Joyoshare clean up the mess.