The classic app, Snapchat, originally focuses on person-to-person photo sharing, delivering a human-based platform to share photos with designated friends or groups. It automatically removes photos after 30 days when you haven't seen them, when the recipient has viewed them, or after 24 hours when a photo sent to a group hasn't been opened.
So how to recover deleted photos from Snapchat on iPhone? Take it easy. There are plenty of workarounds for it. In this post, you'll find some easy, yet effective troubleshooting for recovering deleted Snapchat photos on iPhone.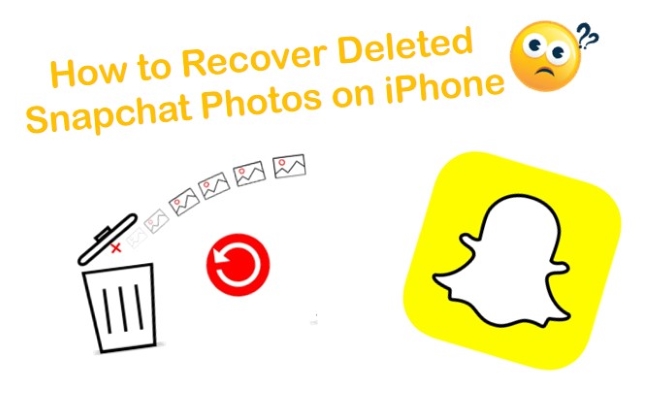 Video Tutorial: How to Recover Old Snapchat Photos on iPhone
Part 1. Use the Best-in-Class Recovery Toolkit – Joyoshare iPhone Data Recovery [HOT]
If what you are most concerned about is how to recover the deleted Snapchat photos safely and professionally from your iPhone without restoring them, here Joyoshare iPhone Data Recovery can be your top priority. It specializes in retrieving photos, videos, notes, messages, and more without damaging current data. Also, it provides you with the essential preview function to better check and selects.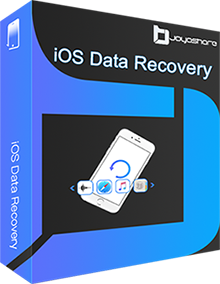 Recover photos deleted from Kik, Snapchat, WhatsApp, Viber, and other apps
Selectively or wholly restore photos from iPhone, iPad, and iPod touch
With real-time preview ability, filter tool, and selective recovery option
Extract synced Snapchat photos from iTunes or iCloud backups
Scan and retrieve files fast without damaging current data
Mode 1. How to Recover Deleted Snapchat Photos on iPhone Without Backup
Step 1

Connect iPhone under "Recover from iDevice"

Download and install the free trial of Joyoshare iPhone Data Recovery on your computer. Or unlock to full version to launch if you confirm that the deleted photos are recoverable. Next, connect your iPhone to a PC/Mac under the first default "Recover from iDevice" mode.

Step 2

Scan Deleted Snapchat Photos from iPhone

This Snapchat photo recovery will serve to detect your iPhone info and show all default data types. Now, uncheck them in the right hand and just choose "Photos", "App Photos", etc. You can begin to "Scan" using one quick click.

Step 3

Preview and Recover Snapchat Photos on iPhone

Browse both deleted and existing photos under the "Media & Docs" section in the left classification column. Tap on the play button to preview in real-time and make sure whether it's the item from Snapchat you need. After selecting in your way, you can click on the "Recover" option to export and save them locally.
Mode 2. How to Recover Old Snapchat Photos on iPhone with iTunes Backup
Joyoshare iPhone Data Recovery can recover your photos and avoid data loss and overwrite. It can protect all your deleted and existing data completely. Besides, you can have a real-time preview. Let's get started:
Step 1

Open Program and Set "Recover from iTunes"

Open Joyoshare on a computer that you have synced backups to before data loss. Then click on "Recover from iTunes" mode on the top bar.

Step 2

Pick up Needed Data Types to Scan

A list containing all iTunes backups will be displayed for your reference. You can also click the "+" button to browse and add one from the designated folder. Then confirm one iTunes backup and tap on its gear "Setting" icon to choose file types. Next click on the "Scan" button for the next step.

Step 3

Get Deleted Snapchat Photos from iTunes Backup

Your selected data will be scanned and classified. Preview them one by one as you wish and mark the wanted data to "Recover" on your computer.
Mode 3. How to Recover Deleted Snapchat on Photos from iCloud Backup
Step 1

Select "Recover from iCloud" Mode

Run Joyoshare iPhone Data Recovery and sign in to iCloud after choosing "Recover from iCloud" mode.

Step 2

Download Proper iCloud Backup and Scan Data

Select one iCloud backup to download and choose data types to continue scanning.

Step 3

Preview and Retrieve Data from iCloud Backup

Preview data, mark items, and press the "Recover" option to save the deleted photos on the computer.
Part 2. Apple's Traditional Ways to Recover Deleted Photos from Snapchat on iPhone
Way 1. How to Recover Photos Deleted from Snapchat with iTunes Backup
You should have other opportunities if you've ever backed up important Snapchat photos to iTunes. Nevertheless, the method below is suitable for you only when you are aware of the risk of data loss. Briefly, the chosen iTunes backup is able to replace your existing data on iPhone.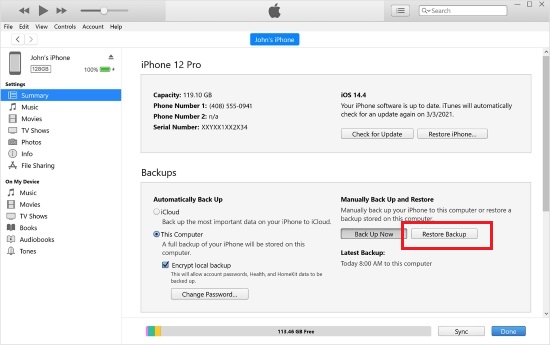 Step 1. Run iTunes on computer (or open Finder on macOS Catalina 10.15) and plug your iPhone with original USB cable.
Step 2. Hit the iPhone device icon and find Summary → Restore Backup....
Step 3. Designate an iTunes backup that contains Snapchat photos and press "Restore" to get back to iPhone.
Way 2. How to Recover Deleted Photos from Snapchat with iCloud Backup
Have you ever switched "iCloud Backup" option on? If so, you similarly get another way to restore Snapchat photos from iPhone by using iCloud backups. The premise is that you need to restore iPhone to factory settings.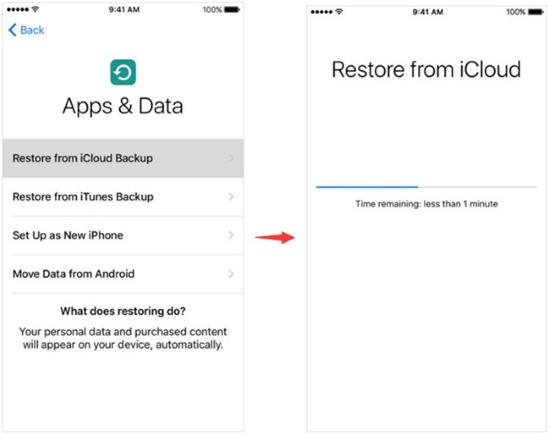 Step 1. Restore iPhone by clicking "Settings" → "General" → "Reset" → "Erase all content and settings".
Step 2. Follow the prompts on the screen to reset iPhone as a new device.
Step 3. Press on "Restore from iCloud Backup" under "Apps & Data" to choose and restore Snapchat photos from iCloud backup.
Way 3. How to Recover Deleted Snapchat Photos via Temp Folder
A very basic method is to look at your Recently Deleted album on "Photos" app. This folder helps keep the deleted iPhone local Snapchat photos for up to 30 days. Therefore, the mistaken deletion or intentional deletion can be undone using this solution.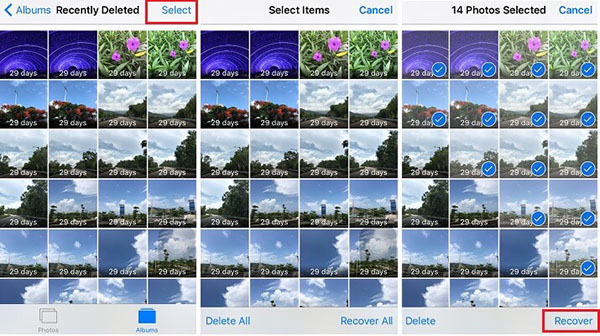 Step 1: Launch Photos app on iPhone and go toward "Albums" → Recently Deleted".
Step 2: Select necessary Snapchat photos out there.
Step 3: Touch on the "Recover" option at the right bottom to move the items back to its normal storage location.
Part 3. How to Recover Deleted Snapchat Photos via Temp Folder
Indeed, there is a trick that a large number of users haven't tried yet. That is, you can recover Snapchat photos from temp folder within 24 hours after they are deleted. The tool you require is a file manager, like the commonly-used iExplorer here. Notably, remember to stop using iPhone after photos loss.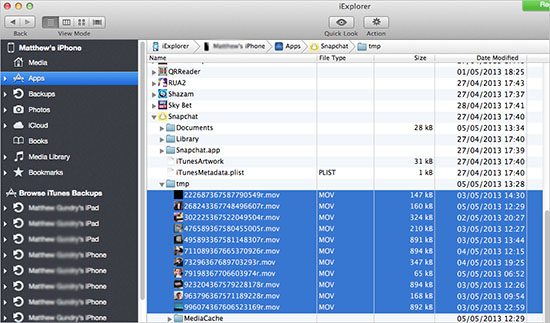 Step 1: Download and run iExplorer or another file manager on computer.
Step 2: Connect your iPhone and find related Snapchat folder in the launched iExplorer.
Step 3: Locate temp folder and open it to check all photos from Snapchat.
Step 4: Carefully look through all photo files and recover them to your computer.
Part 4. Summary
Despite losing important data on an iPhone being devastating, there is still hope that deleted files can be recovered. The facts are right up there.
There is a delete mark left by the deleted files, which means they are still there, but they are pointed to the data space that has been covering them, which has not been destroyed. A professional data recovery program – Joyoshare iPhone Data Recovery give you the best answer for how to recover deleted photos from snapchat on iPhone easily.
Stay chill, if you are still confused about how to use this program. Feel free to seek expert help. The technical support professionals will resolve all your problems efficiently.