Q:"I'd love to see Photoshop implement some kind of canvas recording feature, similar to Procreate's, where you can record your drawing process and export it in video form." - From Photoshop Feedback Community
Photoshop is unquestionably the best in graphic design and creation, which is highly praised by designers, photographers, and amateurs. Generally, it takes a while to make your own drawings, and the process from scratch to the final is always the most eye-catching. You'll probably want to share every detail of your creation with others, either to showcase your talents or to make tutorial. This is why so many people wonder how to record Photoshop drawing, such as Actions, at home.
Part 1. How Does Photoshop Record Actions (Drawing Included)
Not every user knows how to record drawings in Photoshop with its built-in feature. The operation is actually simple and you can follow steps below to make it:
Step 1

Enable Allow Tool Recording in Photoshop

Simply open Photoshop on your computer. Go ahead to Window > Actions in the top menu, which will soon be shown in the right column. Then you need to click on its setting button to see more hidden features and enable "Allow Tool Recording".

Step 2

Create New Action

Find and click on "Create New Action" button in Photoshop to call out New Action panel. Name it, press on "Record" and you can see it added in the right list.

Step 3

Start to Draw in Photoshop

Now you can create your drawing by using brush in Photoshop. Every operation will be recorded. Note that each time you release the brush, a new step is created.

Step 4

Stop Recording Drawing and Playback Actions

As long as you finish drawing what you want, you can click the stop button. Then go for Actions setting panel, find "Playback Options...", from which you can set Performance as "Accelerated", "Step by Step", or "Pause for X seconds". After that, playback actions to check your recorded drawing process.
Part 2. Record Photoshop Drawing - Joyoshare VidiKit
Because the screen recording function is not perfect in Photoshop at present, in the flexibility of recording and output diversity, a 3rd-party tool, such as Joyoshare VidiKit - Screen Recorder, sometimes is more appreciated by users. It can ideally set output formats and portable devices, configure quality and file size, take screenshots, add simultaneous dubbing from microphone to explain the creation, show cursor and click effects, select a certain capture area, etc. To keep all details, you can have scheduled task in advance and even trim after it completes to better share what you want.
Key Features of Joyoshare VidiKit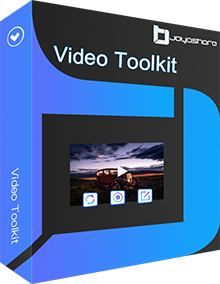 Record digital drawing from different digital artwork programs
Output recordings to MP4, YouTube, Vimeo, Facebook, MOV, iPhone, etc.
Flexible enough to change the area in Photoshop to record
Take screenshots in PNG and JPG for better saving
Add narration from microphone to instruct others in the drawing process
Step 1

Start Screen Recorder in Joyoshare VidiKit

Go to the official website to download Joyoshare VidiKit, which is a complete video toolkit. Install and run it on your computer, then you'll head to Screen Recorder. Open this program and begin with "Record video and audio" mode by default.

Step 2

Open Photoshop and Set Options for Recording

Now get your Photoshop launched on the desktop. In Joyoshare VidiKit, click "+" under "Capture Area" to manually zoom in or zoom out a window, with which you can nicely match wherever you'd like to record in Photoshop. Next, go forward to the bottom right corner and press "Options". You can now choose a video format, confirm effects, schedule a recording, preset audios and more.

Step 3

Start to Record Photoshop Drawing

When everything sets well, you can click REC in Joyoshare VidiKit to begin capturing screen. Go back to Photoshop and start your drawing creation as usual. You can use shortcut to save screenshots at any time.

Step 4

Save and Export Recorded Photoshop File

The whole creation process of your drawing can be recorded and saved by Joyoshare VidiKit when you click on "Stop" button. Afterward, check it in History window, preview, trim, rename, or browse local folder as you like. You can upload it to YouTube, import to video editor, or share with others now.
Part 3. Record Drawing in Photoshop with OBS
OBS is often considered as an alternative option to record drawings in Photoshop. It perfectly supports recording multiple scenes and sources at the same time, which is thoughtful for users who need to open many windows in Photoshop. Also, there are easy-to-access configuration settings to change resolution, color range and more in a professional manner.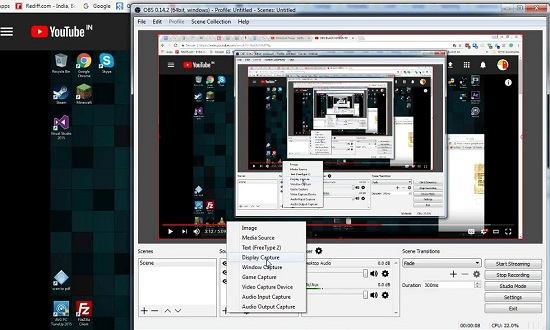 Step 1: Open Photoshop on your computer and meanwhile run the installed program of OBS;
Step 2: In OBS main interface, go for Source, hit +, choose Display Capture, and confirm with OK;
Step 3: Click recording button in OBS, go back to your Photoshop and make your drawing, which will be captured;
Step 4: When your drawing process is ended in Photoshop, you can stop recording in OBS and have a check later.
Conclusion:
Having learned how to record Photoshop drawing in this article, you can get it done at home without problem. Anyway, it's better to test it out to see whether the Allow Tool Recording feature in Photoshop can satisfy your need. If not, you can also try other screen recording software to keep your drawing process in high quality!