Q:"I seem to have some troubles with recording my gameplay. Any suggestions? FRAPS and Plays.tv haven't worked." - User from Sea of Thieves
Do you face the same problem with the above user? Are you looking for a screen recorder to record gameplay with original quality so that you can upload the video to any social media platforms or merely share it with your friends? Here will show you how to record Sea of Thieves using two professional gameplay recorders and inbuilt recording function of Xbox One. Also, you can find brief introduction of Sea of Thieves. If you want to get high-quality gameplay recording, simply scroll down and choose the method that you like.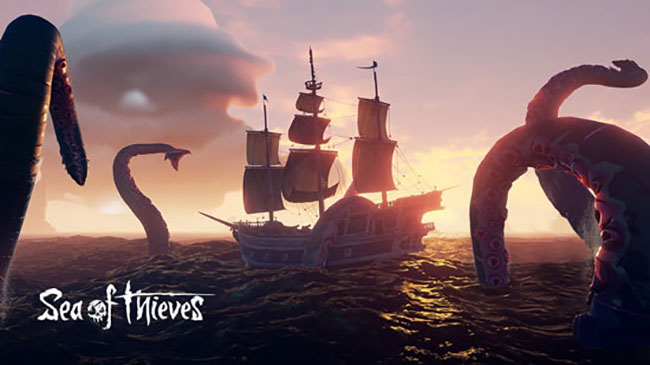 What Is Sea of Thieves Gameplay
Before capturing the game, let's see what is Sea of Thieves gameplay. Sea of Thieves is an action-adventure video game created by Rare in 2018. You can play this game on Windows computer and Xbox One. In this game, you are a pirate who needs to fulfill tasks from different trading companies to obtain the final victory. You also can play the game with others as a group. During the game, members of the team need to support each other throughout the adventures.
Part 1. How to Record Sea of Thieves with Professional Game Recorder
If you intend to record the game flexibly and easily, Joyoshare VidiKit - Screen Recorder can perfectly meet your needs with its intuitive interface. You can use it to capture gameplay without technical know-how. It can help you record Sea of Thieves, LOL, CSGO, and more other games on a Windows computer without lag. Also, with this software, you can record and save the recordings in various formats, such as 4K video, MP4, MOV, AVI, WMV, DV, MPEG, 3GP, WebM, M4V, MKV, etc. Customizing the codec, frame rate, bit rate, resolution, and quality of the video is available.
As a professional screen recorder, it is capable of capturing movies, music, online tutorial, live streaming, etc. This tool allows you to capture the audio and video separately. In another word, you can record the gameplay with or without sound. If it is necessary, you can use the program to record the audio from your microphone. It also has a basic editing function to let you trim the recording.
Key Features of Joyoshare VidiKit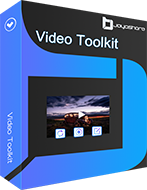 Record Sea of Thieve in high quality
Capture all activities on the desktop
Grab audio from the system and microphone
Save video and audio in any format
Support full screen and partial screen recording
Step 1

Run Joyoshare Sea of Thieves recorder

Launch Sea of Thieves on your Windows computer. Then run Joyoshare gameplay recorder and select Record - Screen Recorder options. There are two recording modes. You are suggested to choose the "Record video and Audio" mode by clicking the camera icon. If you don't want to grab the audio from the game and your microphone, remember to disable the system audio and microphone audio.

Step 2

Confirm further settings

To customize the recording setting, you need to click the gear icon on the lower right corner to bring out more hidden options. Then you are able to choose where to store the recordings. You also can select recording formats, set shortcut keys, and preset a schedule to start and end recording the gameplay. If you are unwilling to show the cursor on the recording video, you can uncheck "Show Cursor".

Step 3

Adjust the recording area

After preference settings, you can choose a region to record Sea of Thieves. Click the "Select Area" option to adjust the capture area. You can record the game in full screen by tapping the "Full Screen" option from the drop-down list. If you prefer to crop an area to record the gameplay, you can unlock the ratio and drag the frame.

Step 4

Start to record Sea of Thieves

If everything is settled, press the "REC" button to begin capturing Sea of Thieves. Once the "REC" button is selected, Joyoshare gameplay recorder will minimize. After that, you will see a 3-second countdown before recording. You can hit on "Pause" to skip the unwanted scenes. Tap on the scissors icon to trim the clips. Hit on the "Stop" button to finish capturing. The "History" tab will appear with the recordings. You can rename the files, preview video, take snapshots, and trim the video.
Part 2. How to Record Sea of Thieves with FBX Recorder
FBX is a tool designed to record gameplay with HD quality. You can use it to record any gameplays without lag, owning to its great FPS. With an excellent editing function, you are allowed to use it to add GIFs, animated stickers, and sound effects to the video. It offers you two recording modes to capture Sea of Thieves. The first one is the "Game" mode and the second one is "Fullscreen" mode. This program only can be run on Windows 7, 8, and 10 with 64 or 32 bit. Its free version has a watermark embedded. The capture area is changeless. It means that you are only allowed to capture the game in full screen. The following is a simple guide to teach you how to record Sea of Thieves on PC.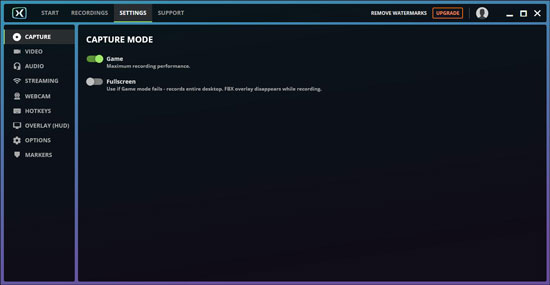 Step 1: Run Sea of Thieves. Open FBX Recorder on your PC. Click "SETTINGS" and hit on the "CAPTURE" button on the left bar. Then you can choose "Game" mode to get ready for recording Sea of Thieves;
Step 2: The small interface of FBX will show up at the top left corner when the program detects gameplay is being run. At that time, you can hold down "Ctrl + F12" on your keyboard to start recording Sea of Thieves;
Step 3: You can click "RECORDINGS" on the FBX's interface to locate the videos when you finish the recording.
Part 3. How to Record Sea of Thieves on Xbox One
In fact, aside from being available on Windows 10, Sea of Thieves is also compatible with Xbox One and Steam. Consequently, there are many users who wonder how to record Xbox One gameplay like Sea of Thieves. Built-in recording function on Xbox One allows you to capture Sea of Thieves with original quality. It gives you the power to record past scenes and upcoming scenes as you want. What's more, if you want to record gameplay in Xbox One on PC without time limit and with more advanced customizable recording settings, you should prepare a capture card.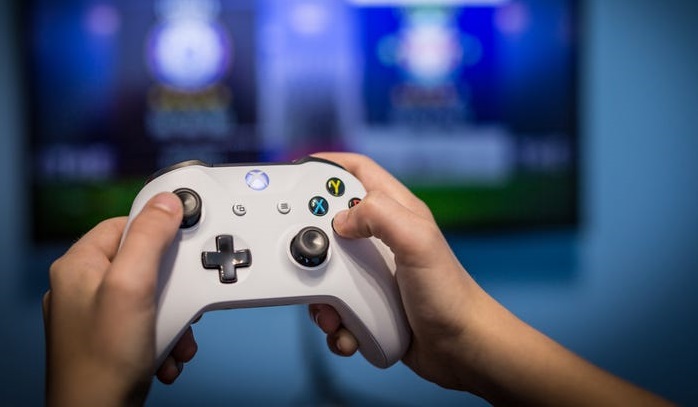 Step 1: Activate Xbox One device and start Sea of Thieves gameplay.
Step 2: Press the Xbox button on the controller.
Step 3: Select Capture & Share and choose Start Recording.
Frequently Asked Questions about Sea of Thieves
Q1. How many hours of gameplay in Sea of Thieves?
A: There are 7 tales in 2 epic storylines, and they provide around 30 hours for users to play.
Q2. Is Sea of Thieves pay to win?
A: No. Actually, you can't spend real money to gain something in this gameplay.
Q3. Can you play Sea of Thieves offline?
A: Sea of Thieves is online gameplay and you can't play it offline.
Q4. Is Sea of Thieves on mobile?
A: As we have mentioned above, Sea of Thieves is only available on Windows 10, Steam and Xbox One.
Q5. How to stream Sea of Thieves with OBS?
A: To stream Sea of Thieves, you can follow these steps. Go to console settings and select Preferences - Xbox app connectivity. Choose appropriate option according to your need. Then, on your computer, download and launch Xbox Console Companion program. After logging, click Stream and choose Continue option. Now, enable OBS and add this window to OBS. Start streaming gameplay as usual.
Conclusion:
The above shows you how to record Sea of Thieves with 3 effective solutions. Joyoshare VidiKit is easy-to-use yet functional. It can not only capture gameplay but all the actions on the Windows and Mac platforms. FBX specializes in capturing gameplay on Windows computers with high quality. To use it, your computer needs to be high-performance or it will have some lags. Recording on Xbox can help you record Sea of Thieves directly without capture card.