How to record gameplay on Xbox One is a useful skill every gaming enthusiast should be familiar with. Sometimes you would like to share some exciting and interesting game videos with your best friends, or put them into some favored video platforms such as YouTube and Vimeo. Then the problem comes - how can you record your gameplay on your Xbox One easily and handily? Don't worry. This article will show you 3 practical methods to help you achieve that.
Solution 1. How to Record Xbox One Gameplay - Built-in Feature
There is a built-in screen recording feature in your Xbox One. You can use it if you just want to save a pretty short game video clip.
To capture past scenes, you need to:
Step 1: Start your game on your Xbox One;
Step 2: Open Xbox One home screen;
Step 3: Press the Xbox button on the controller to open your guide;
Step 4: Press the X button to capture the last 30 seconds of your gameplay.
If you prefer to grab a longer video clip, you can click the View button. Then choose duration (up to 2 minutes).
To record upcoming scenes, you need to:
Step 1: Play the game you want to record;
Step 2: Hit the Xbox button on the controller;
Step 3: Select Capture & Share;
Step 4: Choose Start Recording.
Your clips can last up to 10 minutes or one hour, depending on how much hard drive space you have.
Solution 2. How to Capture Games on Xbox One - Windows 10 Game DVR
Game DVR, also called game digital video recorder, is a part of Windows 10. If you have a computer running Windows 10, you can use it to capture longer game videos easily and quickly.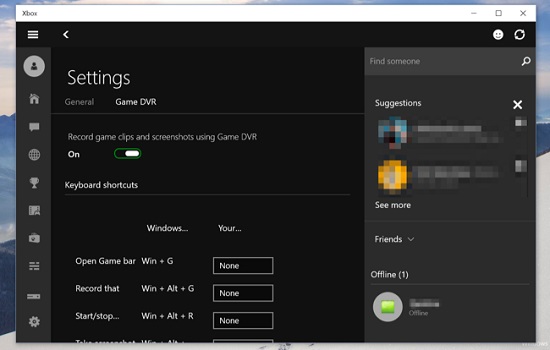 Step 1: Open Xbox One app on your Windows 10;
Step 2: Go to its Settings and tab Game DVR;
Step 3: Turn on "Record game clips and screenshots using Game DVR".
Here you are allowed to adjust other settings such as change your keyboard shortcuts and output folder, select video quality and resolution, choose to record audio when you record game clips, etc. After setting, you can leave it open and minimize it, then start to play your game. Game DVR will begin to record your gameplay on Xbox One. Using the shortcuts as you set previously to open Game bar so that you can control your recording process.
Solution 3. How to Capture Game Clips on Xbox One - Joyoshare Screen Recorder
To record game videos with high quality in any format, you need to use a powerful and professional screen recording tool. Here recommends you Joyoshare Screen Recorder. With outstanding performance, this program enables you to record all desktop actions as you wish including gameplay, live chat, live streaming movies, lectures, podcasts, etc. in full screen or customized screen as you like.
Using this gameplay recorder, you are also able to export your captures as AVI, WMV, WKV, MP4, FLV, MOV, 4K video, OGV, WebM, HEVC, etc. into popular devices like Xbox One, Xbox 360, PSP, Nintendo Wii, PlayStation 3/4, smart TV, iPhone, etc. This software allows you to pause and trim during recording. You can also use it to capture game videos with or without voice.
Key Features of Joyoshare Screen Recorder:
Grab recording area freely
Capture gameplay on Windows 10 with voice
Save recordings to MP4, 4K video, WMV, etc.
Add watermark, preset recording time, highlight cursor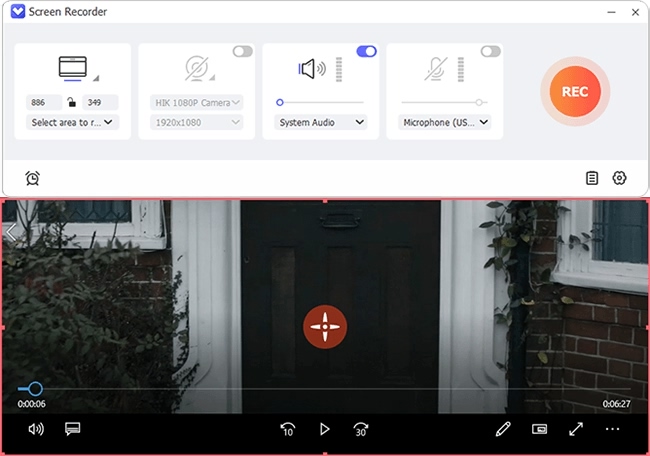 Step 1

Connect Xbox One to Computer

First and foremost, you need to use HDMI cable and capture card to connect your Xbox One to your computer.

Step 2

Download and Install Joyoshare Screen Recorder

Download and run Joyoshare Screen Recorder on your computer. Prepare to play the game videos you want to record on your Xbox One now.

Step 3

Check Recording Settings

Click the Options button at the bottom right corner of the main interface to open a dropdown menu. As you can see, you are allowed to get further settings here. For instance, you can adjust your save path, set up output game clips format, change shortcut keys in Basic Record Options. You can also choose to start and end on schedule, show or highlight cursor in the other two options. Inserting an image watermark to personalize your Xbox One recording game videos is available as well.

Step 4

Select Recording Area

When further settings are done, you can choose "Record video and audio" mode near the REC button. By clicking Select Area option in the left side of the main interface, you are allowed to capture your gameplay either in full screen or customized screen. Next, click "+" and a red frame will appear. Drag it to adjust your recording area. You can also grab area by choosing preset resolution ratio from the dropdown list.

Notes: You can also choose to turn on/off your system audio and microphone audio and change the volume.

Step 5

Start to Record Gameplay on Xbox One

Now you can hit the red REC button at the right side of the main interface. The operation window of the software will minimize after a three-second countdown. Then your gameplay on your Xbox One will be recorded smoothly. If you have customized your capture area, you are able to see a toolbar, which allows you to trim and cut your unwanted sessions freely. Click Stop to finish your recording.
Useful Tips. How to Access to Your Captured Game Videos on Xbox One
If you want to share your captured video clips with others, you can:
Step 1: Open Xbox One dashboard;
Step 2: Tab Community temp and go down to find Manage captures.
Then you can see all the video clips you have saved over time. Go ahead and choose the one you need. Once you play your recorded game video, you can see the share option. Click it and next you can share your game clips to Activity feed, Message, Club, Twitter or OneDrive.