Q:"Can you record a Google Meet?" - Ethan
Developed by Google as a video-communication service, Google Meet (named Hangouts Meet formerly) makes it possible for us to conveniently join a meeting and discuss pending issues. As the user base grows, the demand to record a Google Meet is increasing, especially when you have a training course, need to keep the points of the meeting, or want to share videos with other absentees. If you are the one, like Ethan, to ask how to record a Google Meet, this article can be the right place.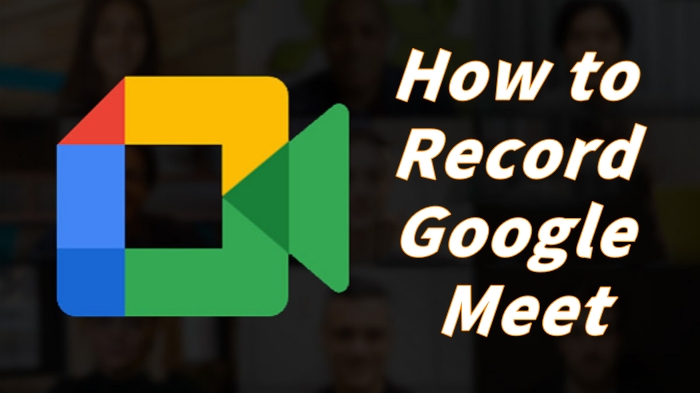 Part 1. How to Record on Google Meet Directly
This guide is useful if you are accustomed to holding a meeting with the web version of Google Meet. Just check out all steps to record a Google Meet using any browser on your Windows or Mac.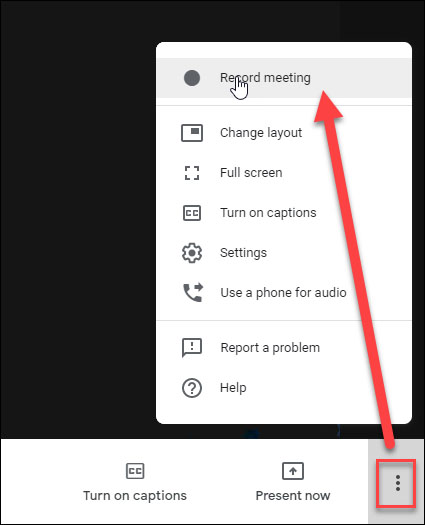 Step 1: Navigate to Google Meet webpage and sign in your account;
Step 2: Now start or join a meeting;
Step 3: Click on the three dots "..." in the lower right corner to find "Record meeting" option;
Step 4: Press on "Recording meeting" and click "Accept" in the pop-up "Ask for consent" window;
Step 5: When the meeting is over, you can click on "Stop recording" to end recording in Google Meet;
Step 6: Check your completed meeting video on "Meeting Recordings" - "My Drive".
Part 2. How to Record Google Meet without Permission
Joyoshare VidiKit - Screen Recorder is a mighty and professional tool to capture activities that're ongoing on the desktop. This decent software enables you to record types of meetings like Google Meet, Zoom, Microsoft Teams, WebEx, Skype, etc. Additionally, it can capture gameplays, audios, class lectures, streaming videos and more without time limit! The features it offers to better record allow setting quality, shortcuts, cursor effect, watermark and more.
Key Features of Joyoshare VidiKit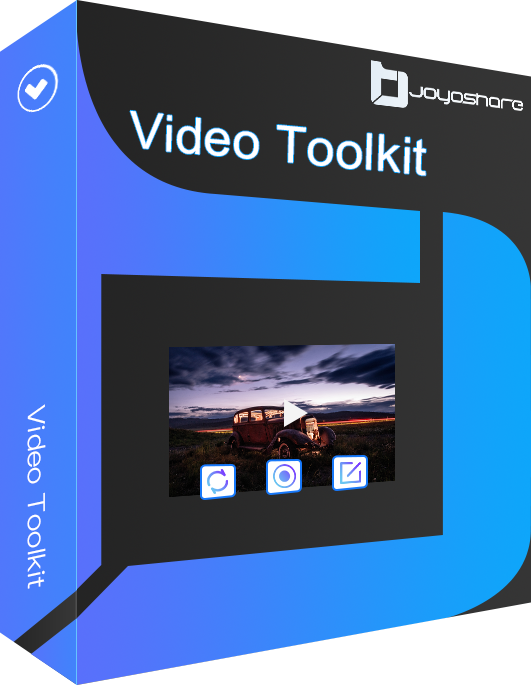 Available to Windows and Mac
Record from Google Hangouts, Zoom, Microsoft Teams, etc.
Grab sound from microphone and system
Schedule task in advance to record screen
Trim videos, customize watermark, highlight clicks, etc.
Output captured videos in any format at 60fps 1080p
Step 1

Open program and choose recording mode

Get the latest version of Joyoshare VidiKit from the official website. Quickly download, install and launch it on your computer. Run Screen Recorder and go to the position next to the REC button and designate "Record video and audio" mode.

Step 2

Set audio and more options

To capture your sound from microphone in Google Meet, you should turn on "Microphone Sound". Then according to your needs, you can enable or disable "System Audio". Furtherly show "Options" at the right bottom to decide location, output format, watermark, shortcuts and effects.

Step 3

Start to record a Google Meet

Confirm a Capture Area to record your Google Meet from. Next, you can visit Google Meet online site, sign in your account, create or join a meeting. When everything gets ready, simply hit the "REC" button to start recording. It's allowed to cut videos, skip content and take snapshots during the whole process.

Step 4

Save recorded Google Meet

Click "Pause" button to export your captured meetings from Google Meet. A "History" window will soon pop up to let you preview, rename, trim and edit it. If you need, you can also have a check locally.
Part 3. FAQs Related to Record Google Meet:
Some users who are new to Google Meet will inevitably have some unclear questions. Therefore, the most common questions are listed below for your reference.
Q1: Which Google Workspace editions support recording function?
A: In fact, not all editions have available recording option. You're able to record meetings in Google Meet with Business Standard, Business Plus, G Suite for Education, G Suite Enterprise for Education, Essentials, Enterprise Essentials, Enterprise Standard and Enterprise Plus editions. Note that Business Starter has no way to record videos.
Q2: Who can record on Google Meet?
1. The meeting's organizer;
2. One is the same organization as an organizer;
3. The teacher with a Google Workspace account to sign in Google Meet.
Q3: What can be recorded in Google Meet?
A: The content to record includes the active speaker and whatever presented during the meeting. However, Google Meet doesn't record other notifications and windows. If you pin a participant, there is no effect on the people appearing in the meeting.
Q4: Where is a Google Meet recorded file saved?
A: The recorded meeting videos will be saved to the organizer's drive, that is, Meet Recordings > My Drive. They can be saved as .SBV files.
Q5: How to record Google Meet on phone as a participant?
A: Anyone who uses Google Meet on mobile phones, including iPhone and Android, can conveniently record meeting videos and sessions. Luckily, there is default recording feature developed for our phones. If not, simply resort to a third-party screeb recorder for smartphone.
Step 1: Open Google Meet app on your mobile phone, initiate or join a meeting;
Step 2: Record on iPhone by enabling screen recording in Settings, accessing Control Center, and tapping on recording button. Similarly swipe down the screen to record on Android;
Step 3: When you finish recording Google Meet, end the meeting and stop recording, which will be saved to your local Photos or Camera app.
Q6: How long can Google Meet recording finish processing?
A: Sometimes, your recording will in the status of "Still processing" in Google Drive. It means that your file is still being prepared, which usually takes up to 24 hours to finish. You can wait for its completion and check recording link later in your email. To quickly play and view it without waiting, it's possible to choose the recording, click "More...", and press Download button.
Q7: Why can't I find the recording button in Google Meet?
A: Actually, there are various possible reasons if you cannot see the recording button. Just have a check here and fix this issue soon:
1. Recording in Google Meet is only workable for a computer version, so verify it first.
2. Make sure that the option of recording for Meet has been enabled in Google Admin console.
3. If your previous meeting organizer's account is disabled in Google Meet, you cannot record the recurring meeting as before. Just go to Calendar event to delete the meeting and recreate a new one by yourself.
4. The meeting in Google Meet created by another process like Chrome plug in or held on a conference room cannot be recorded.
5. It's needed to join meeting > begin presenting > record. Don't just join it to present.
Q8: Why can't others download the recording with my shared link?
A: Don't forget to authorize others to download recording. To do it, you have to open your Google Drive, find the target recording, click Share, and uncheck "Disable options to download, print, and copy for commenters and viewers" in Advanced.
Conclusion:
Keeping important details in meetings is definitely one thing that most users care about. As a matter of fact, it's a stress-free thing to record Google Meet. Perhaps the biggest problem for us was the series of obstacles that occurred on the way to find recording button or download recorded files. Don't worry. If you happen to be suffering from such situation, you may want to check out the solutions we share in this article. Sometimes, especially when you need to record urgently but can't solve the issue you're facing, using alternatives, such as Joyoshare VidiKit, is a good option.