Q:"How do I fix error 39 on iTunes?"
iPhone is certainly the number one smart smartphone today. It prides itself on its security protocols, unique design and features, and, most notably, its smooth performance. However, even though rear, the iPhone also develops performance/software glitches. One such common problem is the iTunes unknown error -39. The error can not only be annoying but equally inconveniencing. If you are experiencing it, then you are probably wondering what solutions you can take to troubleshoot it. Well, this post will halt your worries by furnishing you with a step to guide on how to solve the issue, and all there is to know about this software glitch.
What is iTunes Error -39?
The iTunes unknown error -39 is a performance glitch that usually happens when you sync your iOS device on your PC. In some instances, the error will display when you try deleting or downloading photos from your iTunes library. In simpler words, the error is entirely an iTunes synching failure. When the error occurs, you will not be allowed to find your media files on iPhone, which were updated to iTunes; the error is a warning for losing all the data on your iOS device.
Part 1. Check Your USB Connection
In some instances, iTunes error -39 issue may appear due to using a faulty USB cable to connect to your PC. Check to ensure that the iPhone is well connected using a legit Apple USB cable. You can also change the connection to other USB ports on your PC. It may help you get rid of the problem.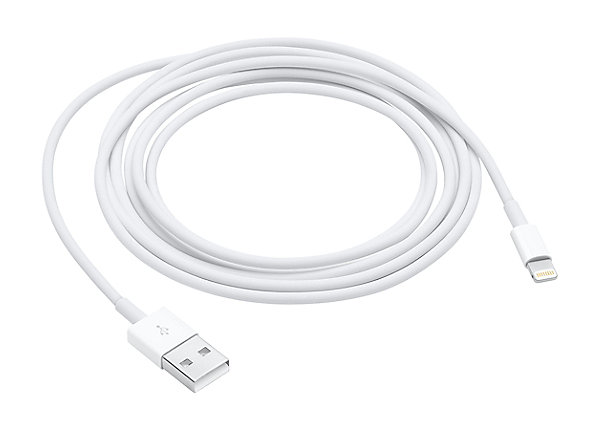 Part 2. Reboot Your iPhone
Rebooting your iPhone is one of the most basic and simplest solutions to fix simple software bugs that may be causing an unknown error occurred 39 in iTunes. A simple restart provides your iPhone with a fresh start for the iOS OS and goes a long way to resolve the issue. The procedure is safe and does not involve any kind of data loss.
Part 3. Update iTunes Version
Using an old iTunes version when restoring or syncing your device may result in iTunes error 39. Older iTunes version software is prone to developing bugs, making it impossible for them to connect to the iTunes server. It is, therefore, paramount that you check for a more recent version of the software.
If you are using a Windows PC, click on the "Help" option on the main window and click on "Check for Updates" to check for new update files. When using a Mac OS running computer, simply check for new updates on the App store.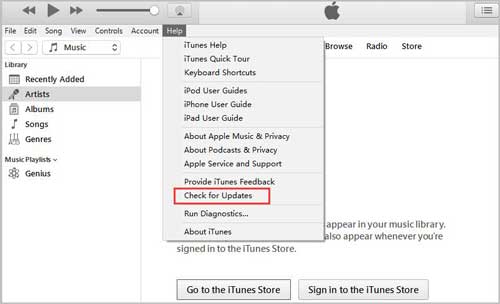 Part 4. Update PC OS
If you have not found success in resolving the problem, you should now try updating your PC's system software. It is highly probable that your operating system has a bug that could be the underlying cause for iTunes unknown error -39 issue. Before updating your PC, you must cross-check the date, time, and time zone. Make sure your computer is connected to the Internet.
Update on Mac
Step 1: Launch App store.
Step 2: Click on updates on the main menu.
Step 3: If there are any updates, click on update.
Step 4: Download and install the updates.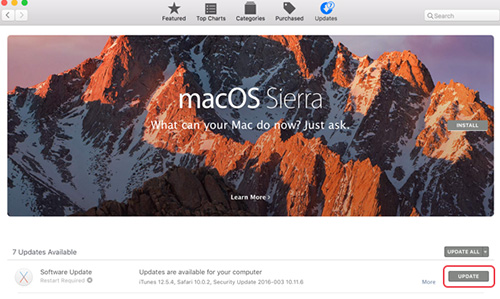 Update on Windows
Step 1: Click on the start menu.
Step 2: Find settings and proceed to click on Update and Security.
Step 3: Click on Windows update option.
Step 4: Proceed to Advanced Options.
Step 5: Select the recommended method of update (Automatic).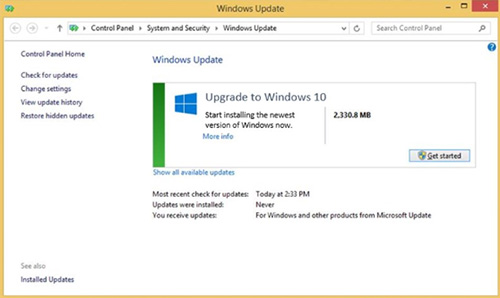 Part 5. Disable Security Software
Third-party software such as system security software tends to block iTunes from accessing Apple/iTunes servers. It is also probable that malicious software, i.e., a virus, worm, or Trojan, could also be blocking iTunes network access. To ensure that this is not the case, update the anti-virus, run it to remove any computer viruses, and later on proceed to disable the firewall temporarily.
Part 6. Reboot PC
This should be done to eliminate any software bugs that could be causing the iTunes unknown error -39 problem; it is a quick fresh start for your system software. If there are any connected USB devices, then you should consider unplugging them. If the problem is yet to resolve, then the error may be occurred due to an iOS glitch. You can easily resolve the problem by using third-party software to repair the iOS system software.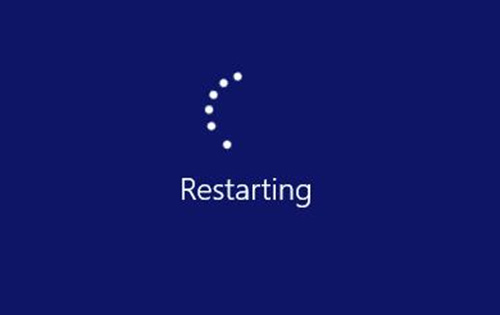 Part 7. Fix iTunes Error 39 No Data Loss - Joyoshare UltFix
Joyoshare UltFix is an all-time iOS repairing software that allows you to easily and quickly repair the system software. It guarantees a 100% data safety during the process. Besides resolving iTunes unknown error -39, it can solve more common and complex iOS performance problems, including boot loop, black screen, and screen frozen on the Apple logo, among other issues.
The program comes with two repairing options i.e., a standard mode and advanced mode. It is highly recommended that you used the standard mode; it ensures that you repair the iOS without data loss.
Key Features of Joyoshare UltFix iOS System Recovery
Free way to exit and enter recovery mode quickly
Standard mode to repair sorts of software issues losslessly
Advanced mode to unlock iPhone with no passcode
Support the latest iOS version and recent released devices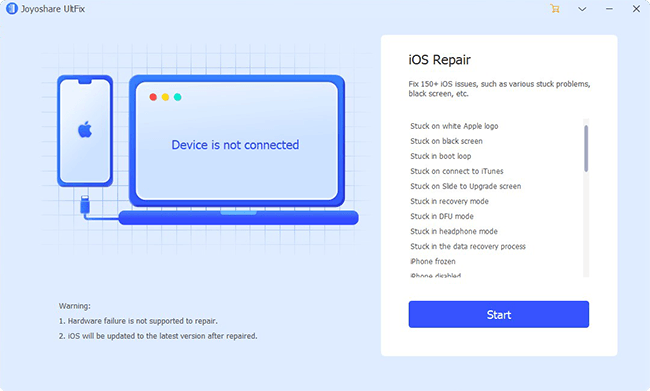 Step 1: Click on the icon to launch Joyoshare UltFix iOS system recovery on your PC. Using a legit USB cable, connect your iPhone to the computer. Click on the "Start" option on the default main interface.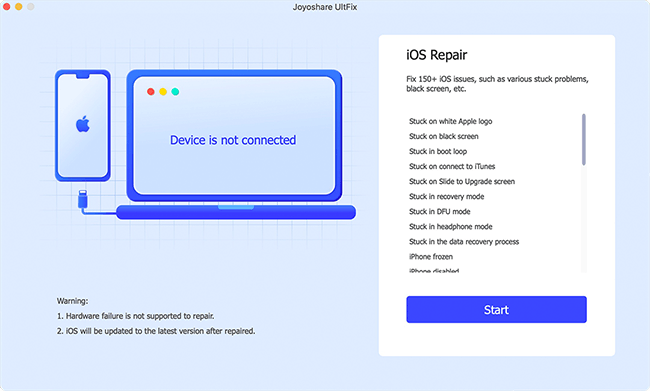 Step 2: A window will appear on your screen with two options. Select the standard mode to ensure data safety. Continue with "Next" button and set your device to either DFU or recovery mode by following the onscreen guidance.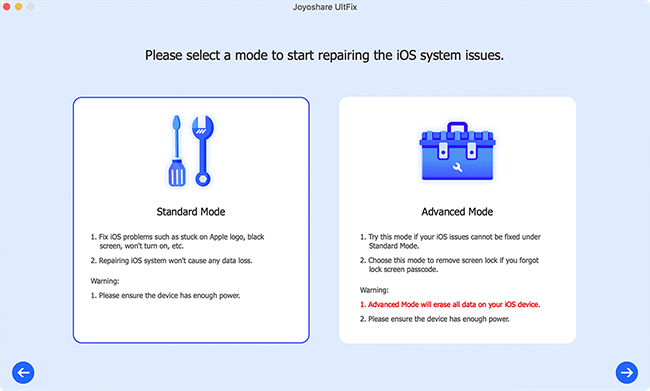 Step 3: You are required to confirm your detected device info. If there is anything wrong, correct it manually. Then press on the "Download" button to download a designated firmware package and finish verifying it.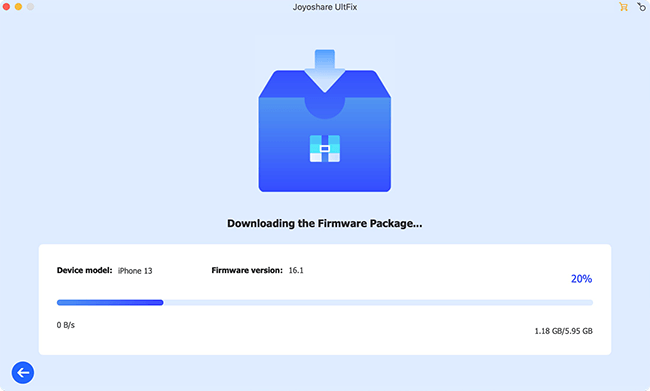 Step 4: Initiate a "Repair" operation in this program. Ensure that the iPhone is fully connected during this time. After that, boot your device and check whether iTunes error -39 is resolved. If the problem still persists, then you may consider using the advanced option. However, make sure you back up your data since the procedure leads to data loss.