"Whenever I try to update my iTunes Match, I get the following error message: 'We could not complete your iTunes Store request. An unknown error occurred (4010). There was an error in the iTunes Store. Please try again later.' What can I do for iTunes match error 4010? Any ideas? Thanks."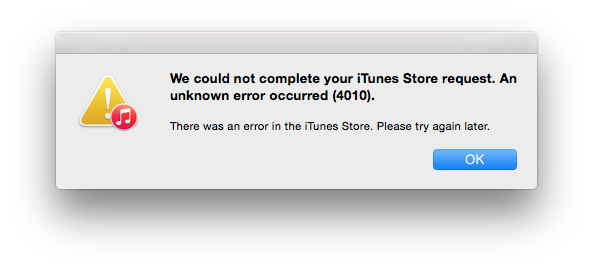 Quite a few iPhone users are encountering a problem when restoring the iPhone through iTunes. It keeps popping up whenever users try to restore the iPhone. Also, there are times when stop your songs from being matched and then you are not allowed to access that unmatched music. Have you ever had an error when restoring an iPhone device as well? Well, if you are not sure what to do, and you are having trouble with your iTunes error 4010, then you can go for some ways that we are sharing that you can refer to. This guide will give you an idea of resolving this iTunes match fixed.
Method 1. Update iTunes to the Latest Version
Make sure to update your iTunes to the latest version to fix the iTunes match error 4010 issue. It is the first thing that you should try. Some old iTunes can't be compatible with the new iOS version, so it may create such trouble.

To check the iTunes update on Mac,
· Open the AppStore on Mac → click Update at the top of the AppStore

To Check the iTunes update on PC,
· Open up iTunes → From the menu bar at the top of the iTunes window, choose Help → From the drop-down menu click on Check for Updates.
If any iTunes updates are available, download the updates and the error will be resolved.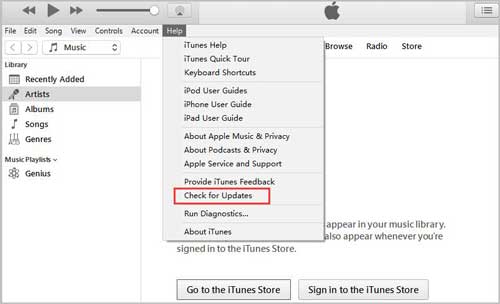 Method 2. Restart iPhone & Computer
A super-easy way, restart your iPhone, will help fix the minor bugs and give a fresh start, without deleting any data. it has proven to be effective in resolving a variety of issues on any smartphone. Therefore, make sure that you do not skip this step. By the way, it is recommended that you restart the computer if you restore the iTunes backup on it.
Force your iPhone to restart, different iPhone models need to press and hold the different buttons to do it, see the below image and the detailed steps:
On iPhone 6S and earlier,
· Press Sleep/Wake button & Home button together. Do this until the Apple logo shows up on the screen.

On iPhone 7/7 Plus,
· Simply long-press the Sleep/Wake button & Volume Down button.
· Wait for at least 10 seconds and you should the Apple logo flashes, then release all buttons.

On iPhone 8/8 Plus, iPhone X, or later,
· Quickly press the Volume up & down button one by one.
· Hold the Side button until the Apple logo shows up.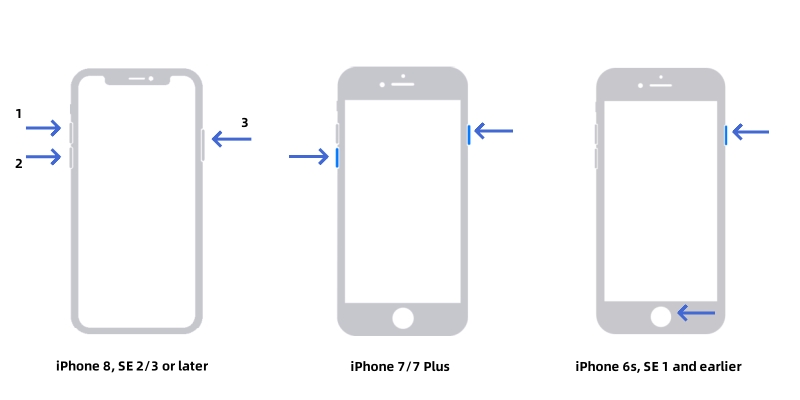 Method 3. Check the Internet/USB Connection
A faulty USB/Internet connection can sometimes cause the iTunes error 4010. It is important to make sure your device is connected to the internet stably. Try to turn off your Wi-Fi adapter or unplug your cable to resolve this error. Depending on the laptop, there may be a direct switch or key that turns the Wi-Fi adapter on or off.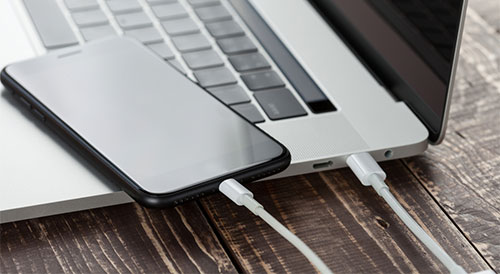 Method 4. Turn off Firewall or Antivirus on the Computer
An iTunes Error 4010 may be caused by an issue with your firewall or antivirus software. By going to the Firewalls & and network protection tab in your PC/Windows Security software, you can temporarily turn off the security software, including firewall, antivirus, or malware blocker software while the iPhone is restored and updated. Once the iTunes backup has been restored, you can enable them again. Here's what you can do to disable the firewall.
Step 1. To enter Settings, click on the Gear icon in the Start Menu.
Step 2. Navigate to the Update & Security → Windows Security → Virus and threat protection → Click on Virus & threat protection settings link.
Step 3. On this page, turn off the Real-Time protection shield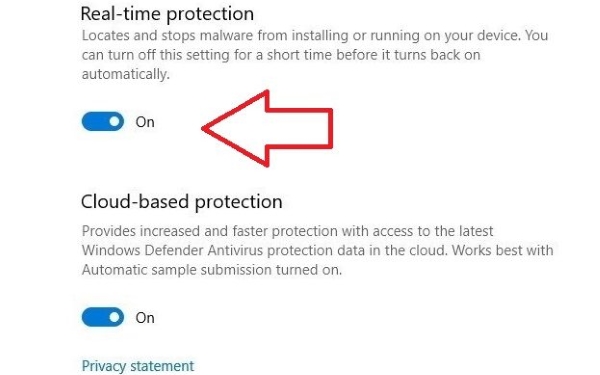 Method 5. Restore from Another Computer/Try with a Mac
In case you encounter this problem while restoring an iPhone with iTunes on a Windows PC, you should try to save the iPhone to a Mac and restore it there. An iTunes version for Mac can be used to complete the restoration process. If necessary, you might consider changing to a different computer environment to restore the backup. After copying the backup to another computer that has iTunes installed, restore the backup from that computer.
Method 6. Relaunch Everything
If the above point is not working, then you should go for relaunch everything. This is another option for fixing the error. If there is a genius update available, you should apply it and then you can resign into iTunes and Match.
Method 7. Fix iTunes Error 4010 Using iOS System Recovery [100% Lossless]
If all of the solutions above won't work with your issue, don't give up! There is still an easy but effective way to help you address the iTunes error code 4010 issue. Joyoshare UltFix iOS System Recovery is a recovery software that helps to fix any kind of unknown code issue you might experience on iPhone. Not only that, if your iDevice is stuck on restore screen or Apple logo screen then also you can use this software to fix the issue, retaining all data.
Use this short guide to help your iPhone.
Step 1

Download, Install and Run Joyoshare UltFix

To use this method, you need iOS System Recovery software installed on your computer. Therefore, you should download the software right away from the official website. You can try it for free and it is available for both Windows and Mac. After opening it up, select the "Start" option. Then use a USB data cable to connect your iPhone to a PC.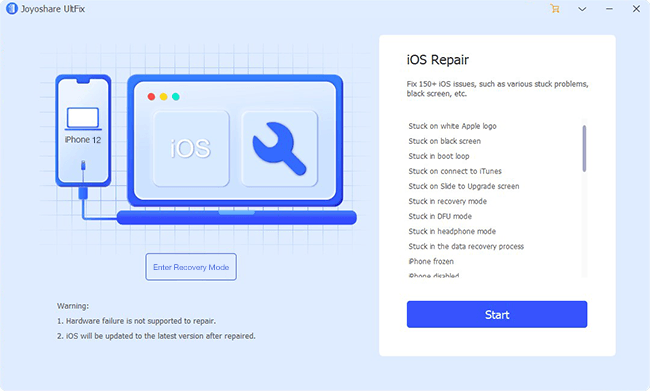 Step 2

Choose a Repair Mode

Next, you should choose the "Standard Mode" option from the main menu of the software and move on to the next step.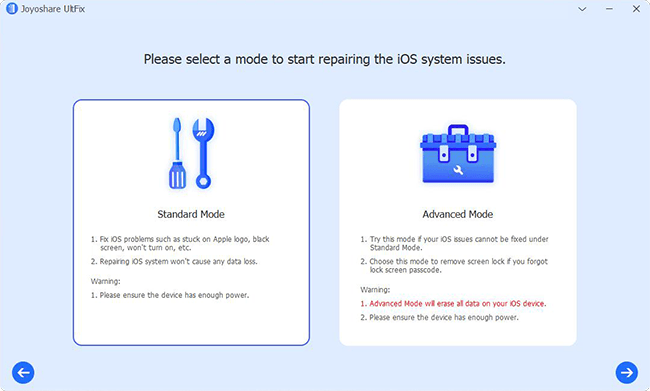 Step 3

Download Suitable Firmware

Your device information will then be requested by the software. Be sure to enter the information correctly and click "Download". The download process will begin, and the download will be waiting until it is complete.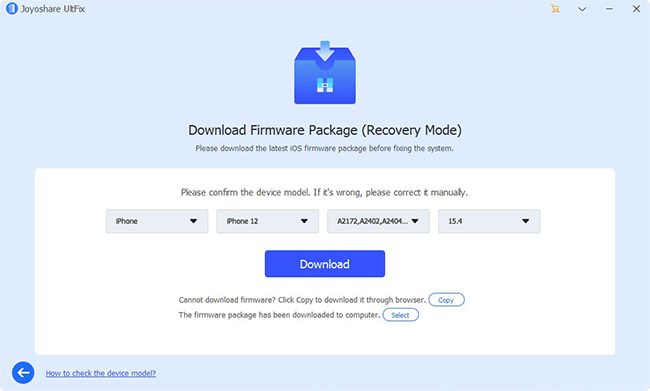 Step 4

Start to Fix iTunes Error 4010

On this page, you should see a button called "Repair", click on it. Then, while this process is going on, you need not do anything. Using the software is 100% automatic, so you can just relax and let it do everything for you.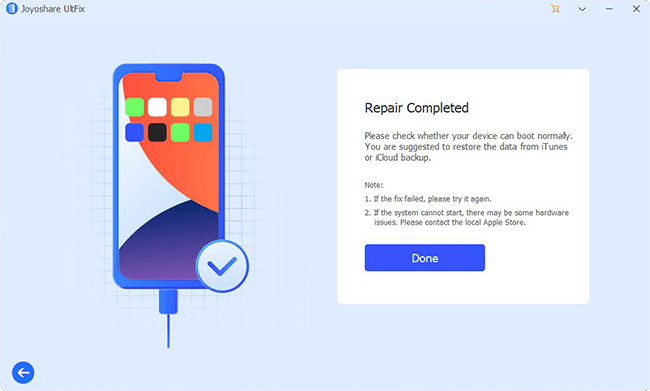 The Bottom Line
Listed above are steps that can be of assistance to you. It will help you get rid of iPhone error 4010. Despite sounding silly and obvious, some of them may work. Specifically, here we highlight Joyoshare UltFix iOS System Recovery, reliably and trustworthily. Known for handling iOS issues for their users, they will help you out by walking the extra mile. In conclusion, I suggest you try this recommended method, and the instruction steps already show you in detail how to use it. Hope you find this post useful.