iPhone X heating up fast while in use is indeed a disconcerting problem. It will lead to the acceleration of iPhone X battery drain, from which your device suffers enormously. You may wonder why this matter happens to such an advanced smartphone. Actually, it emerges on every iOS device even including the latest iPhone 11 series, let alone iPhone X.
If it is also going on with you, don't worry. The following are 7 proven methods that you can take to troubleshoot iPhone X heating up issue. Before getting too carried away with them, let's explore why this problem occurs.
Why Is the iPhone X Heating up?
Factors contributing to iPhone X heating issue can generally summarized into 2 categories: external and internal. The external factors are mainly that the iPhone X is placed in direct sunlight or a closed space with warm temperature. Doing this, the iPhone X gets hot even you do nothing.
The internal factors are registered as an overloaded processor and software malfunction, such as running many apps at the same time, watching Hi-Definition videos, playing high-graphics games, existing a faulty update, glitches with system, etc. All these can bring about the iPhone X heating up problem.
Part 1. Force All Running Apps to Quit
You know, all commands you enter on your iPhone X are carried out by the processor. Every command means the workload for the iPhone X processor. If you run many apps at the same time, it is bound to cause an overloaded processor, thereby resulting in the iPhone X heating up fast while using. To deal with this case, the easiest way is to force quit all opened apps on your iPhone X. Steps to do it are as follows.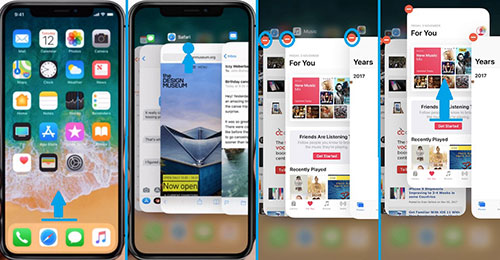 Step 1: On the iPhone X Home screen, swipe up from the bottom and pause in the middle of the screen to invoke the app switcher;
Step 2: Next, press on any app pane and then a red minus sign will appear at the top left corner of every app pane. You just touch this icon to force close the app;
Step 3: Repeat the action on all opened applications on your iPhone X.
Part 2. Uninstall Battery Consuming Apps from iPhone X
Some power consuming apps like high-graphics game software could also be the reason for the iPhone X heating up problem. Faced with this, head to "Settings" - "Battery" - "Battery Usage" to view the battery usage details of each app. Then, simply uninstall certain large apps to troubleshoot the heating issue. In case some of these apps are useful and you wouldn't like to delete, you can keep them but please make sure they are fully closed when not in use.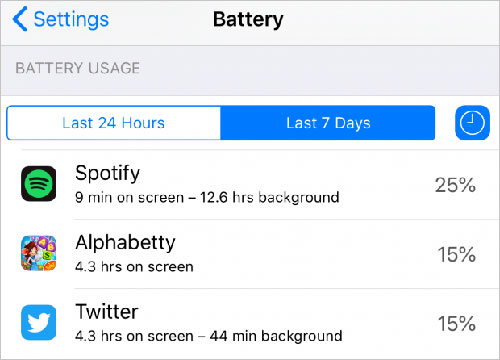 Part 3. Disable Background App Refresh on iPhone X
Another solution to iPhone X heating up is to turn off Background App Refresh. This feature on iPhone is allowing apps to refresh their content when on Wi-Fi network or cellulat data in the background. But it will bring certain damage to iPhone battery life and cause iPhone to heat up. At this time, opening "Settings" - choosing "General" - tapping on "Background App Refresh" to turn it off help a lot.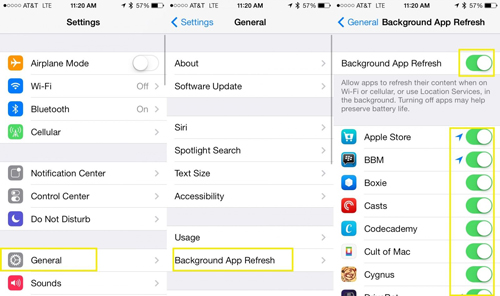 Part 4. Do a Force Restart on iPhone X
In the event that none of the prior workarounds can work well, the chances that software glitches result in the matter of iPhone X getting hot are high. A force restart can rectify these glitches without much effort. You are able to do it at ease. Such an operation won't affect any existing data on your iPhone X.
To force reboot an iPhone X: quickly press and release "Volume Up" button and then do the same with the "Volume Down" button. Afterward, hold down the "Power" button until the white Apple logo displays on the screen.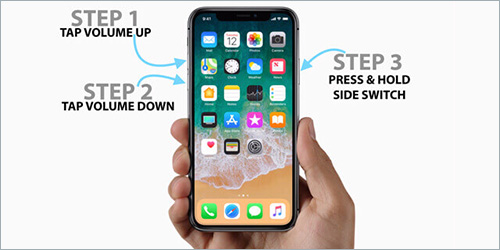 Part 5. Reset All Settings on iPhone X
This approach is applicable to the circumstances where the problem of iPhone X heating up occurs after you reconfigure the iPhone X settings. There is a possibility that improper settings give rise to such trouble. If this is the case, perform a reset on iPhone X settings. To do it: navigate to "Settings" - followed by "General" - scroll down to "Reset" - tap on "Reset All Settings" - enter passcode to confirm.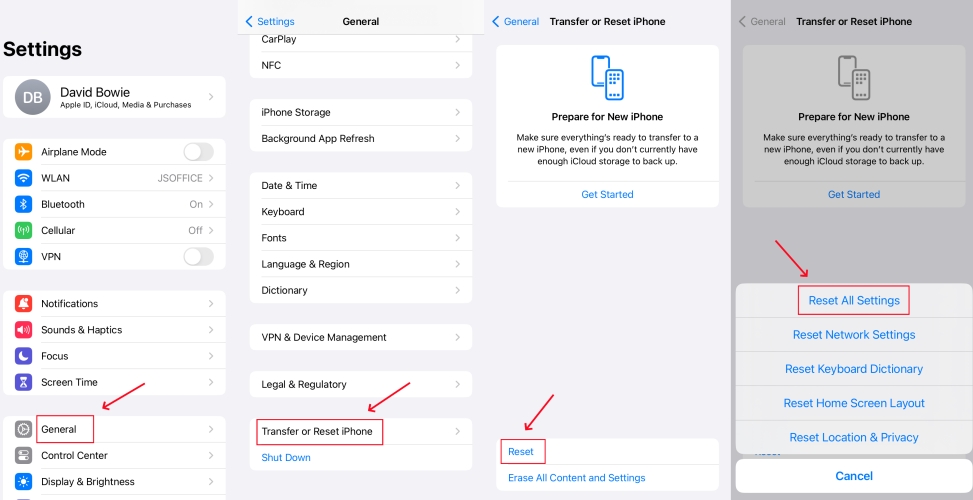 Part 6. Check for Updates on iPhone X
Apple regularly rollouting software update is to fix bugs and enhance system for keeping the device at its best.The old version of iOS will trigger lots of iPhone issues, one of which is the heating up issue. If this is why your iPhone X gets hot, you can tackle by downloading and installing the recent iOS update on your device.
To perform it, you need to get into "Settings" and then to "General" option. Next, please choose "Software Update". If there is a pending update, it reminds you with a red sign. Then, you just click on "Downlaod and Install" and wait the process to end.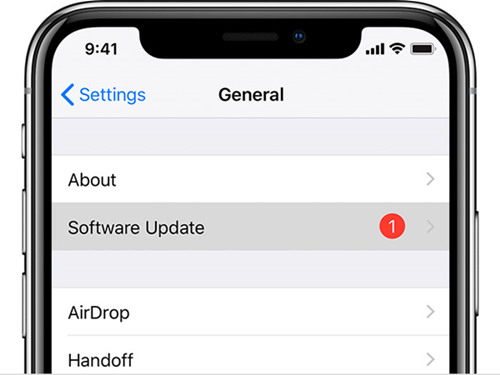 Part 7. Use Joyoshare UltFix with Zero Loss
System glitches are the trigger of the iPhone X heating up problem? In this instance, supposing that a simple restart or force restart has no effect, there is no harm in giving Joyoshare UltFix a shot. It is an all-powerful yet easy-to-operate iOS system recovery program that focuses on repairing all sorts of software issues in a professional manner on iPhone/iPad/iPod touch/ and Apple TVs.
Moreover, it is developed with two repair modes to both offer a lossless solution to general iOS matters like iPhone gets hot and provide a quick solution to tricky iOS problems like iPhone is disabled or locked. Also, it considerately supplies a free service, with which you can get your iPhone X into/out of recovery mode at any time.
Key Features of Joyoshare UltFix iOS System Recovery
Fix iPhone overheating issue with zero loss
Compatible with all iDevice models and recent iOS 13
Give two modes to repair 30+ system issues with ease
Let all compatible devices enter/exit recovery mode with no fee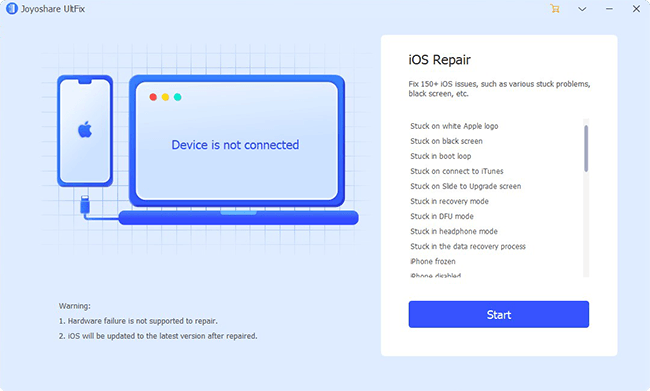 To fix iPhone X heating issue using Joyoshare UltFix, you need to download and install it in the first place and then do as follows.
Step 1: After installing Joyoshare UltFix on your computer, please run it and use an Apple USB cable to connect your iPhone X with the computer. Wait the program detects your device. Go on by touching "Start";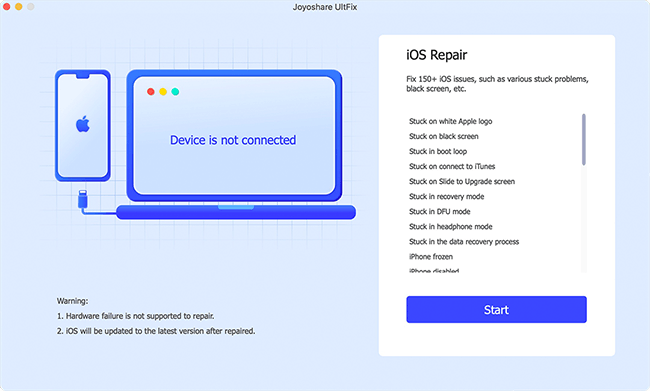 Step 2: Choose a repair mode in this step. For common iOS issues like iPhone X gets hot, select the standard mode. This mode can perfectly solve your iPhone X issue and cause no data loss throughout the process.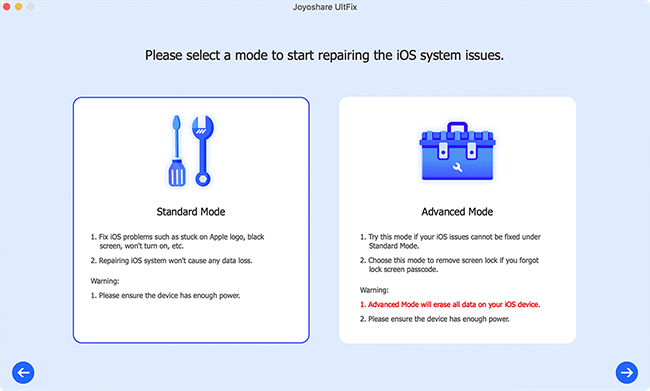 Step 3: Afterwards, you need to click the iPhone model and put the iPhone X into DFU mode according to the on-screen steps. In case the software fails to detect the iPhone X in DFU mode, click the bottomed link and set it into recovery mode.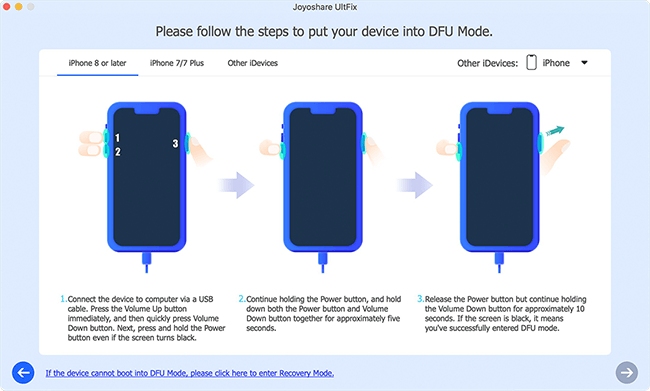 Step 4: When the iPhone X succeeds in entering DFU or recovery mode, Joyoshare UltFix will recognize and display all basic info of it on the screen. After confirmation of shown info, tap on "Download" to download and verify the newest firmware package.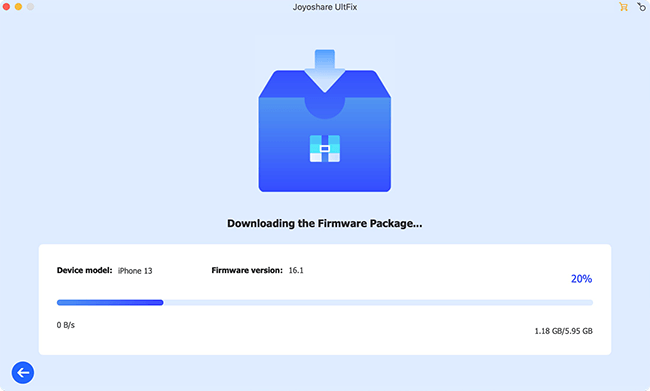 Step 5: In the last step, hit on "Repair" to make the verified firmware package unzipped. Whereafter, Joyoshare UltFix automatically starts repairing your iPhone X heating up problem.