Vibration mode is necessary for many people. On many occasions where it is not appropriate to turn on the ringtone, we will set the phone to vibration mode, which will inform us of calls or messages without much noise. And that is why it is so annoying to have the iPhone vibration not working issue, which will make us miss important calls. Don't worry, one of the 12 solutions listed below will help you get rid of the problem.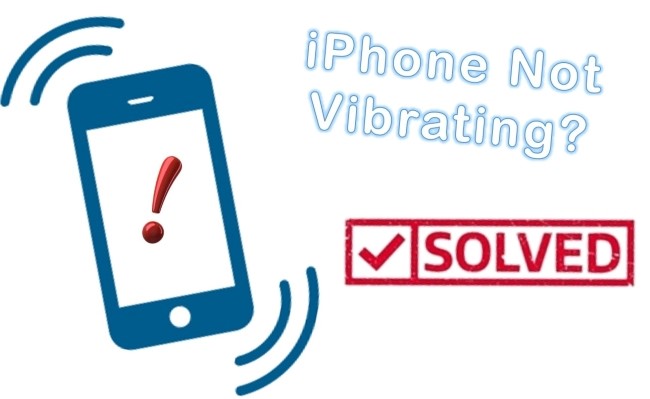 Part 1. Why Does My Vibrate Not Work on iPhone?
If the vibration motor in an iPhone is broken, it won't vibrate. It is most likely the motor that causes iPhone not to vibrate on silent, or it doesn't vibrate for calls, messages, keypresses, etc. When this occurs, you need to replace the motor. But if the problem is software-related, there are simple steps below that can be taken to fix the niggle. Let's discuss them now!
Part 2. What to Do If Vibration Is Not Working in iPhone 13 Pro/ 13 mini/ XR/ 8 Plus/?
Option 1. Use the Top-Notch System Repair Toolkit [Effective & Hassle-Free]
Before you take the relatively complicated measures below, try the easiest solution – Joyoshare UltFix. Joyoshare UltFix is an iOS repairing tool used to fix more than 150 iOS system issues with no data loss on all iDevices. With Joyoshare UltFix, you can solve your iPhone system problems quickly and safely with easy steps. It is so user-friendly that you can put your iPhone into recovery mode by pressing only one button. What's more, this service is free of charge. Besides, Joyoshare UltFix is fully compatible with the latest iOS 15.
Key Features of Joyoshare iOS System Recovery: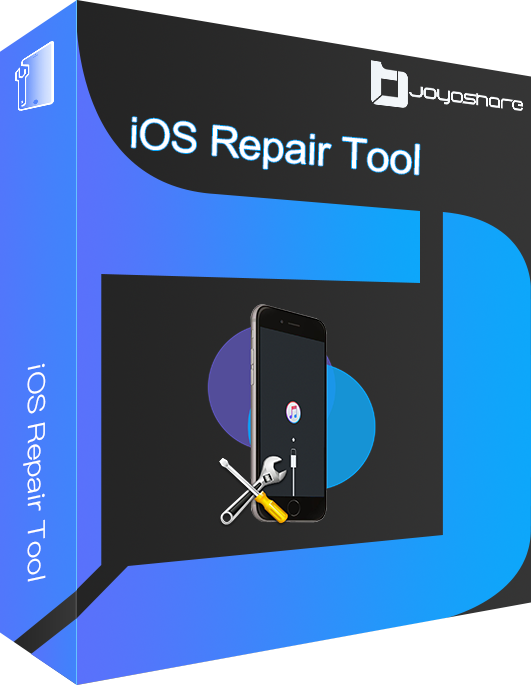 Cause no data loss after repair
Support iOS 15 and almost all iDevices
Repair more than 150 iOS system issues
One-click exit/enter recovery mode free of charge
Now let's take a deeper look into how the iOS System Recovery software works.

Step 1

Launch Joyoshare UltFix on Your Computer

First, you should download the installation package of Joyoshare UltFix iOS System Recovery and connect your iPhone to the computer. Once the program recognizes your iPhone, press the "Enter Recovery Mode" button to put it into Recovery Mode. Then, press the "Start" button.

Step 2

Choose Repair Mode

In this interface, choose the "Standard Mode" to repair the iPhone system problem with no data loss.

Step 3

Download Firmware Package

Now, you need to confirm all the info listed on the screen, then download and confirm the firmware package by pressing the "Download" button.

Step 4

Repair iPhone Doesn't Vibrate

Finally, click the "Repair" button. The firmware package will be unzipped and the problem that your iPhone vibration is not working will be solved simply.
Option 2: Other Common Quick Repair Ways
Way 1. Turn on Vibration Mode
The fact that your iPhone vibration is not on is also a possible reason for the problem. So the first thing you should do is check whether the vibration mode is on or not. You can do this by referring to the below steps.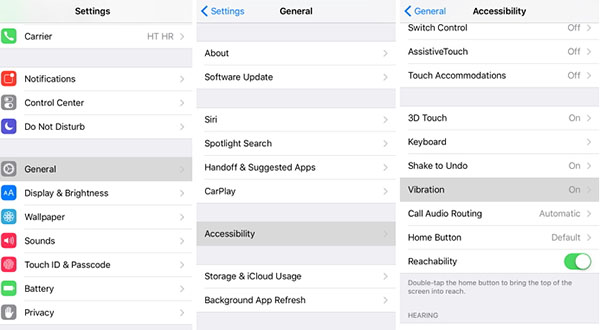 Step 1: Press "Settings" → select "General" → get into "Accessibility";
Step 2: Find "Vibration" and keep it on;
Step 3: Try whether the vibration mode is working or not.
Way 2. Take OFF Any Magnetic Case or Wallet Cover
The magnetic wallet cover might be the culprit behind the vibration problem on some iPhones. Some people have commented that removing the wallet cover fixed the problem. The vibration motor of the iPhone is sometimes disrupted by magnets. Remove all accessories and take the case off of your iPhone. Now does your iPhone vibrate? If not, continue to follow the below steps.
Way 3. Close Do Not Disturb
Maybe you turn on "Do Not Disturb" and forget to turn it back on. When you turn this feature on, all the system sound is silent. Therefore, "Do Not Disturb mode" also results in the vibration not working on iPhone. If this is the case, you can turn off the "Do Not Disturb" mode in the "Settings" to get the vibration working.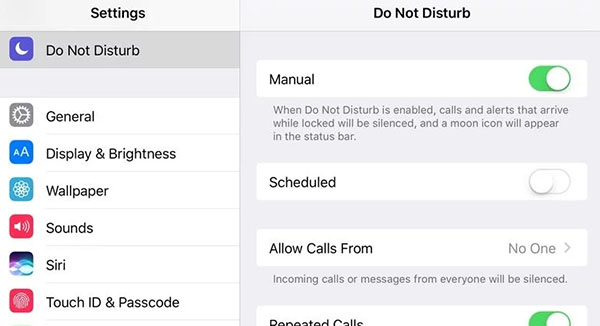 Way 4. Examine Sound Settings
Another possible reason why the vibrate not working on iPhone is that something in the "Sounds" settings goes wrong. In many cases, people don't remember or don't realize that they have somehow turned off the vibration options. Therefore, it is always useful to check the sound settings.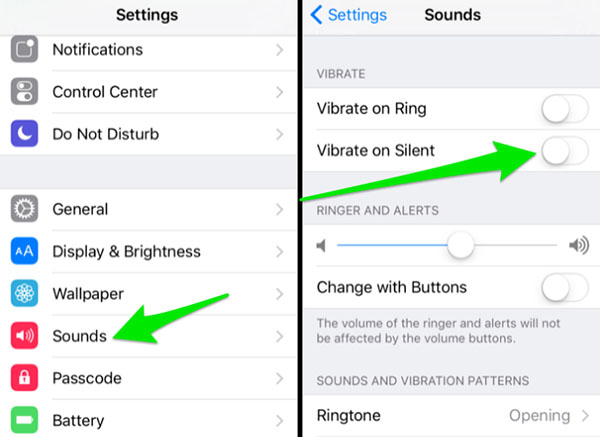 Step 1: On your iPhone, go to "Settings" → "Sounds";
Step 2: Turn on "Vibrate on Ring" and "Vibrate on Silent" simultaneously in the "Vibrate" column;
Step 3: On the same page, scroll down and tap on the "Vibration" option. You will see a list of vibration choices. Choose any of them but not the "None" option.
Way 5. Select Vibration Pattern
The next thing you should do if you haven't received a vibration is to make sure you have selected a vibration pattern. You might accidentally have set the vibration pattern to None if you have not yet changed it.
Step 1: Run the Settings app and select General.
Step 2: Go to Sounds and Haptics.
Step 3: Tap on Ringtone and choose Vibration at the top of the screen.
Step 4: Several options are available, and you can choose any of them that sounds suitable to you. What you need to make sure is that there is a checkmark near anything other than None.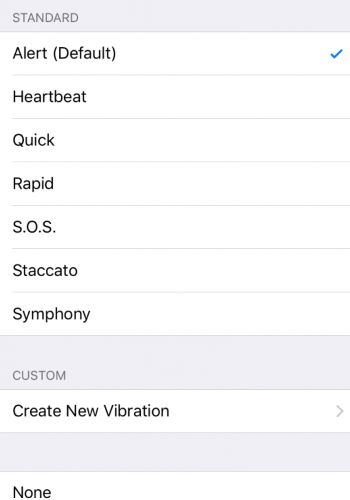 Way 6. Check Vibration Motor on iPhone
Some people may wonder "Why is my iPhone not vibrating even though the settings are correctly configured?" Well, the problem may originate from the vibration motor on your iPhone instead of some software issues. The vibration motor is a small gadget that might break. To see if it's broken, you need to turn the "Silent/Ring" switch on the side of your iPhone and see if the phone vibrates or not. If you can sense a buzz on toggling the switch, the motor is still functioning; otherwise, it is broken and you need to fix it at Apple outlets.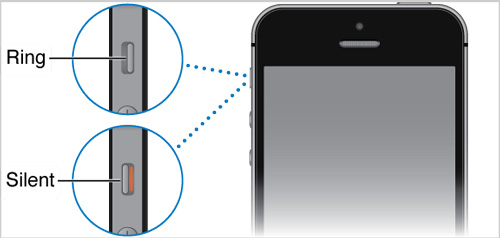 Way 7. Update iPhone to the Latest iOS
An outdated iOS may be incompatible with the vibration mode. To solve this problem, you need to update the iPhone system regularly. The step to update is "Settings" → "General" → "Software Update" → "Download and Install". This can also prevent related issues such as the iPhone not ringing issue. One thing to assure is that iPhone is charged fully and connected to the Wi-Fi.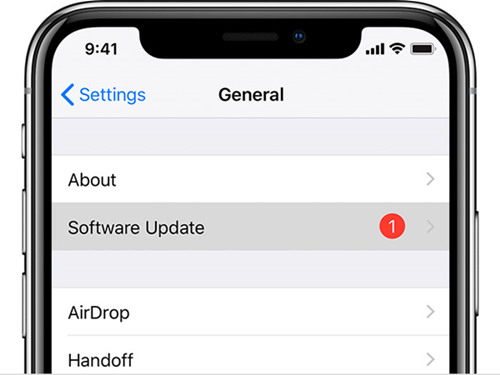 Way 8. Force Reset the iPhone
The simplest way to fix iPhone vibrate not working is to restart your iPhone. The methods to restart are different for different iPhone models.
For the models before iPhone 7: You just press and hold the "Power" button and the "Home" button at the same time for roughly 10 seconds.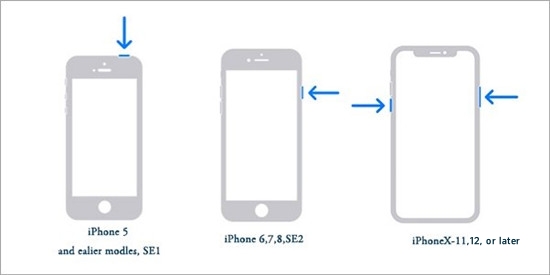 For iPhone 7 and iPhone 7 Plus: You need to press and hold the "Volume Down" button and the "Power" button simultaneously until the Apple logo appears on the screen.
For iPhone X and later models: Quickly press and release the "Volume Up", followed by the "Volume Down" button. Hold the side button until the Apple logo appears on the screen after the screen shuts down.
Way 9. Erase All Content and Settings
If your iPhone still doesn't vibrate even if the vibration motor is fine, the ultimate solution is to reset all settings. Please back up all your data to iCloud or iTunes before resetting, because it will erase all the data on your iPhone.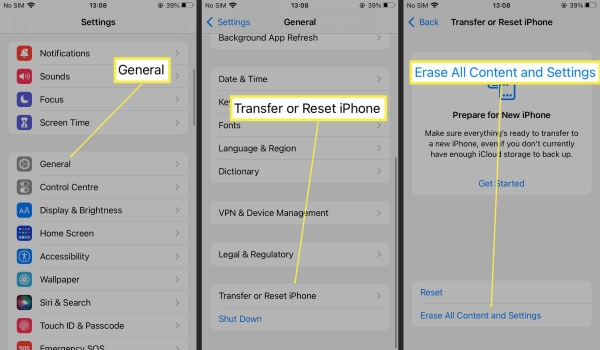 Step 1: On your iPhone, go to "Settings" → "General" → "Transfer or Reset iPhone";
Step 2: You will be asked to enter the passcode;
Step 3: After entering the passcode, select the Erase All Content and Settings option. Your iPhone will reset and reboot automatically. When it turns back on, make a call to it and see if the vibration resumes.
Way 10. Enter DFU Mode
You can then enter DFU Mode to restore your iPhone if it does not vibrate after you've tried all of the previous steps. It is the end-all-be-all for fixing iPhone software issues, as a DFU restore erases all your device's content and settings. As opposed to a standard iTunes restoration, using this method wipes both your device's software and hardware settings.
Step 1: Connect your iPhone to your computer and run iTunes if you have a Mac running macOS Mojave 10.14 or a PC. Open Finder if you have a Mac running macOS Catalina 10.15 or newer.
Step 2: This step varies depending on the phone model.
· Hold down the Sleep/Wake button and Home button (iPhone 6s and below) or the Volume Down button (iPhone 7) together for about 10 seconds. Release the Sleep/Wake button but continue to hold the Home button (iPhone 6s and below) or the Volume Down button (iPhone 7) until your iPhone appears in iTunes or Finder.
· For iPhone X, 8, or 8 Plus, or newer: press and release the Volume Up button, followed by the Volume Down button, and then press and hold the Side button until the screen goes black. Then press and hold the Volume Down button but still hold the Side button until you see iTunes or Finder.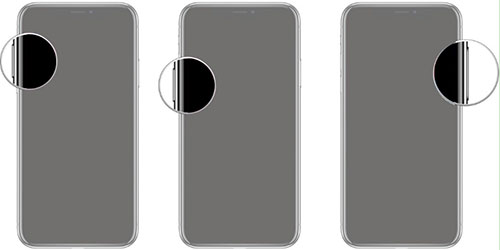 Step 3: When it appears iTunes or Finder on the screen, release the buttons. Congrats! Your iPhone is in DFU mode.
Step 4: Start to restore your iPhone with iTunes or Finder.
Way 11. Ask Apple Support
As we mentioned before, the iPhone not vibrating problem may result from hardware issues. If that is the case, the most secure way is to get it fixed by the technicians from Apple Support. Please do not repair it on your own, because the vibration motor is a delicate gear that can be easily damaged.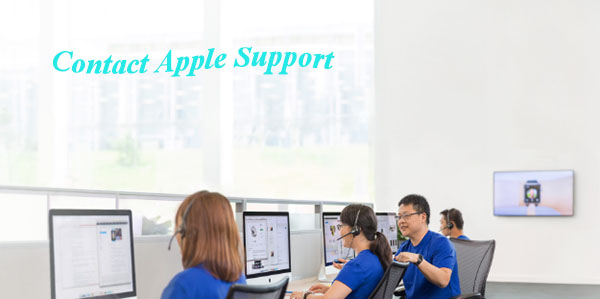 Part 3. Final Words
It's never fun to miss important notifications and calls. The most common cause of iPhone vibration not working is an incorrect setting or a bad iOS update. Now, the buzzing is back and now you know what to do if your iPhone stops vibrating. Friends will always be able to reach you, and that can save everyone a headache.
We hope you enjoyed this article. Feel free to forward it to your friends and family when they ask the old-age question – "Why does my vibration not work on iPhone?". Let us know which of the above solutions worked out for you in the comments below. Also, do not hesitate to leave a comment if you get stuck on anything.