Apple TV can be a great source of entertainment. The TV comes with a remote, which helps you adjust several features conveniently. The remote is designed in a way that it works at almost any time. But just like any other device, it can experience problems from time to time. In situations where Apple TV remote doesn't work, you need to know the best ways to fix it. But it is paramount to start by knowing why your Apple TV might not be working. By knowing these reasons you can help anyone who says, "My Apple TV remote stopped working". Here are eight top ways of fixing your Apple TV remote not working issue.
Why Is Your Apple TV Remote Not Working?
To further address the Apple TV problem, there follows a list of reasons for this issue. You can take a quick glance.
1. Not being charged;
2. Obstructions between the TV and the remote;
3. Be out of range;
4. Outdated iOS;
5. Underlying software which needs to be fixed.
Part 1: Charge the Apple Remote/ Siri Remo Reason
One of the primary reasons that can make the Apple TV remote to stop working is when the battery is low. To deal with this issue, you need to charge the Siri remote so that it can resume working. It is advisable to charge the remote using the USB cable that comes with the remote. It is also advisable to charge the remote directly from a power source and not through a device such as a computer. When you charge it directly, it can charge more effectively and within a shorter time. You shall just need to charge the remote for about thirty minutes. In case the Apple TV remote not charging correctly, you shall need to check the charger and the connection options.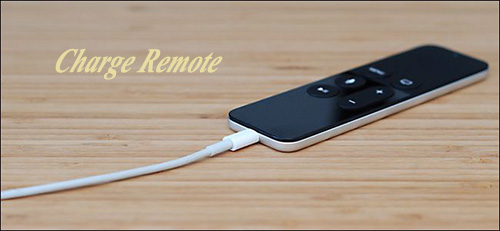 Part 2: Re-pair Remote with Apple TV
For the Apple TV remote to work correctly, it needs to pair with the TV. If the pairing is disrupted or it is blocked, the TV will not be able to detect the remote, and as a result, it will not work. To re-pair the remote with the TV you need to point the remote towards the TV. You then need to press and hold the "Menu" Button together with the "Volume Up" button for about 6 seconds. This will reset the connection option and will effectively re-pair your remote and the TV. You might need to place the remote on top of the TV so that the re-pairing can happen properly.
If you are using aluminum remote or white remote, you shall need to press and hold the "Menu" button together with the "Right" button for about seven seconds. Your TV will bring a link symbol to show that it is trying to re-pair. After the two have appropriately paired, the remote will flash three times once you press it.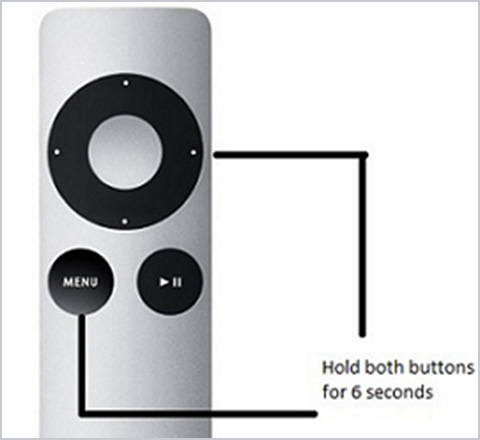 Part 3: Restart Apple TV
When you restart your Apple TV, you shall be refreshing the setting so that the remote can effectively be detected. This is especially helpful when Apple TV is not working because of unknown reasons. You just need to switch off the TV in the usual manner. You can also switch off the TV by disconnecting it from power. By disconnecting it from power, you shall be making sure that all the applications have been switched off and they will start again afresh. After restarting the TV, you should wait for about ten seconds before trying out the remote. This gives the TV time to configure all the features and options available.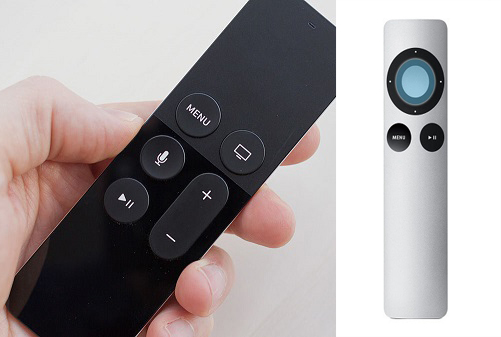 Part 4: Use Joyoshare UltFix without Data Loss
Joyoshare UltFix is an application that is specially designed to fix various iOS problems quickly and safely. To be the multifunctional intelligent equipment, it offers you three repair modes. Some common issues can be fixed without losing data by just using standard mode. Advanced mode is applied to resolve certain serious problems that may not be done with standard mode. With advanced mode, you could even unlock any iOS device without knowing passcode. And still another one is recovery mode, with which you can make your device enter/exit recovery mode for free.
What's more, the application will detect and fix any issue on your Apple TV, such as Apple TV black screen, Apple TV Airplay now working and so on. Of course, if there is something wrong with your iPhone/iPod/iPad system, you can not hesitate to make use of this repairing tool. It is because its powerful compatibility makes it available to almost all iOS device models and support every iOS version even iOS 13. You just need to easily download the software from the official website.
Key Features of Joyoshare UltFix
Fix Apple TV remote not working without data loss
Provide standard and advanced modes to fix varied issues
Allow your iOS device enter/exit recovery mode with one click
Be compatible with iOS 13 and all iOS device models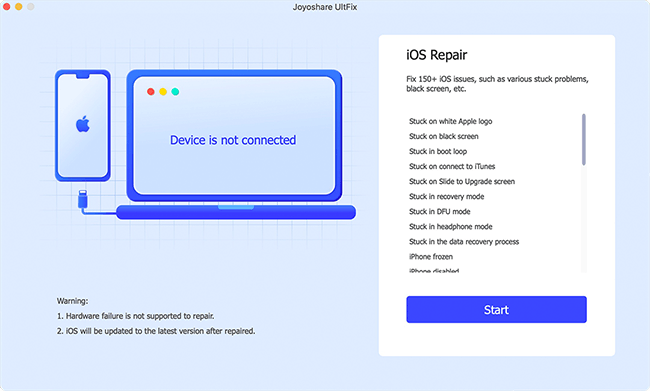 How to repair this Apple TV remote issue with Joyoshare UltFix? Here are the steps to follow.
Step 1: First you need to visit the official website and download Joyoshare UltFix. After downloading, install it on your computer and connect your Apple TV with a Micro-USB cable. Then go no with "Start" button;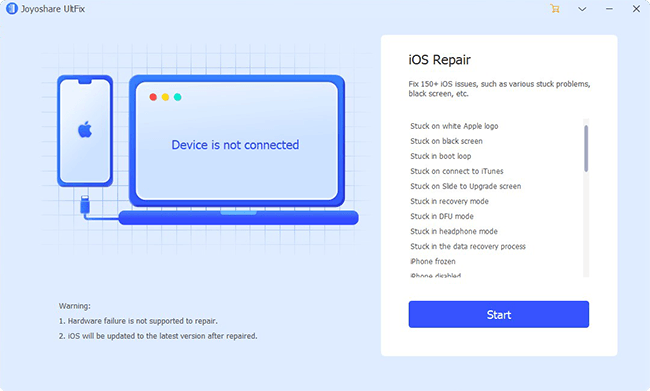 Step 2: Secondly, you are demanded to choose one repair mode. Standard mode is enough to meet your needs;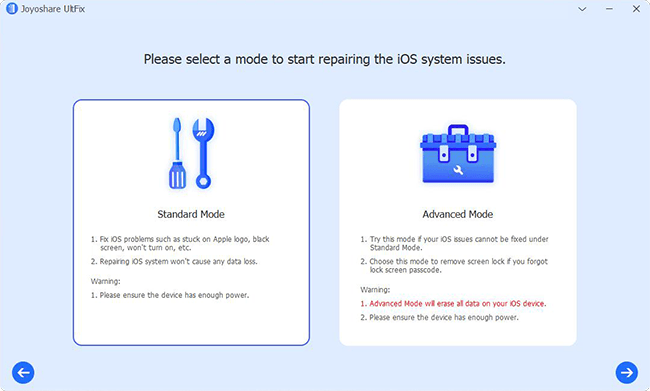 Step 3: In this step, you ought to click the model of your device and then follow the on-screen instructions to put Apple TV into recovery mode;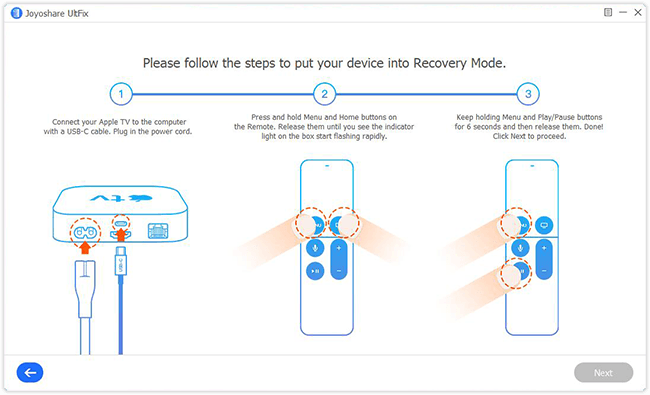 Step 4: Once entered, all info of Apple TV will appear in your sight. Just confirm it and tap on "Download" to download and verify a new firmware package for your Apple TV;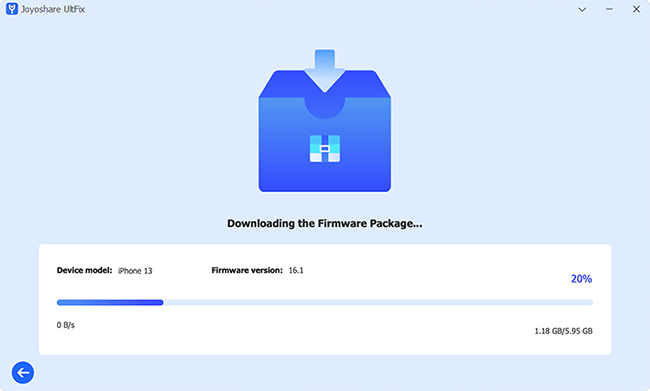 Step 5: Now, it is time to touch the "Repair" icon to unzip the downloaded firmware package and soon start repairing Apple TV remote problem.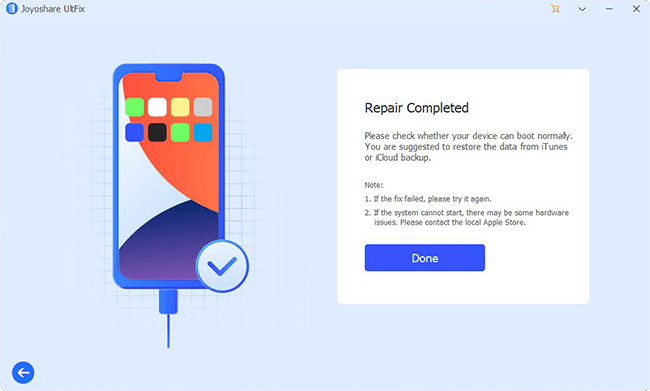 Part 5: Remove Obstructions between TV and Remote
When new Apple TV is not working correctly, you should ensure you remove anything that might be blocking the TV from the remote. The Apple TV remote uses IR technology to communicate with the TV. This technology requires that the remote be able to detect the TV without being blocked by anything. It is also paramount to make sure that you are as close as possible to the TV. This is meant to make sure that the remote is within the range that is usually set by the manufacturer. If you are not within range, the TV won't detect the remote.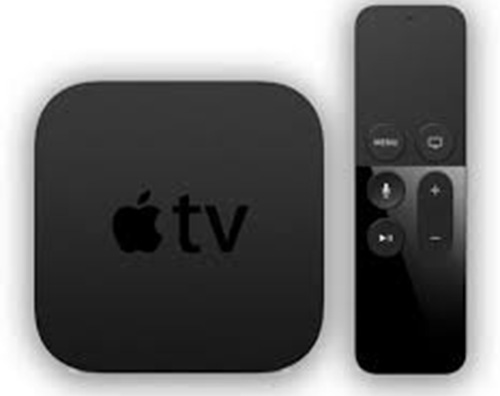 Part 6: Adjust the Scroll Speed of the Remote
Your Apple TV might not be working simply because it is too sensitive. A too sensitive Apple TV will not work properly with too much sensitivity. You shall not be able to control the sensitivity, but you will change how fast the remote scrolls. Here are the steps to follow: Settings > Remotes and Devices > Touch Surface Tracking.
By changing how quickly you scroll, you shall be able to input anything you want without struggling. This is especially when you are using the Apple TV remote Siri.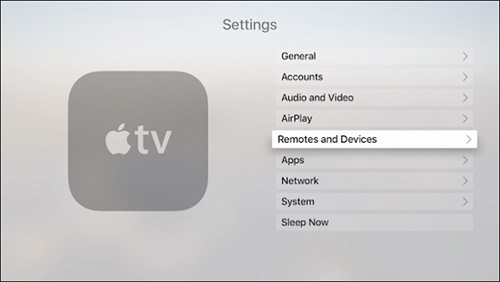 Part 7: Try iPhone or iPad as a Remote
Apple TV is designed in a way that you can use your iPhone or iPad to control the different features when the Apple TV remote is not working correctly. You just need to make sure that you have the right iOS on your phone and your TV is of the fourth generation. If the iPad or iPhone can control the TV, then you should know that the problem is with the remote and as a result, you should identify the problem and fix it.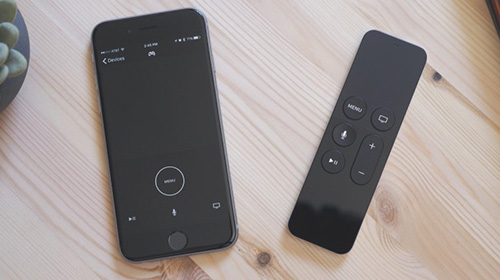 Part 8: Contact Apple Support
When all the methods that you try fail to make the remote work, you should contact the Apple support. You should explain to the support team that your Apple TV remote is not working correctly. You shall receive instructions on how to fix the remote. If the instructions do not work, the Apple team can fix the remote or get you a replacement. This will not cost you anything because of the warranty that comes with the TV and remote.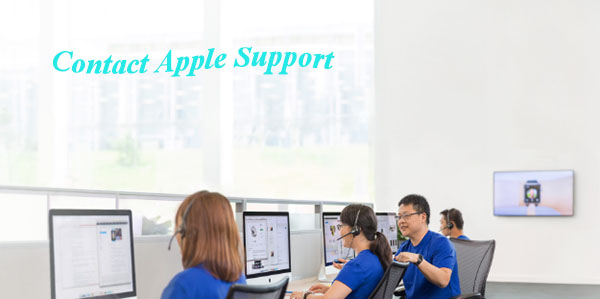 Conclusion
All the eight methods above are listed to repair Apple TV remote not working issue. The primary determinant of how well they work is what is affecting the remote. You may take the direct usage of Joyoshare UltFix iOS System Recovery if you want to settle the issue once and for all. Or you can try them all until your remote start working once again. By combining them, you get to eliminate the ones that do not produce the desired results. Therefore, by following the outlined guidelines, you can effectively fix your Apple TV that is not working properly.