"My iPhone 13 is frozen with the slide power off inoperative. Now, I am stuck on the restart page but because I can't swipe, I can't drag the "slide to power off" button! I tried quickly holding and releasing the volume up and down buttons but when I held the right button the Emergency SOS alarm counts down and goes off. I would like to shut the phone off and then reboot to see whether the original problems would resolve. Any ideas?" – From Apple Community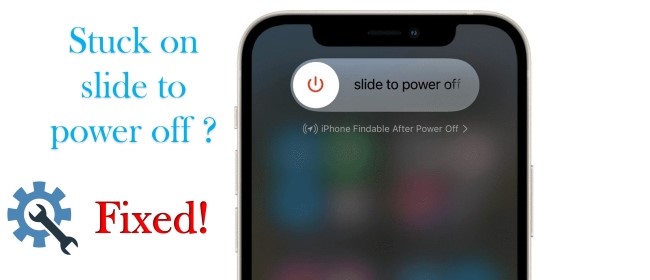 Similar to the previous cases, many iPhone users have complained that their iPhone stuck on slide to power off screen and they're confused with why it's happening. When you encounter this situation, a normal restart might not work. Since your iPhone has become so unresponsive, it can't be recognized even if you hold down the power and volume buttons. What's worse, there may not be accessible to all the features of your iPhone and it may not turn back to normal, even if people call you. Luckily, the complete guide to fix this irritating problem is at your fingertips. You only have to read this post and carefully follow the steps below.
Part 1. Why Is My iPhone Stuck on Slide to Power off Screen?
There could be several causes when you seriously experience this trouble. You should know the main reasons for this error. The reasons are listed below:
· The wake or sleep button is broken.
· Software problems are freezing up your iPhone, like iPhone OS glitches and bugs.
· There's a problem with your iPhone's screen, which doesn't respond to finger touches.
· Occasionally, the software on the iPhone crashes, or other unknown errors may trigger this issue.
There are numerous commendable ways you can try to get rid of iPhone stuck on slide to power off screen problem. Listed below are the most efficient and fruitful ways in which you can resolve such an annoying issue. Simply implement the below-noted directives one by one until you solve your problem. Let's begin!
Part 2. Proven Solutions to Fix iPhone Stuck on Power off Screen
Solution 1. Hard Reset iPhone
Believe it or not, most smartphone issues can be resolved with a simple reboot. Your iPhone can be refreshed by shutting it off and turning it back on again. Usually, this fixes any minor software issues in the background. Force reboots the iPhone vary from model to model. So, start to follow the given instructions:
For iPhone X/ 8 and later, respectively press and release the Volume Up button and Volume Down button, then hold the Side button until the Apple logo appears on the screen.
For iPhone 7 and 7 Plus, hold down the Wake/Sleep button and the Volume Down button at the same time till the Apple logo flashes on the interface.
For iPhone 6s and former, simultaneously press down the Power button and the Home button for several seconds until you see the Apple logo.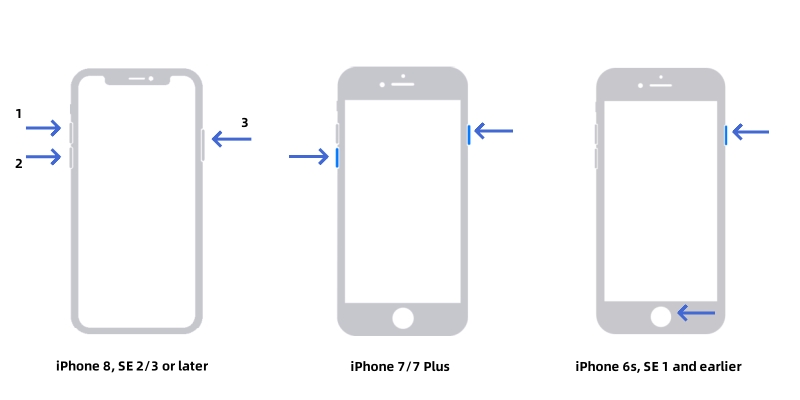 Solution 2. Use Quicker-Than-Typical Repair Tool – Joyoshare UltFix [Highest Success Rate]
If restarting your device failed to help you come out from slide to power off screen, then you can use Joyoshare UltFix iOS System Recovery tool. It is undoubtedly a great iOS repair service. It fixes a bunch of iOS system issues without modifying settings or affecting data. All iPhone, iPad, and iPod touch models are compatible with this software. Apart from the slide to power stuck issue, Joyoshare UltFix is also able to fix certain other iOS problems, like iPhone black screen issue, iPhone stuck on hello screen, airplane mode, and other iOS issues. The repair process is quite straightforward and pleasant.
Key Features of Joyoshare iOS System Recovery: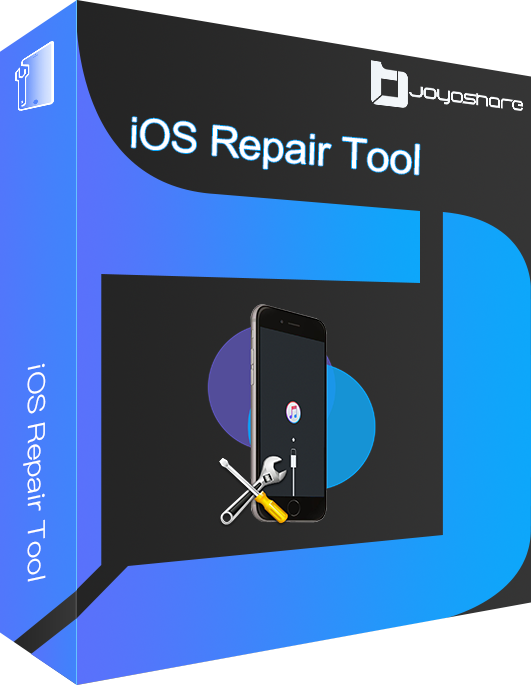 Compatible with all iOS devices
Uniquely designed with dual repair mode
Zero data loss to guarantee maximum data protection
It can repair 150+ possible iOS problems
Free exit or get into recovery mode quickly
Now let's take a deeper look into how the Joyoshare iOS System Recovery software works.
Step 1

Download the Program and Connect iPhone

Use a Mac or Windows PC to download and install this program. Use an original cable to connect your device to the computer and make sure it detects your phone. Click the blue button that reads "Start", which is located at the bottom right. Now, you are ready to fix the problem.

Step 2

Choose Repair Mode and Download Firmware Package

Two modes will show you on the screen. Choose Standard Mode that will prevent your data from being lost. Advanced Mode is used to fix more serious issues but erase all of the data, so don't get confused. On the next screen, you should read and check the related information provided by the application. If anything is wrong, correct it. "Download" the proper firmware to match with your device.

Step 3

Start to Fix iPhone Stuck on Slide to Power off Button

In the final steps, click on "Repair" to begin the fixing process. After that, your iPhone should be back to normal.
This program provides fantastic features which are of many benefits to its users. Easy to operate, time-saving, and feature-rich, that's why it became a highly praised repair toolkit.
Solution 3. Restore iPhone via iTunes
Most iOS problems can be fixed with iTunes as well. This app can be used to restore your device when iPhone stuck on slide to power off screen problem occurs. It is an extreme method because it will completely delete all data from your iPhone. Therefore, before you perform the following steps, you are advised to back up all your iOS data first. Below we outlined the steps to restore iPhone by iTunes:
Step 1: Run the latest iTunes and plug your iPhone into PC with a USB cable.
Step 2: Follow these steps to force your device to restart while it is connected:
On an iPhone 8 or newer: respectively press and release the volume up button and the volume down button. Then, press and hold the side button until you see the Recovery Mode screen.
On an iPhone 7 or iPhone 7 Plus: Keep holding the side and volume down buttons until you see the Recovery Mode screen.
On an iPhone 6S, iPhone 6S Plus or older: Press and hold both the Home and the Top (or Side) buttons at the same time until you see the Recovery Mode screen.
Note: When you see the Apple logo, don't release the buttons. Instead, hold them until you see the iTunes logo in recovery mode.
Step 3: When you get the option to restore or update your computer, choose Restore iPhone to try and recover your phone using that backup.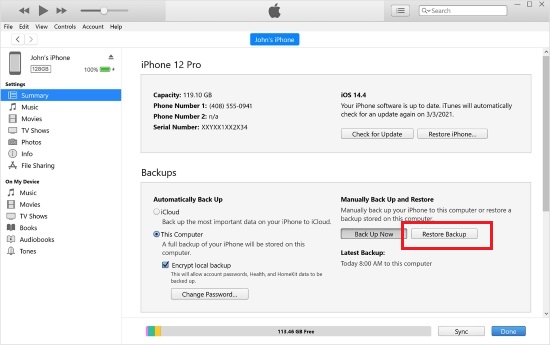 Solution 4. Contact Apple Support to Repair iPhone
If unfortunately, none of the aforementioned solving methods are beneficial for you in terms of overcoming iPhone stuck on slide to power off screen problem. Don't worry! Ask Apple for help. Your iPhone can sometimes stop working because of problems with its physical components (called hardware). A replacement or repair of your iPhone is a good option when this happens. Apple (or another company like a store or your cell phone company if you purchased the warranty through them) may offer to fix your iPhone while it is still under warranty. So, it pays to check on this first.
Part 3. Final Thoughts
iPhone errors are always easy to appear, and the hard part is how to find the root cause and then solve the problem. We just hope that at least one of these proffered solutions works out for solving iPhone stuck on slide to power off screen problem. The recommended method is to always use a reliable utility to do the job for you because you never know what's going wrong next. But if you have the powerful tool – Joyoshare UltFix iOS System Recovery to fix the common issues with your iDevice, you'll be prepared to deal with most of the problems that come up.