Restarting is a quick and useful way to fix many common problems that occur in your device, such as network errors, bad signals, iPhone stops responding, etc. But if your iPhone doesn't restart, it must be something wrong. The hard restart operation is able to solve it. However, when your iPhone doesn't force restart, except for the wrong operating steps, it can be inferred that your iOS system has a glitch. To solve the problem of your iPhone force restart not working, this article will provide you with several possible and attainable methods.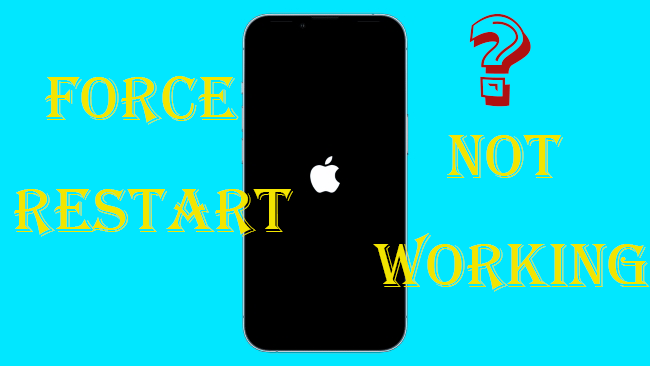 Part 1. Correct Way to Force Restart
Consider that the reason why your iPhone won't force restart may be that some of you don't know how to hard restart or are operating incorrectly, here listed the correct way to force restart. Try to follow these steps to operate again if you are not sure whether your operation is right or not.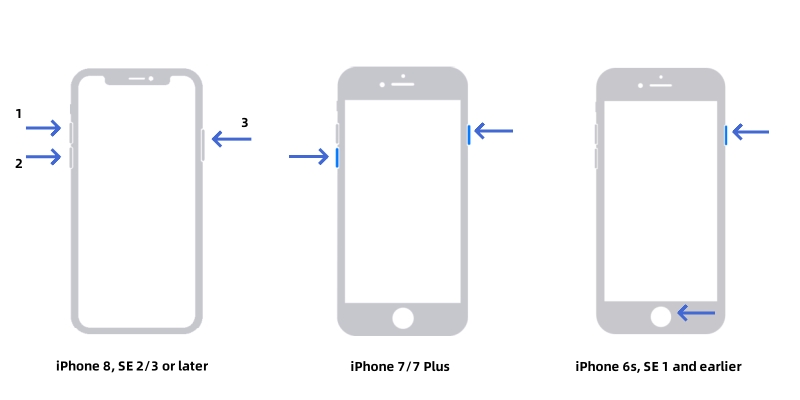 iPhone 8 and later: Press the Volume Up button once; press the Volume Down button once; press and hold the Side button; undo it once the Apple logo appears
iPhone 7 or 7 Plus: Hold the Volume Down button and the Sleep/Wake button; when the Apple logo shows, undo them
iPhone 6 and earlier: Hold the Sleep/Wake button and the Home button; when the Apple logo appears, undo the two buttons
Part 2. How to Fix Force Restart iPhone Not Working: Video Tutorial
Perhaps some of you still have a problem of force restarting iPhone. This video will show you how to hard reset your iPhone and how to fix iPhone force restart not working issue.
Part 3. Methods to Fix iPhone Force Restart Not Working
If you do operate correctly but it still doesn't work, it's time to fix your iOS system in the three ways below. Here provide you three solutions and whichever you choose depends on your iPhone's state.
Method 1. Ensure iOS System Is Up to Date
On old iOS operating system, many glitches and errors exist, which bring a great possibility to the force restart not working problem. To rule out this cause, you need to check if you are running the latest iOS system version. If not, follow the steps below to update it.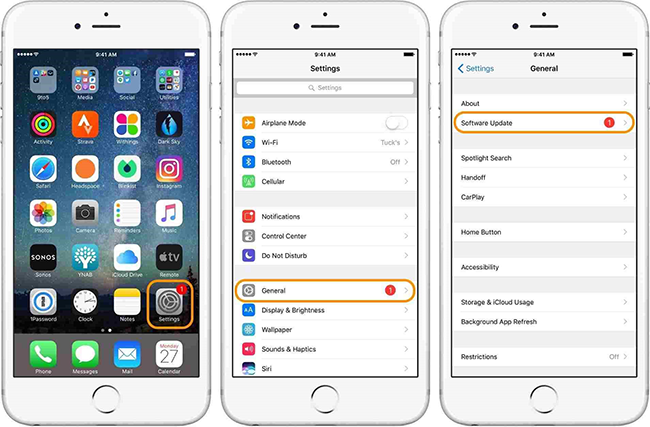 Step 1: Go to the Settings app and tap General.
Step 2: On the General screen, choose Software Update.
Step 3: Wait for your iPhone to check for updates. Then, hit the Download and Install button to update your iOS system.
Method 2. Toggle Off Press Side/Home Button for Siri
One of the operations of force restarting iPhone is to press the Side button, and Home button for former models. However, if you set up invoking Siri with the Side or Home button, Siri will appear rather than the Apple log when you press it to force restart. Consequently, force restart will not work as this feature interferes with the process of hard reset. To avoid this, you can disable Press Side/Home Button for Siri on Settings → Siri & Search.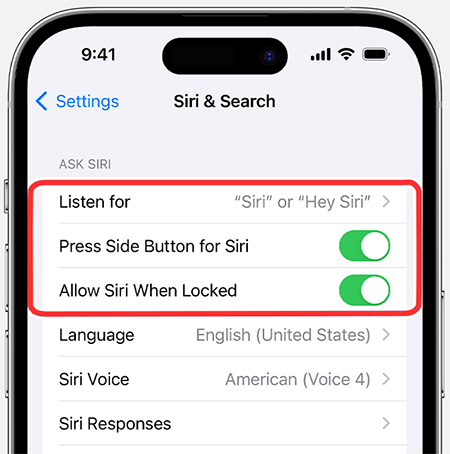 Method 3. Factory Reset iPhone
When your iPhones can be used smoothly, you can reset your iPhone into factory mode to fix the problem that force restart not working on iPhone. This method is easier and more convenient because you can complete the operation on your iPhone. Since the factory reset function will erase your iPhone, you'd better prepare a backup first so that the crucial information would be restored later.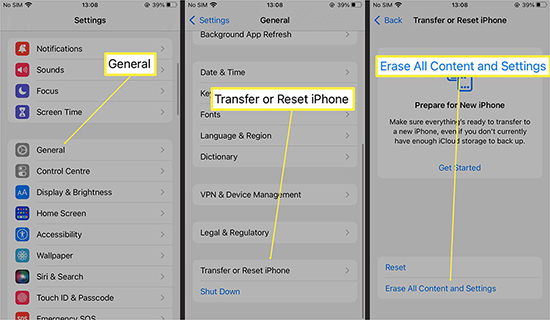 Step 1: Go to Settings General → Transfer or Reset iPhone → Erase All Content and Settings.
Step 2: Click Continue, here you need to enter your passcode to ensure it is you who want to factory reset your iPhone.
Step 3: If you have backed up or you don't need to reserve your data, you can tap Skip Backup on the interface Uploading Data to iCloud. If you are not, follow the instructions to make a backup.
Step 4: Enter the password of your Apple ID on the next screen. If the Find My feature is on, hit the Turn Off button in the top-right.
Step 5: At last, click Erase iPhone to factory reset your iPhone.
Step 6: Wait for a while, and your iPhone will restart, set up your iPhone and restore your backup. Now you can check whether the force restart function is working.
Method 4. Restore iPhone Using iTunes
When your iPhone is stuck or the Settings always crashes, you could restore your iPhone with iTunes, which is also workable to fix the force restart iPhone not working issue. To start, you need to preinstall the latest iTunes on your computer and back up your data. Whether you are a Windows user or a Mac user, here offers detailed operating steps for you.
Restore Synced iPhone

Step 1: Plug your iPhone into the trusted computer with a USB cable and run iTunes.
Step 2: When your iPhone is successfully detected by iTunes, click the iPhone icon at the top menu.
Step 3: Hit the Restore iPhone button and wait for your iPhone to restart.

Restore Un-synced iPhone in Recovery Mode

Step 1: Launch iTunes and connect your iPhone to the computer.
Step 2: Since your iPhone has not been trusted your computer before, you can unlock your iPhone and tap the Trust option, or put your iPhone into recovery mode.

iPhone 8 and later: press Volume Up once, press Volume Down once, hold the Side button for a while and release it when the Apple logo appears.
iPhone 7 and 7 Plus: press and hold the Side button and the Volume Down button at the same time, and undo them once you see the Apple logo.
iPhone 6 and former: long-press the Home button and the Power button, and then release them until the Apple logo occurs.

Step 3: When your iPhone is recognized, a prompt will occur on the iTunes screen.
Step 4: Click the Restore button on the prompt and your iPhone will be restore to factory settings.
Method 5. Repair iOS System Using Joyoshare UltFix
If your iPhone gets into trouble, like black screen, white Apple logo, iTunes error, etc. force restart will not work for your iPhone. When the hard restart not working issue happens showing the mentioned state, it implies that your iOS system is damaged. In this case, you may need a third-party program to repair your iOS system. Joyoshare UltFix is the one that has the capability to make force restart succeed again.
Joyoshare UltFix is capable to fix a large number of problems on the latest iOS 17 and iPhone 15 series. No matter whether your iPhone won't restart or it's disabled, it will be repaired with no data loss. Besides, Joyoshare UltFix offers another three features, upgrade/downgrade iOS system, factory reset iOS device and free enter/exit recovery mode. You have no need to jailbreak your iPhone and no need to download iTunes or Finder, all your demands can be satisfied with Joyoshare UltFix. It provides standard repair and deep repair. The former is able to fix simple iOS issues, such as your iPhone force restart not working, and it won't cause any data loss.
Key Features of Joyoshare UltFix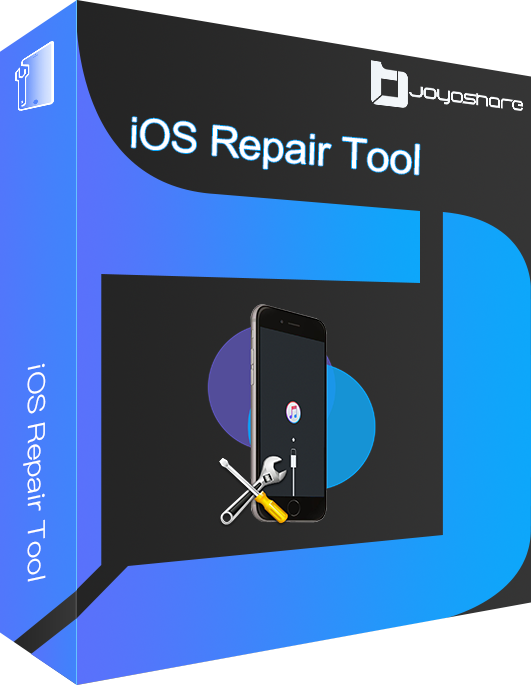 Repair more than 150+ iOS problems in two modes
Free to get into Standard Repair without losing data
Fix serious issues using Deep Repair
Upgrade/downgrade iOS system, factory reset iOS device and free enter/exit recovery mode
Compatible with the latest iOS 17 and iPhone 15 series
Step 1

Plug iPhone to Computer

Run Joyoshare UltFix and plug your iPhone to your computer. Enter "iOS System Repair" part and a list showed different iOS issues so that you can preview them. Then click "Start".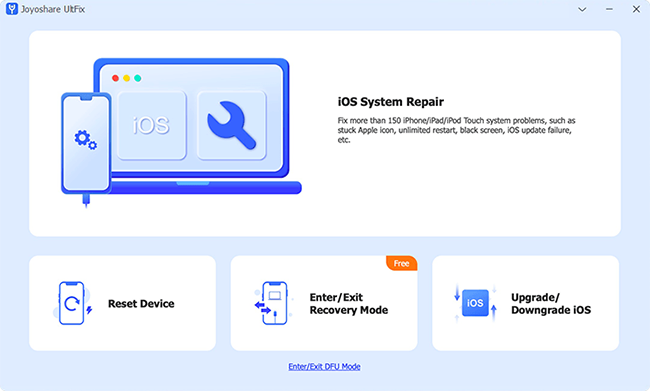 Step 2

Choose Standard Repair Mode

Make sure that you read the warnings and know the risks of repairing, then choose Standard Repair mode to fix your iPhone. If your iPhone can be scanned and recognized successfully, you can move to the next step. If it is not, you have to get your iPhone into DFU/Recovery mode first, and the instruction will guide you to do that.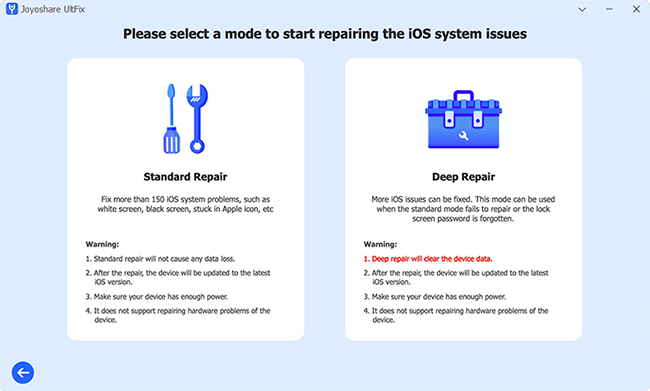 Step 3

Download and Verify Firmware Package

Check whether your iOS version is right or not, and Joyoshare UltFix will offer a matching firmware package. Then click "Download", and it will be downloaded and verified automatically.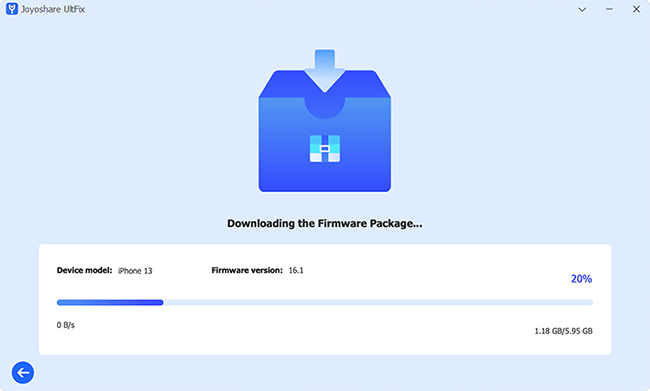 Step 4

Start to Repair iPhone Force Restart Not Working Issue

After verifying, click "Repair" to fix your iPhone. Once the "Finish" button appears, your iPhone force restart feature will work again.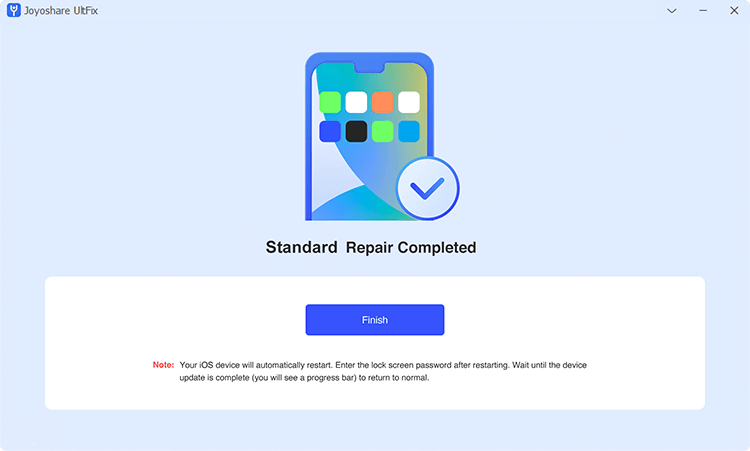 Method 6. Contact Apple Support
In case all the above-mentioned methods are invalid to fix the iPhone force restart not working issue, the last solution is to contact Apple Support. Since it is potential that your problem is caused by the hardware glitches, you'd better go to the local Apple Store and ask serviceman for assistance.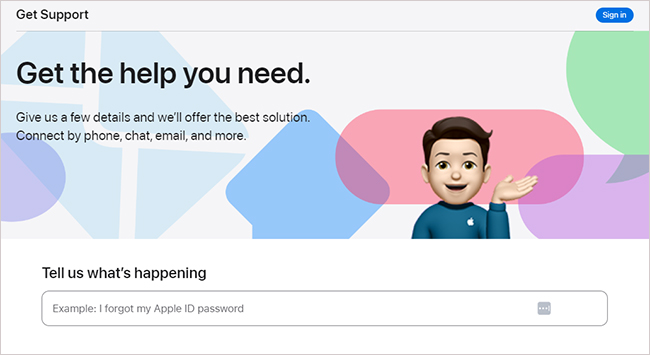 Part 4. FAQs about Force Restart iPhone
Q1: How long does it take to force restart iPhone?
A: It only takes around 1 minute to power off your iPhone by pressing the Volume and Side buttons. After seeing the Apple logo, you need to wait for about 5 minutes and your iPhone will power on.
Q2: How often should I force restart my iPhone?
A: You don't have to force restart your iPhone frequently, but it is advisable to hard reset it regularly at least once a week. It will refresh the operating system and fix minor glitches. Also, it prolongs the battery life and improves better software performance.
Q3: Will my data be lost after force restart iPhone?
A: No, force restarting iPhone will not get your data lost as it only gives your iPhone a fresh start and doesn't bring your iPhone to factory settings.
Q4: Is force restart the same as restart?
A: No, force restart is different from software restart. The former gives a deeper and more thorough fix for system errors on your iPhone. The latter only provides a simple restart to the software of your device. In the meantime, the operations of them are not the same.
Part 5. Summary
After confirming your force restart operation is correct, you will eager to find another way to save your iPhone. This article introduces six methods for you to fix your iPhone force restart not working problem, and which one you select is up to your iPhone's state. If it can be used smoothly, just factory reset it using your iPhone or update it to the latest iOS. If it gets stuck, iTunes will fix it by restoring your iPhone. They require backing up your data in advance. However, if you want to preserve your important data, the standard repair of Joyoshare UltFix will provide you with the best experience. Otherwise, you need to contact Apple Support for help.