Q:"My wife's iPhone 12 stuck on Hello screen today. It appears to be connected to cellular data, but the iPhone is stuck on Hello screen. Has anyone experienced this before? Please help." – Walburnryan from Apple Community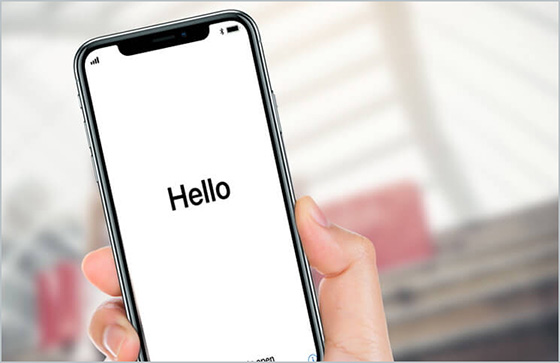 It can be claimed without boasting that Apple iPhone is one of the most durable smart devices in the intelligent world. That being said, it is not powerful enough to dodge the endemic problems of phones. One of the most talk-about problems of late is that iPhone stuck on Hello screen which may be a rarity and difficult for you. But in reality, it is not as complicated as you think. The following easy-to-understand methods are projected to shuffle off this trouble.
Part 1. Why Is My iPhone Stuck on the Hello Screen?
iPhone stuck on Hello screen may be caused by several factors. The most typical reasons for this headache include:
Jailbreak iPhone
In a jailbroken iPhone, apps can bypass Apple's firmware security to gain access to the boot-up process (the only time apps can do this). Hence, the app can make changes to the device as it seems fit. Because of this, it may cause the iPhone stuck on Hello screen.
iOS Update, Data Transfer, or Restoring the iPhone
It is possible for your iPhone to become unresponsive when updating the iOS, transferring data between the device and computer; or restoring the device. During those processes, iPhone will have access to the firmware. In other words, if there is a problem with the USB cable or defective USB port, or if anything interferes with the firmware, your iPhone may get stuck on Hello screen.
Hardware Malfunction
The iPhone will start a hardware check when it is turned on. This implies that iPhone will communicate with the hardware. So, when it is unresponsive, the iPhone is more likely to get stuck on the Hello screen. The iPhone, for instance, communicates with the Wi-Fi hardware by sending a ping to the antenna. The Wi-Fi antenna will be unresponsive if it has malfunctioned. So, the iPhone will continue to wait (stuck on the screen) for a response from the Wi-Fi antenna.
Part 2. How to Activate an iPhone That's Stuck on Hello Screen?
Solution 1. Run out iPhone Battery and Charge
Running out the iPhone battery and then charging it could be called the most convenient solution to the iPhone stuck on Hello screen issue. If you are subjected to the same problem, you have to do nothing and go with the flow until your iPhone is turned off due to power consumption.
At this point, don't just immediately connect your iPhone with the charger. Wait for a couple of hours. Then you can start getting your iPhone charged. After charging up, restart your iPhone. God willing, now the iPhone will be smooth going. Nothing is simpler than this, is it?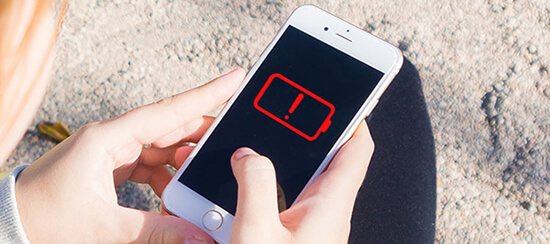 Solution 2. Remove SIM Card and Reboot
Removing the SIM card from your card and doing a restart is a trick for the problem of the iPhone stuck on Hello screen. It doesn't seem that such an oversimplified method can resolve the problem, but those experiencing the same prove its availability. If the trouble is still with you, try a paperclip to remove the SIM card from your iPhone and then reboot it.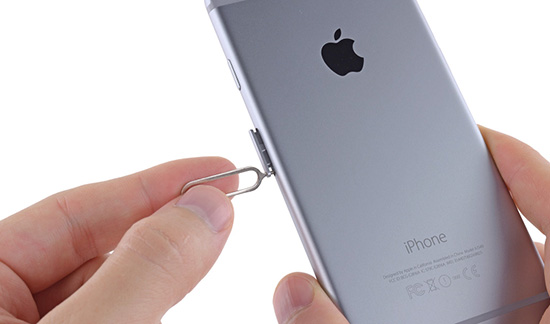 Solution 3. Force Restart iPhone
When the mentioned above screws up, have a shot at force restarting the iPhone to get it out of the Hello screen. In practice, besides that iPhone stuck on Hello screen could be settled by this action, many other iPhone matters like iPhone stuck on Apple logo would be addressed by it. As to how to force reboot an iPhone, refer to the following.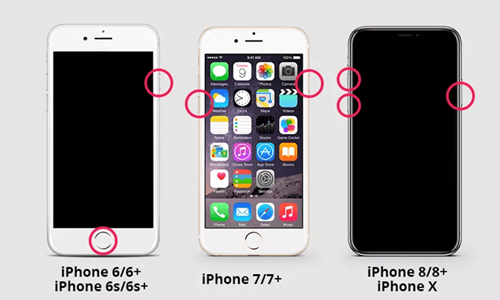 iPhone 6s and prior:
Press the "Home" button and in the meantime hold the "Power" button. You can't release them unless you see Apple logo on your iPhone screen.
iPhone 7 and 7 Plus:
Simultaneously hold down the "Power" and "Volume Down" buttons. When the Apple logo appears, let them go.
iPhone 8/ 8 Plus, iPhone X, or later:
First press and release the "Volume Up" button and followed by the "Volume Down" button. Next, press the "Power" button until the white Apple logo shows.
Solution 4. The Best-in-Class Tool – Joyoshare UltFix iOS System Recovery [Zero Data Loss]
Want to cast off this trouble without affecting any iPhone data? Trying out an iPhone system recovery termed Joyoshare UltFix iOS System Recovery can help you achieve this.
Acting as a secured and laudable program, it offers a lossless solution to iPhone stuck on Hello screen issue, iPhone stuck on black screen with spinning wheel and everything of the sort. With broad compatibility, it works well with all iOS device models and Apple TVs. What's more, any compatible devices can be put into/out of recovery mode with no fee with one click.
Key Features of Joyoshare UltFix iOS System Recovery:
Fully compatible with each iOS device and iOS 15
Support all sorts of iOS issues with two repair modes
Allow your iPhone to get into/out of recovery mode for free
Troubleshoot iPhone stuck on Hello screen with no data loss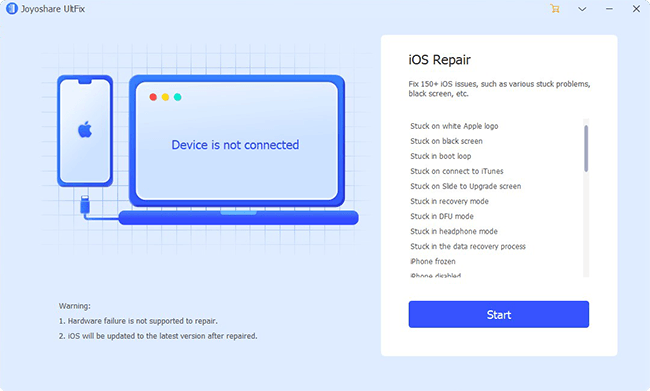 Step 1: The first step is to download and install Joyoshare UltFix from its official website on your computer, followed by plugging your iPhone into it and tapping on "Start" to go forward after your device is detected;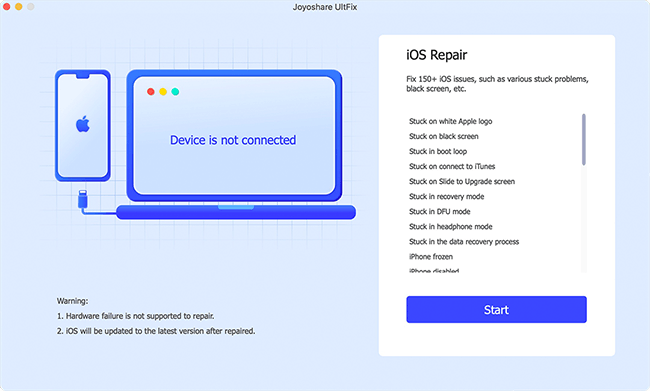 Step 2: Secondly, you need to select a mode to repair the iPhone issue. Not to damage data, the Standard Mode is the best choice for you. After choosing, go to step 3 with the "Next" icon;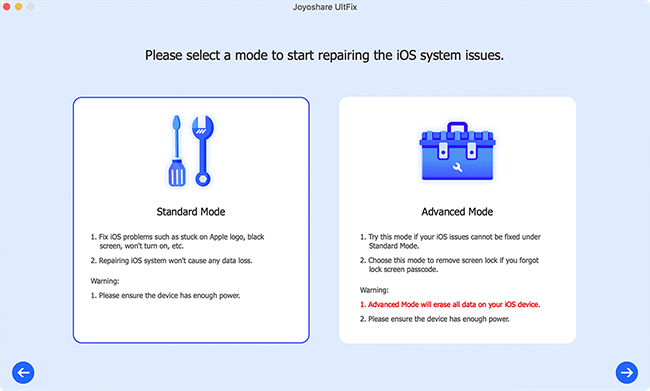 Step 3: At this time, you are requested to pick your iPhone model. Then please follow the indications shown on the screen to set your iPhone into DFU mode or recovery mode. To change mode, just click the link located at the bottom;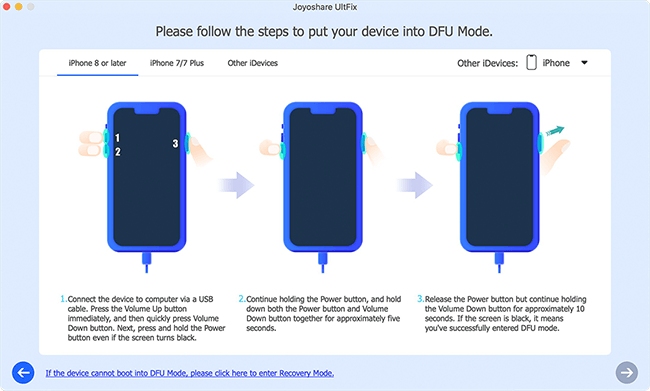 Step 4: When your iPhone is in DFU/recovery mode, you have to confirm your iPhone information recognized by the program and touch "Download" to download the matching firmware package. After that, the firmware will be verified automatically;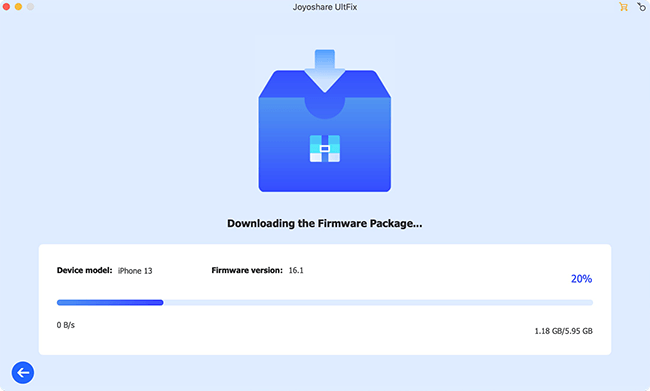 Step 5: Once verification is done, easily hit on "Repair" to unzip the firmware package. One moment later, the program is going to get your iPhone out of Hello screen trouble.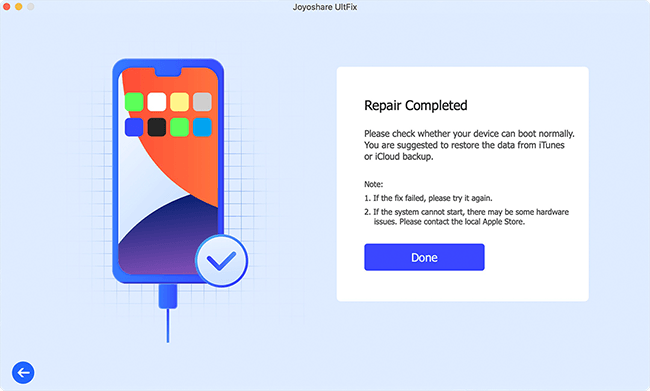 Solution 5. Restore iPhone in Recovery Mode with iTunes
iPhone stuck on Hello screen still lingers after an attempt of the above? You may give a thought to iTunes. Restoring iPhone in recovery mode with iTunes can eliminate many of the bugs resulting in such a situation. However, all data on your iPhone will be permanently erased while settling the matter. Therefore, it is recommended to implement it when you have a backup on iTunes or iCloud. Here's what to do.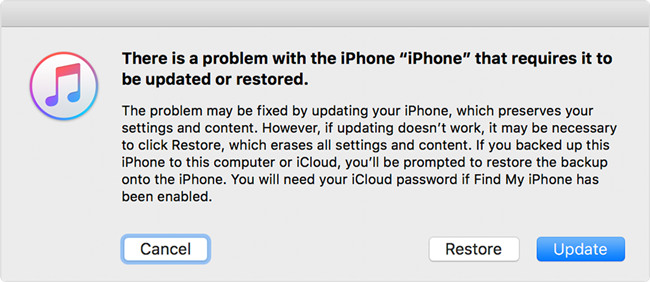 Step 1: Use a lighting USB to connect your iPhone to the computer and launch iTunes. On a Mac with macOS Catalina, open "Finder";
Step 2: Manually set your iPhone into recovery mode with the instructions provided by Apple or with Joyoshare UltFix. When an iTunes logo displays on the iPhone screen, that means your iPhone is in recovery mode;
Step 3: Now, you can see a pop-up window on the computer. Simply clicking on "Restore" could accomplish this.
Solution 6. Put Your iPhone in DFU Mode to Restore It
The firmware can be faulty, which can prevent the iPhone from working properly or getting stuck at the Hello screen. The iPhone will reinstall its firmware when it is restored with a computer in DFU mode. DFU mode causes the device to become unresponsive, similar to recovery mode. In DFU mode, however, the screen is blank. Even so, the computer recognizes the device when connected. Repeat the steps for DFU mode multiple times if the computer does not detect the iPhone.
To put an iPhone 13, iPhone 12, iPhone 11, iPhone X, or iPhone 8 in DFU mode:
Step 1. Connect the iPhone to a computer. Open iTunes or Finder on the computer.
Step 2. Quickly press and release the Volume Up button, followed by the Volume Down button. Next, hold down the Power button until the screen becomes black.
Step 3. Don't release the Power button and press the Volume button at the same time.
Step 4. Only release the Power button after 5 seconds. Keep pressing the Volume Down button.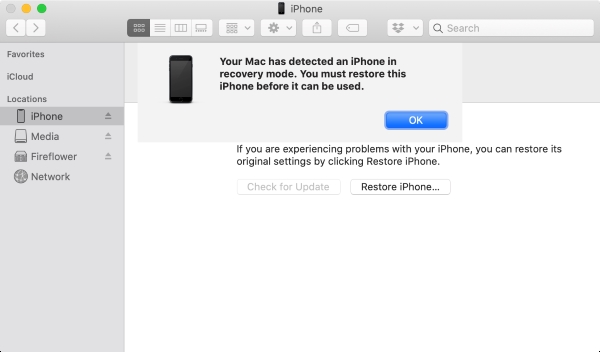 To put an iPhone 7 in DFU mode:
Step 1. Connect the iPhone to a computer. Open iTunes or Finder on the computer.
Step 2. Press and hold down the Volume Down button together with the Power button. Release the Power button after 8 seconds.
To put an iPhone 6s or earlier in DFU mode:
Step 1. Connect the iPhone to a computer. Open iTunes or Finder on the computer.
Step 2. Press and keep holding the Home button with the Power button. Release the Power button for about 8 seconds.
If the computer recognizes your iPhone is connected and the iPhone screen is blank, you are successful in putting the iPhone in DFU mode. Whenever the computer prompts you to restore your iPhone after downloading the new firmware, do so. Now you should get rid of iPhone stuck on Hello screen. If not, we may be looking at a hardware problem.
Solution 7. Contact Apple
When every method above fails to wrap up the iPhone stuck on Hello screen problem, then asking help from Apple is for a suggestion, as this could be due to a hardware fault on your device. You may give them a call and articulately describe the iPhone problem. And then their technicians will give you some proposals. Or, you can directly visit the Apple store as well. Remember to schedule an appointment at the Genius Bar of Apple store before going.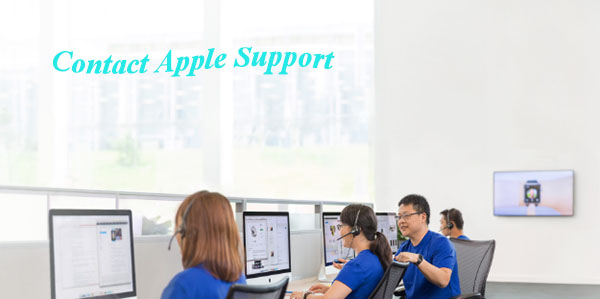 Part 3. Final Verdict
Hopefully! You are now capable enough to overcome iPhone 5/6/7/XR/12/13 stuck on Hello screen with the above diverse solutions. Among these methods, Joyoshare UltFix is undoubtedly one of the top-notch iDevice fixing service providers equipped with lots of advanced features and technologies. But if you face any tech errors while using Joyoshare UltFix iOS System Recovery, don't feel blue! The 24/7 online Email Support is here to assist you. Or you only need to leave your comment below so that you will get in touch with the talented and qualified techies.