"I am an iPhone user, dwelling on the Internet to find a solution for the dark iPhone screen, but unable to find any. Whenever I text, play games, watch a movie or even browse the Internet, my iPhone screen goes darker automatically. Help me out with any helpful solution you have for iPhone dark screen." - from Internet.
Are you having a similar issue with iPhone screen dark? If yes, you may wonder how to fix this issue with ease. Fortunately, here, in this article we explain why your iPhone screen goes dark and provide seven best solutions, including adjusting brightness and repairing iPhone with iOS recovery to overcome this irritation. Just read on and choose your favorite solution.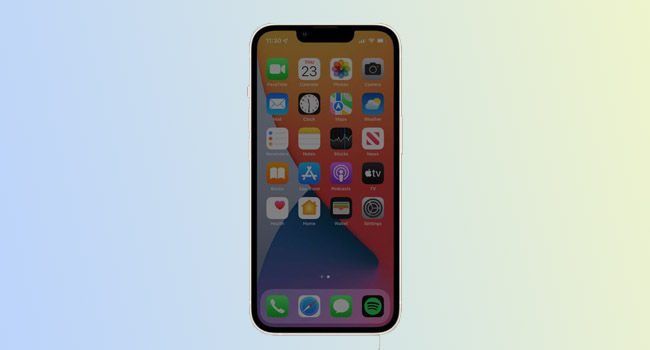 Why Does My iPhone Screen Go Dark?
You might have experienced that your iPhone screen goes darker on its own while using the Internet, watching movies, or doing any other activities on your iPhone. You wonder why this is happening? First, have a look at why your iPhone Screen goes dark? To save your iPhone screen from turning dark, we have the best solutions. Move to the next session and have the best seven fixes for the iPhone screen dark.
Brightness might be below
The auto-Brightness feature is on
A problem in White Point Settings
The Zoom feature is turned on
Software glitches
Way 1: Adjust Brightness
The common reason behind your iPhone's dark screen is brightness. Brightness consumes battery, and for this reason, people mostly keep iPhone with low brightness. So, if you have a dark screen on your iPhone, you have to check and adjust the "Brightness" on your iPhone to fix dark screen on iPhone.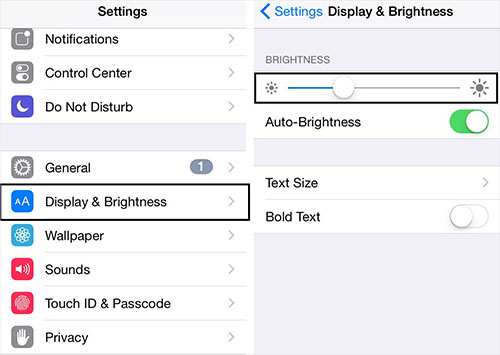 Tip 1: Open the Control Center from your home screen. Check if the brightness is average, high, or low. If it is low, move on to the next tip.
Tip 2: Adjust the brightness on the brightness slider with the touch of your finger by heading to Settings - Display & Brightness.
Way 2: Turn off Auto-Brightness Feature
The Auto-Brightness feature in iPhone automatically turns the brightness low and high as you move from darkness to light. Suppose you are using an iPhone at night, it'll lower the brightness, and if you are in daylight, it'll increase the brightness so you can clearly watch the iPhone screen. Sometimes, it appears unhelpful and adjusts the brightness to too dark or too bright. If the iPhone screen is still dark after using this solution, you have to check the white point settings.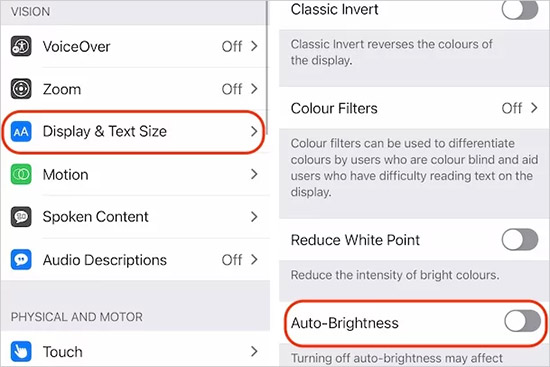 Step 1: Open Settings.
Step 2: Tap on Accessibility.
Step 3: Tap on Display & Text Size.
Step 4: Turn off the Auto-Brightness.
Way 3: Check White Point Setting
A white point setting is a feature of Accessibility settings that makes your screen dimmer and reduces harsh colors. It is the best thing for disabled people. But if you face the issue of the dark screen on iPhone, maybe it has turned on accidentally. If the screen on iPhone is still dark after using this method, you should check the Zoom feature in the Settings.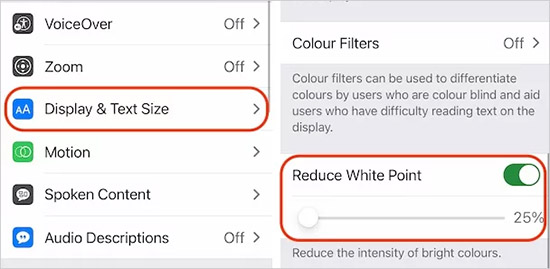 Step 1: Open Settings and press on Accessibility.
Step 2: Tap on the Display & Text Size option.
Step 3: Look for the Reduce White Point option. If the slider is green, turn it off using your finger. The brightness will turn normal.
Way 4: Turn off Zoom Feature
The Zoom feature in iPhone enables your iPhone to turn the screen darker than normal. So, it might be the reason that you have accidentally turned it on. You have to turn the Zoom feature off so that the screen dark on iPhone can turn bright. If your iPhone still has a dark screen, there might be a software issue on your iPhone. Move on to the next solution to solve the problem of the dark screen on iPhone.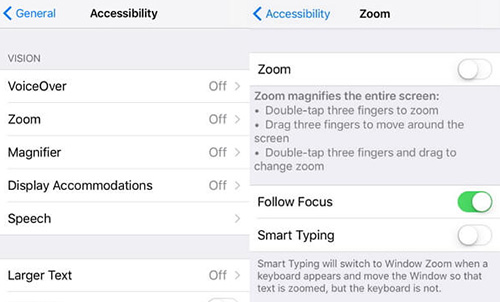 Step 1: Open Settings and tap on Accessibility button.
Step 2: Tap on the Zoom option in the list.
Step 3: Move the green button to the left and turn the Zoom setting off.
Way 5: Reset All Settings
Another solution to solve the screen dark on iPhones is to reset all settings so that the possibility of any setting or software glitch harming the iPhone can be eliminated. This solution can delete all your settings without getting rid of your data on iPhone. You can follow the below steps to utilize this method.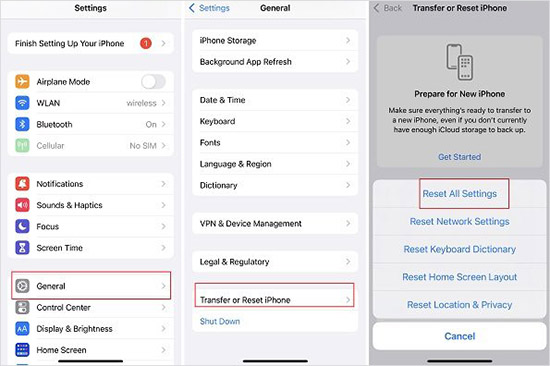 Step 1: Open Settings. Hit on General. Locate the Transfer or Reset iPhone and tap on Reset.
Step 2: Now tap on Reset All Settings and solve the problem of the iPhone screen being dark.
Step 3: Now all the software settings are in their default form. You have to set the settings as you have done while using them for the first time.
Way 6: Put iPhone into DFU Mode
DFU mode is the reset setting that deletes all your data and settings related to both software and hardware. If you still have a dark screen on your iPhone, you have to restore the iPhone by using DFU Mode.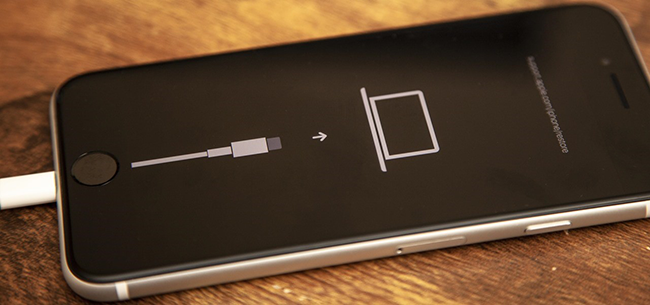 Step 1: Quickly press and release the Volume Up and Volume Down buttons. Press and hold the Power button until the screen goes black.
Step 2: Now press and hold the Volume Down button and hold the Power button.
Step 3: After a few seconds, release the Power button but keep the Volume Down key.
Step 4: Then, connect your iPhone to computer and restore iPhone via iTunes.
Way 7: Repair iPhone with Joyoshare UltFix
After trying the above solutions, if your iPhone screen is dark, there is a possibility of any software issue. The best fix for software issues is Joyoshare UltFix, which can fix 150+ iPhone-related issues within few steps. This iOS repair tool has impressive features that enable all devices like iPad, iPod and iPhone to repair well and without risks. Before the repairing process, it allows you to enter recovery mode with one click and choose repairing mode to resolve iPhone with or without data loss.
Key Features of Joyoshare iOS System Recovery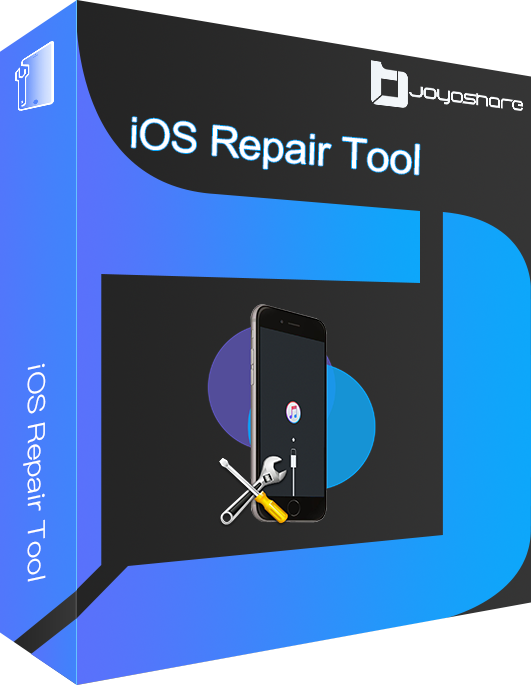 Fix various errors related to iPhone screen like iPhone grey screen
Help you repair iPhone without losing any data
Enter recovery mode and DFU mode with easy steps
Work well on Mac OS and Windows operating system
Provide 2 modes to repair iPhone with problem
Step 1

Connect iPhone to the computer device

Plug your iOS device into the computer via a USB cable. Then select Enter Recovery Mode option and click on the Start button after activating Joyoshare UltFix.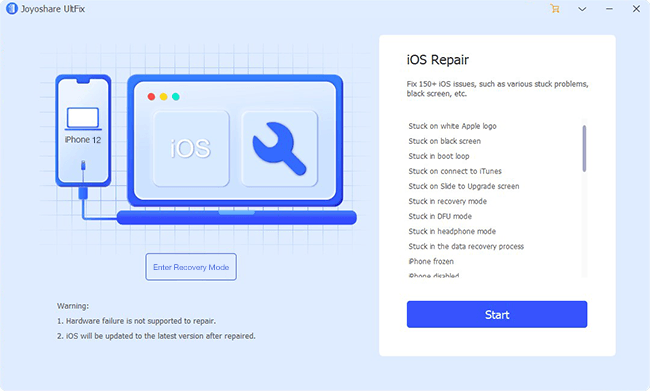 Step 2

Choose a repair mode

Now, two modes for you to choose from appear on your computer screen. Simply select Standard Mode to repair iPhone with dark screen issue. Click right arrow to move to next step.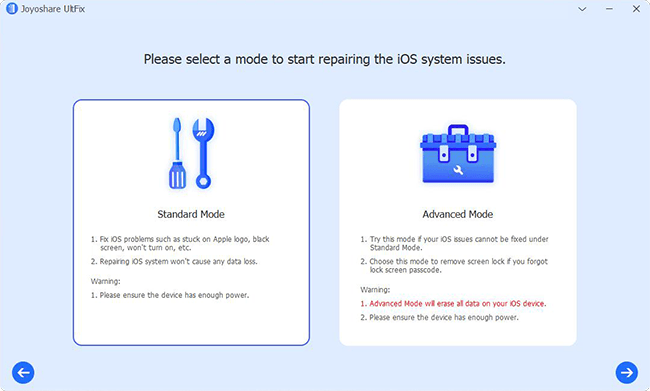 Step 3

Download the firmware package

Check all information about your iPhone on your computer screen and choose the right version of firmware package to download by selecting Download option.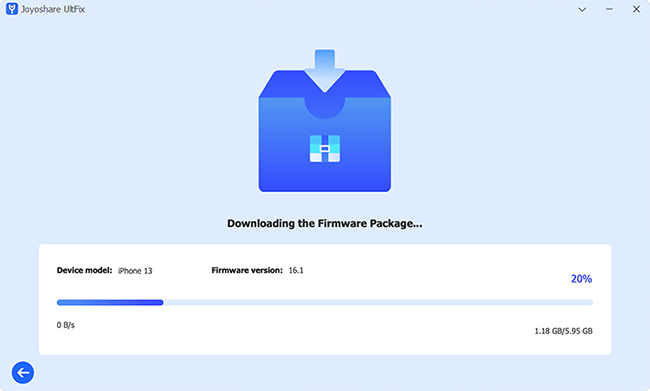 Step 4

Repair iPhone screen dark issue

Once you have downloaded the firmware package, click on the Repair option. The system will start to repair. Congratulations, you successfully repair your device using Joyoshare UltFix iOS system recovery.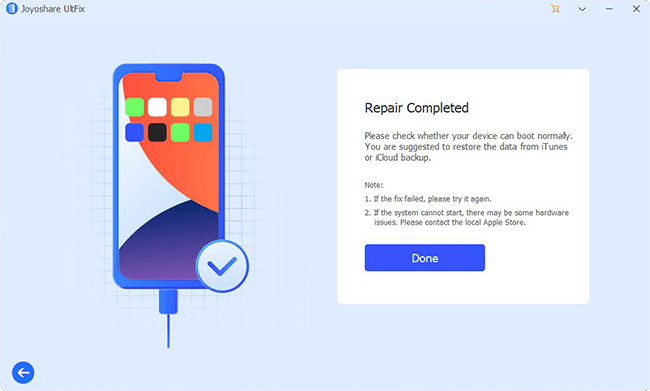 Conclusion
iPhone users are likely to experience iPhone screen dark issues. They can be unaware of what's going on with their iPhones. So, to provide ease, this article provides you with reasons why your iPhone screen goes dark and seven solutions, including adjusting brightness and white point settings and repairing iPhone with Joyoshare UltFix to overcome the difficulty. Try the given solutions and resolve the dark issue. Suppose you've tried all the fixes and still facing this issue on iPhone. In that case, the possibility of any hardware issue is high.