Obviously, the matter of iPhone not receiving texts is unpleasant. But it is not a rare issue. If you do a search on this topic online, you would find a good many people report such a problem. When faced with this, there is no need for you to concern about it. A series of troubleshooting methods proposed in this how-to tutorial can get the issue fixed. Prior to this point, let's first diagnose why it arises.
Possible Reasons for iPhone Not Receiving Texts:
Common triggers of the iPhone not getting text messages issue are given below. Go through them before proceeding any further.
1. It has a bad semaphore when using your iPhone sometimes, hardly receiving text messages from others;
2. Incorrect number is another cause of iPhone cannot get texts. It sounds weird but does happen;
3. There are times when certain network carriers probably stop the iPhone from getting texts and calls even if your iPhone has a good network connection;
4. On some iPhone models, this issue would emerge suppose the "Date & Time" setting is not configured properly. Remember to check it before cooperating with the following methods;
5. Bugs or failures on iPhone are also one of the contributions to the issue of not receiving texts.
Part 1. Fix with Zero Loss by Joyoshare UltFix
Not wishing to mess around too much for the problem of iPhone not receiving texts solving, you can recur to a top-rated iPhone repair tool, Joyoshare UltFix iOS System Recovery, for one. It is an all-round system repair tool having the skill to overcome an array of system trouble on all iOS devices and Apple TVs. No matter the iPhone fails to get text messages or iMessages is not working on iPhone, you use the program to your advantage. Also with it, you should never worry about losing data in the process of repair.
Major Features of Joyoshare UltFix iOS System Recovery:
Fully support all iPhone models and iOS 13
Give a lossless solution to iPhone not getting texts
Carry two recovery modes - standard mode and advanced mode
Work through 30+ system issues on iPhone/iPad/iPod touch/Apple TVs
A free option to let all iOS devices enter/exit recovery mode by one click
Step 1

Download and install Joyoshare UltFix

After downloading and installing Joyoshare UltFix, please launch it and use an iPhone USB cable to connect your iPhone with the computer. Only when the program detects your iPhone can you hit the "Start" button to begin.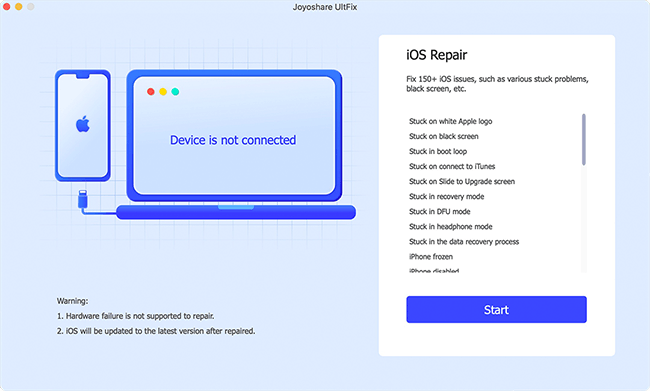 Step 2

Work with standard mode

Afterwards, it's time to select the standard mode from two recovery modes provided by the program. With the help of this mode, no iPhone data would be compromised in the course of repair.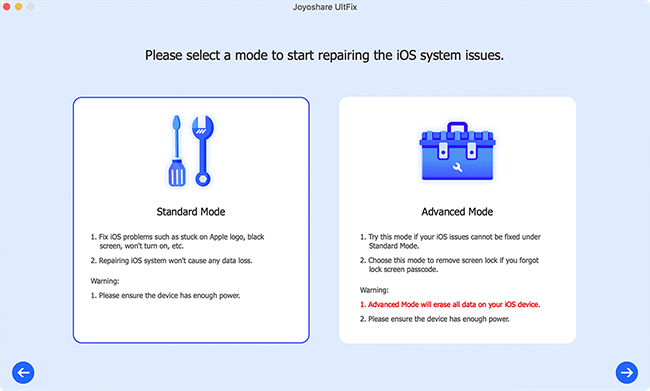 Step 3

Boot iPhone into DFU mode

Next, you have to click your iPhone model and get into another interface, in which you should set your iPhone into DFU mode as directed on the screen. Don't give up if the iPhone can't enter DFU mode. To deal with such a situation, simply click the bottomed link.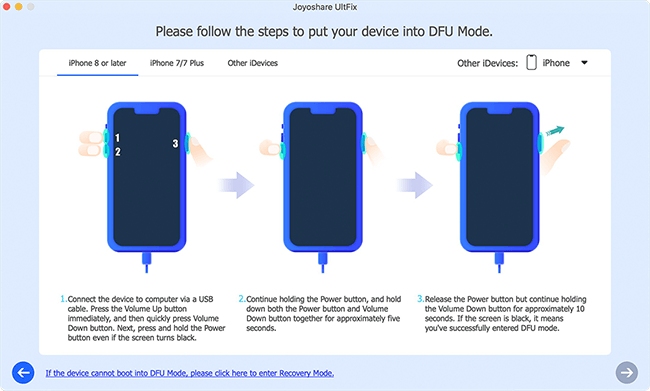 Step 4

Download and verify the firmware package

Check and confirm all recognized info about your iPhone. After that, touch "Download" to download a recent firmware package for your device. Once downloaded, it will be automatically verified.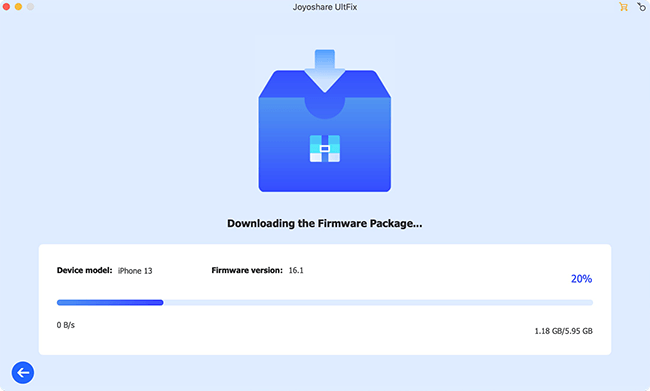 Step 5

Fix iPhone not getting text messages

And eventually what you are going to do is tapping on "Repair" to make the firmware package unzipped. Later, your iPhone failing to receive texts problem is finished off by Joyoshare UltFix.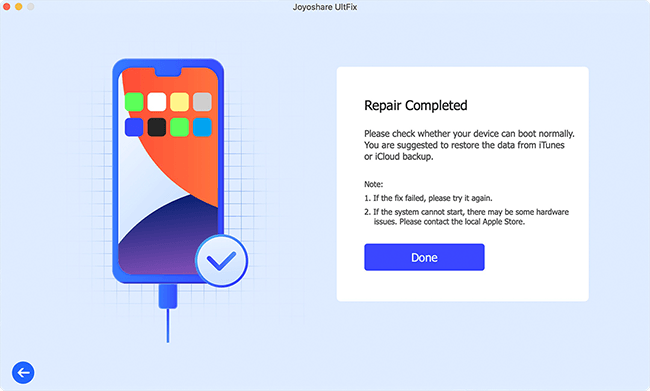 2. Reboot or Force Reboot iPhone
Other than having the aid of a technical repair tool, rebooting or force rebooting is a workable method for the matter of iPhone not receiving texts. Although an unqualified success can not be ensured in this way, it sometimes works well. The thing that matters is no data loss will occur.
Reboot iPhone: Press and hold the "On/Off" button on your iPhone until "slide to power off" appears. Then, swipe the slider to right to turn off the iPhone. After a while, hold down the same button till you see the Apple logo.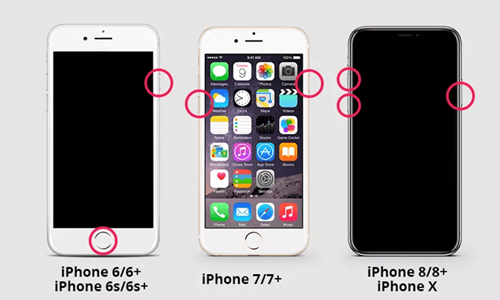 Force reboot iPhone:
On an iPhone 6s or earlier: Hold down the "Power" and "Home" buttons at the same time. Keep holding them until the Apple logo shows on your iPhone screen.
On an iPhone 7 or 7 Plus: Keep both the "Power" and "Volume Down" buttons held simultaneously. Release them when you see the white Apple logo displays.
On an iPhone 8 or later: Quickly press and release the "Volume Up" button, and then the "Volume Down" button. Press the "Home" button till the Apple logo appears.
3. Reset iPhone Network Settings
Most of the time the network issue should be to blame for iPhone not receiving texts. When restarting or force restarting iPhone cannot change anything, there is no harm in resetting iPhone network settings by going to "Settings" - "General" - "Reset" - "Reset Network Settings". Be at ease, this simple action removes nothing but customized network settings from your iPhone.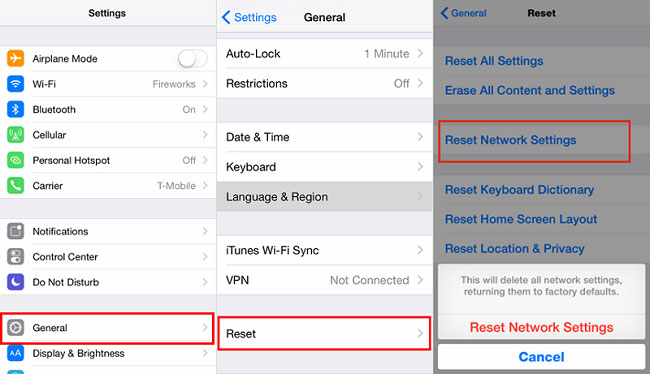 4. Toggle off LTE
Earlier, it is stated that the problem of iPhone not getting texts will as well crop up even though your device has been connected to a cellular network. Because some carriers will block you from sending or receiving text messages through the internet. A way to handle the situation is to turn off LTE (Long Term Evolution, 4G cellular data).
Steps to disable LTE on iPhone: Head to "Settings" - scroll down to "Cellular" - get into "Enable LTE" - click the "Off" tab or "Data Only".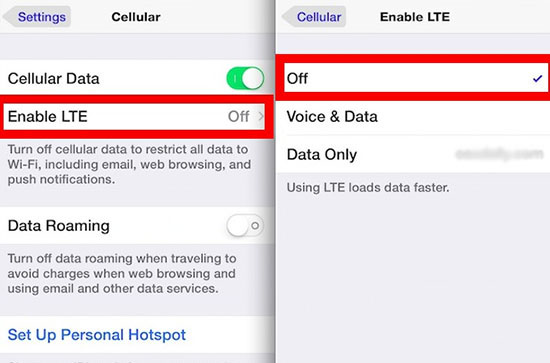 5. Turn off iMessage and Turn on
Not merely you but also a number of Apple users witness their iPhone not receiving texts problem. Having experienced this, some of them represent that checking Messages settings and disabling iMessage then re-enabling it can help. So, when the previous common approaches don't hold water, try to open "Settings" - "Messages" - click to turn off "iMessage" and turn it on after a restart of your iPhone.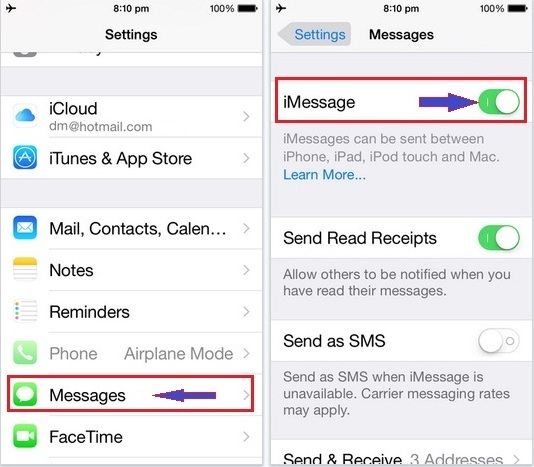 6. Remove and Reinsert SIM Card on iPhone
The last tip for you to troubleshoot the issue of not receiving text messages on iPhone is to check the SIM card. After powering off your iPhone, take SIM card out of the iPhone with the help of a SIM ejector tool or a paperclip. Afterward, check it for signs of damage such as scratches. Without anything wrong, reinsert the SIM card into your iPhone and test if the issue has gone.
Alternatively, place the SIM card to another phone to check if the iPhone not getting texts problem results from a corrupted SIM card. In case everything looks fine on another phone, then this issue likely stems from the iPhone itself. If the same issue occurs on the other device with the same SIM card, a SIM card replacement is what you should do.