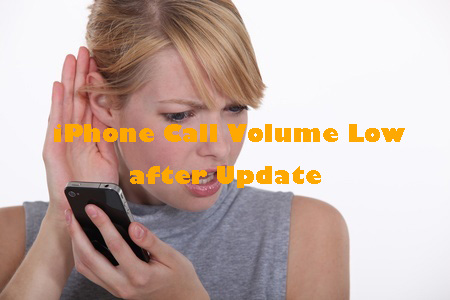 For some users, the number of amazing features brought by iOS 13 is the same as its troubles. The iPhone call volume low after update issue is one of the most reported ones. When people try to make calls with their updated iPhones, they find it becomes much harder to hear what people are talking on the other end. To solve this problem, you can try the following solutions, which should help you effectively.
Part 1. Hard Reboot to Fix iPhone Call Volume Low after Update
Many issues you run into on iPhone can be resolved through a simple reboot, but to make it more thorough, you can try a hard reboot. The reason is that some apps may occupy the speaker channel to produce sounds regardless of the scenarios, and you cannot actually shut them off. This happens most often to the streaming or video apps. By conducting a hard reboot according to the guide below, you can shut down them complete, and your iPhone call volume will resume to normal when it turns on again.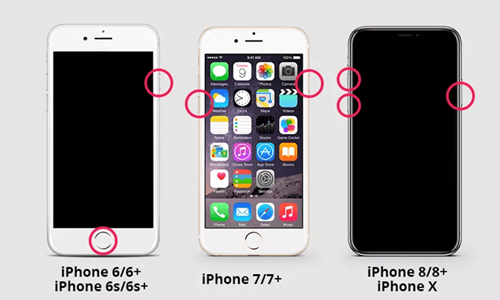 iPhone 8 or newer iPhones: Press and quickly release the Volume Up button. Then, press and quickly release the Volume Down button. Finally, press and hold the Side (Power) button until you see the Apple logo;
iPhone 7/7+: Hold down the Volume Down button and the Sleep/Wake button at the same time for around 10 seconds. Release when your iPhone screen goes dark and restart;
iPhone 6 or older iPhones: Hold the Sleep/Wake button and the Home button. Continue to hold them when the screen goes dark, and then release it when it comes to the Apple logo.
Part 2. Turn on Speaker Mode when iPhone Call Volume Low iOS 13
For any user who finds iPhone call volume low on iOS 13, while making a call, press the Volume Up button to turn up the volume to the maximum. If you still think the volume is not loud enough, you can turn on the speaker mode by tapping on the speaker icon as shown in the image below when you are making a call. This should give you an instant volume boost, but remember to keep your ear away from the phone in case the volume goes too loud.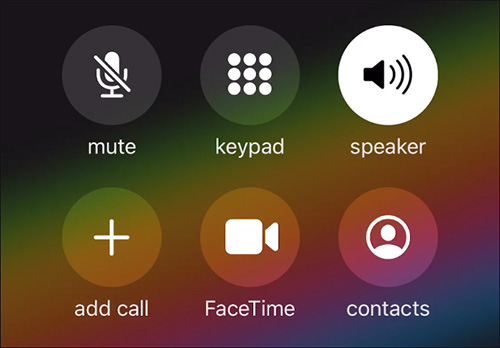 Part 3. Turn off Noise Cancellation to Fix iPhone Call Volume Low iOS 13
It might not be known by many but iPhone has a feature called Noise Cancellation, which will reduce background ambient noise when on a phone call. However, this feature might make the phone call sounds worse or make the volume smaller than usual. To turn this off on iOS 13, follow the steps below.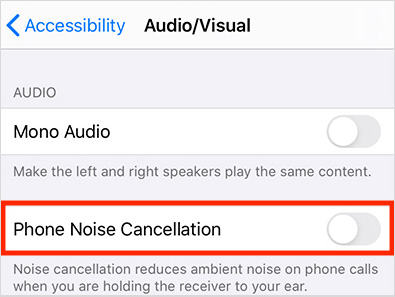 Step 1: On your iPhone, get into the Settings and then the General option;
Step 2: This step is different from that in the previous iOS. Go to the Accessibility option and then tap on the Audio/Visual option;
Step 3: Here you can see the Phone Noise Cancellation switch. Toggle it off.
Part 4. Clean iPhone Speakers
"After update my call volume so low that the voice sounds like it comes from underwater." When we receive similar complaints, we would normally ask the customers to clean up the speaker first. There are several ways to clean the speaker slot. You can use a toothpick with its head covered with cotton, or you can simply use a hard-bristle brush to clean up the dust. Just remember to do it gently in case you damage the speaker.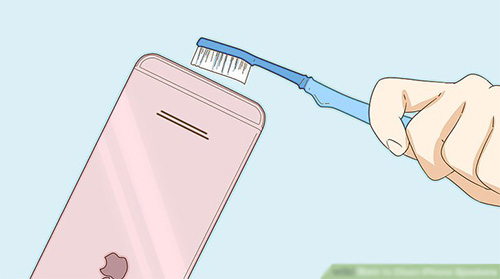 Part 5. Try Joyoshare UltFix iOS System Recovery without Data Loss
If all the solutions above don't work out, then the iPhone volume low after update issue is very likely to be software-related. To handle this scenario efficiently, you need Joyoshare UltFix iOS System Recovery, a professional iOS fixing program. It can fix over 30 iOS problems, including iPhone call volume low after updating. What do we use it for? To fix the iPhone software issues or to downgrade the iOS to the previous functioning version, and both of them will not cause any data loss to your iPhone as long as you use this program.
Additionally, Joyoshare UltFix will provide you with great convenience. Don't know how to put your iPhone into the recovery mode? Joyoshare UltFix will help you do it for free! Never used iPhone repairing software before? Just a few clicks and our program will eradicate the problems. Almost all models of iPhone, iPad, iPod, and Apple TV are supported.
Key Features of Joyoshare UltFix iOS System Recovery
Enter/exit recovery mode with one-click for free
Compatible with almost all iDevices and iOS 13
Support two modes to handle 30+ issues flexibly
Fix iPhone call volume low after update without data loss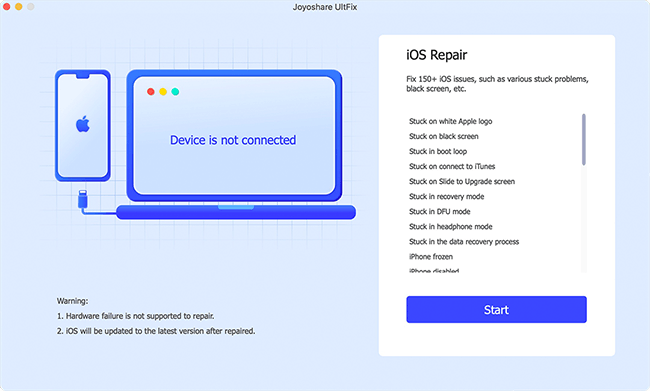 Step 1: Download and launch Joyoshare UltFix and plug the iPhone to the computer. Input passcode on your iPhone to let the software recognize your iPhone, then press the Enter Recovery Mode button to put your device into the recovery mode. Push the Start button to proceed;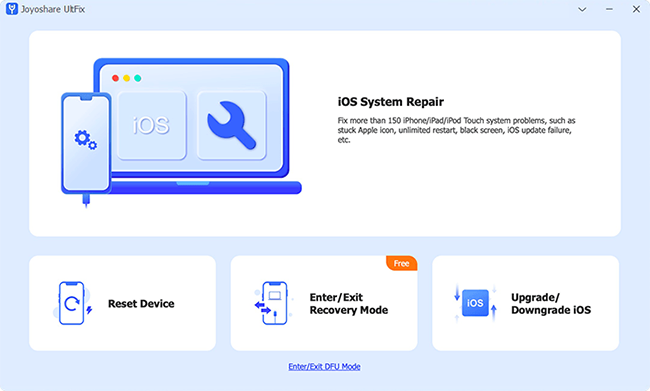 Step 2: In this window, select the Standard Mode to make the repairing process lossless. Click on the Next button to continue;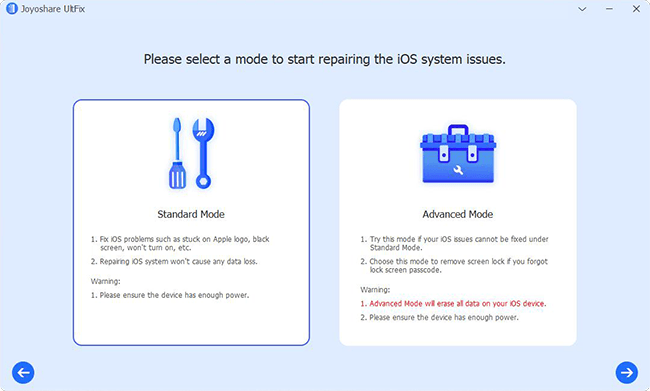 Step 3: Now, the program will display some basic info of your iPhone on the screen. Depends on your goal, you can either repair the iPhone call volume problem by ensuring that all the info matches your phone's current reality, or adjust the iOS version so that you can downgrade to an earlier functioning iOS. After that, press the Download button;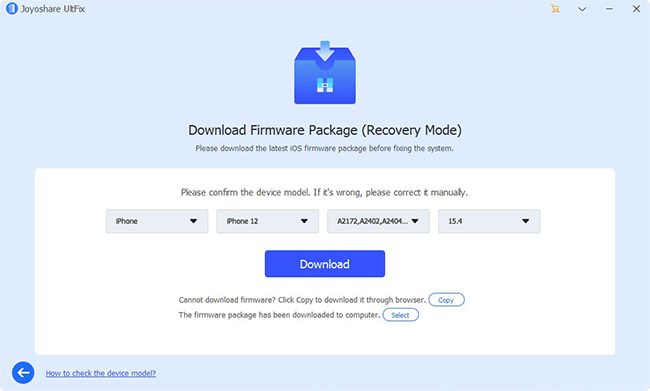 Step 4: Press the Repair button to initiate the repairing process. A few minutes later, your iPhone should be able to make calls normally.