Q: "When typing, typically texting, on my iPhone 12 Pro Max (software is up to date), random letters start popping up. As I backspace, more letters, numbers, symbols, spaces, etc. come up. I checked and there is no Text Replacements. Any thoughts on how to fix it? The only fix is to stop using the phone and it seems to go away after 5 minutes." – from Apple Community
Have you ever come across the same issue that your iPhone keyboard typing wrong letters randomly? This problem emerged on the newest iPhone 15 and iOS 17 according to some users. When you chat with someone or want to search for any information, the typo interferes with your conversation and affects the accuracy of search results. In a manner of speaking, keyboard is an essential gadget for everyone. Hence, to fix the wrong typing issue, this article collects many methods for you.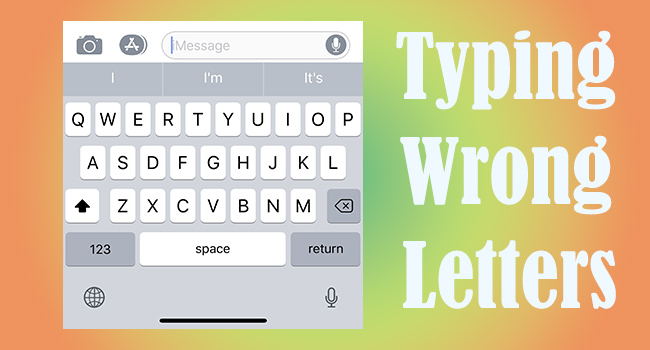 Part 1. Pre-check the iPhone with Inaccurate Typing
First and foremost, you should check and remove all the external interferences. By doing so, it might present two results – your keyboard can type as normal and you can conclude that your iPhone system has something wrong. Now, try these following steps to check your iPhone.
Remove iPhone Case and Screen Protector

It is possible that your phone case and screen protector could affect the sensitivity of your keyboard. Just remove them and clean your screen up to make sure there is no dust or debris on its surface and that no sensors are blocked.

Exit All Apps

If you don't know the keyboard on your iPhone works badly in all your applications or one of them, you could directly close all of them in the backend system. Then, check if you can type without mistakes.

Delete Faulty App

When your keyboard only types incorrect letters on a certain app, it could be known that the app is problematic. Hence, touch and hold this application on the main screen, choose Remove App, tap Delete App, and confirm by hitting the Delete option.

Rotate iPhone to Landscape

This error sometimes occurs because of a sluggish screen. The remedy is to rotate your iPhone to landscape and check if the typing inaccuracy persists. Then, you can also put it back to the vertical orientation.

Restart iPhone

Maybe you have already restarted your iPhone when encountering this problem. For users who are not doing this operation, open Settings, find General, scroll down to Shutdown to turn off your device and hold the Side button to turn it on gain.
Part 2. Workarounds to Fix iPhone Keyboard Typing Wrong Letters
2.1

Turn Off Slide to Type

It should be admitted that the Slide to Type feature does bring convenience and improves the speed when typing. However, it is also difficult to deny that this function is a hidden danger causing your keyboard typing inaccuracy. So, head to Settings, tap General, locate Keyboards, and turn off Slide to Type.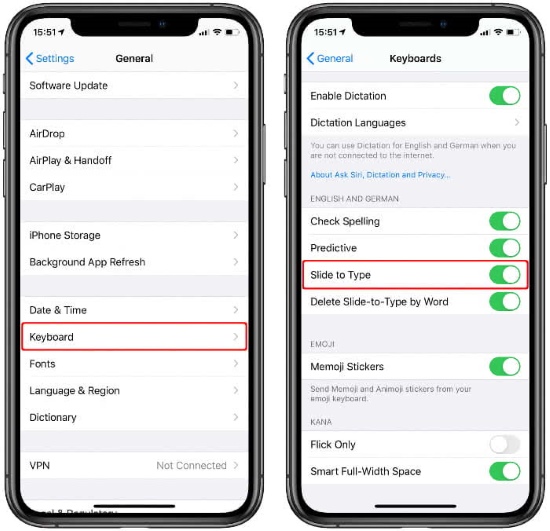 2.2

Toggle Off Auto-Correction

Likewise, Auto-Correction seems to make your typing more accurate and make fewer typos. But the fact is in reverse. You'd better toggle it off on the Keyboards interface.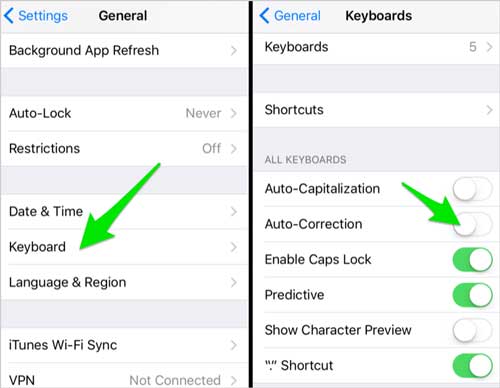 2.3

Enable Predictive

Predictive can be used to reduce your typos, meanwhile, you could tap the associated words if somewhere on your iPhone screen is no longer responded. Still, go to the Keyboards screen on Settings, and find Predictive under the English column. Once you enable this feature, use your keyboard to type some words again.
2.4

Use Dictation

A temporary workaround to eliminate the influence of iPhone keyboard typing incorrect letters is using speak instead of typing by enabling Dictation. On the Keyboards settings, scroll down to the DICTATION module to toggle on Enable Dictation.
2.5

Shutdown Reduce Motion

Whether this operation is helpful or not, it is worth trying to see if it could fix your typing issue. Launch the Settings app, find Accessibility, select Motion and disable Reduce Motion.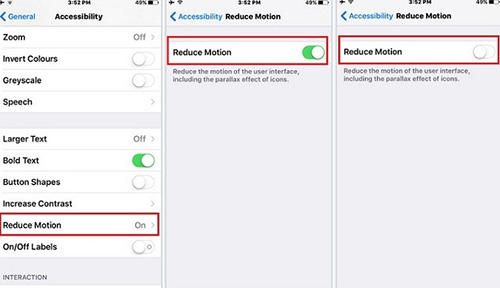 2.6

Disable Zoom

When you have turned on Zoom, your screen will be magnified, which means your keyboard cannot be used normally. Thus, enter Accessibility on Settings, choose Zoom, and turn off the Zoom option. But if you do need to use this feature, you should toggle on Smart Typing to avoid mistyping.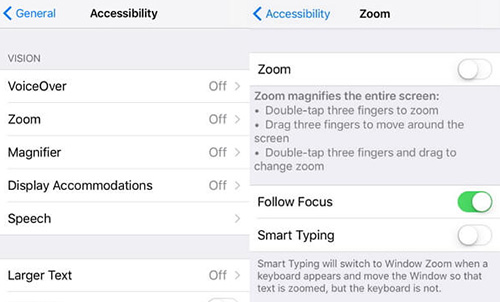 Part 3. Advanced Methods to Repair iPhone Keyboard
3.1

Reset All Settings

It is reasonable to reset all settings on your iPhone to get rid of the wrong typing problem, including the keyboard settings. Open Settings, select General, scroll down to Transfer or Reset iPhone, tap Reset, and choose Reset All Settings. Then, you could check whether your keyboard works well.
3.2

Update iOS System

Are you still using the old iOS version? If so, it cannot be excluded that the outdated iOS system is the trigger of the wrong typing error. Therefore, you need to enter the General interface on Settings, tap Software Update and hit the Download and Install button to upgrade your system.
3.3

Restore iPhone with iTunes

Another method to fix your keyboard's inaccurate typing is restoring iPhone with iTunes. In this case, all your data will be erased, which implies that you are required to make a backup before restoring. After that, put your iPhone into DFU or recovery mode, connect it to computer, run the latest iTunes, and click the Restore button when a pop-up appears.
3.4

Fix iPhone Keyboard via Repairing Tool

To fix your iPhone keyboard typing wrong letters, Joyoshare UltFix provides a quick and easy way. You could take advantage of the standard repair mode to repair your iOS system without losing any information. If your keyboard error is caused by system glitches, this program will help you get out of this dilemma with a high rate of success. Whether the keyboard inaccuracy issue happens on iPhone, iPad, or iPod touch, Joyoshare UltFix shows a powerful and professional ability to fix it effortlessly.

Main Features of Joyoshare UltFix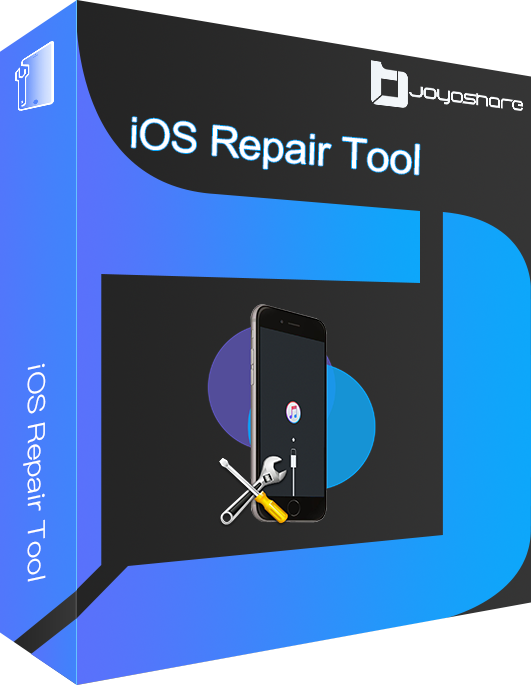 Fix iPhone keyboard not working without effort
Standard repair iPhone/iPad/iPod touch with no data loss
Compatible with the newest iOS 17
High-security factor and user-friendly interface
Step 1

Connect iPhone and Click iOS System Repair

Plug your iPhone into your computer and click iOS System Repair on the main interface of Joyoshare UltFix. Then click the Start button to begin.

Step 2

Choose Standard Repair Mode

When your iPhone is recognized successfully, select standard repair mode to fix iOS system with no data loss and go to the next step. If the reality is on the contrary, you must put your iPhone into DFU mode or recovery mode by following the on-screen guide.

Step 3

Get Corresponding Firmware Package

After confirming your iPhone's detailed information shown on the screen, click the Download button to get the corresponding firmware package. After the verification, you could move on to the last step.

Step 4

Repair iPhone Keyboard Wrong Typing Issue

Click the Repair button to start repairing your iPhone. When the Finish button appears on the screen, your keyboard is fixed and you could type the correct letters again.
Summary
As you can see, this article considers all the situations and reasons about iPhone keyboard typing wrong letters. You could follow the provided solutions orderly to check the external conditions, change keyboard settings, and fix system errors. One of them must be able to solve your problem. Especially, Joyoshare UltFix has the ability to reserve your data well while others don't. If you have questions on how to use these methods, leave your comment to let us know, and we will spare no effort to help you.