Emojis are ubiquitous in our online conversation. Compared with words, it does a good job of translating or expressing emotions and feelings. We are so accustomed to exchanging our communications online with emojis. And that sort of changes how we interact with each other on the Internet. So as you can imagine, if you find emoji keyboard not showing up on iPhone, that would be very disappointing. We understand that, and this post will give you a full guide on how to resolve this problem and get your emoji keyboard back.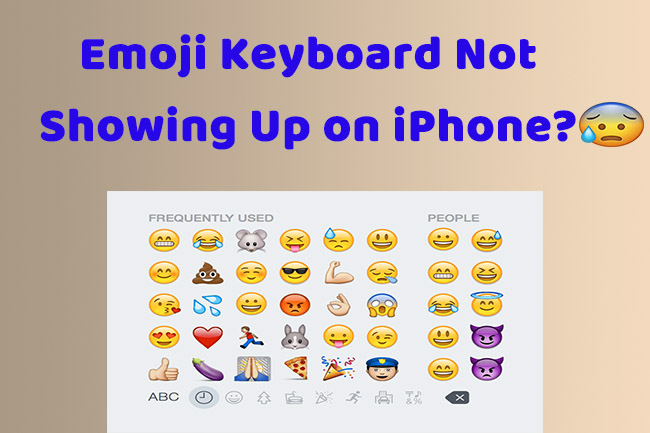 Part 1: Why Is My Emoji Keyboard Not Showing Up on iPhone?
There are many reasons that the emoji keyboard may vanish from your iPhone. We've listed the most likely options below.
Outdated operating system can cause many small iOS problems. If you haven't updated the software for a long while, that might be the source of this issue.
Any bug in iOS can create headaches on your device, which can explain why the emoji keyboard disappears on iPhone.
It is also possible that the keyboard is removed unintentionally. In this case, you are required to get back the emoji keyboard manually.
Part 2: How to Add Emoji Keyboard
Before landing on fixes to emoji keyboard not displaying on iPhone, it is better to check whether it installs on your device. You can press the smiley face icon or globe icon on the keyboard, and a list of installed keyboards will come out. If there is Emoji option, go ahead with green. If not, you need to add emoji keyboard first.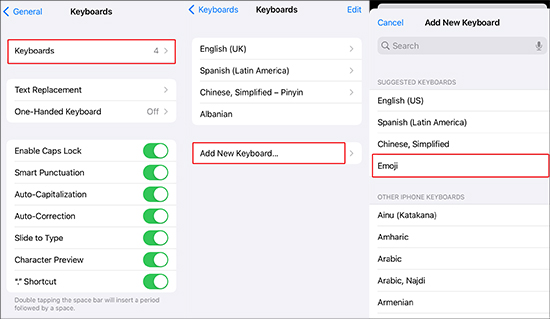 Step 1: Open Settings app, then go to General → Keyboard.
Step 2: Then click Keyboards and choose Add New keyboard on the next screen.
Step 3: Find or search Emoji option, and add it to your keyboards.
Part 3: Fixes to Emoji Not Showing Up on iPhone
Now, it can be determined that your iPhone has installed emoji keyboard, yet you still couldn't find it. Not to worry too much, it won't take long to return your emoji keyboard to normal with the solutions below.
3.1 Re-enable Emoji Keyboard
The quickest way to resolve emojis not showing up on iPhone when typing is to remove and re-enable emoji keyboard. It is useful in dealing with contemporary emoji keyboard errors. To complete that, you can: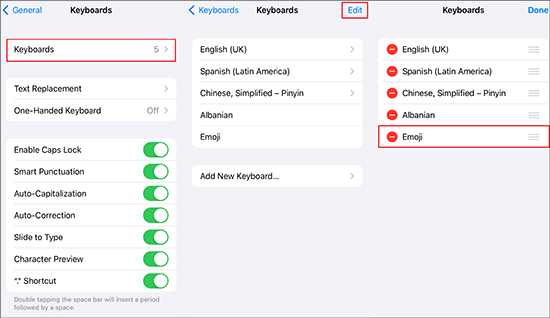 Step 1: Go to Settings → General → Keyboard.
Step 2: Tap Keyboards. Then click Edit in the top right corner.
Step 3: Locate Emoji. Click the red button next to it and confirm by choosing Delete.
Step 4: Tap Done. When you are back on Keyboards screen, select Add New Keyboard and add Emoji again.
3.2 Turn on Predictive Emojis
Another way to fix emoji keyboard issues is to enable Predictive emoji. With this feature on, you'll get suggested content for what you are going to type next. That is based on your conversation habits and communicating style. Emojis are also will occur in the predictive input area. This way is mainly for saving your typing time, yet it might be helpful to bring your emoji keyboard back. To use Predictive emoji, you can go to Settings → General → Keyboard. Then scroll down to locate Predictive and toggle it on.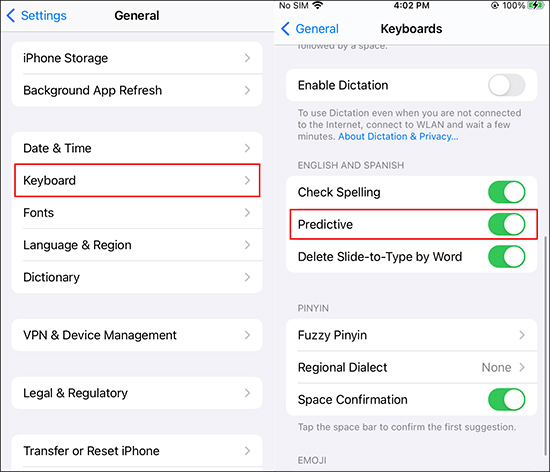 3.3 Restart iPhone
If the methods above don't work so far, try restarting your iPhone. It can prevent crashes and make your iPhone run more smoothly. More importantly, it can give your device a fresh start, which is supposed to fix some small glitches on iPhone. Hence you can reboot your device and check if the emoji keyboard shows up as usual.
For iPhone X and later: Keep pressing the Volume Down button and Side button. When the power-off slider shows up, swipe right and wait around 30 seconds. Then keep pressing the same button to restart your iPhone.
For other models: Keep pressing the Power button, then drag the power-off slider. After around 30 seconds, press the Power button again to turn your iPhone back on.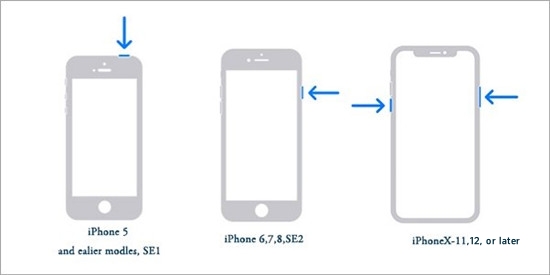 3.4 Reset Keyboard Dictionary
The next option you can try is to reset keyboard dictionary. This method will delete all your custom words, and the keyboard dictionary will go back to its default state. Your emoji keyboard may return to normal after this process.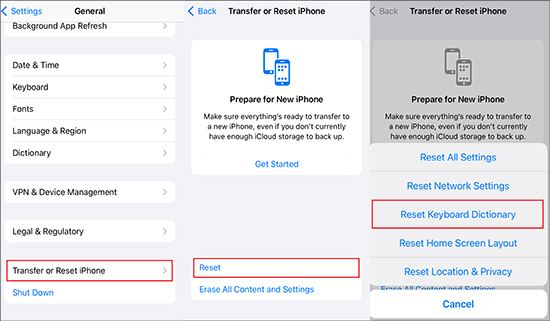 Step 1: Head directly to Settings app: click General.
Step 2: Scroll down to pick Transfer or Reset iPhone, then tap Reset.
Step 3: Select Reset Keyboard Dictionary and enter your passcode.
3.5 Fix iOS Bugs
If none of the solutions work, issues in your iOS might be the most possible one to take responsibility for. Facing this situation, an iOS system recovery tool can play a huge role. Joyoshare UltFix is made for repairing all sorts of iOS system issues. It can efficiently fix 150+ iOS problems with its dual repair modes, such as iPhone keyboard not working. Even serious system problems can be solved easily under the Deep Repair mode. Another primary con of Joyoshare UltFix is that it won't cause any data loss during the repair process. And it guarantees that you are the only one to access your data. What's more, this tool strongly emphasizes compatibility, allowing you to use it with the latest iOS 17 beta version.
Main Features of Joyoshare UltFix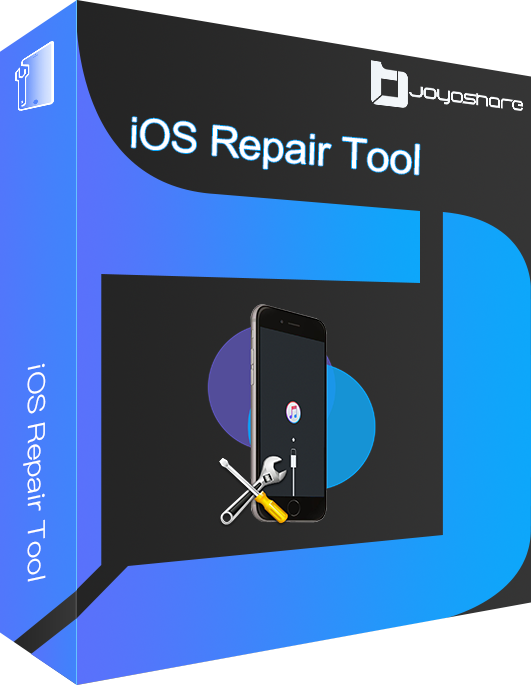 Fix emoji keyboard not showing up on iPhone with ease
Enable all users to enter and exit recovery mode for complete free
Offer standard reset and factory reset to solve problems on iPhone
Upgrade and downgrade iOS 17 beta quickly and safely without iTunes
Step 1

Run UltFix and Connect iPhone to PC

Once you have installed the Joyoshare iOS System Recovery tool on your computer, the following steps are quite easy. Connect your iPhone to the computer, then open the tool. Click iOS System Repair, and choose Start on the next screen.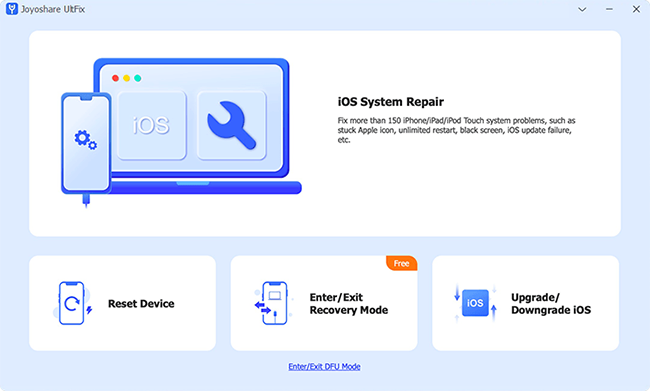 Step 2

Select Standard Repair with Zero Data Loss

When you have two modes to choose here, it is suggested to select Standard Repair mode. It can basically fix all common iOS issues and you won't lose any data at all.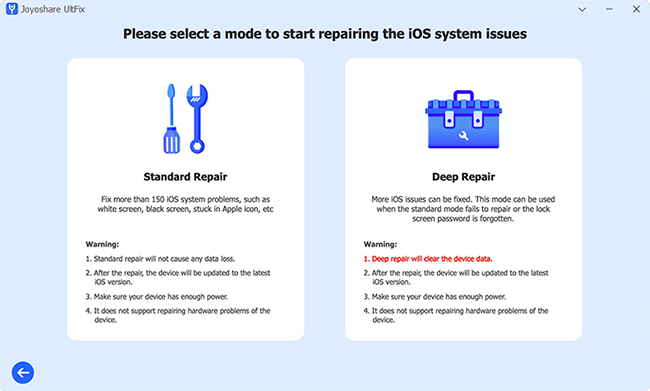 Step 3

Check Information and Download Firmware Package

By default, Joyoshare UltFix will detect the basic information of your device and you need to check it carefully one by one on the interface. Then click on Download button to get a corresponding and compatible firmware package.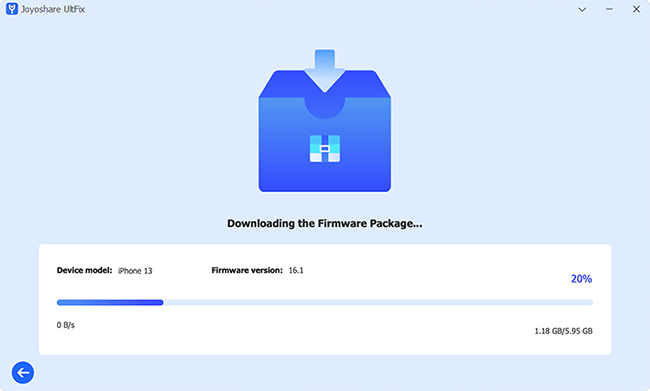 Step 4

Start to Fix Emoji Keyboard Missing Problem

Simply click on Repair button, and the repair tool will unzip the firmware package and fix the emoji keyboard issue by itself. Just ensure that the connection is stable all the time. After the process finishes, your emoji keyboard would appear with no trouble.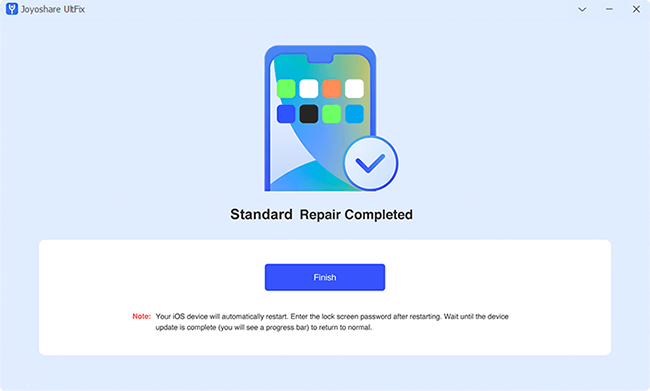 3.6 Update Operating Software
Though there is no great difference in emoji keyboard among different iOS versions, it is better to run the latest version on iPhone. Updating iOS might fix common bugs and problems, which has a great chance to recover your emoji keyboard. Check you're up to date by navigating to Settings → General → Software Update → Download and Install. After installing the latest operating software, you can see if the problem appears.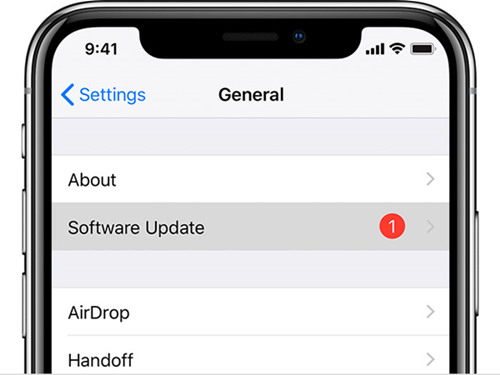 3.7 Erase All Content and Settings
The final option for you is to restore your iPhone to factory settings if the keyboard still works with no emojis. This way will benefit your device by fixing generic phone problems. Your emoji keyboard might come back normally by erasing files or settings that might cause the problem. However, you need to back up all your data as it will erase it thoroughly.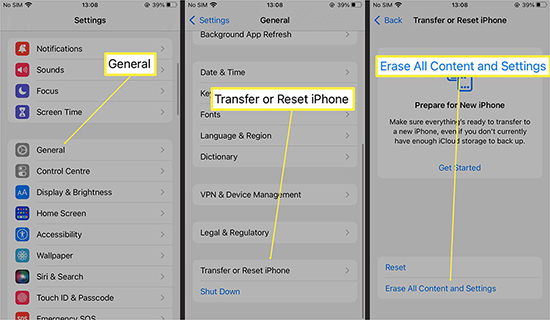 Step 1: Click Settings app on your Home screen and select General option.
Step 2: Swipe down your screen and choose Transfer or Reset iPhone.
Step 3: On the following screen, click Erase All Content and Settings and follow the on-screen instructions then.
Part 4. Conclusion
That's all we want to share about how to deal with emoji keyboard not showing up on iPhone. If you have added the emoji keyboard to your iPhone in the correct steps, there are 7 more useful tips to fix the problem. We sincerely hope this post would be helpful for those who are frustrated when communicating digitally without the emoji keyboard.