Since iPhone operating system was upgraded to iOS 8, Apple users have discovered many newly added features, one of which is Hey Siri. You all should know that Siri is an artificial intelligent assistant software built into iOS system of Apple. Also, this software adopts natural language processing technology to realize the interaction between iOS devices and users through natural conversations, and to do a lot of services such as searching data, querying weather, setting calendars and alarms, etc. Recently, not a few people reported their iPhone 6 Siri not working properly, which causes them great inconvenience. In order to settle this problem as early as possible, the tutorial details 5 foolproof solutions to do you a favor.
Part 1. Turn on Both Siri and Hey Siri
Most of iPhone 6 users are accustomed to using the command "Hey Siri" rather than holding down the "Home" button to awaken Siri. So, when you find your iPhone 6 Siri not working or not responding while saying Hey Siri, the first thing you need to do is to check if Siri or Hey Siri function is enabled. There is no doubt that sometimes the reason for the problem is not that profound. You can wrap up breezily. Do as steps indicated below.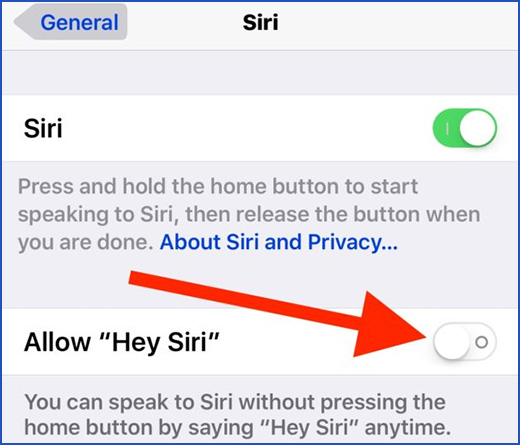 Step 1: Head to "Settings" and scroll down to touch the "General" button;
Step 2: Tap to enable "Siri" and "Allow Hey Siri" if turned off;
Step 3: Afterwards, confirm your action and go back to the home screen to check whether Siri works well.
Part 2. Check Microphone to Fix iPhone 6 Siri Not Working
If Siri keeps not responding when you talk to her, there may be something bad with your iPhone microphone that sets off this problem, because she can only interact with you when she receives your voices. In this case, you just check if iPhone microphone functions well to record your voice or audio. If your voice cannot be recognized normally by iPhone microphone, do the following things to fix it. One way is to use a can of compressed air to blow around the port. Another is removing your iPhone case to avoid hindering voice recording. Suppose the issue still remains after carrying out the methods, please continue to try the following solutions.
Part 3. Toggle off/on Dictation
There is not an exact reason to explain the occurrence of the problem that Siri is not working on iPhone 6. However, some users who experienced this issue have found that Dictation feature on the device undermines the normal usage of Siri. Hence, you are able to switch off and on "Dictation" to make Siri work regularly. It can be done by the steps below.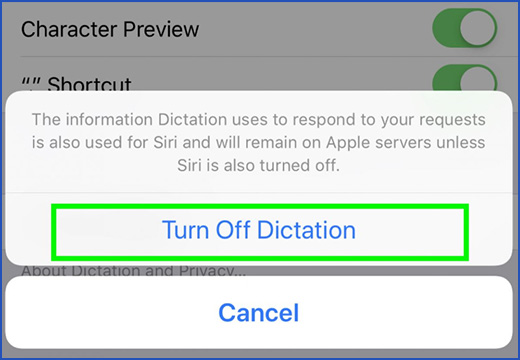 Step 1: From your iPhone 6 home screen, get into "Settings" and followed by "General";
Step 2: Then, you ought to click on "Keyboards" and choose the "Enable Dictation" option;
Step 3: If it is turned on, click to disable it and re-enable after a moment. Once done this, you need to test if Siri can be used well.
Part 4. Update iOS Version
An unstable and outdated iOS version may lead to Hey Siri not working on iPhone 6 error. Nor is this all, it can also result in numerous other system issues on your device. In the face of this situation, you are advised to update iOS version to the newest one to solve the problem. The following is an easy guide.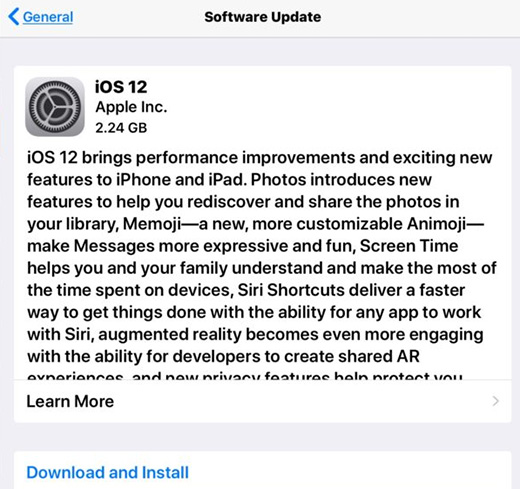 Step 1: To begin with, navigate to "Settings" on your iPhone 6 and tap on "General";
Step 2: Afterwards, select "Software Update" and then iPhone is going to automatically check for updates;
Step 3: If there is an update available, click "Download and Install" to update the iPhone system to the latest one.
Part 5. Employ Joyoshare UltFix to Fix iPhone 6 Siri Not Working
Have you ever considered that it is the unknown operating system issue that drags your iPhone 6 in this trouble? If so, adopting a technical repairing tool like Joyoshare UltFix is a first-rank solution to solve it. Why? Because Joyoshare UltFix is loaded with lots of features that are designed to repair various iOS issues.
When you encounter such problems like iPhone 6 won't turn on, iPhone camera not working, or iPhone vibration not working, you can use it without giving a second thought. Admittedly, as a highly compatible software, Joyoshare repairing program supports all iOS devices including iPhone, iPad, iPod touch and Apple TVs as well as the recent iOS 12.4.
What's more, it is equipped with three modes to serve you. Or rather, you are allowed to try "Standard Mode" to repair common iOS issues, such as Siri not working on iPhone 6, without losing data. If this mode does not meet your demands, "Advanced Mode" is a nice alternative to help you out. In addition, this mode has the ability to unlock your iPhone if you forget passcode accidentally. The third is about recovery mode. If you want to enter or exit recovery mode during the process, Joyoshare UltFix provides a free option for you to do it.
Key Features of Joyoshare UltFix iOS System Recovery
Fix iPhone 6 Siri issue without the risk of losing data
Be developed with "Standard Mode" and "Advanced Mode"
Allow your iPhone enter/exit recovery mode with one click freely
Be compatible with the latest iOS 12.4 and a series of iOS devices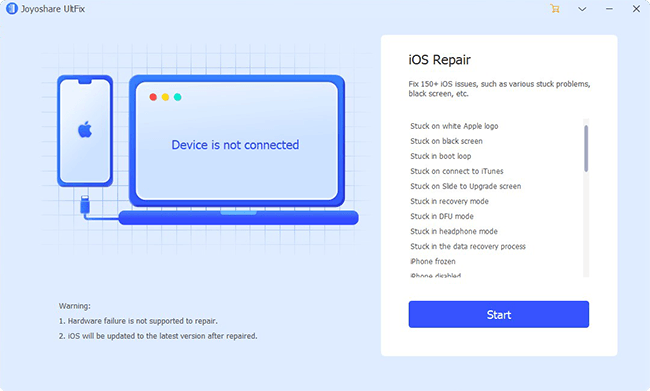 The following is about how to apply Joyoshare UltFix to repair iPhone 6 Siri problem with no data loss. It works the same way on Windows as it does on Mac. Thus, just take Mac as an instance to make an elaboration.
Step 1: The first step is to download and install the newest version of Joyoshare UltFix. Then run it and connect your iPhone 6 to the computer. After this, go further with the "Start" button;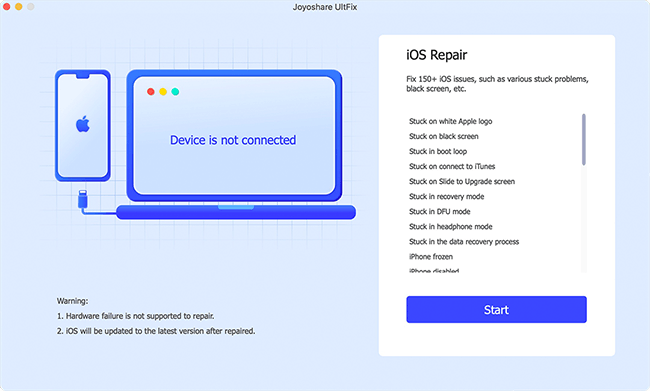 Step 2: From this window, it is needful for you to choose a repair mode. To keep data safe, you can tap on "Standard Mode". Afterward, click on "Next" to get into step 3;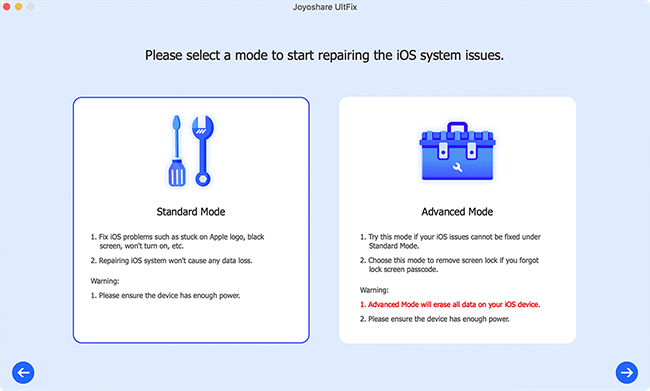 Step 3: It is almost time to put your iPhone 6 into DFU mode or recovery mode according to the on-screen instructions. If your device is prevented from entering a certain mode, what you should do is tapping the link at the foot of the interface to change to another mode;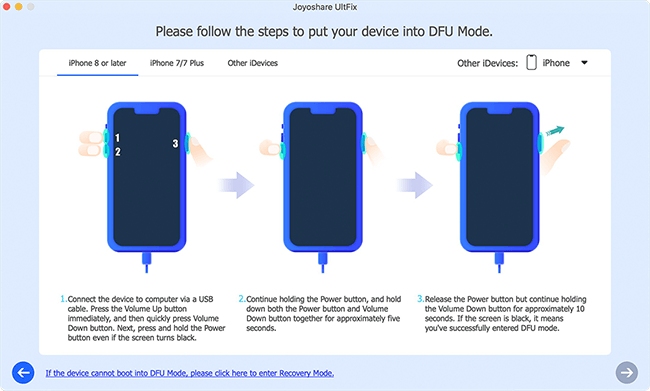 Step 4: Once entered, iPhone information is about to be detected and displayed on the screen. Now, you need to confirm it and then hit the "Download" button to download and verify the new firmware package;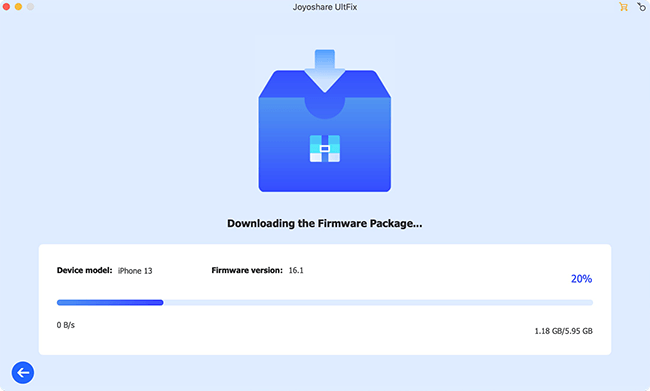 Step 5: You can't touch the "Repair" button to unzip the firmware package until the process of verification is finished. In a little while, Siri issue on your iPhone 6 will be fixed successfully.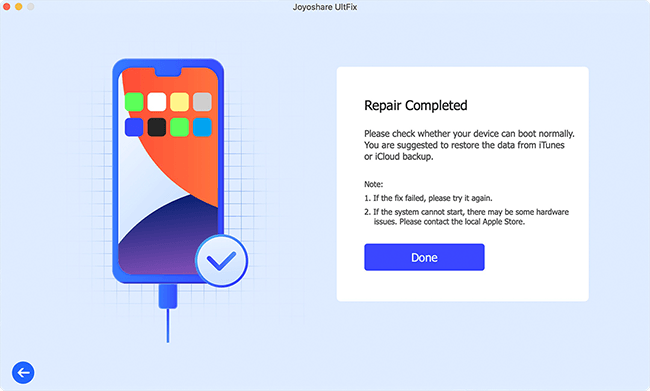 Conclusion
There are many factors contributing to iPhone 6 Siri not working issue, but for whatever reason, this knotty problem must have been smoothly resolved by viewing this article. All above these are useful and quick solutions to this problem. Assuming that ordinary methods fail to work in this trouble, you can give Joyoshare UltFix a chance to shoulder your burden.