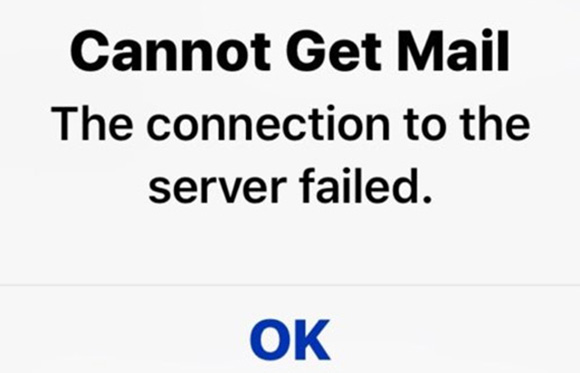 In the era of the popularity of online communication tools such as WeChat and WhatsApp, Mail has not been replaced and still occupies an important place among them. However, some users complain that they cannot get mail on iPhone, which is really a vexing problem. Have you ever thought that no matter how many times you try, you just receive an error message, as shown above: "Cannot Get Mail - The connection to the server failed"? Admittedly, there are varied reasons for this problem, but it may be more important for users to solve it as soon as possible. If you are unfortunate to encounter this issue, you can read through the article attentively that illustrates 6 efficient ways to get it solved.
Part 1. Check Mail Settings to Fix Mail Not Working on iPhone
Before you do this, you need to confirm that your iPhone is connected to a strong network or WiFi. If you find the network is not active, you just change a network connection. Or if there is no problem with your network but this issue still happens, you can try this way to fix. You know, iPhone Mail account is able to be set up to check email according to a specific schedule (For instance, every 15 minutes) or push messages to your device as soon as it's received. How to configure these settings will affect how email arrives. Therefore, you need to check whether it configured as expected. If you don't know how to do, please follow these steps below.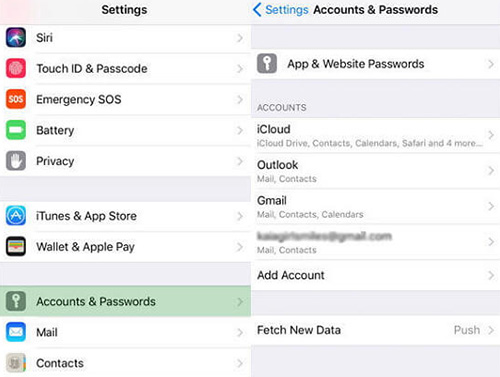 Step 1: Just head to "Settings" - tap on "Accounts & Passwords" - choose "Fetch New Data";
Step 2: Then, you can click a mail account you want to check;
Step 3: "Push" slider can make the mail messages sent to your iPhone once it arrives on the mail server;
Step 4: You can get into the "Fetch" option to control the schedule, in which you are allowed to choose how often to check your mail following your need.
Part 2. Force Quit Mail App
A quick effective way to fix iPhone Mail not working issue is to force quit it and launch again. It can get some minor problems that cause Mail not to work properly solved simply. To do it, perform the following steps.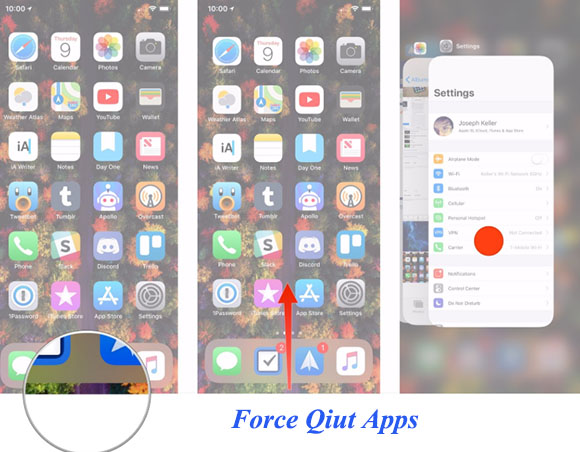 Step 1: Click the "Home" button twice. If there is no "Home" button with your iPhone, you just swipe up from the bottom of the screen;
Step 2: Afterwards, you will see the multitasking view appear on the screen and you need to find Mail app;
Step 3: Now, it is necessary to swipe the Mail application away to quit it;
Step 4: Get back to the home screen and tap on Mail app to relaunch it.
Part 3. Check Username and Password of Mail
It is not impossible that you cannot get mail on iPhone is caused by a problem with your mail username and passcode. On this occasion, a window will pop up asking you to enter a username and password again. If there is no pop-up window, you may need to move your mail account away and reset it. See how to do in the next part.
Part 4. Delete Mail Account and Sign in Again
If you are sure that your mail username and password are correct but you are still disturbed by iPhone Mail not working, it is probably due to a problem with the settings used while trying to connect to your mail account. In this case, you may have a try by removing the account from your iPhone. In addition, this method is also applicable to the kind of scenario mentioned in part 3. If necessary, you'd better back up your mail information on your computer so that you can set it up again easily.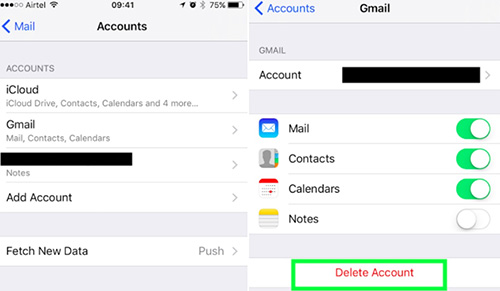 Step 1: Navigate to "Settings" - tap on "Account & Passwords";
Step 2: Choose the mail account you need to delete and click "Delete Account";
Step 3: Then a menu will appear at the bottom of the screen and you should choose "Delete from My iPhone" to get it done;
Step 4: Get back to "Accounts & Passwords" interface and select "Add Account" option;
Step 5: Choose the mail you removed just now and enter your address and passcode. Then, just click "Next";
Step 6: The Mail will verify your account automatically. Wait a moment, you can customize your mail information and tap on "Save" to save it.
Part 5. Manually Configure Server to Repair iPhone Mail Stopped Working
You should notice that the reason for this issue maybe is the mail server doesn't allow you to access. It is because the ISP blocks some ports, or incoming and outgoing server settings you use are not correct. In this situation, you are required to confirm Mail server configuration or configure the server again. It is not complicated. Follow the steps provided below.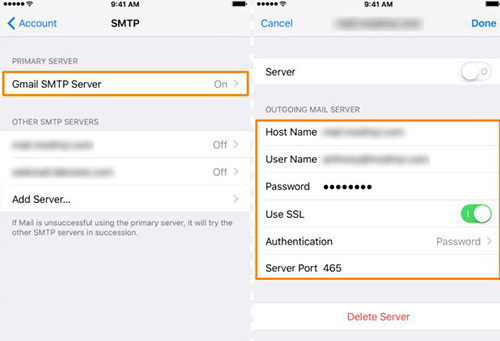 Step 1: Firstly, you should tap on "Settings" and choose "Mail, Contacts, Calendars";
Step 2: Choose the mail with problem and click "Account";
Step 3: After that, you just scroll down to choose "SMTP" from "Outgoing Mail Server";
Step 4: Just ensure the server of the Mail provider as the Primary Server;
Step 5: Next, you can click "SSL" to turn it on if it is off. In addition, "Authentication" should be set to "Password" option and "Server Port" should match "456";
Step 6: Finally, click "Done" at the upper right corner of the screen. Besides, you also tap "Account" in the next interface and click "Done" again.
Part 6. Take Advantage of Joyoshare UltFix without Losing Data
If none of the above solutions are helpful, it is likely that there is something unknown with your iPhone system. Hence, you need an additional tool to solve the problem that iPhone cannot get mail. Among various system repair software, Joyoshare UltFix iOS System Recovery is recommended to you because of its special and powerful characteristics. Developed with fantastic repair features, Joyoshare UltFix is capable of fixing a series of common iOS system issues causing no data missing with "Standard Mode".
But if you meet some especially serious iOS system problems, you will need to get them through under "Advanced Mode". Besides, this mode can restore your iPhone to factory settings if needful. Furthermore, it supports both Windows and Mac. In addition to solving iPhone system issues, you can apply it to fix iPad and iPod system problems. In particular, Joyoshare UltFix offers enter/exit recovery mode function freely for all users whether you buy a license or not. Of course, it is fully compatible with the newest iOS 12.3 and all iOS devices.
Key Features of Joyoshare UltFix iOS System Recovery:
Repair iPhone mail not working at ease
Provide standard mode and advanced mode to fix
Enter or exit recovery mode freely with one click
Support iOS 12.3 and all iDevices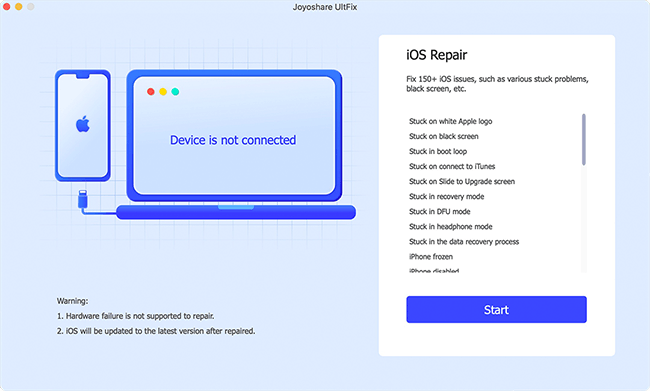 The steps of operation are not complex. You can finish the repair process according to the easy guide below. Before you do this, please make sure your iPhone is full of power.
Step 1: Installing Joyoshare UltFix is the first thing you have to do. Then, connect your problematic iPhone to the computer and tap on "Start" to continue;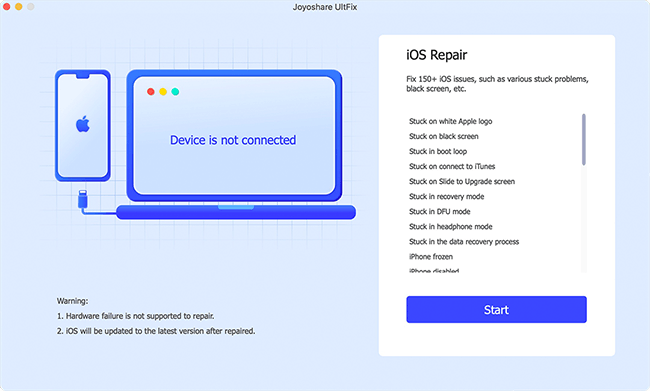 Step 2: Secondly, it is needful to select standard mode to repair your iPhone mail issue. Once choose, you should click "Next";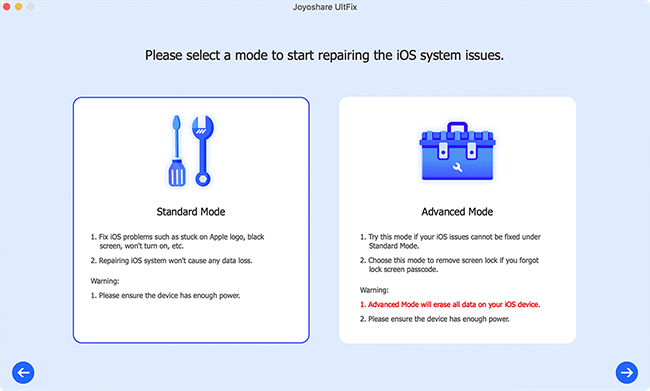 Step 3: According to the indications at the top of the screen, you need to set your iPhone into DFU mode or recovery mode;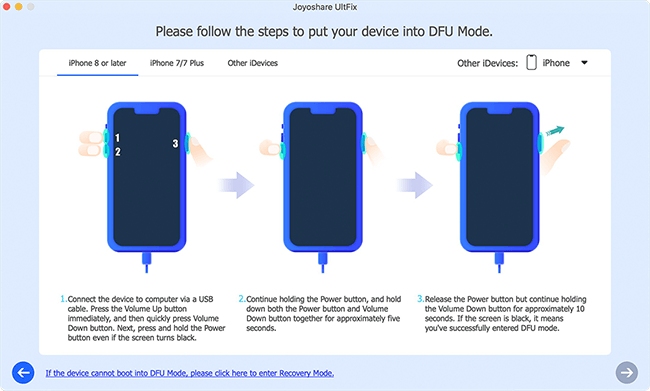 Step 4: Now, Joyoshare UltFix will recognize your iPhone model and you have to confirm this action. Then, it is time to download and verify the firmware package by clicking "Download";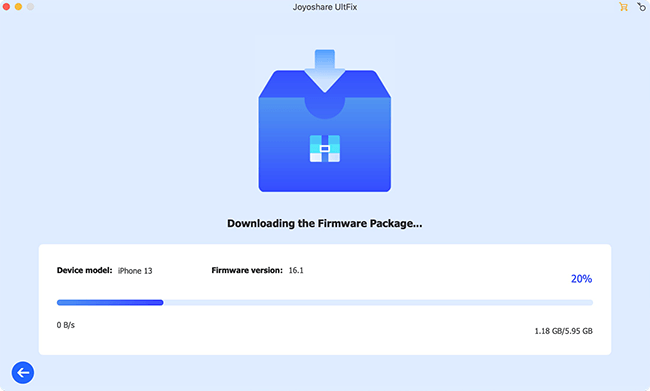 Step 5: Lastly, just tap on "Repair" icon to unzip the firmware package. After a while, it will fix your iPhone mail not working automatically.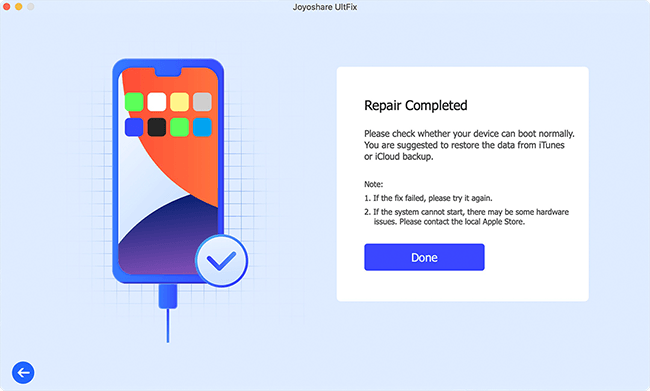 Conclusion
If mail not working on iPhone issue still exists when you try all the above solutions, there must be something wrong with iPhone hardware. In such a situation, going to the Apple store is the best choice for you. However, in general, this problem is likely to be caused by a software problem. Some minor bugs with your iPhone can be fixed by restarting iPhone or reset iPhone settings. If these ordinary ways fail to work, you'd better use Joyoshare UltFix or other iOS system repair tools. After all, not only does Joyoshare UltFix fix iPhone mail not working but repair iPhone screenshot not working, iPhone speaker not working and other common iOS system issues. So, it is highly recommended to you as an impressive repair tool.