Why is Hotmail not working on iPhone? Is there any practical solution to such a problem? These are the recent questions that are discussed frequently by a good many people. It is a no-brainer that iPhone Hotmail issue gets you in trouble. In order to dispose of the problem as early as possible, a thorough reading of this article is commended, in which 5 resultful solutions are placed.
Why Is Hotmail Not Working on iPhone?
Before going further, spend some time reading the content listed below, from which you will be by the threshold of why iPhone Hotmail not working issue occurs.
1. You carelessly use the wrong account or password to log in your Hotmail.
2. It is possible that the mail configuration is set improperly.
3. iPhone is infected by virus or malicious software.
4. Maybe it is the iPhone system glitch that leads to the Hotmail problem.
Part 1. Change Mail Days to Sync
Under the condition with the correct Hotmail account and password, checking and changing "Mail Days to Sync" is an easy and effective solution to emails unable to sync, which is one of the situations of Hotmail not working on iPhone. Confronted with this case, please do the following to get your iPhone out of the trouble.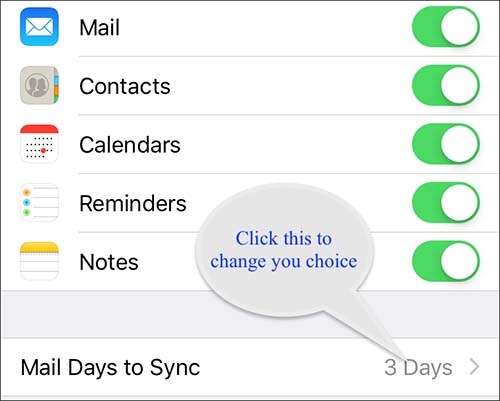 Step 1: First of all, go for "Settings" and followed by "Passwords & Accounts";
Step 2: Click your Hotmail account to access it and then choose "Mail Days to Sync";
Step 3: In this interface, select "No Limit" to make all emails sync automatically.
Part 2. Check Fetch New Data
Had the Hotmail not working on iPhone matter reflected in receiving no notification of new mails, then nothing could be more suitable for you than checking "Fetch New Data". This feature on iPhone is enabling users to choose how often the iPhone checks for new emails. You can head to "Settings" and then tap on "Passwords & Accounts". Afterwards, please hit on "Fetch New Data" to select a proper schedule.
Note: The iPhone will fetch new data in the background only when on power or Wi-Fi. In case you choose "Automatically" to fetch new data but still get no notifications when receiving a new email, please check your network connection.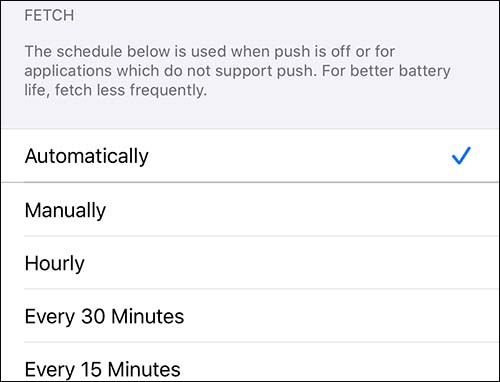 Part 3. Open Anti-virus Software
There is the possibility that the issue of Hotmail not working on iPhone results from viruses or malware. If this is really the case, then that needs great attention. Viruses or malicious software will trouble iPhone a lot. Even worse, it may cause system halted on iPhone. So on this occasion, simply install and run the anti-virus software to eliminate the issue.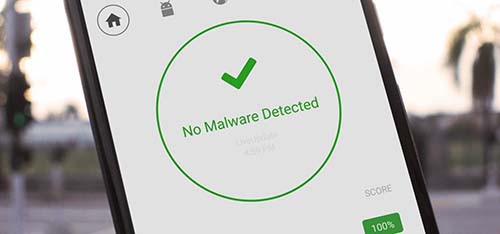 Part 4. Reset All Settings
In a manner of speaking, resetting all settings is a one-size-fits-all solution to most iOS problems. Not only iPhone Hotmail not working but also iPhone Reminders not working and that sort of common iOS issues can be solved favorably with this operation. Be at ease; it just restores all the iPhone settings rather than iPhone data to the default status. You may wish to try.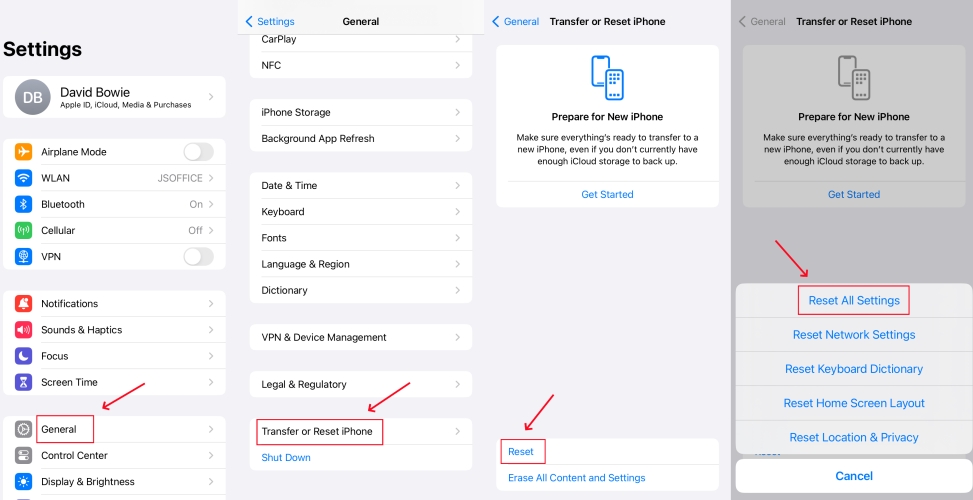 Step 1: In the first place, go to "Settings" on the home screen of your iPhone;
Step 2: Next, drop down to "General" and then to the "Reset" option;
Step 3: In the end, choose "Reset All Settings" under the "Reset" option. Now, you need to enter passcode to verify your action. In a minute, the process will be done.
Part 5. Make Use of iOS System Recovery (No Data Loss)
In case you have nothing to gain from the above, then give Joyoshare UltFix iOS System Recovery a shot. As the best candidate in the software industry with booming development, Joyoshare UltFix certainly comes with something extraordinary. For instance, it furnishes users with the ability to deal with a wide variety of iOS problems and is compatible with all iOS devices as well as Apple TVs.
Furthermore, there is a free function with this repair software, which is making the iPhone into or out of recovery mode by one click. All these are merely a drop in the bucket. The greatest strength of such a program is that it provides solution to tough problems like iPhone is disabled connect to iTunes but also method to work out the usual issues without losing data, such as Hotmail not working on iPhone, AirDrop not working on iPhone, iPhone cannot get mail and all that. As to how to operate the software to serve to you, please consider the following.
Key Features of Joyoshare UltFix iOS System Recovery:
Fix iPhone Hotmail not working causing no data loss
Wholly compatible with all iDevices including iOS 13
Provide standard and advanced modes to fix various issues
Capability to make iPhone enter/exit recovery mode for free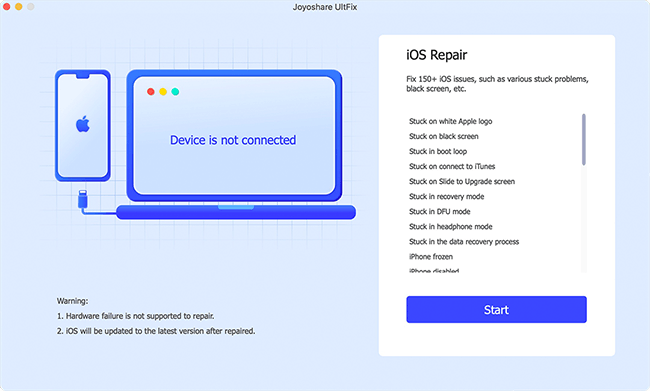 The above is a brief overview of characteristics about Joyoshare UltFix. Then below will work on how to take it to help you out.
Step 1: Visit its official website to download and install Joyoshare UltFix on your computer. Follow up on opening it and use a USB cable to connect the iPhone with it;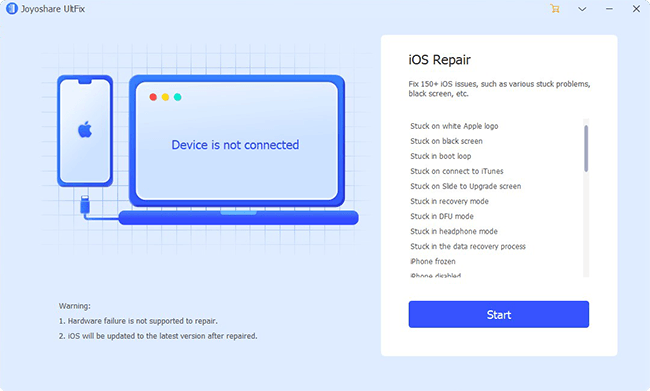 Step 2: Then, choose a repair mode. You are suggested to select standard mode as there is no data loss under this mode. After that, click "Next" to move on;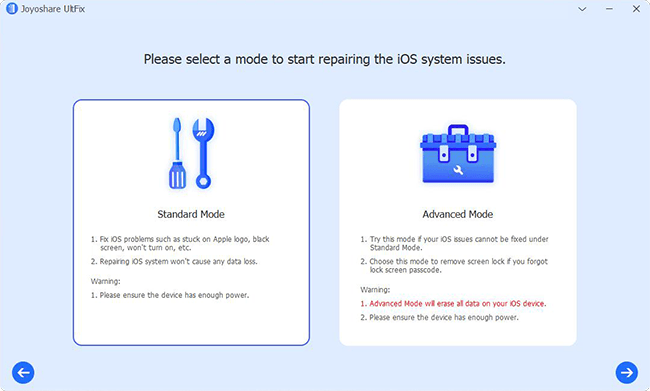 Step 3: Now, you should have set your iPhone into recovery mode or DFU mode as instructs on the screen, but before doing this, please select the iPhone model;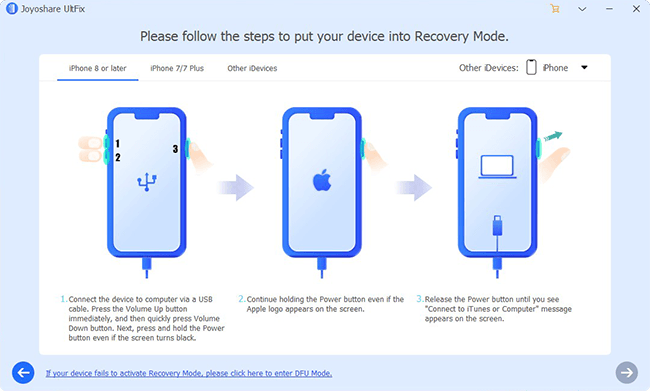 Step 4: In this step, you need to touch "Download" to get and verify a compatible firmware package for your iPhone after confirming your iPhone information displayed on the screen;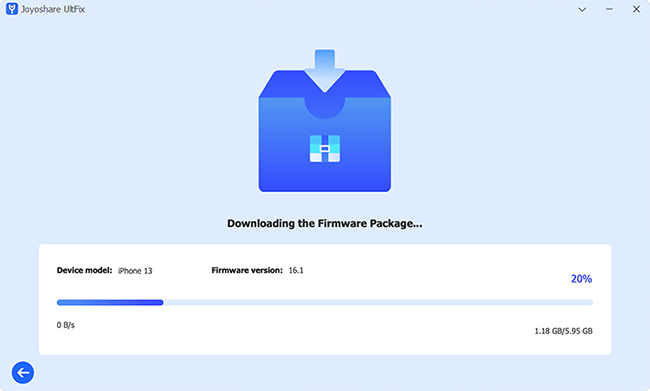 Step 5: Put an end by tapping on "Repair". This action is to have the verified firmware package unzipped and later Joyoshare UltFix will fix the iPhone Hotmail issue.