AirDrop is an ad-hoc network service in the iOS and Mac OS operating system, which allows you to transfer files among the supported computers and iOS devices by Bluetooth and Wi-Fi without mail or mass storage devices. The occurrence of AirDrop not working on iPhone issue is unlikely to have much of an impact on using your device, but it does bring some discommodity. See, the article summarizes the top fixes to get rid of this trouble.
Several Possible Reasons for AirDrop Not Working on iPhone:
1. iOS in your device is not iOS 7 or later versions. You need to know that the special service is just be used on the devices with iOS 7 or later.
2. You may not enable Bluetooth or the Wi-Fi signal goes fuzzy. The essential requirements for its normal usage are turning on Bluetooth and connect a strong Wi-Fi network.
3. Certain system glitches appear on your device, which also leads to the iPhone AirDrop problem.
Part 1. Check Bluetooth and Wi-Fi
As introduced above, to ensure the proper operation of AirDrop on iPhone, it is indispensable to enable Bluetooth and Wi-Fi. So, when you have the problem of iPhone AirDrop not working, your first thought ought to check if both Bluetooth and Wi-Fi on your device are in good condition. If so but the issue still exists, you might switch them off and reopen after restarting your device to get the problem settled.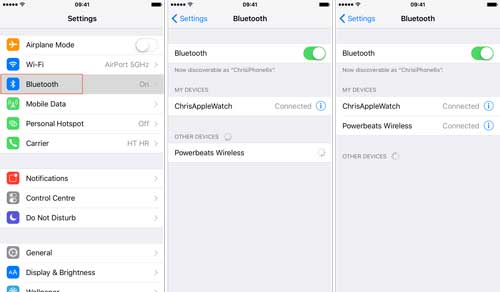 Part 2. Reset Network Settings
As you may know, if there is something bad with your Wi-Fi connection, then iPhone AirDrop will not be able to function properly. Another resort to resolve it is restoring all network settings on your iPhone to default state. This method is applicable to all issues resulted from network failures, so can AirDrop on iPhone not working issue also be tackled. To have it done, open "Settings" - choose "General" - tap "Reset" - touch "Reset Network Settings". Then you will be demanded to enter your passcode and confirm the task.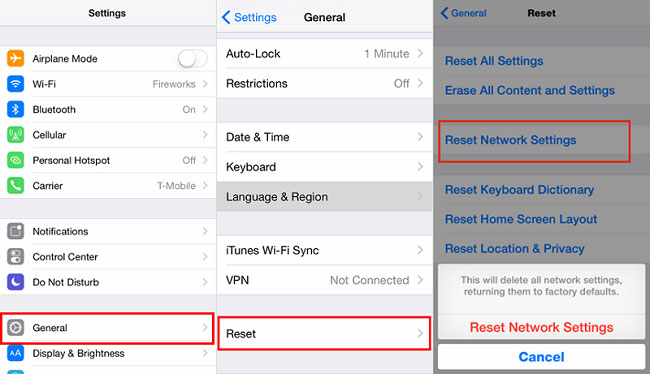 Part 3. Re-sign in iCloud
It must be noted that you need to sing into the iCloud account with the same Apple ID on both devices that apply AirDrop. So, as one can imagine, iCloud fault will touch off the same problem - AirDrop not working on iPhone. In this scenario, signing out of iCloud and signing in again could be a feasible solution. Follow the steps below to learn how to do it.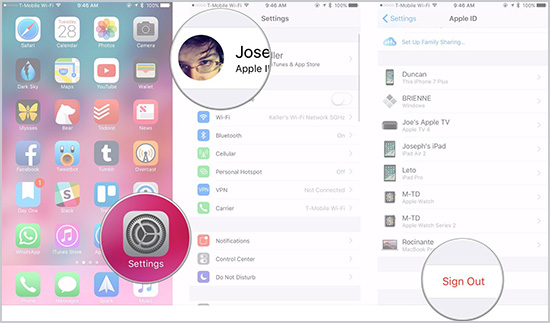 Step 1: Go for "Settings" and then touch your name to enter iCloud;
Step 2: Scroll down to click "Sign Out" and type your Apple ID password to confirm;
Step 3: To log in again, get back to "Settings" section. Then tap "Apple ID" to enter your account and password;
Step 4: After that, you can try AirDrop again to check if the solution is workable.
Part 4. Close Personal Hotspot
Another factor contributing to the trouble of AirDrop not working on iPhone is the personal hotspot. If you enable personal hotspot while using AirDrop, then the former will prevent the latter from working. That's because personal hotspot feature also depends on the Wi-Fi network. Enabling both of them at the same time inevitably leads to this problem. The following steps will guide you to disable "Personal Hotspot" to let AirDrop return to normal.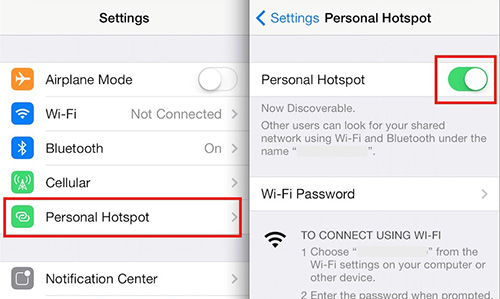 Step 1: Head to "Settings" and followed by "Personal Hotspot";
Step 2: If it is turned on, then click to switch it off;
Step 3: Before running AirDrop again, it is better to reboot your iPhone.
Part 5. Repair with Joyoshare UltFix without Data Loss
When faced with a problem that cannot be solved by a conventional method, people often seek the help of a professional tool. Similarly, if the above approaches do nothing for you, Joyoshare UltFix is commended to you here. Designed as a flexible and marvelous program, not only can it be applied on every iOS device and the latest iOS version, but also effortlessly resolve various iOS issues, such as iPhone AirDrop not working, iPhone camera not working, iPhone GPS not working, and so forth. You need not worry that it won't clear up the issue.
The best feature of Joyoshare UltFix is that it furnishes two repair modes for users - standard mode and advanced mode. Here, something extraordinary about standard mode must be mentioned, that is, all data on your device will be undamaged while fixing problems using this mode. As far as advanced mode, in a nutshell, it is created to repair some tough questions like forgot iPhone passcode how to unlock. Also, the software takes a free function that makes your device enter or exit recovery mode with just one click. Like it? Take it!
Key Features of Joyoshare UltFix iOS System Recovery:
Feature with standard mode and advanced mode
Allow your device to enter/exit recovery mode for free
Be developed to fix more than 30 kinds of iOS issues
Support recent iOS 13 and almost all iOS devices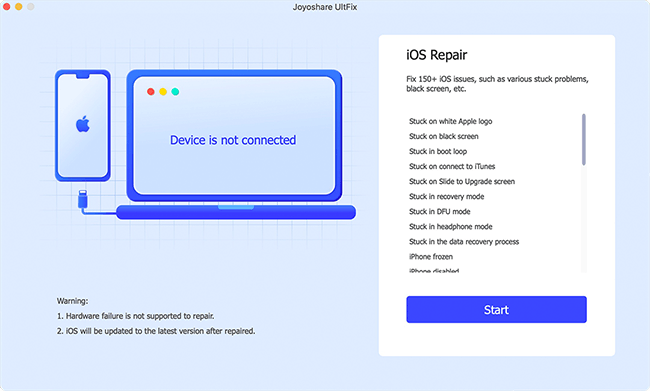 Follow the instructions below to start repairing AirDrop not working on iPhone with Joyoshare UltFix.
Step 1: Install and launch Joyoshare UltFix from the official website. After connecting your iPhone with the computer, please go along by clicking the "Start" icon;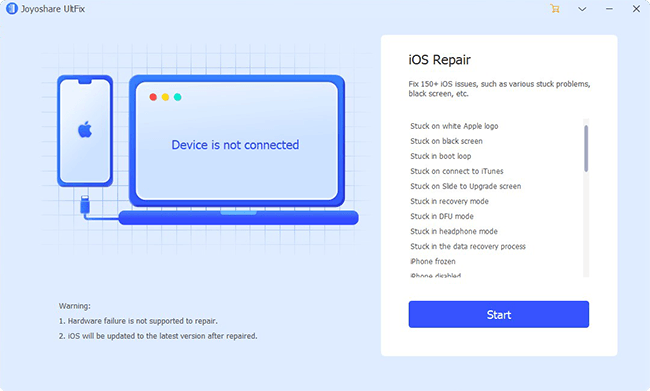 Step 2: Here are two repair modes. Barring accidents, standard mode is enough to address your iPhone issue. If unsuccessful, try advanced mode;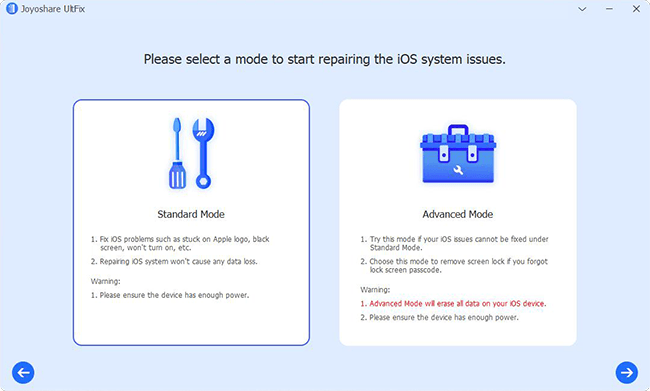 Step 3: Now, you need to pick up your iPhone model and then follow on-screen indications to boot your device into recovery mode or DFU mode. The link located at the bottom is used to switch mode;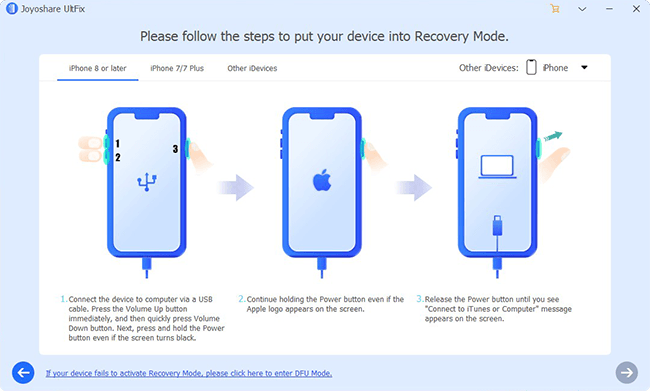 Step 4: The program may show you all information about the iPhone and you just need to confirm it. According to the process, next, you have to download and verify a firmware package by touching the "Download" button;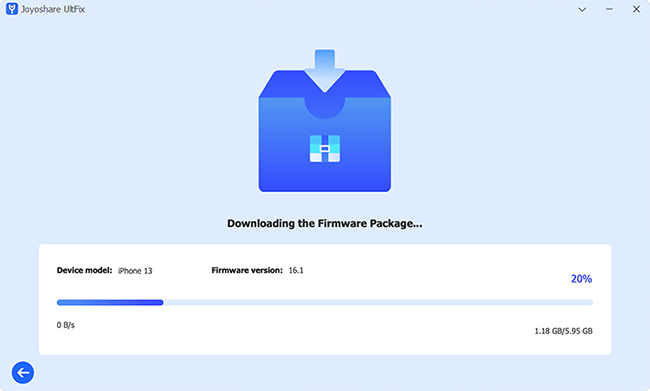 Step 5: All that's left to do is making the firmware package unzipped and tapping on "Repair" to troubleshoot iPhone AirDrop issue.