Q: "Let me try this another way... when I try to connect wireless, iPhone asks for the password. iPhone says Wi-Fi password is incorrect. I double/triple-checked the password and it's right. HELP!" – teetime112 from Apple Community
Wi-Fi connection is so important in our everyday life that once we fail to connect it, it feels like we have disconnected from the whole world. That is true. We depend on the network severely. However, many iPhone users may confront with the situation where iPhone says Wi-Fi password is incorrect even though it is correct. This circumstance could cause big trouble. Therefore, this article aims to introduce 12 effective methods for you to solve this problem.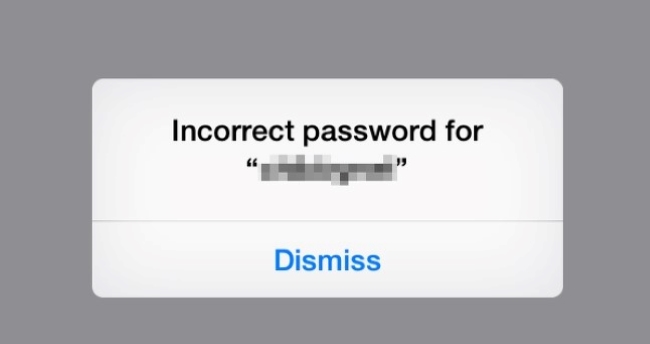 Way 1. Fix Wi-Fi Password Verification Error with No Data Loss
Try Joyoshare UltFix, it will surely surprise you. It is specialized in repairing iOS system problems. It is not only able to support iPhone, iPod Touch, iPad, and Apple TV, but also capable of fixing more than 150 common iOS system issues such as iPhone keeps disconnecting from Wi-Fi, stuck on a black screen, stuck in DFU mode, iPhone disabled/bricked, iPhone crash, iPhone keeps restarting, iPhone won't charge, etc.
Key Features of Joyoshare UltFix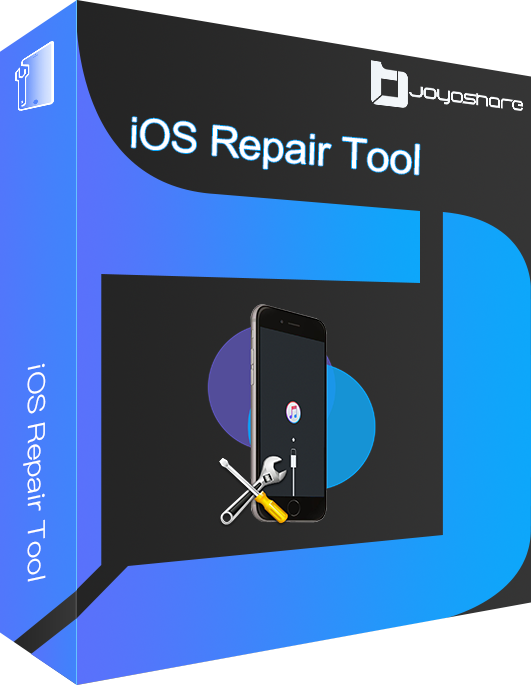 Support iOS 15
Fix Wi-Fi authentication error with data preserved
Repair more than 150 iOS system problems
Enter/exit recovery mode with one click for free
Step 1

Launch Joyoshare and Connect your iPhone

Download Joyoshare UltFix from its official website. Then you can connect your iPhone to computer and begin to run this program;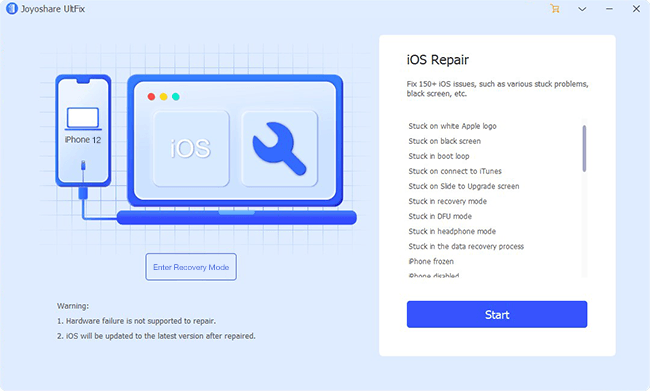 Note: You can also simply click Enter Recovery Mode button appearing in the main interface of this program. Press Start to move into the next step.
Step 2

Select Repair Mode

Here you can choose either Standard Mode or Advanced Mode to repair your Wi-Fi authentication error. Under Standard Mode, you are capable of fixing Wi-Fi password verification problem with no data loss;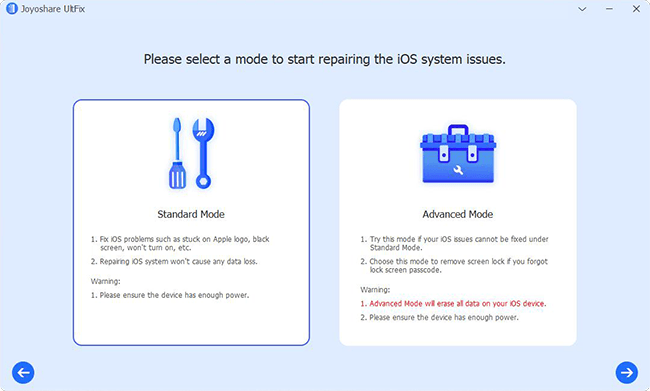 Step 3

Get iPhone into Recovery Mode for Free

In case your iPhone fails to be detected successfully in the beginning, you can also set your iPhone into DFU mode or recovery mode manually in this step after selecting the device model. Press Next to continue;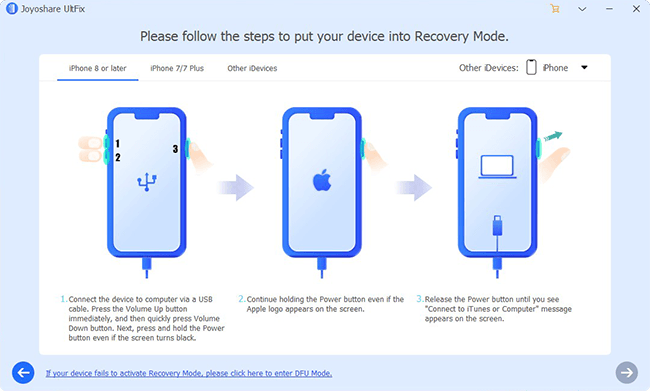 Step 4

Download Firmware Package

Having confirmed your iPhone info, you are allowed to click Download at the right corner of the screen to get ready to download the firmware package;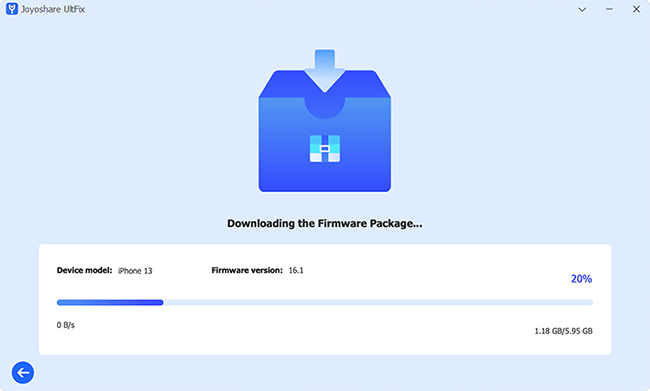 Step 5

Begin to Fix iPhone Says Wifi Password is Incorrect

When the downloading process has been completed, you can press Repair to unzip the package. Wait for a few minutes and Joyoshare UltFix will help you fix iPhone won't connect to Wi-Fi says password is incorrect.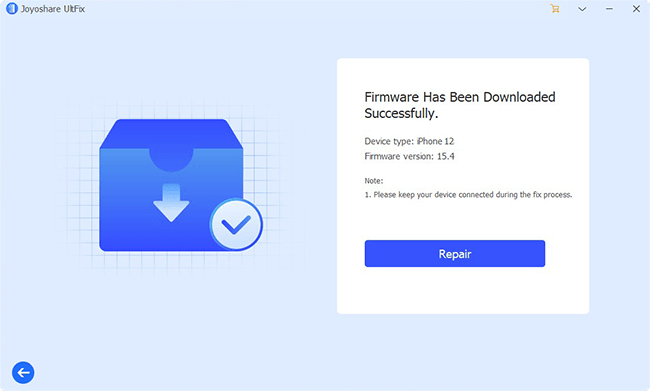 Way 2. Reenter Your Password
The iPhone uses case-sensitive passwords, which means it takes capital letters into account when determining if a password is correct. If your iPhone tells you that your password is incorrect, a typo may be the cause.
Way 3. Try Wireless Wi-Fi Password Sharing
Connecting to someone else's network can be easy with Wireless Wi-Fi Password Sharing. Apple introduced this feature in iOS 11.
If you want to share Wi-Fi passwords, you need to unlock and connect the other iPhone to the Wi-Fi network. Tap on the Wi-Fi network you wish to join on your iPhone's Settings → Wi-Fi.
It will notify the other iPhone that its Wi-Fi password can be shared with you. Simply tap "Send Password" to share the password.
Way 4. Clear Wi-Fi Network
When your iPhone says your Wi-Fi password is incorrect repeatedly, calm down and take the first step: forget the Wi-Fi network you've joined to.
Step 1: Open Settings app in your iPhone;
Step 2: Tab Wi-Fi and then choose which network you want to forget;
Step 3: Click the blue information icon "i" near to your network;
Step 4: Select Forget This Network and then press Forget to confirm.
Now you can reconnect your network. Reenter your Wi-Fi password and check whether your Wi-Fi is available or not.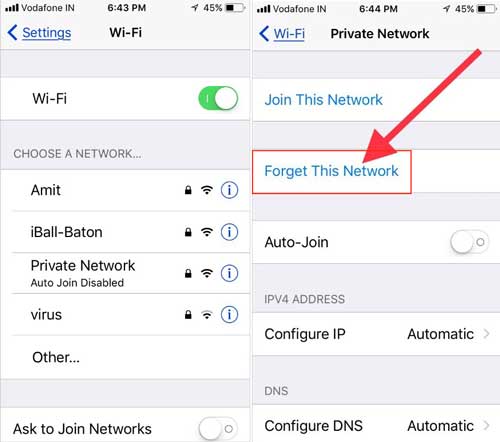 Way 5. Reboot Router
Another possible way to solve your iPhone says Wi-Fi password is an incorrect problem is to reboot your router. Chances are that you could get into Wi-Fi trouble when your router gets busy. Therefore, restart it and check if your Wi-Fi password works now.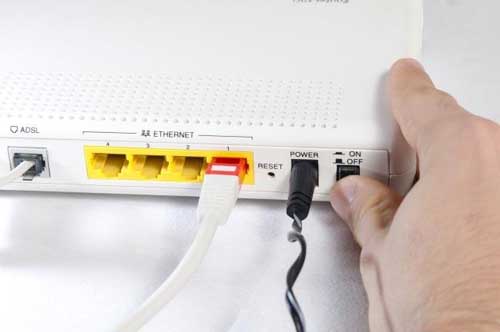 Way 6. Try Original Password
The network password could have been reset if you reset the router, or if it was done accidentally. If you still need to find the network password, you can look it up on the back of the router. Passwords by default are usually long strings of random letters and numbers, which make it easy for a typo to occur. Keep reading to learn what you can do if still your iPhone says the Wi-Fi password is incorrect!
Way 7. Disable Wi-Fi Assist
Wi-Fi Assist is on by default. It helps you connect to the internet smoothly even though you have a poor Wi-Fi connection. Disable your Wi-Fi Assist can sometimes help you solve Wi-Fi Authentication errors.
Step 1: Go to Settings in your iPhone;
Step 2: Choose Cellular;
Step 3: Scan through the list of apps until you find the Wi-Fi Assist button;
Step 4: Switch the button off.
Now you can retype your Wi-Fi password.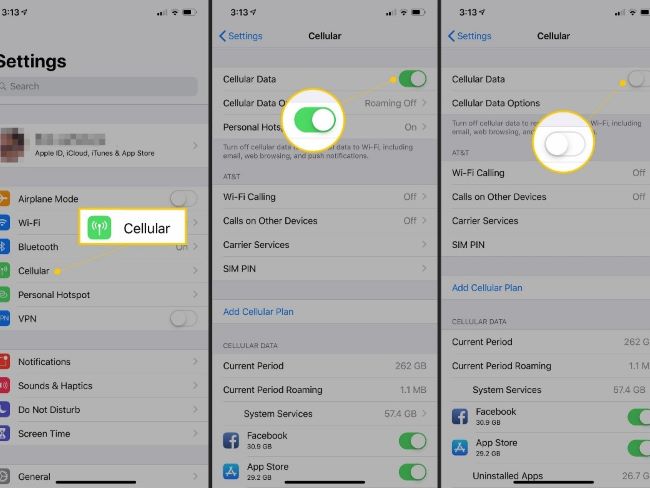 Way 8. Turn Wi-Fi OFF and Back ON
Try to turn your Wi-Fi on and off, which may help you fix the "iPhone says Wi-Fi password is incorrect" issue. To restart the network connection, turn off the Wi-Fi and turn it back on again. Simply open Settings, then select the Wi-Fi option, and toggle the switch at the top of the screen.
The switch should turn white, indicating that Wi-Fi is off. Reconnect Wi-Fi by turning on the switch after a few seconds. Verify if the problem is fixed by re-entering your password.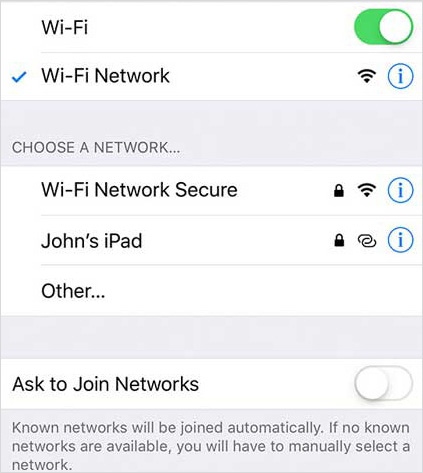 Way 9. Reset Network Settings
Another rather easy but effective way to solve your problem is to reset your Wi-Fi network settings.
Step 1: Go to Settings app in your iPhone;
Step 2: Tab General;
Step 3: Scroll down the screen and find Reset;
Step 4: Hit Reset and then choose Reset Network Settings.
Note that after resetting your network settings, all your previously stored information about your network will be deleted including Wi-Fi passwords, APN (Access Point Name) and VPN settings, etc. Prepare to type them later so that your network can function properly again.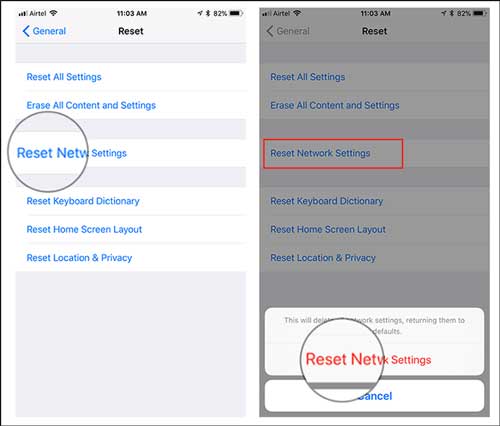 Way 10. Force Restart iPhone
Force restarting can always be a useful way to fix many kinds of iPhone issues. iPhone says the Wi-Fi password is incorrect is no exception. Ways to reboot your iPhone vary from your iPhone version.
For an iPhone with Face ID, iPhone SE (2nd generation), iPhone 8, or iPhone 8 Plus:
Step 1: Press and then release the volume up button quickly;
Step 2: Press and then release the volume down button quickly;
Step 3: Press and hold the side button;
Step 4: Release the button when the Apple logo appears.
For iPhone 7 or iPhone 7 Plus:
Step 1: Press and hold both the Sleep/Wake button and the volume down button;
Step 2: Release them when the Apple logo appears.
For iPhone 6s, iPhone 6s Plus, or iPhone SE (1st generation):
Step 1: Press and hold both the Home button and the Sleep/Wake button;
Step 2: Release them when the Apple logo appears.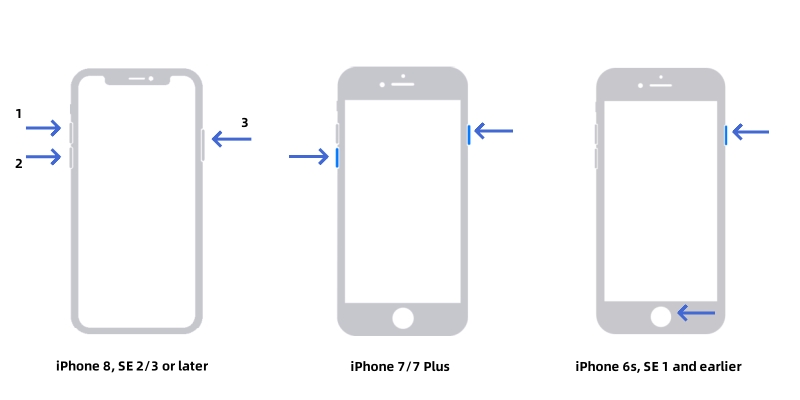 Way 11. Update iOS Version
The old iOS version could be unstable and cause some problems like iPhone says Wi-Fi password is incorrect. Generally, Apple will optimize its system to fix some possible bugs. Therefore, if your iOS version hasn't been updated recently, you can go to Settings on your iPhone. Enter into General. Click Software Update and choose Download and Install. Go back to see whether your Wi-Fi has gotten back to normal.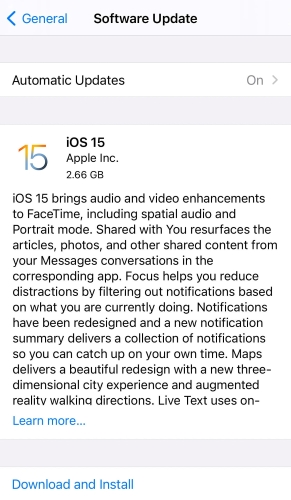 Way 12. Prevent Network from Automatically Connecting
Sometimes your iPhone will connect open Wi-Fi network automatically. However, this could put your iPhone at risk of exposing your sensitive personal information. As a consequence, you need to stop your iPhone from joining them.
By doing so, you can launch the Settings app on your iPhone. Tap Wi-Fi. And then click the blue information icon "i" next to the Wi-Fi network you want to disconnect. Then you can turn the Auto-Join switch off. Of course, after the switch has been turned off, you can select the particular Wi-Fi network you want to join.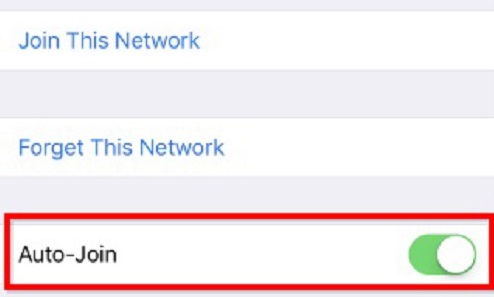 Reconnected to Wi-Fi!
We just hope that at least one of these proffered solutions works out for solving iPhone says Wi-Fi password is incorrect. Joyoshare UltFix is a cut above the rest of methods. Some of the highlights include its user-friendly interface, excellent compatibility, and the ability to fix over 150 iOS-related issues. But if unfortunately, you still confuse about how to use it, don't feel blue! Still, there is a way by which you can solve your problem rapidly and fluently. Leave your comment to our tech-savvy. They will help you out, for sure!