It must be acknowledged that push notifications can make your busy life relatively relaxed. It ensures that you will not miss any critical message. In the meanwhile, it is in a position to save you a good deal of time. However, sometimes the notification for some apps may not work as expected, which is really a headache. For example, some users latterly complained that they come across Facebook notifications not working on their iPhone. Is this an intractable problem to deal with? No! The following guide will show you how to clear up the issue for good.
Part 1. Turn on Facebook Notification
As a general rule, the Facebook notifications not working problem arises mostly because push notification on it is disabled. As a result, switching on Facebook notification alone can settle this problem. Let's see how to do it.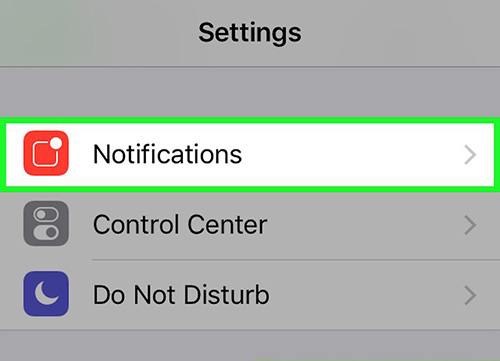 Step 1: From the iPhone home screen, get into "Settings";
Step 2: Then find "Notifications" and select "Facebook" among all applications;
Step 3: Touch to enable "Allow Notifications" if it is turned off.
Part 2. Uninstall Facebook and Install Again
You know, a simple uninstalling is able to fix the app issues caused by itself. So, if the method above does not work you out, you may try leading a hand from uninstalling the app to kill off the trouble of notifications not working on Facebook. Follow the steps below to get it done.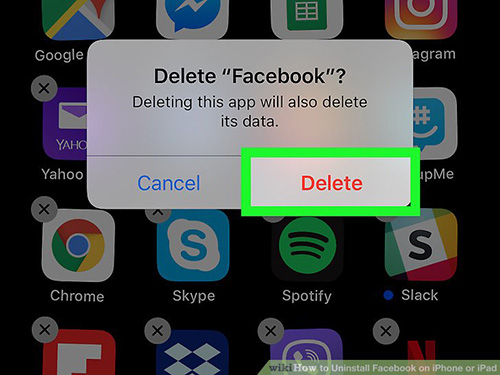 Step 1: To begin with, long press the icon of Facebook app;
Step 2: Then, click the "X" icon and a window will pop up;
Step 3: In the window, tap on "Delete" to uninstall Facebook from your iPhone;
Step 4: After that, you should go for the App Store and install Facebook anew.
Part 3. Disable Do Not Disturb
If you forget to turn off "Do Not Disturb" on your iPhone, then all notifications won't work, not to mention Facebook notifications. If this is the case, the easiest and quickest solution to Facebook notifications not working is toggling off the "Do Not Disturb" option. Try doing it with the following instructions.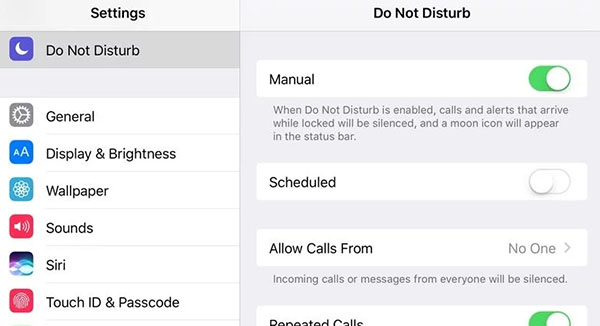 Step 1: The first thing to do is heading to the "Settings" option on your iPhone;
Step 2: Next, you need to scroll down to "Do Not Disturb";
Step 3: Just tap to disable it if the feature is on enabled state.
Part 4. Update iOS to the Latest Version
In case you are still not getting Facebook notifications after attempting the first three methods, this could well be because the Facebook issue is brought about by iPhone operating system failures instead of this app itself. In this instance, you can update iOS to be compatible with the version of Facebook application to eliminate this problem. Here's how to do it.
Step 1: Firstly, open "Settings" and then to "General";
Step 2: In the "General" menu, find and click "Software Update";
Step 3: iPhone will automatically check if there is an update available. If so, tap to download and install it. If no, please keep reading and try the ultimate solution.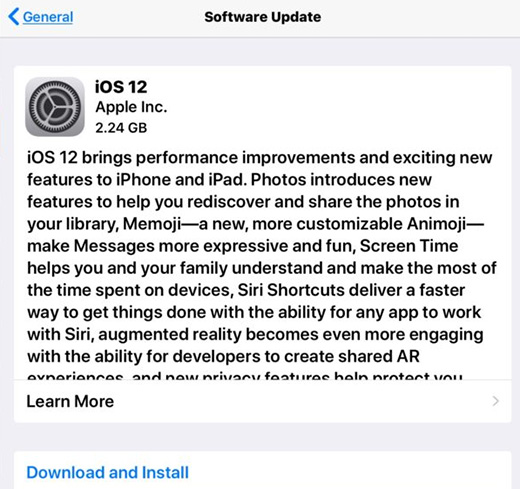 Part 5. Fix Facebook Notifications Not Working with No Data Loss
All too often, some serious iOS glitches that lead to this mess may not be resolved thoroughly by updating iPhone software, but by updating the firmware package. The best and direct way to do it is to use Joyoshare UltFix, a third-party program that is created to repair various iOS issues existing on your iOS device. It works by downloading a new firmware package for your iPhone to cover the previous one. Thus, you need not have concerns about data loss in the whole process.
To be more specific, this tool is carried with three modes to repair diverse problems, recovery mode, standard mode, and advanced mode respectively. Recovery mode, as the term suggests, is focused on helping your iPhone get into/out of recovery mode with one click. What about standard mode? Well, this mode serves to repair many common iOS issues without losing any data, containing Facebook notifications not working on iPhone, Instagram keeps crashing, app not updating on iPhone and more. As to advanced mode, you are able to use it to address some knotty problems or the issues that can not be fixed by standard mode. One more thing to introduce is that Joyoshare UltFix is applicable to all iOS devices even Apple TVs and iOS 13.
Key Features of Joyoshare UltFix iOS System Recovery:
Provide three modes to repair different problems
Give the full support to iOS 13 and almost all iOS devices
Repair notification not working on Facebook with no data loss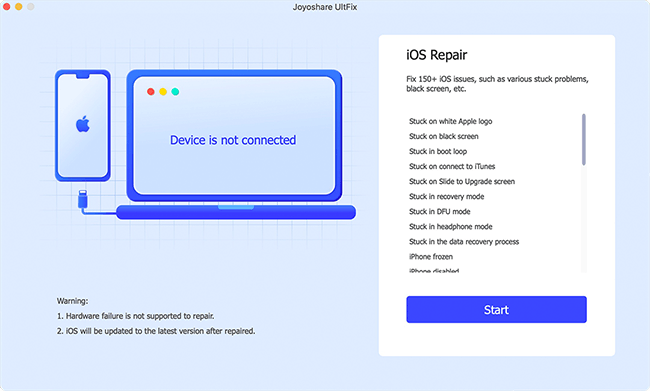 Step 1: Get Joyoshare UltFix installed on your computer. Then run it and connect your iPhone with a computer. After doing this, click "Start" to commence the repair process;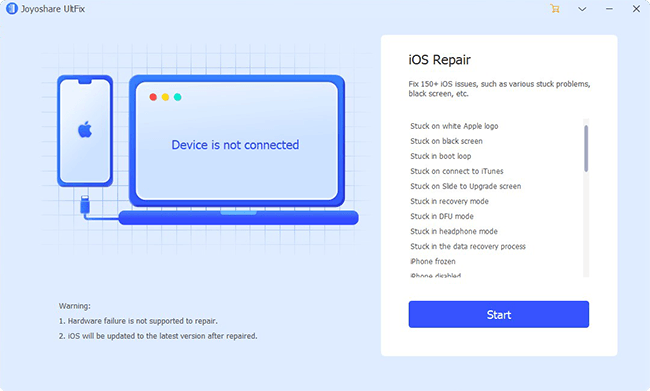 Step 2: Choosing one repair mode is necessary in this step. You can tap on "Standard Mode" for the sake of lossless data after fixing;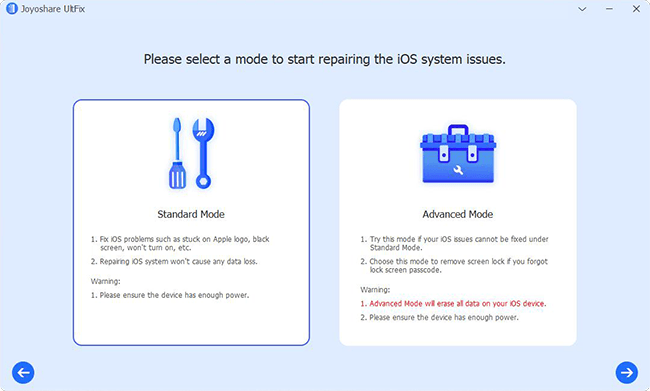 Step 3: Now, select your iPhone model and next you have to manually let your iPhone get into recovery/DFU mode as instructed on the screen;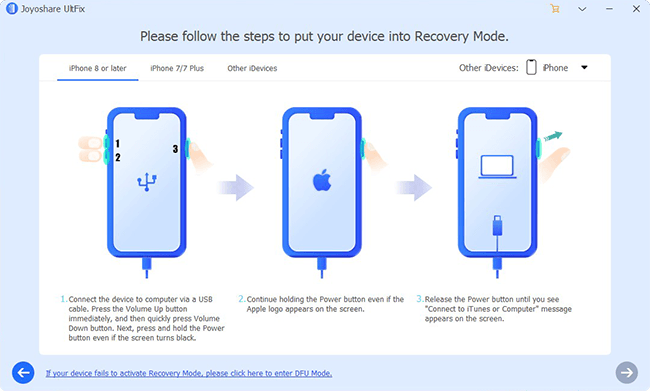 Step 4: Before downloading and verifying the firmware package with the "Download" button, one thing you need to do is confirming the information about your iPhone;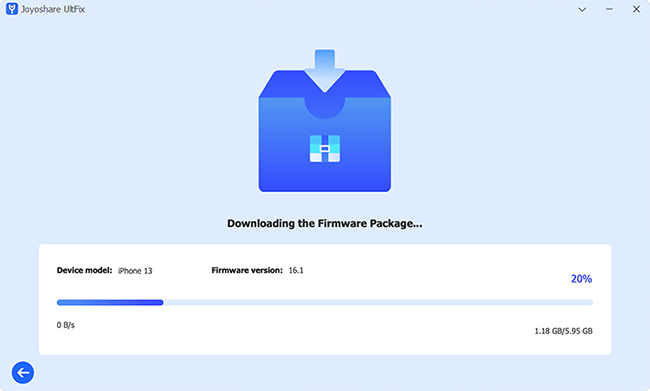 Step 5: After verification, please touch "Repair" to have the firmware package unzipped and make Joyoshare UltFix repair your iPhone issue.