On iOS 16, Apple introduced a new feature allowing you to edit and unsend the messages you recently sent. Within the allotted time, you have the chance to fix a typo and pull back a message that is sent to the wrong person by accident. This feature attracts many users and brings much convenience to them. Also, it helps you to avoid some embarrassing situations. However, it turns out troublesome when edit and unsend messages not working on iOS 16. Here gives you a full guide on how to use these two features, why this problem occurs and how to fix it quickly. Keep reading.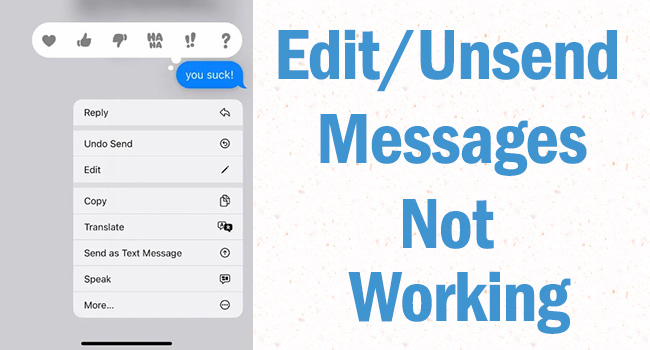 Part 1. How to Edit Messages on iPhone
Within 15 minutes after sending the message, you can edit it up to 5 times. Here is the method to edit messages.
Step 1: Choose a person with the conversation you need to edit on the Messages app.
Step 2: Tap and hold the blue message bubble, and select the Edit option on the pop-up menu.
Step 3: Edit the message, such as changing the typo, and tapping the tick icon to resend or the cross icon to revert.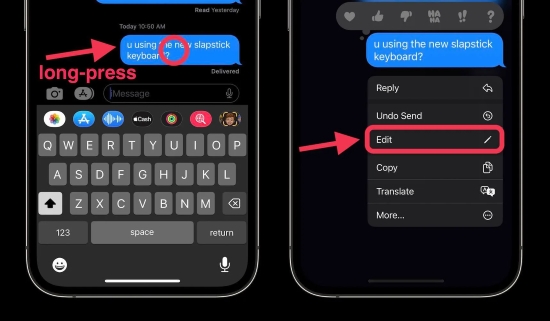 It is essential to mention that if the recipient is running iOS 16 or later, the message bubble is marked as Edited in the conversation, and both of you can tap it to see the history of the edits. While the recipient who runs iOS 15.6 or earlier versions will receive the updated text.
Part 2. How to Unsend Messages on iPhone
How to unsend messages on the Message app when you accidentally sent them to the wrong person? Follow the below steps to undo send your recent messages within 2 minutes.
Step 1: Go to the Messages app and select a conversation.
Step 2: Long press the message bubble you just sent. Be aware that the unsending is limited to 2 minutes or less.
Step 3: Tap Undo Send on the prompt, and it alerts you that "You unsent a message".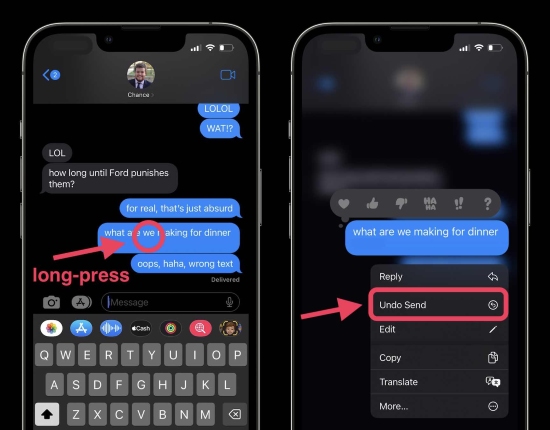 Similar to editing messages, there are restrictions on unsending messages. On iOS 16 and later versions, the message that is unsent will be removed from the recipient's device. However, the original message remains on iOS 15.6 and earlier systems.
Part 3. Why Can't I Unsend or Edit Messages on iOS 16
Since there are some limitations for unsending and editing messages, it is not hard to conclude the reason causing the edit/unsend messages not working issue.
Improper system software. These two features are not working if you are not running the iOS 16 or later versions.
Wrong messages. You can only edit and unsend messages when using iMessage. If you mistakenly send SMS or MMS messages, you are unable to operate them.
Beyond the time limit. These two functions are workable within their prescribed duration. You are permitted to edit sent messages in 15 minutes and undo sent messages in 2 minutes.
Recipient's influence. When your recipient disables iMessage, or he is using an Android device, your messages cannot be edited and unsent.
Apple server's error. The malfunctioning problem may result from Apple, especially during its maintenance period.
Part 4. How to Fix Edit/Unsend Messages Not Working
Fix 1: Update to iOS 16
Now, you have a basic understanding of the causes resulting in the iOS 16 edit or unsend not working problem. If you are aware that the inappropriate system software is the trigger, the first and easiest method to fix this issue is to update your iPhone to the latest iOS 16 software. Go to Settings, tap General, select Software Update, and hit on the Download and Install button. When your device is up to date, send an iMessage again to see if the problem is settled.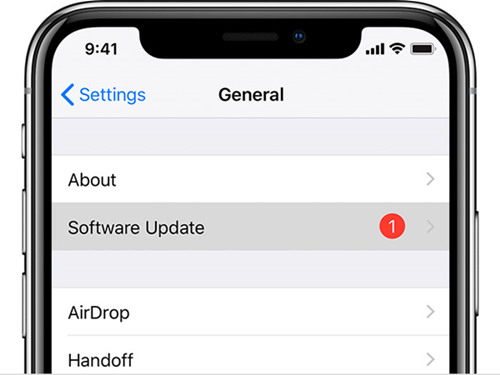 Fix 2: Check Internet Connection
Under a stable Internet connection, iMessage works normally. Thus, when you found out that iOS 16 editing or unsending messages don't work, it is reasonable to check whether you have connected to a fine Wi-Fi network or enabled cellular on your iPhone. To do this, open Settings and do as follows.
Disable and enable Cellular: Tap Cellular or Mobile Data, toggle off it and toggle it on again. Remember to check Low Data Mode and turn it off if you have enabled this feature.
Reconnect to the Wi-Fi network: Press Wi-Fi or WLAN, and you can see the network you connect to. Hit the info icon and choose Forget This Network. Then, add it to the list again and reconnect it.
Turn off VPN: Make sure that the VPN is toggled off on Settings, and that any VPN applications are closed on your iPhone.
Reset network settings: It's a radical but effective method. Tap General, scroll down to the Transfer or Reset iPhone option, choose Reset, select Reset Network Settings and confirm your action.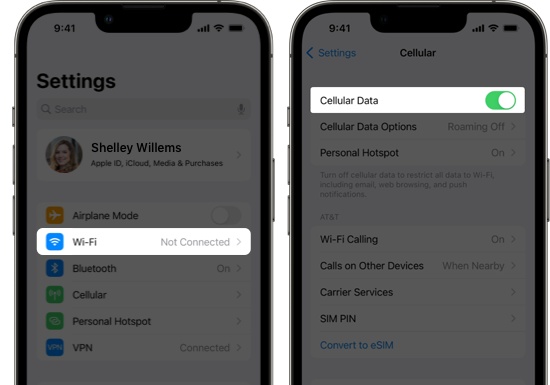 Fix 3: Check Apple System Status
Generally speaking, Apple servers do not affect iOS too much. Nevertheless, it is still necessary to consider the possibility that Apple servers are not working well. Head to the Apple System Status page to see if there are green dots showing in the front of each function.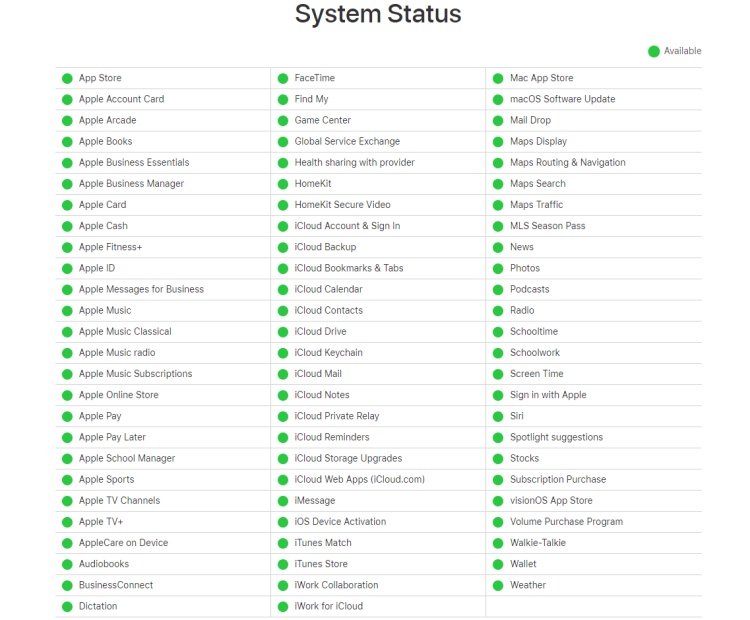 Fix 4: Re-enable iMessages
When it comes to the problem with editing or unsending messages not working, you are able to fix it by giving iMessages a refreshment. Simply, go to Settings, scroll and find Messages. If the iMessage option is enabled, toggle it off and on again. Moreover, you could exit the Messages app and relaunch it to check whether you can unsend and edit messages as usual.
Further, you can restart iMessage by signing out and signing in with the Apple account. Run Settings → Messages → Send & Receive, and tap your Apple ID at the bottom shown in blue. Choose Sign Out on the pop-up and restart your iPhone. After that, navigate to the same interface, hit the option stating Use your Apple ID for iMessage, and then select Sign In. So far, the messages are refreshed thoroughly.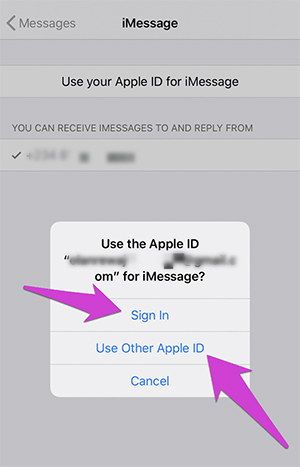 Part 5. Repair iOS 16 System to Fix Edit/Unsend Not Working
In case you still can't edit or unsend messages on iOS 16 after so many remedies, it could be suspected that your iOS 16 system is buggy. Joyoshare UltFix is capable of fixing these kinds of system errors, including iPhone stuck on downloading messages from iCloud, messages repeat alerts not working, and so forth. The latest iOS 16 and all models of iPhone/iPad/iPod are all compatible. With the standard repair mode offered by Joyoshare UltFix, your system problems can be solved without data loss. In addition, any iOS or tvOS error is able to be fixed with a high success rate without the requirement of technical skills. Besides, Joyoshare provides a channel for you to enter and exit recovery mode for free and a feature to downgrade iOS system to the former versions.
Key Features of Joyoshare UltFix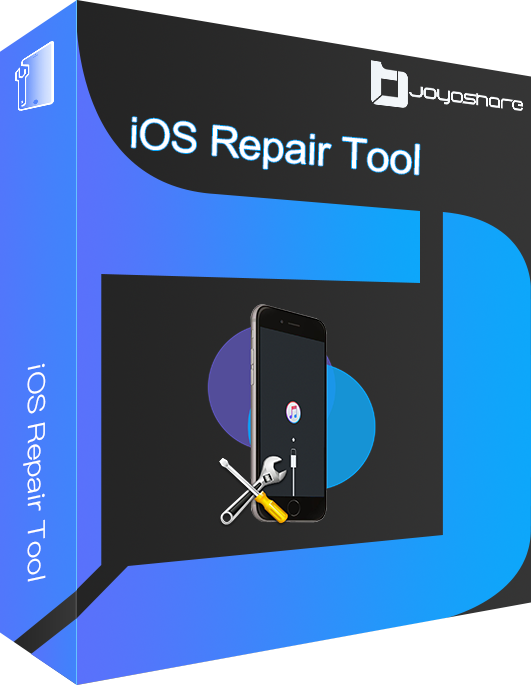 Standard repair iOS 16 system without losing data
Downgrade and upgrade iOS to the previous version
Free to get into and out of recovery mode with one click
Compatible with iPhone/iPad/iPod/Apple TV
Step 1

Connect to Joyoshare UltFix

Install and launch Joyoshare UltFix on your Windows PC or Mac, and use a USB cable to connect your iPhone to it. Choose iOS System Repair and click on the Start button.

Step 2

Opt for Standard Repair

If your iPhone is recognized without obstacles, you could opt for the standard repair mode and get into the next step. On the contrary, you will be demanded to put your iPhone into DFU mode or recovery mode. After that, you will be allowed to proceed.

Step 3

Download and Verify Firmware Package

Your device information is detected and displayed on the screen, change it if there are mistakes. Then, click the Download button to download and verify the firmware package.

Step 4

Fix iOS 16 Edit/Unsend Not Working

Click the Repair button to unzip the firmware package and start to fix your iPhone messages that cannot be edited and unsent. As soon as you see the Done button, your problem is resolved without effort.
Conclusion
In this article, the reason why editing or unsending messages is not working on iOS 16 is explained in detail. Make sure that you have a clear understanding of these causes, then, you are able to follow the fixes to get rid of the trouble. When you found that edit or unsend messages on iPhone not working, update your system to iOS 16, connect to a stable network, check Apple System Status and refresh iMessage. If they are inviable, it could be considered to repair your iOS 16 system by using Joyoshare UltFix. Hope your problem goes away and you can send messages normally.