Q: "Hi, this is Jane here. After updating, my new iPhone stuck on downloading messages from iCloud for a long time. I can't sync the messages to my iPhone, what can I do?" — An iPhone user
Have you also encountered this problem? Yes, your iPhone sometimes may have difficulties in synchronizing the messages with the device. It's a common issue in all Apple devices, but users often panic when faced with these problems. Take it easy. In this guide, I'll show you what is downloading messages from iCloud stuck as well as a few workarounds to fix this bug.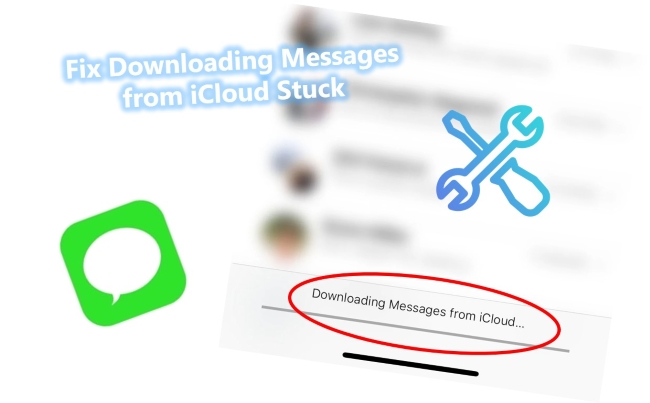 Part 1. Definition of Downloading Messages from iCloud Stuck
iCloud is cloud-based storage that connects all of your Apple devices together. With iCloud, you can back up data, keep everything in sync and even help you to find the misplaced device. To sync messages, go to Settings → [your name] → iCloud, and then, turn on Messages. Simply put, once one device receives messages, these messages will sync in all devices logged into the same iCloud ID. Likewise, if you delete information, it will remove from all devices.
When it comes to downloading messages from iCloud stuck, it refers to your iPhone becoming non-responsive during the sync process. But you don't need to panic or force shut down your iPhone, which is what many users do in fear. Here I listed all primary solutions and specific steps to solve them.
Part 2. Use the Top-Notch iOS System Repair Tool – Joyoshare UltFix [Hot]
If none of the earlier methods have worked for you, then this last troubleshooting method might be the one that helps your fix downloading messages from iCloud stuck.
Joyoshare UltFix iOS System Recovery is your perfect choice on the hunt for fixing system errors. It specialized in troubleshooting 150+ possible iOS issues, such as iPhone dropped won't turn on, iPhone battery draining fast, iPad won't turn on, iPad black screen of death, blue screen, red screen, etc. Plus, it can fix your iPhone/ iPad/ iPod touch with zero data loss, even for the latest iOS 15.
Key Features of Joyoshare iOS System Recovery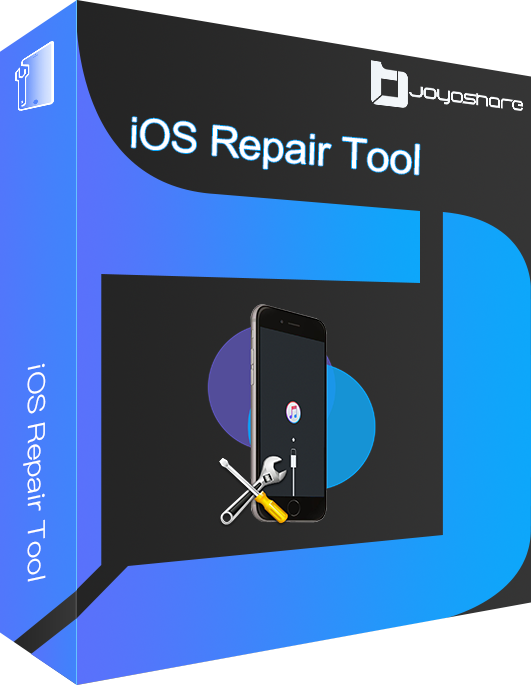 Fix downloading messages from iCloud stuck with ease
Fix iPhone 150+ issues in a flexible way
One click to enter recovery mode to save time
Put iPhone into DFU mode and recovery mode free
Here's how to use Joyoshare UltFix to troubleshoot the annoying problem.
Step 1

Download, Connection, and Installation

Download and run Joyoshare UltFix on your computer. Connect your iPhone to the computer and click the "Start" button to continue.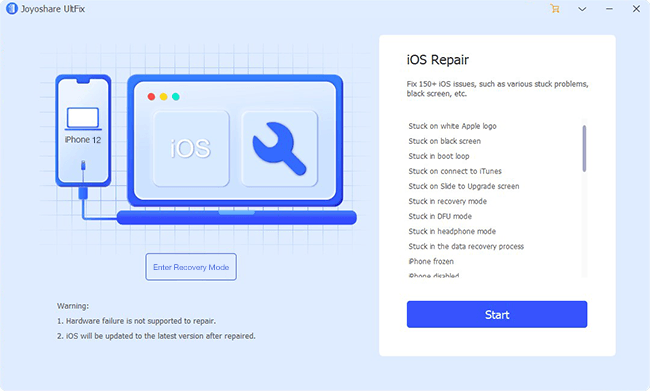 Step 2

Set a Repair Mode

Click Standard Mode to step forward, and follow the interface instruction to download or import the firmware package. The software will detect the device and help you to download the version for your iPhone properly.

Note: Check the firmware package carefully, sometimes you need to select the correct one on your own.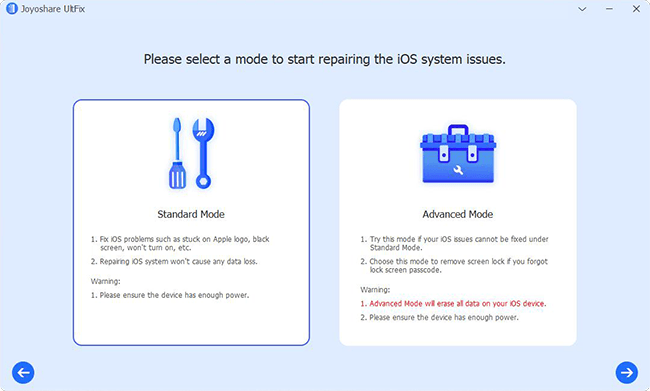 Step 3

Fix iMessage Stuck on Downloading Messages from iCloud

After finishing the download, click the"Repair" button to fix it. Keep waiting patiently until you see the "Repair Completed".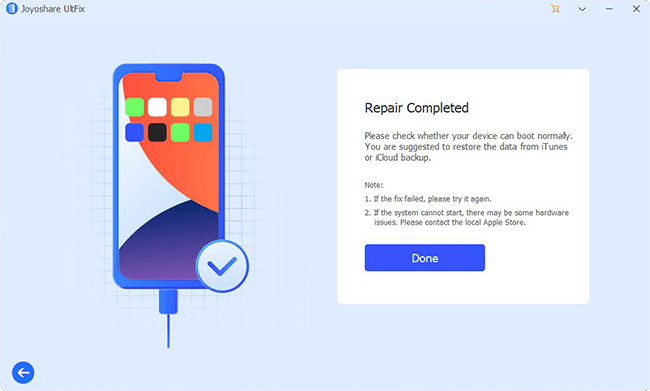 Part 3. General Fixes to Solve iMessage Stuck on Downloading Messages from iCloud
Fix 1

Force Restart Your iPhone

A simple but effective way to troubleshoot iPhone stuck on downloading messages from iCloud is to restart your iPhone once. Doing this will easily refresh your iPhone and remove all settings that may be triggered by such error messages. Here are the required steps:

For iPhone 6 and below
Press and hold on to the Home and Power buttons together until the Apple logo appears.

For iPhone 7 series
Click Volume Down and Power buttons until the Apple logo shows up on the screen.

For iPhone 8 and later models
Press the Volume Up button and quickly release it. Likewise, do the same process with the Volume Down button. Now press and hold the Power button until the Apple logo appears.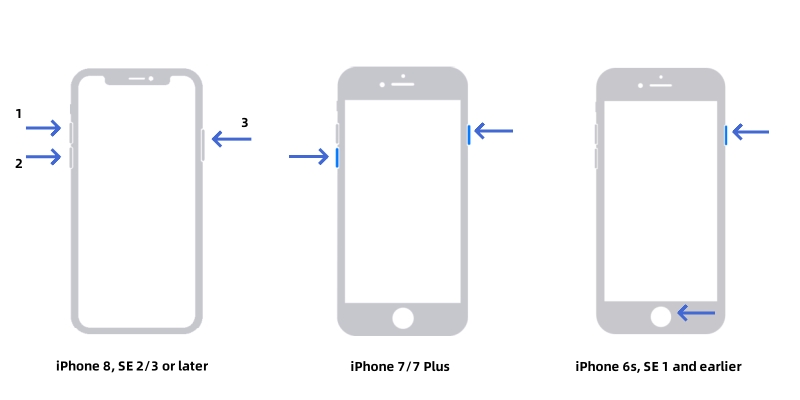 Fix 2

Check Apple System Status

Before using any technical solution, you should make sure whether the Apple system status is working properly. It occurs when Apple schedule regular iCloud maintenance and during that time service will be suspended for several minutes. So, turn to open the Apple System Status page and see if there is maintenance work going on. If not, then you should move to the following fixing technique.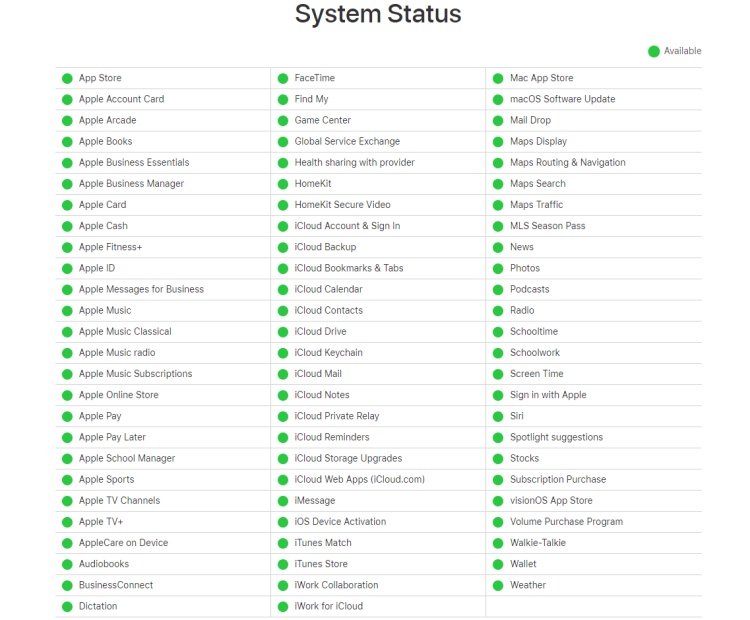 Fix 3

Change to Another Wi-Fi

Wi-Fi connections may be the reason why the phone says downloading messages from iCloud fails. Anytime you download messages from iCloud, your device needs a strong internet connection. In that case, it's better to check the internet connection and if necessary, switch to a stronger Wi-Fi connection.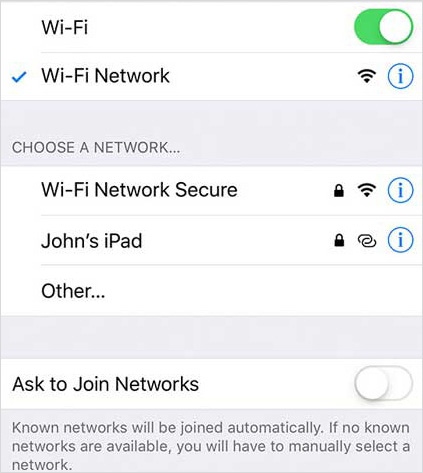 Check to see if the problem has been resolved after making this change. If it is not, proceed to the next step.
Fix 4

Check iCloud Storage

The iCloud storage may be the culprit if you are still experiencing stuck downloading messages from iCloud. Apple provides 5GB of free storage for iCloud backup accounts, and the app is easy to use. When the storage is almost full, you will experience a delay whenever you use iCloud services, including downloading messages from iCloud. To find out how much space is left on your iPhone, you should check its storage and delete any unnecessary data. Follow the steps below:
Step 1: Open Settings, and choose Apple ID.
Step 2: To check how much space you have left, go to iCloud Settings. You should be concerned if the amount is lower than 1GB.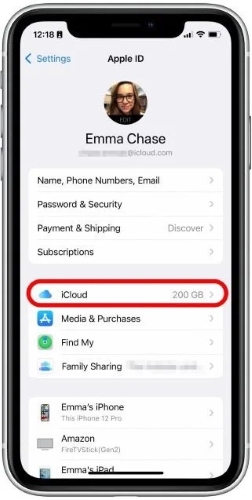 Fix 5

Reset iCloud Account

Not syncing your iCloud account could also cause your iMessage download to be stuck. If you are using the same iCloud account for backup on multiple Apple devices, then you have to sync them each constantly for everything to be in sync. Try to reset your iCloud account:
Step 1: Open Settings.
Step 2: You can sign out by going to iCloud, tapping iCloud Settings, scrolling down to "Sign Out", and then tapping it.
Step 3: Restart the device and sign in again after exiting the iCloud account. Messages should now be able to be downloaded from iCloud.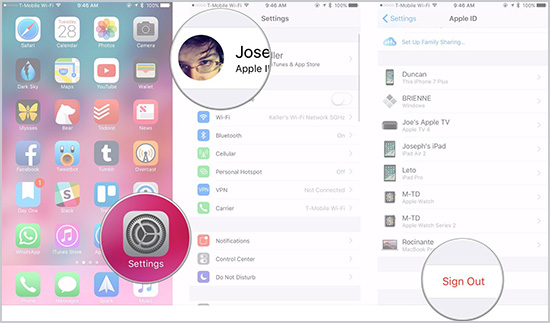 Fix 6

Disable iCloud in Messages and Enable Again

Take this approach as equivalent to a reboot. If restarting your iPhone doesn't work, you can try to just restart the feature itself to check whether it works. It does not influence your Message backup, so don't worry. Here is what you can do about it. Head to Settings → [Your Name] → iCloud → Toggle off the Messages option and turn it on again after a while.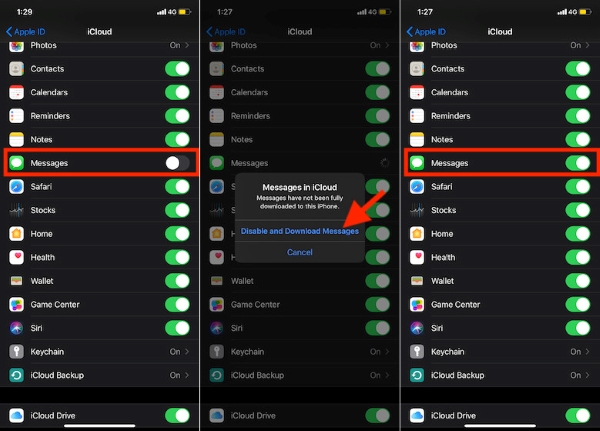 Fix 7

Update iOS Version to the Latest

Another useful troubleshooting solution you can try is to update your iOS to the new version. I understand that you may refuse to update the iOS software for everyone who asks you to do so. But you should update the software to fix some bugs and glitches.

Check it by going to Settings → General → Software Update.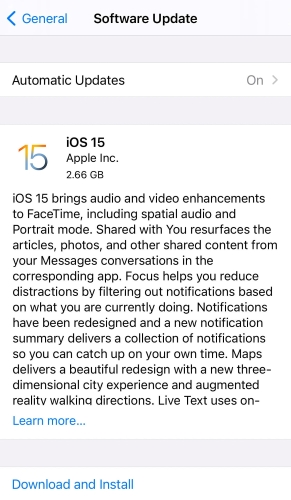 Fix 8

Reset Network Settings

If the update has failed to deliver, you may have to reset the network settings. A good internet connection can guarantee iCloud works correctly. Resetting the network settings can sweep the minor glitches in the network (Wi-Fi or cellular network) away.

To do that, go to Settings → General → Reset → Reset Network Settings and enter your passcode and then confirm actions.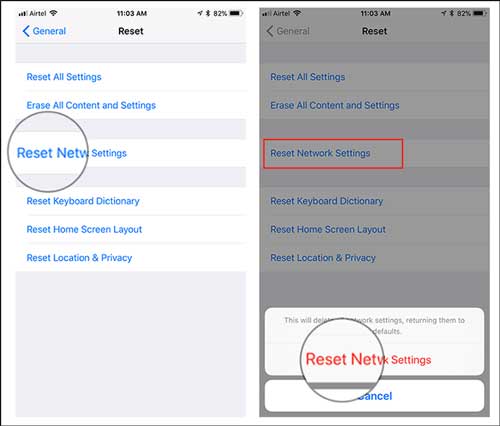 Now reconnect to your Wi-Fi networks and see if the problem is gone.
Fix 9

Plug out Your iPhone

Charging your device while sending messages can also lead to the "downloading messages from iCloud stuck on iPhone" problem. Detach your iPhone from the charger and try it again to check if downloading messages from iCloud are still stuck on the iPhone.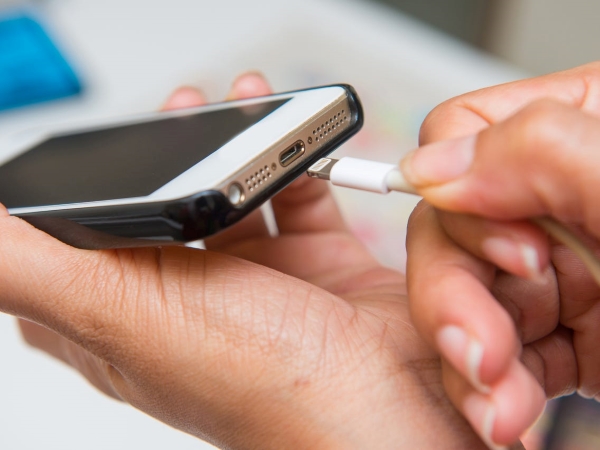 Fix 10

Force Quit Messages App

The issue can happen due to the Messages app that is required. Let's apply this clue, Quit the Messages app and restart it. To do so, follow these steps.

On iPhone 8 or earlier
Just double-click the Home button and swipe to find the Messages app, then force quit it all and open the Messages app again to download messages from iCloud.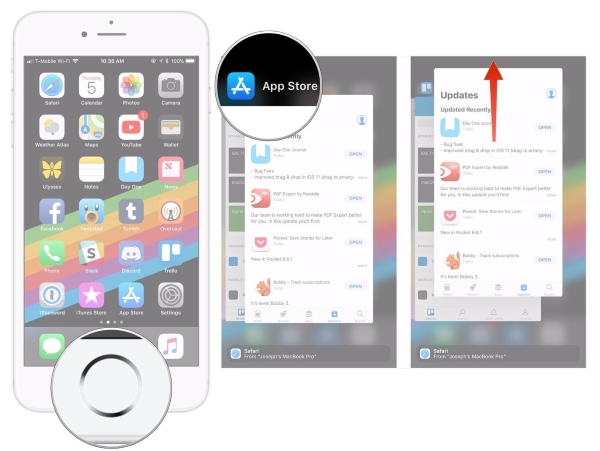 On iPhone X, iPhone XR/XS/Max, iPhone 11/Pro/Max, and newer devices
● Swipe half-up from the bottom of the screen and hold till the multitasking interface comes.
● Press and hold on to the Message app until you see the red circle with the "-" image appear.
● Tap on the red circle.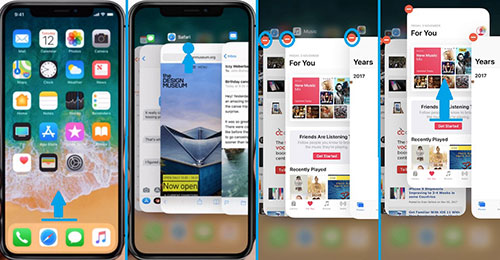 Part 4. The Bottom Line
In this post, we laid down various solutions from different aspects, you can use to troubleshoot downloading messages from iCloud stuck. I hope your iPhone has sprung back to life and you're on your way back to a normal iCloud. We think Joyoshare UltFix is a better option for you to diagnose the main cause of the iCloud stuck and fix it easily and successfully.