Being a secondary social media application, Bitmoji creates a new line of expression for people. With it, you are allowed to customize personalized and interesting emojis of yourself that can be used on social media, which will spice up your online chatting. If you have got used to working with it while chatting, you may be dejected when realizing that your iPhone has the Bitmoji not working problem. Whether it is that Bitmoji is not showing or the Bitmoji keyboard gets frozen, your top priority should be doping out an optimal solution to it. In the eventuality that you don't know how, please go for the following methods that would favor you to iron out the issue without the least effort.
Preamble:
Before going further, please reboot your iPhone because generally performing such a simple operation can go a long way toward breaking the Bitmoji not working problem. If nothing happened, just take the measures below.
Part 1. Check If Bitmoji Keyboard Is Toggled on
If restarting iPhone is unable to successfully round the Bitmoji not working problem, then your next step is checking whether Bitmoji keyboard is turned on or not. With Bitmoji keyboard turned off, you cannot send bitmojis to others, of a certainty. To get clarity, you are suggested to follow the steps to check Bitmoji keyboard on your iPhone.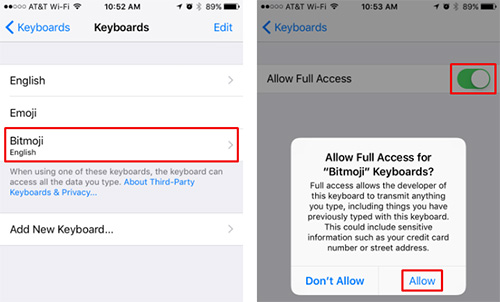 Step 1: Please get into "Settings" on your iPhone and then click on "General";
Step 2: Afterward, just choose "Keyboard" and followed by "Keyboards";
Step 3: If you do not see "Bitmoji" under the "Keyboards" option, then you should go to "Add New Keyboard" to choose it from "Third-party Keyboards";
Step 4: Suppose "Bitmoji" is under "Keyboards", you just touch it and enable "Allow Full Access". Then a prompt will pop up and you need to tap on "Allow";
Step 5: With these actions done, do remember to test if the issue gets solved.
Part 2. Update Bitmoji
Sometimes, it is the bug coming with an outdated Bitmoji that triggers the problem of Bitmoji not working on your iPhone. When being up against this case, all you need to do is simply open "App Store" and tap on "Updates" from the taskbar located at the bottom. The list of available updates will display on the screen, among which, you just find if an available update for Bitmoji. If any, hit on "Update" to have it updated. An updated Bitmoji is capable of fixing bugs that touch off this issue. By the way, to avoid other similar problems caused by non-updated applications, the proposal is to choose "Update All" to make all upgradable apps updated on your iPhone.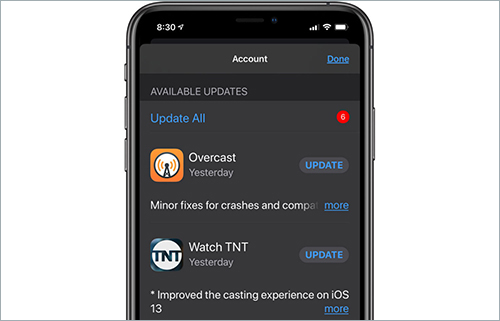 Part 3. Delete Bitmoji and Install Again
In reality, simply uninstalling app tends to work out every problem associated application. So, another simple and convenient way to resolve the Bitmoji not working on iPhone trouble is to delete it and re-install. That method tested to be effective is collected from users in the Apple Community. You can be at ease use. As for how to delete Bitmoji app, it is as follows.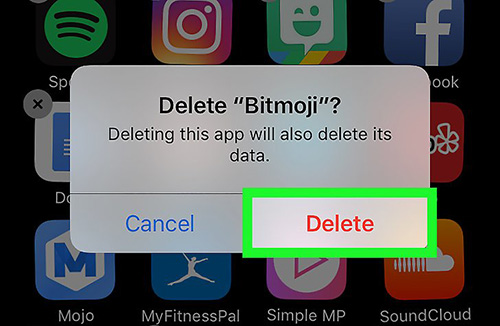 Step 1: Long press on the icon of Bitmoji app on your iPhone screen till it shakes;
Step 2: Click on "X" in the upper left corner of the Bitmoji icon;
Step 3: A little window will pop up to require you to tap on "Cancel" or "Delete". Obviously, you need to choose "Delete" to uninstall it. Once done, go to "App Store" to uninstall it again and refer to part 1 to add Bitmoji keyboard.
Part 4. Update iOS Version
Observe whether a pending iOS update on your iPhone assuming you have not yet overcome the matter of Bitmoji not working. Just as the updated app could fix bugs that lead to such an issue, then upgrading iPhone system is equally in a position to kill off the software problems resulting in it. This method just requires you to visit "Settings" and scroll down to "General". Subsequently, please tap on "Software Update" and it will check for an available iOS update automatically. If detected, download and install it.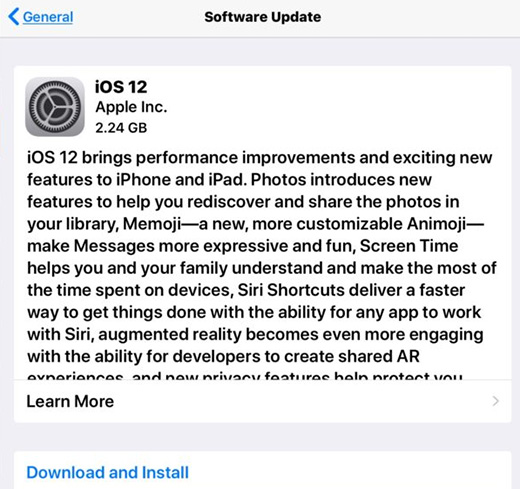 Part 5. Fix Bitmoji Not Working Using Joyoshare UltFix
Why won't my Bitmoji work after the above solutions? What else can I do to address the issue in a quick and lossless fashion? So as not to complicate things further, leaving an iOS system recovery termed Joyoshare UltFix to sort it out is a desirable solution in this event. Possessing superb features, it can repair all sorts of system issues on iPhone, iPod touch, iPad, and Apple TVs included.
Working with such a program, not only pervasive iOS problems but also complex iOS issues could be easily wrapped up with two modes. Below by way of example, for certain issues like iPhone Bitmoji not working, GIFs not working on iPhone, and everything of the sort, you just choose standard mode to support you. But as to some issues like iPhone is locked how to unlock, you have to get it settled with advanced mode. Besides, a free option offered by Joyoshare UltFix is that it can make your iPhone into/out of recovery mode in the process.
Key Features of Joyoshare UltFix iOS System Recovery
Solve Bitmoji not working issue with no data loss
Can fix over 30 kinds of iOS issues with no difficulty
Fully support all iOS devices and the newest iOS version
Supply standard mode and advanced mode to flexibly serve you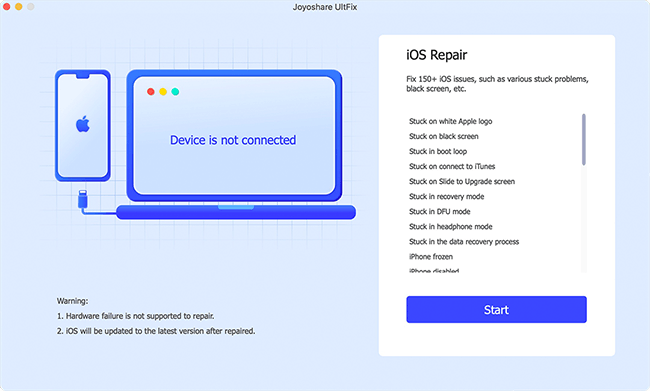 Step 1: Firstly, use a USB cable to connect your iPhone with the computer and launch Joyoshare UltFix. Next, click "Start" to continue after your iPhone is detected;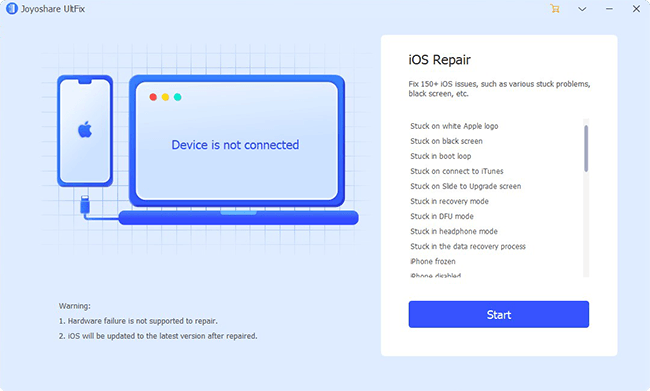 Step 2: Secondly, there is a need for you to select a repair mode. Through the above description, you ought to tap on "Standard Mode". Like that, no iPhone data will be lost during the process;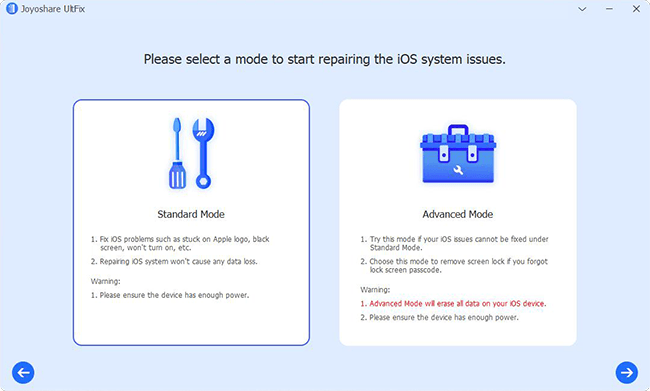 Step 3: Now, select your iPhone model on the screen. Then manually set your iPhone into recovery mode or DFU mode based on the shown instructions;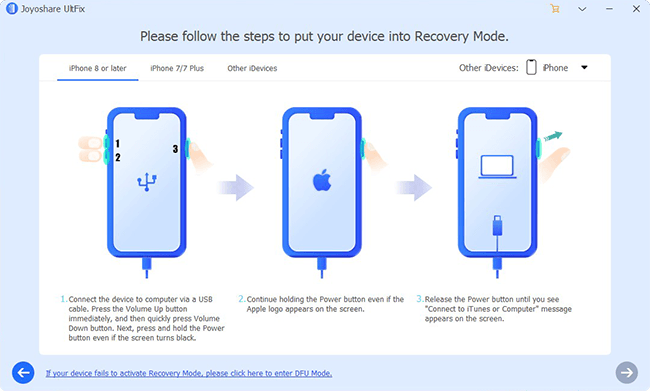 Step 4: Once entered, please confirmed the whole iPhone information. Afterwards, it is time to touch "Download" to download and verify a recent firmware package for your iPhone;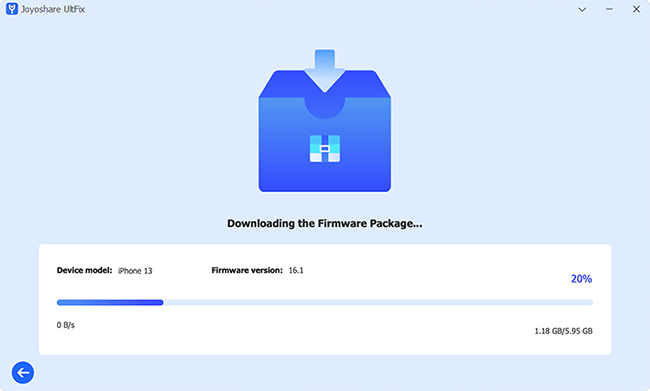 Step 5: Finally, you only need to tap on "Repair" to get the verified firmware package unzipped. Wait for a moment. Joyoshare UltFix is going to repair the Bitmoji issue.