Irrefutably, when the Internet sweeps the world, e-book that comes into being promotes greatly the development of online publishing, which has a far-reaching influence upon print media and changes the reading custom of people. To meet changes in user requirements, both Android and Apple develop the built-in e-book app. But you know, there is an eternally immutable theory that the emergence of new things will always pose new problems. In the recent past, the problem of iBooks not working on iOS devices is reported on a number of occasions. Thus, this article is written to have the issue solved with 5 solutions.
Part 1. Uninstall and Re-install iBooks App
Are you facing the issue of iBooks not working properly on your iPhone or iPad? Just nicely, there is an awfully simple way to settle the problem, which is uninstalling the iBooks app and then re-installing it. This solution is applicable to all issues concerned with apps. Maybe you would think that it is beyond the ability to get the built-in apps on your device uninstalled. But actually, the release of iOS 10 has made it possible to delete this kind of application.
You can do it as the way as uninstalling other third-party apps. Just long-press the icon of iBooks till you see an image "X" appear at the top left corner of the icon. Then easily click on the "X" symbol and a window will pop up in which you need to touch the "Delete" option to uninstall it. Once done, it is preferable to install it by visiting the App Store after restarting your device.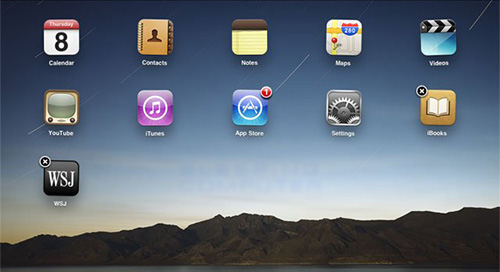 Part 2. Remove iBooks Cache
To be honest with you, clearing iBooks cache or refreshing its content is another easy but workable method to work out the iBooks not working issue on your iOS device. Never belittle the impact that the cache brings to your device, as it is probably the final straw to contribute to this trouble. Doing it needs you to open the "iBooks" app on your device screen and tap any options like "My Books" and "Featured". Then it is necessary to repeat this action for about 10 times. Like in this way, iBooks will refresh all content by reloading itself. If fortune favors, the iBooks problem will be controlled after the operation.

Part 3. Log out iBooks and Log in Back
Uninstalling and re-installing iBooks can reach the bottom of the iBooks not working problem. Similarly, signing out of iBooks and signing in back may achieve the same effect. This solution particularly works where you can not get into library or may not buy e-books in the iBooks application. If the issue of iBooks not working on your iDevice is this situation, then the following should be done.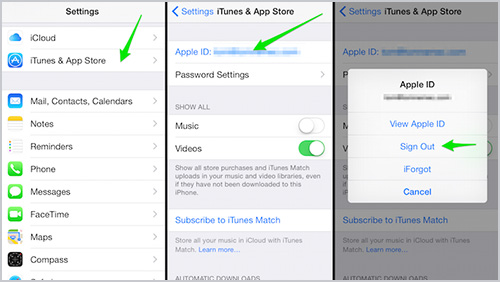 Step 1: On the home screen, please head to the "Settings" app;
Step 2: Afterwards, find and touch "iTunes & App Store";
Step 3: Lastly, click on your Apple ID and then choose "Sign Out".
Part 4. Reset Location and Privacy
Resetting location and privacy on your iPhone/iPad seems to be the last common measure to effectively resolve the problem of iBooks not working in a normal way. Every setting on your device plays a significant role in the overall operation of the iDevice itself and the functioning of all the applications. Likewise, location and privacy settings will also affect the iBooks app. In case the issue occurs, especially after updating the iOS version, please follow these steps below to reset location and privacy to eliminate it.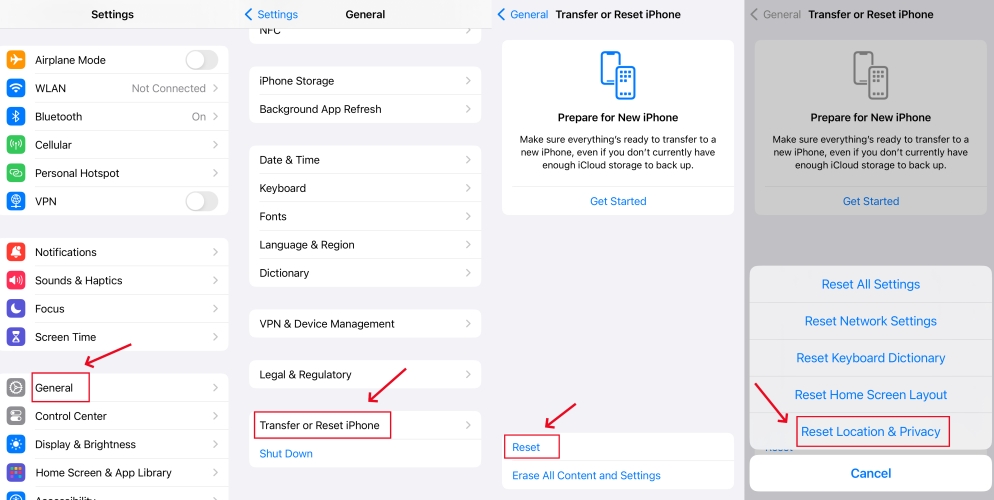 Step 1: The first you need to do is getting into "Settings" and than to "General";
Step 2: Next, please scroll down to the "Reset" option;
Step 3: Under "Reset", locate and touch "Reset Location and Privacy". After touching, you will be required to enter your passcode to finish it.
Part 5. Fix with No Data Loss Using iOS System Recovery
There is nothing you can do except making use of a comprehensive repair program to figure out the iBooks not working trouble when all the above methods cut no ice with it. After comparing several competitive iOS system recovery tools, it is decided to introduce the cost-effective one - Joyoshare UltFix iOS System Recovery to you. Being an excellent repair program, it is nothing difficult for it to fix various issues on iPhone/iPad/iPod touch and Apple TVs.
Moreover, the great strong point of Joyoshare UltFix is the two modes coming with it. For iBooks apps not working and other common problems like iMessage not working on iPhone, you just need to choose the standard mode to serve you. What features this mode is that it causes no data loss throughout the process. What about the advanced mode? The repair mode is specially applied to solve the problems that can not be worked with standard mode. Basically, all kinds of ordinary iOS issues could be settled hands down.
Key Features of Joyoshare UltFix iOS System Recovery:
Repair iBooks not working without losing data
Let your iOS device enter/exit recovery mode for free
Compatible with every iOS device and the latest iOS version
Offer standard mode and advanced to fix numerous iOS issues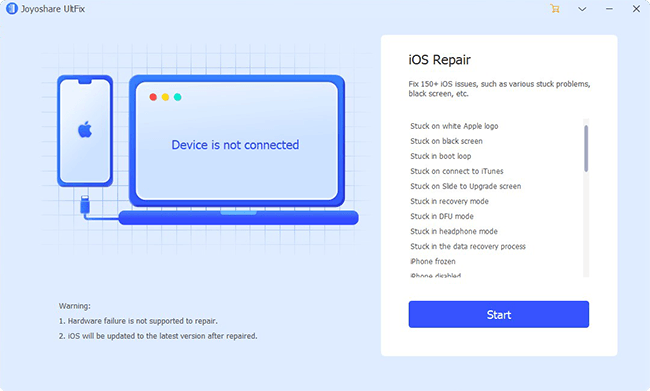 Step 1: To begin with, download and install Joyoshare UltFix from the official website. After that, open it and connect your device to the computer. Just go on by clicking on "Start" when your device is detected successfully;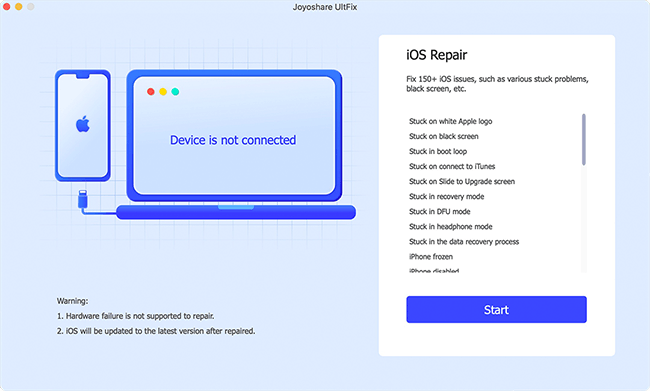 Step 2: Secondly, please select a repair mode. To keep data intact, you can choose standard mode. Lately, touch the "Next" icon to go to step 3;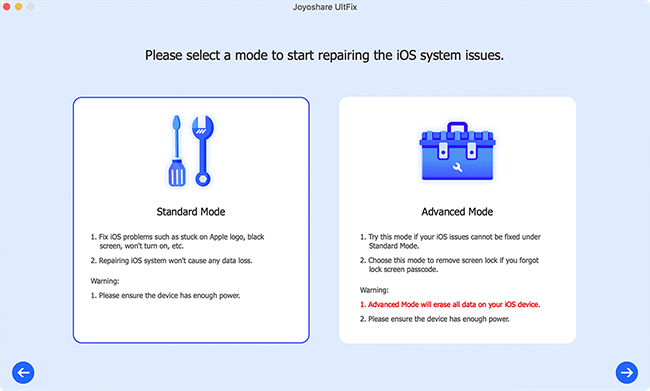 Step 3: Tap on the model of your device and go further to set your device into DFU mode as the screen indicates. If failed, click the link in the same window to boot it into recovery mode;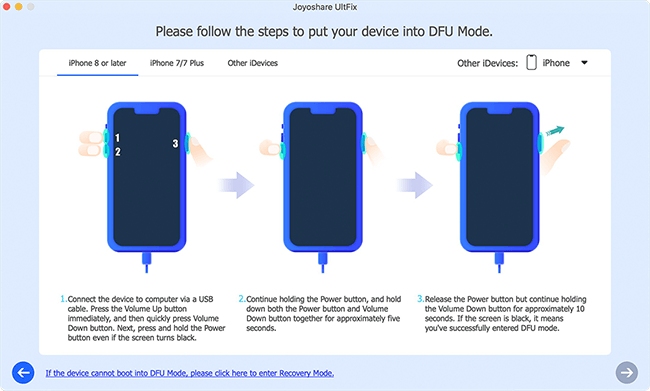 Step 4: Please confirm all info of your device and make sure nothing is wrong. Then hit on "Download" to download and verify a recent firmware package for your device;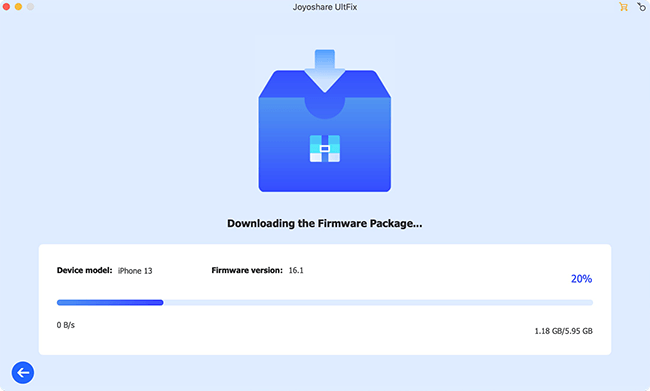 Step 5: Wait till the verification ends. Now, you can get the firmware package unzipped and Joyoshare UltFix will automatically repair iBooks not working issue.