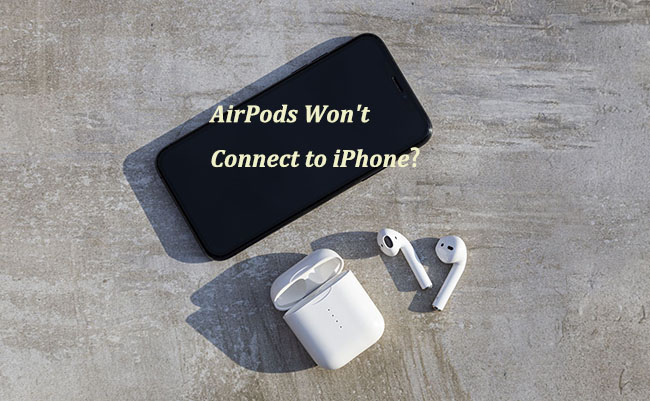 Designed by Apple Inc., AirPods are today's most convenient fun accessories for iOS device users, especially those who love listening to music. Running on Apple W1 chip and Bluetooth technology, AirPods allow wireless connection between iOS devices, i.e., iPhone, Mac, iPad, and others. They allow wireless mobility; you don't have to worry about untangling wired earphones from your pocket during that morning jog. They have a sleek design and very much comfortable. However, several iPhone users have reported that their AirPods won't connect to iPhone. If you are one of the victims, then we have worked to resolve your problem. Below is a detailed guide and you can check it out!
#1 Charge Your AirPods
It might seem quite basic, but low powered AirPods will not connect to your iPhone. Therefore, recharging your AirPods could be the ultimate solution for your AirPods not connecting to iPhone problem. Usually, Bluetooth connectivity eats up a lot of power. Hence, you must regularly recharge these fun accessories to capacity for optimal function. To charge, simply place the AirPods into the case and close it. Make sure the casing is charged too. A 15-minutes charge session will provide with an hour's worth of music.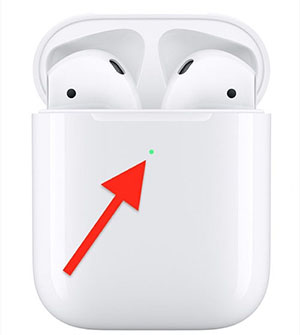 #2 Clean AirPods and Case
Practically, this should only apply if you notice that the AirPods and the case are not charging. Often this might be caused by dirt particle or debris on the charging plates and, as a result, causing your AirPods not to charge. To clean the plates, use a microfiber cloth, a soft-bristle brush, or a cotton bud. Do it gently and avoid using any liquid or sharp objects.
#3 Restart iPhone and AirPods
If your AirPods has been connected for long, the devices may have developed a bug that slows Bluetooth connectivity. You need to provide for a fresh start for both devices. First, you need to restart your iPhone. To restart your iPhone, long press on the wake/sleep button and slide the slider to turn off. Restart by long-pressing the same button until an Apple logo appears. Make sure that your AirPods are off and charging during this time. Try reconnecting the AirPods to your iPhone.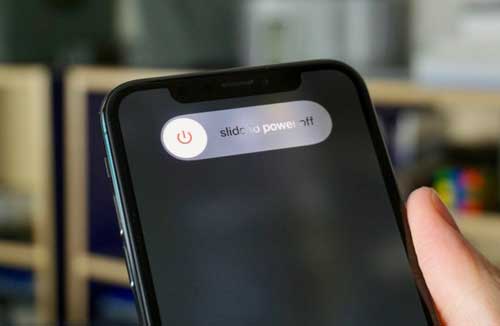 #4 Ensure Bluetooth Is On
AirPods devices can only connect to one device at a time. If there is another iOS device around you, then the AirPods will automatically connect to them, thus hindering the iPhone-AirPods connectivity. To avoid such instances, ensure that all iOS devices in the house have a disable Bluetooth connectivity. Make sure that the iPhone has an active Bluetooth; refresh your Bluetooth to be sure. Try reconnecting the devices. This should work to resolve the AirPods not connecting to iPhone problem. At the same time, ensure your iPhone is within a radius of 5-10 meters for fast connectivity.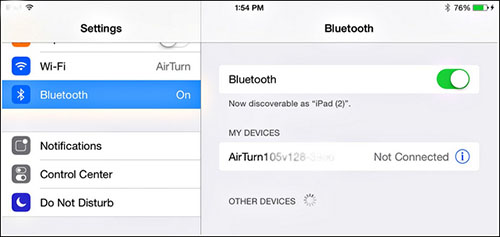 #5 Turn off Low Power Mode on iPhone
If your iPhone is running low on battery, then it is possible that it has an automatic activate low power mode. The feature aims to conserve power by automatically shutting down unused apps, automatic downloads, and wireless connectivity, including Bluetooth, practically resulting in interrupted iPhone - AirPods connectivity. To fix this, you must deactivate the low power mode on your iPhone. Go to Settings > Battery > Low Power Mode. On the low power mode option, slide the slider to turn off. This should help resume the connectivity and ultimately solve the AirPods won't connect to iPhone problem.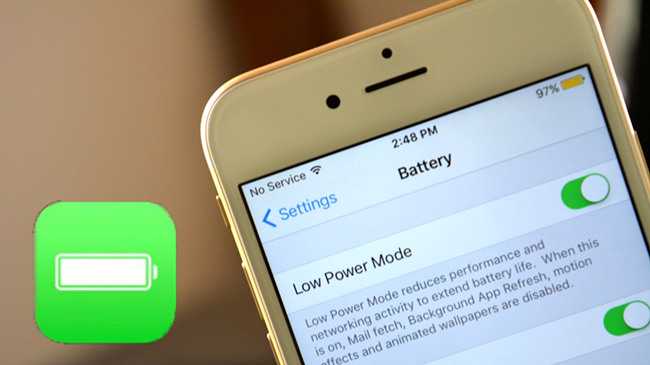 #6 Reset AirPods
If you have not resolved the AirPods not connecting to iPhone problem then, it's possible that a corrupted update may be messing with its connectivity abilities. To remedy this, you need to reset your AirPods. Below is a guideline on how to go about it.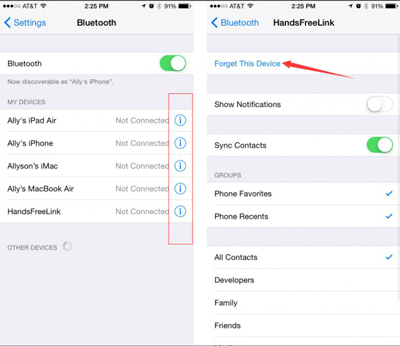 i. Go to the "Settings" menu and click on "Bluetooth."
ii. Click the (i) icon next to your AirPods name, then select Forget This Device.
iii. Confirm the action.
iv. Place your earbuds in the case and close it. Wait for the 30 seconds and open the lid again.
v. Press and hold the case's Setup button until the LED light in the case turns amber and the white repeatedly.
vi. Close the lid and wait for a few seconds before opening it and pairing the AirPods.
vii. Go to the home screen of your iPhone and bring the case near it. Wait until a setup animation appears.
viii. Click on the Connect option and follow the instruction to complete the setup.
#7 Reset Network Settings
Typically, the Bluetooth connectivity is often reliant on the optimal function network processes. If they are any corrupted files or processes, then your AirPods won't connect to iPhone. These corrupt files can easily be refurbished by simply resetting the network settings. Here is how you do it: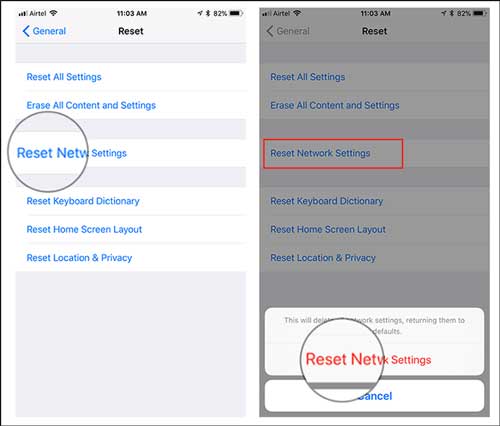 i. Go to Settings > General > Reset.
ii. Click on the "Reset Network Settings" option. Note that this will erase all your network configurations.
iii. Provide your passcode.
iv. Tap "Confirm" to finalize the process.
#8 Update AirPods to Latest Firmware
Apple always provides regular updates to help eliminate software bugs. Running your iPhone and AirPods on old firmware could explain why your AirPods won't connect to iPhone. Even though new accessories come with up-to-date software, you must keep checking for new updates. It provides for more stable connectivity. You will need first to update your iPhone and then move the AirPods next to the iPhone; it will automatically update. To update, follow the following steps.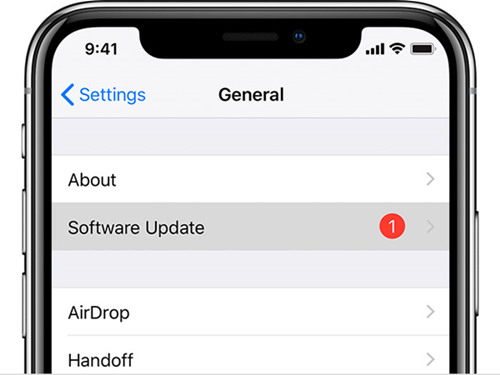 i. Click on Settings > General > Software Update.
ii. Check, download, and install available updates.
iii. Provide your passcode after the restart.
iv. Try connecting your device to your AirPods.
#9 Fix iPhone System - No Data Loss
If you are still struggling with the AirPods won't connect to iPhone issue, it is highly probable that your iPhone's OS has a glitch, which could be the root cause of the problem. Conversely, instead of restoring your iPhone, you can alternatively use the Joyoshare UltFix iOS repair tool. It is a leading third-party software that allows iPhone users to fix common iOS related problems without data loss. The program is easy to use and allows you to evaluate its functionalities simply.
Step 1

Launch the program and connect iPhone

Launch the Joyoshare UltFix software and connect your iPhone to the computer. Click on "Start" to proceed.

Step 2

Select repair mode

Two repair mode will appear on your screen (Standard and Advanced mode). To guarantee your data safety, select Standard Mode, and click on Next to furtherly set iPhone to Recovery/DFU mode.

Step 3

Download and verify firmware package

Press on "Next" and get ready for download. Confirm your iOS device info and click on "Download" to start the firmware package download process.

Step 4

Repair AirPods won't connect to iPhone

After the download is complete, select "Repair" to start the repair process, it will only take a few minutes. Make sure that your iPhone is connected during the entire process. Once it ends, boot your iPhone and try connecting your AirPods.
Conclusion:
The above 9 solutions have proven to be effective remedies for iPhone users encountering AirPods connectivity problem. In fact, the use of the Joyoshare UltFix software stands out as the most preferred remedy. It is easy to execute and ensures iOS repair without data loss. If until now your AirPods won't connect to iPhone then, the chances are that it is a hardware problem. To resolve it, you can either call or visit the nearest Apple service store for corresponding solutions.