Nothing can beat the performance and supreme audio quality of beats earphones. But if you have a problem with the audibility, it is because the beats not connecting to iPhone. There may be several reasons that beats earbuds are not connecting to your mobile device. This is a common occurrence, so there is nothing to worry about. We have provided effective solutions here (including stepwise instructions) to connect beats accessories to your iPhone. The set-up guide and troubleshooting hacks in this article work great for iOS 15 devices. Just dive in to read this post. These simple tips will help you fix the issues effortlessly and enjoy uninterrupted music.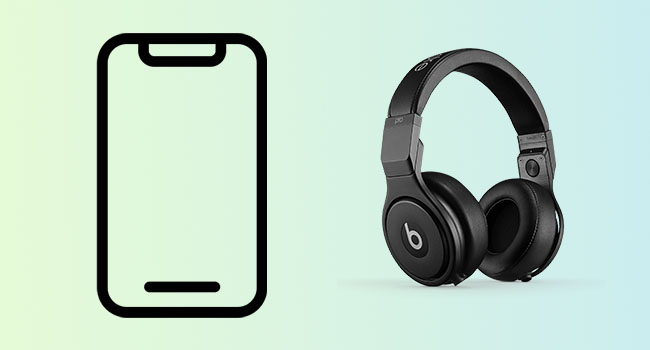 Why Are My Beats Not Connecting to My iPhone?
User keeps wondering, why are my beats not connecting to my iPhone. Below are several main reasons for this issue.
You must enable the Bluetooth on your iPhone to connect the beats audio accessory.
Check if beats earphones and iPhone is fully charged before use. The earbuds cannot catch the signals from your device on a low battery.
Beats headphones may not provide sufficient audibility if iPhone audio is set on a low volume. Raise the volume and check once more.
Your iPhone is too far from the beats earphones. Beats will not connect to iPhone if it is more than 30ft away from your headphone or earbuds.
How to Connect Beats to iPhone?
It is a breeze to connect beats to iPhone. Just follow these simple steps. After connecting the beats to iPhone, you can play the desired audio and listen to it on the beats accessory.
Step 1: Press the earphone power button for 1 second to make sure it is set to "On" mode. When the power button is on, the power light will flash on and off continuously.
Step 2: Open your iPhone lock and go to "Settings". Click and enter into Bluetooth and enable it.
Step 3: From the list of available devices, choose your beats earphones.
Way 1: Check Sound Settings
If wireless beats not connecting to iPhone, check the sound settings on your iPhone. Make sure the Sound Check option is on before you attempt to connect your beats. Open "Settings" and choose "Music". On the "Music" screen, tap the "Sound Check" button to enable it (green color).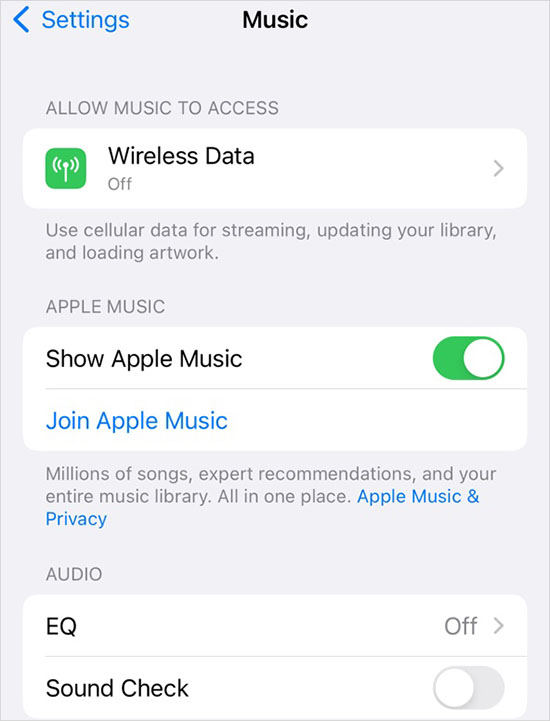 Way 2: Charge Beats Headphones
Your beats headphones should be fully charged before connecting to the iPhone. Plug the charger into the beats accessory and put it to charge. Keep an eye on the LED indicator to know when it is 100% charged. After charging the earbuds, press the power button to "On" mode. Your beats model name must appear on the "Bluetooth" list to establish a connection.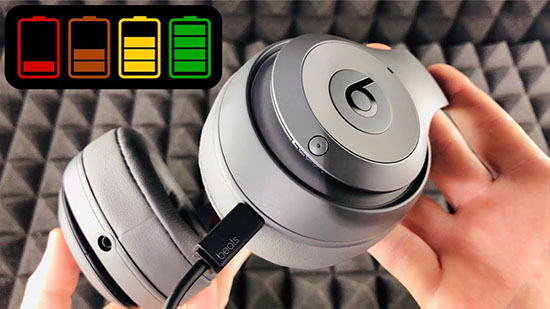 Way 3: Device Location
Your iPhone should be within 30ft (Bluetooth range) from the beats earbuds to get a strong signal on wireless accessories. Check whether you have placed the device too far from earphone accessories.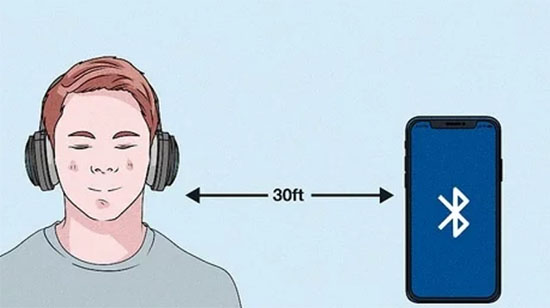 Way 4: Repair Your Beats Accessories
The troubleshooting methods cannot resolve the issue for faulty beats accessories. If your beats earbuds not connecting to iPhone after trying the possible fixes, it may be a damaged or faulty product. Visit the Apple Store for a service request or book an appointment. The store authorities may schedule a repair or replace the damaged item with a new set.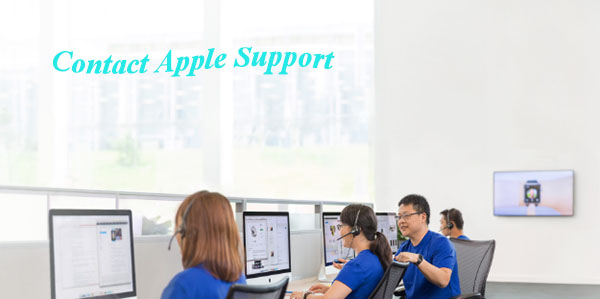 Way 5: Use Joyoshare UltFix
In critical cases, Apple system recovery does not work to restore beats connectivity to your device. When you have tried all methods and still beats studio buds not connecting to iPhone, you need a powerful iOS tool to fix the problem. Joyoshare UltFix is a robust iOS system recovery for all your needs. It works with all types of iOS devices and can fix 150+ issues. This tool works seamlessly with iPhone, iPad, and iPod touch devices, boasting a range of cutting-edge features.
Key Features of Joyoshare iOS System Recovery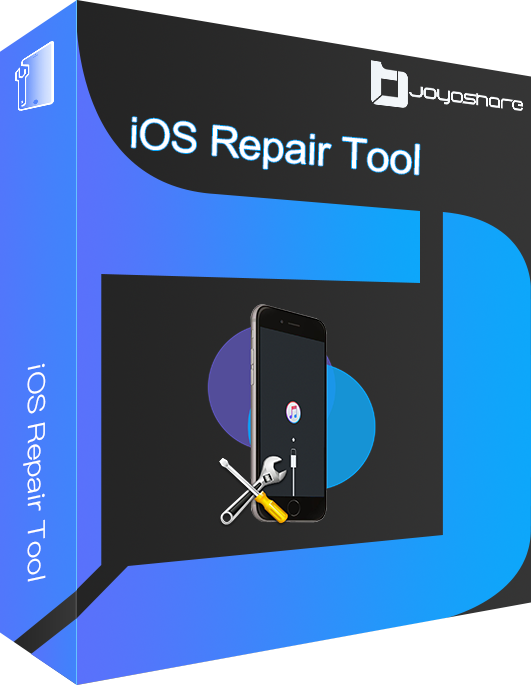 Complete the whole repair process with 3 steps
150+ issues can be fixed by this iOS system recovery
Get iPhone/iPad back to normal without losing data
Compatible with all iOS versions and work well on Windows and Mac
Fix iPhone cannot connect to VPN, beats, iTunes and more easily
Step 1

Connect iPhone to the computer

Download and install Joyoshare UltFix on your computer. Activate this tool and click Enter Recovery mode after connecting your iPhone to computer. Select Next to move on to next step.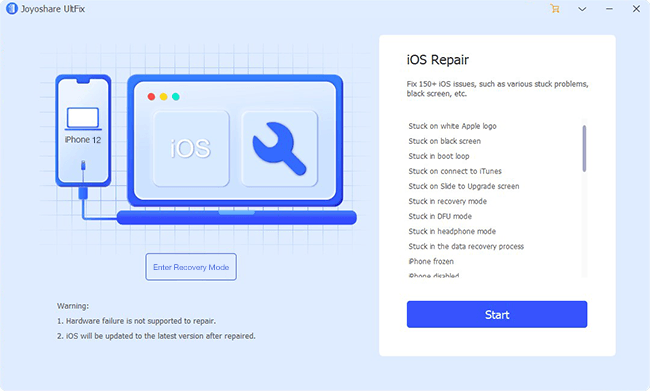 Step 2

Choose a repair mode

Two modes provided for you to fix iPhone with/without data loss will appear on screen. To repair iPhone without losing data, merely choose Standard Mode.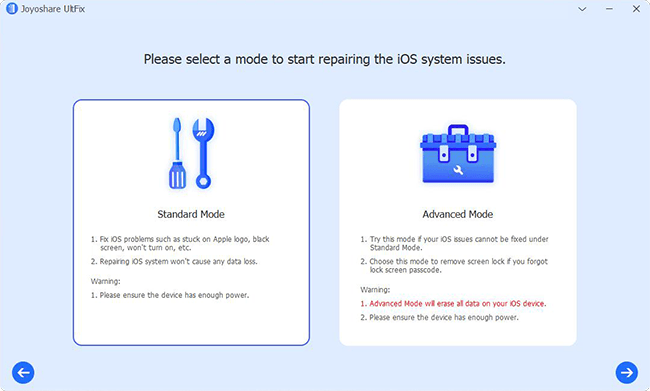 Step 3

Download the firmware package

Check the information that appear on screen and download the right firmware package by clicking Download option.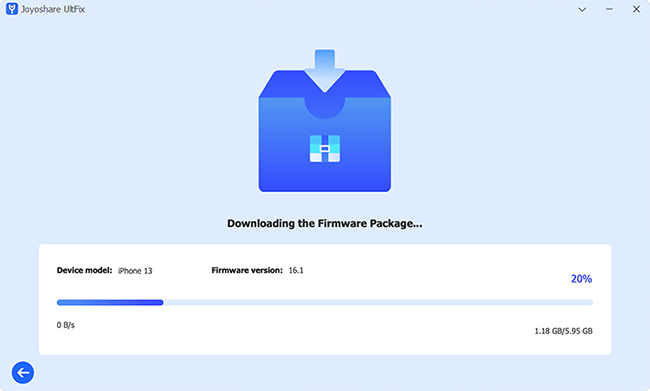 Step 4

Repair iPhone issue

When the firmware package has been downloaded, click the Repair option to start the repair process. Now, you can enjoy your iPhone and beats without any hassle.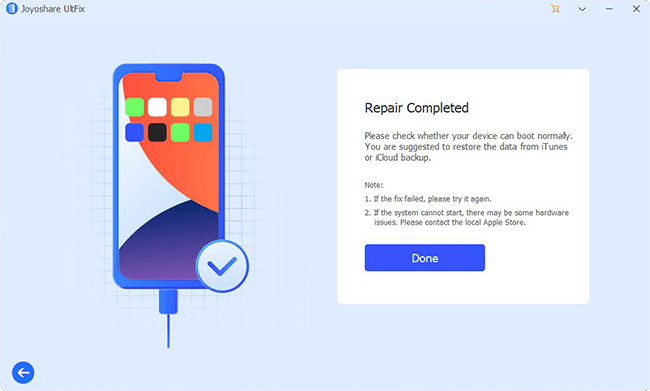 Conclusion
Most of the time, you can connect the beats by resetting your iPhone Bluetooth device configuration. Make sure your device and accessories are fully charged before connecting. If you have tried everything else and the issue beats not connecting to iPhone still exists, use Joyoshare UltFix. It is an all-inclusive software solution for all iPhone versions, including iOS 15. With this tool, you can fix beats connectivity problems without the risk of data loss or any potential damage. Fix your beats-iPhone connectivity issue with Joyoshare UltFix and keep enjoying your audio content non-stop whenever you want.