Q:"I found my iPhone X Compass not working, with Compass app open I have my correct location with Lat/Long & elevation but the Compass itself seems like been frozen and doesn't move at all." – From Apple Community
iPhone Compass not working is actually not a Gordian knot. In general, most iOS users have ever encountered this problem by chance. Nevertheless, simply restarting your iPhone is sufficient to address this plight under normal circumstances. But there are still numerous people on Apple community and Reddit who have no idea to repair this issue after they attempt to restart their iOS devices. But take it easy, we will discuss 9 powerful solutions in this article.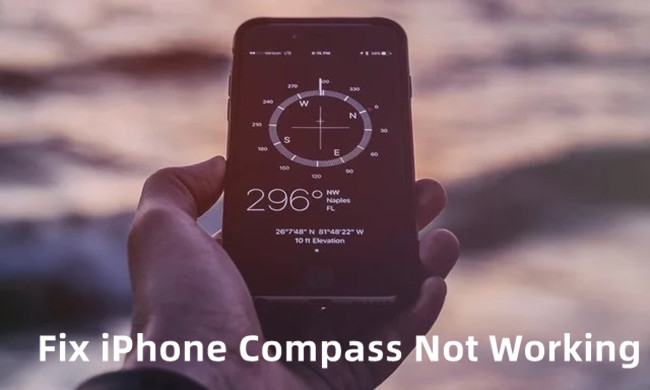 Part 1. Possible Problems and Reasons for Compass on iPhone Not Working
You may have encountered such concerns as Compass freezes, Compass points in the wrong direction, Compass behaves irrationally, Compass frequently crashes or has difficulty finding the location and elevation data. These possible troubles are wholly collected from reliable question-and-answer platforms. And most iOS users complain that they have ever come across iPhone Compass issues when using it.
While more and more people are hassled by this problem, they might desire to know why Compass does not work on iPhone at times. Generally, this issue results from a variety of factors. In most cases, there's magnet interference nearby. As internal Compass uses Magnetometer to navigate the direction, interference from nearby magnetic source will affect the functioning of Compass. It comes to a conclusion that making sure to keep away all magnets when using Compass. Rarely, the error can be caused by device errors and glitches. For better understanding, I list them below to assist all iPhone users in avoiding experiencing the annoying trouble.
● Location service is not enabled
● iPhone glitches
● Failing to connect to the Internet
● Errors and bugs in Compass
● Hardware problems
Part 2. Common Ways to Fix Compass Not Working on iPhone
2.1. Check Settings
Before performing other operations, there are necessary steps that should be taken. Most users sometimes change settings due to various reasons while these settings are closely related to the normal use of Compass.
#1

Enable Location Services

You may forget to turn on the Location Services as it is a power hog. You can open Settings, find the Privacy tab and then tap on Location Services. Be sure to enable Location Services and set the Compass with the option of "While Using the App". If your Location Services has been set up correctly, you can attempt to turn off the Location Services and then re-enable it again. This step may take effect as it can clear potential GPS errors.

#2

Use Cellular Data

This method is helpful when you don't have a stable WIFI connection. Similarly, go to Settings, open Cellular or Mobile Data and locate Compass app. When the switch is on, it means that Compass is properly connected to the network. Otherwise, tap on the switch to turn on cellular for Compass.

#3

Activate Compass Calibration

While Compass calibration is normally disabled by default on all iOS devices, it possibly influences the operation of Compass. Find Privacy in the Settings app, choose Location Services, scroll down and enter System Services. Then you just need to turn on Compass calibration.

#4

Disable True North

Setting geographical north has the possibility of leading to Apple Compass not working on iPhone. With the purpose of increasing accuracy, it might be helpful to temporarily employ Magnetic North instead of True North by disabling True North. Just simply run Settings and turn off True North in Compass option.

#5

Set Correct Date and Time

There is probably something wrong with date Settings. First, find the General screen on Settings. Second, choose Date & Time and confirm that the date, time and time zone are set correctly. Tap on the Set Automatically option, and it will rectify incorrect data and time information automatically.
2.2. Reinstall and Calibrate the Compass
If former solutions are of no use, you can try this simplest method by deleting and reinstalling the app. First and foremost, you had better clear all temporary memory and swipe up all apps running in the background. Double-click the Home button, bring up the multitasking view and force quit all apps. I will list detailed steps as follows: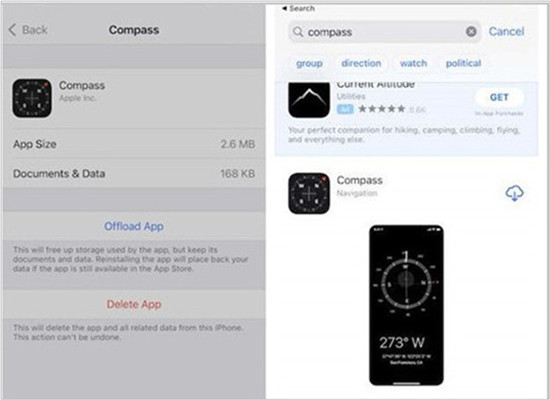 Step 1: Run Settings – General – iPhone Storage, tap on Compass and select Delete App.
Step 2: Search for Compass on your App Store. Then you can download it on your iPhone.
Step 3: Open Compass, follow the Compass guide, and it will guide you to calibrate it once more.
2.3. Reboot Your iPhone
It is a common way to solve minor system errors on iPhone. When apps crash and glitches occur on your device, the first idea that comes into your mind is to reboot the faulty app and restart your iPhone. All in all, it is definitely a helpful solution.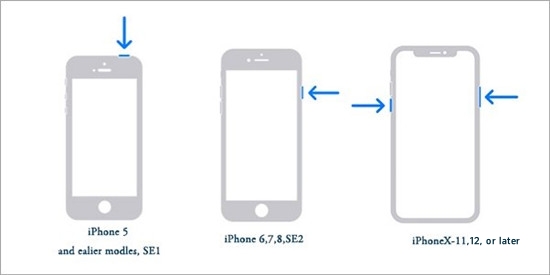 For iPhone X, 11, 12, or 13:
● Press and hold the Volume Down button and the Side button simultaneously. When you see the power slider, drag it. Afterward, you can hold the Side button to start the iPhone.
For iPhone SE, 8, 7, or 6:
● Press and hold the Side button until the power-off slider shows on the screen. Drag it and wait for a few seconds. Likewise, hold the Side button until it restarts successfully.
For iPhone SE, 5, or earlier:
● Press and hold the Sleep/Wake button and drag the power-off slider after it appears. Then hold the Sleep/Wake button and release it when you notice the Apple logo.
2.4. Reset Location and Privacy
Aside from the above methods, another way you can try is to reset the location data. By restoring it to factory default, Compass on iPhone not working might be fixed. Please try all methods at first before you adopt this solution. As factory settings will eradicate all data on your iPhone, remember to back up data in advance.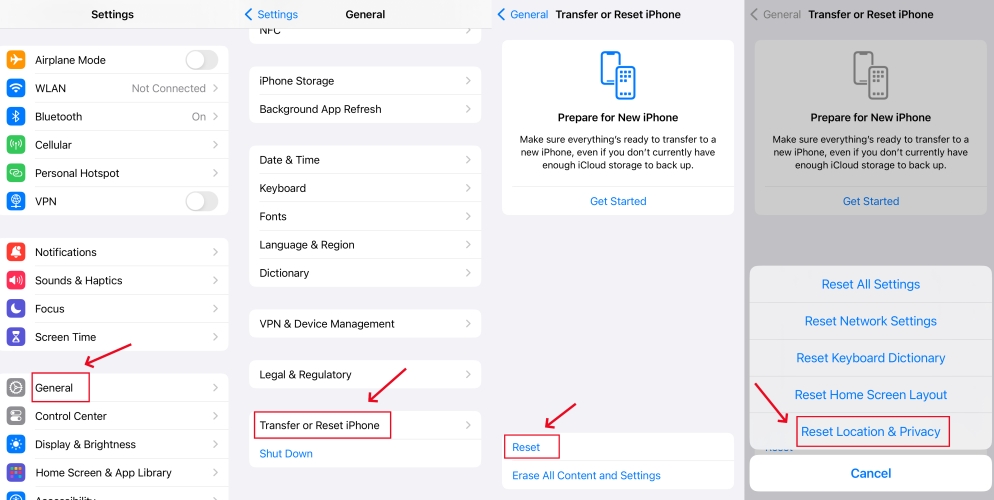 Step 1: Find General option after opening Settings.
Step 2: Tap the Reset and then select Reset Location & Privacy option. You are asked to enter your Apple password for confirmation.
Step 3: After running iPhone, you can use Compass again.
Part 3. Lossless Solution to Repair Compass in iPhone Not Working
The above solutions are verified to be efficient in working out the problem. Nevertheless, they have a low success rate and are difficult to succeed at a time. Joyoshare UltFix is a lossless and the most efficient fix while it is dedicated to professionally dealing with a variety of system issues on iPhone, iPad, and iPod. Designed with dual repair modes, repair mode can repair basic and fundament system errors and application problems losslessly while advanced mode can get serious iOS troubles fixed perfectly.
Key Features of Joyoshare UltFix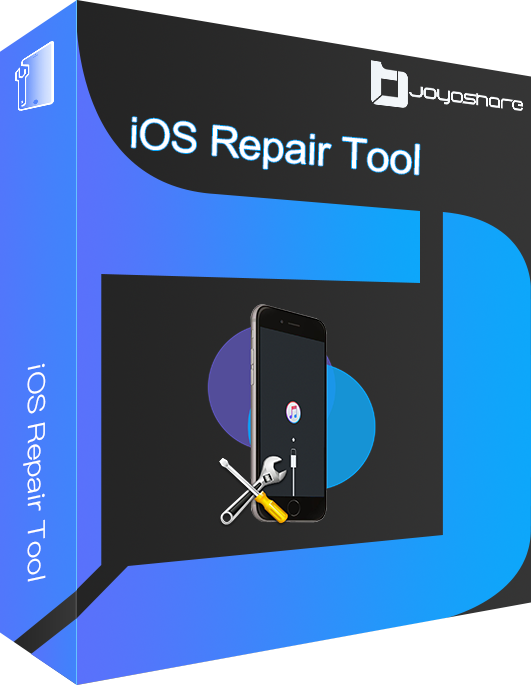 Freely enter and exit recovery mode with only one click
The repair process can be completed within three steps and in the shortest time
Dual repair modes can grant the highest success rate as well as no risk of data loss
Fix 150+ iOS system errors easily and safely, such as iPhone GPS not working
Step 1

Connect iPhone to Computer

To begin with, you can download and install Joyoshare UltFix from the official website. Then launch it on the computer and connect your iPhone to computer. Simply hit the "Start" button.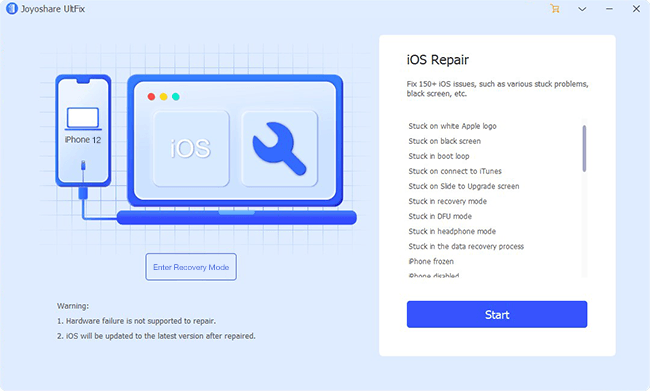 Step 2

Choose Repair Mode

In general, standard mode is sufficient to solve this issue perfectly. Hence, select "Standard Mode" to keep data intact, and click the "Next" button. Put your iPhone into either recovery mode or DFU mode manually following the instruction on the bottom of the interface.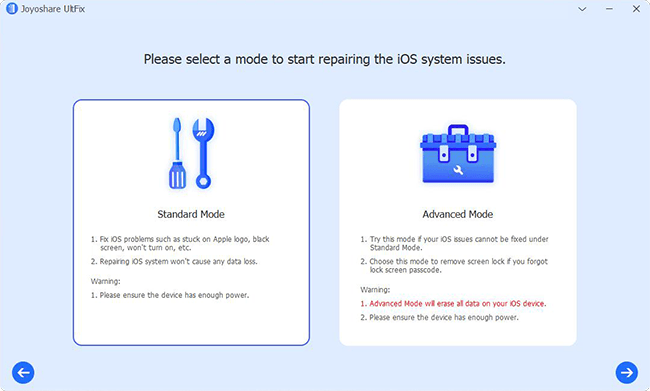 Step 3

Download the Firmware Package

Confirm the device information and make sure they are correct. Click the "Download" button to download and verify a matching firmware package for your device.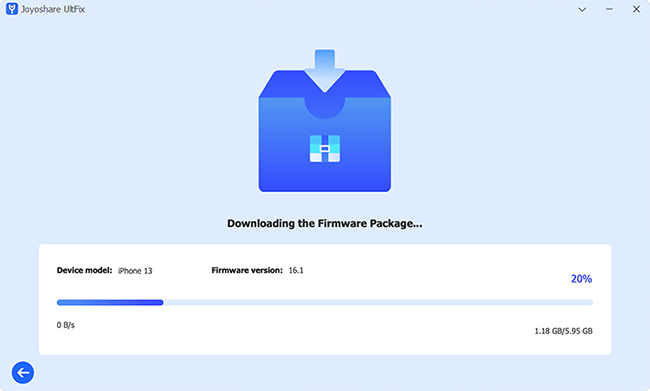 Step 4

Repair Compass in iPhone Not Working

Now, you can wait for a few minutes to unzip the firmware package. Next, Joyoshare UltFix will automatically repair the problem by clicking on "Repair" button. After finishing, run Compass again.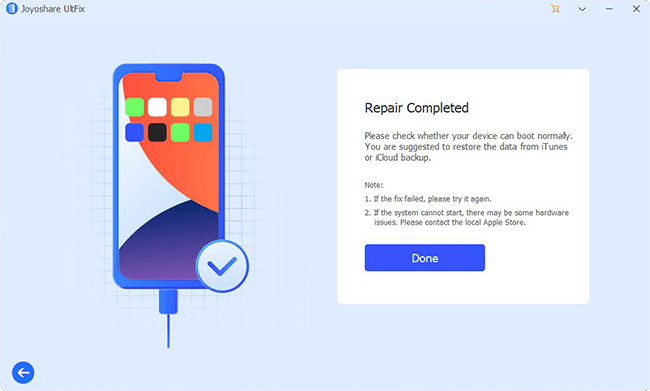 Part 4. Conclusion
Understandably, iPhone Compass not working brings much inconvenience for iOS users, especially when they miss the direction. These 6 ways listed are proven to be workable and can fix the problem perfectly. If you still have other requirements for more technological guides, you can leave a comment below. Finally, we sincerely hope that you can get this issue solved and get Compass back to normal.