Capture an MP3 music file from Spotify for enjoying offline but the volume of its soundtrack is too low to hear unless you raise the playback volume every time? Is there any straightforward method to increase MP3 volume once and for all? Actually, permanently boosting the audio volume is no big deal. With the volume maximizer, it can be done without making much effort. In the following, 4 sought-after audio volume editors are enumerated to show how to turn up the volume of an MP3 audio file.
Part 1. Joyoshare Media Cutter: Increase MP3 Volume Losslessly
How to increase volume of MP3? A wise choice is to exploit a specialized audio editor like Joyoshare Media Cutter. Such an audio editing software emphasizes an extremely intuitive interface. Even you have never worked with it, you can as well handle it very soon. It supports lots of audio encoding formats. Besides MP3, others like M4A, AAC, AC3, OGG, CAF, AIFF, APE, FLAC, WAV, WMA, M4B, M4R, etc are well compatible with it.
Please don't assume that the MP3 volume editor can but deal with audio files such as enhance audio volume, remove noise, apply sound effects, cut and trim audio files, it is also in a position to edit various video files with cutting, trimming, splitting, increasing video volume, visual effects and frames, subtitles and watermarks, background music, and more.
Outstanding Features of Joyoshare Media Cutter:
Precisely cut/trim/split and fully edit MP3 files
Built with a high-speed mode and an encoding mode
Decrease or increase volume of MP3 with no distortion
Custom output quality like codec, bit rate, sample rate, channel
Step 1

Add MP3 file to Joyoshare MP3 volume editor

Joyoshare Media Cutter provides Windows and Mac versions. Select the proper one to download and install on your computer. After launching it, touch "Open" button to add the MP3 file from the system. Instead, simply drag MP3 and drop it to the designated position of the main interface.

Step 2

Customize output format

Now, go to "Format" button, which will take you to the formatting window. To boost MP3 volume, you ought to enable the encoding mode. Afterward, select an output format and further configure its parameters by clicking a gear icon as shown below.

Attention: The high-speed mode is designed to cut, split, and merge media files at 60X surprising rate with no quality loss.

Step 3

Increase volume of MP3

Tap on "OK" to save all format settings and return to the main window. Now, you need to find "Edit" button and touch it to access the editing interface. Then, head to the "Audio" tab - "Volume". You can see the volume controller starts at 100. In accordance with your wants, slide it to the right to make your MP3 louder. Alternatively, straightway type decibels in the volume box. The maximum values you can enter is no more than 200. Subsequently, play it and preview the result. If satisfied, press on "Start" on the bottom right of the first interface to export the MP3 file with the volume enhancement.

Note: There is also the volume regulator located in the first window. But it is just to adjust the playback volume. To modify the volume of MP3 for good, you must make use of the volume adjuster in the editing window.
Part 2. Audacity: Increase MP3 Volume Freely
Applicable for Windows, Mac, Linux and other operating systems, Audacity is a current and open-source multi-track audio editor and recorder. With it, you not merely record system playback and live audio but also freely convert the records to CDs and edit various audio files as your wishes, like cut audio, increase volume, apply sound effects, reduce noise, etc. Many of these editings are realized by its effect item. If you are a beginner, you could be confused about what effect corresponds to the sound editing function. In such a case, don't hesitate to follow these instructions to enhance the volume your MP3 file.
Note: Audacity just supports the ability to process audio files. If you want to increase the volume of a video, it helps nothing.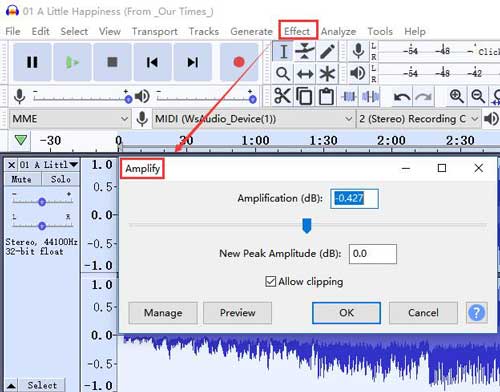 Step 1: First of all, just download, install and run Audacity on desktop. Then, select "File" from the top menu bar and followed by "Open..." to import the MP3 file;
Step 2: Whereafter, go for the "Select" option > "All" or press Ctrl+A keys to pitch on the whole MP3 track;
Step 3: To boost MP3 volume, now please click on "Effect" > "Amplify". There will pop up a mini-windows with the amplification (dB) option. You can enter any decibel value to modify the MP3 volume. But make sure that the peak and trough of the sound wave don't exceed the top and bottom of the track window. It is suggested that you adjust with small amplitude;
Step 4: After that, tick "Allow clipping" to preview. Once you are completely satisfied, tap on "OK". Lastly, go to "File" > "Export" > "Export as MP3" to generate the new MP3 file.
Part 3. MP3Louder: Increase MP3 Volume without Distortion Online
Ranked at the top of the list of online MP3 volume increaser tools, MP3Louder is a free and popular web service that makes an MP3 file louder or quieter without any installation and registration. It is turned out to be fairly easy to use. With a few clicks, you can increase your MP3 audio file instantly. There is no guarantees about its processing speed, which just depends on the size of the MP3 file. Remember that it's important to keep the web page open during uploading and encoding.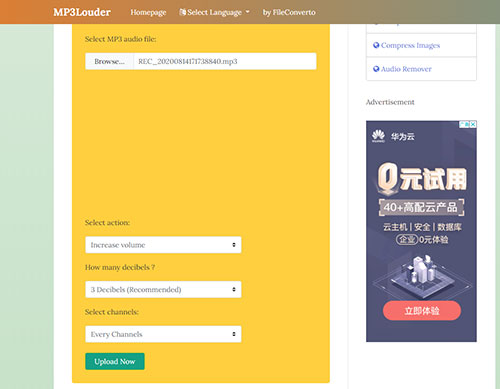 Step 1: What's the first thing you should do is visiting www.mp3louder.com and then click "Browse..." to add the MP3 audio file;
Step 2: The next thing to do is specifying the "Increase volume" option for MP3 volume-boosting;
Step 3: Next, you need to set decibels. You can freely adjust the MP3 volume from 1 decibel to 50 decibels;
Step 4: After selecting channels, hit on "Upload Now". Wait a few seconds, you get to download the optimized MP3 file.
(Part 4. Audioalter: Increase MP3 Volume Online Simply)
Same as MP3Louder, Audioalter also allows you to increase MP3 volume without distortion online. Technically, Audioalter is an online audio toolkit consisting of a collection of practical web tools, one of which is the volume changer focusing on turning up and down the sound volume of audio file in MP3, WAV, FLAC and OGG. It imposes restrictions on file size, not allowing the file larger than 20MB to be uploaded.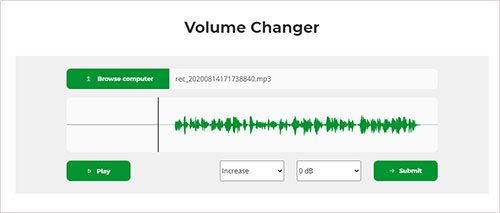 Step 1: Get into www.audioalter.com and choosethe tool named Volume Changer;
Step 2: Click "Browse computer" to select and upload your MP3 file that you want to increase the volume of;
Step 3: The loaded MP3 file will be played automatically. After pausing it, opt for the "Increase" option and highlight the right dB to make MP3 louder. This web tool recommends 0-20 dB range;
Step 4: Once done, tap on "Submit". When your MP3 file is successfully processed, press on "Download file" to download the MP3 file with louder volume.