Changing MP3 bitrate is helpful when you have the need of improving your MP3 audio quality or reducing MP3 file size. If you capture an MP3 file at the bitrate of 320kbps that is the available maximum bitrate for MP3, you may want to lower its bitrate to cut down the file size for the less system resource occupying. This post is exactly about how to change bitrate of MP3. You are suggested to get solutions from it. All of them have been proven effective. Just use with confidence.
Part 1. How to Change Bitrate of MP3 Using Joyoshare Media Cutter
Joyoshare Media Cutter, as its name implies, is a professional audio & video cutter and splitter. Exactly. Its sophisticated cutting technology can simply achieve the lossless and perfectly precise audio and video cutting. In addition, it is fitted with a powerful editor and customizable mode, which gives you the ability to custom audio codec, bit rate, channel, sample rate and video codec, frame rate, resolution, bit rate, as well as to apply various editing effects to personalize your audio or video. There are an amazing number of multimedia formats supported by it. Besides MP3, it as well accepts M4A, AAC, AC3, OGG, CAF, FLAC, WAV, M4B, M4R, AU, MP4, AVI, WMV, FLV, TS, HD, etc.
Creative Features of Joyoshare Media Cutter:
Customize audio codec, bitrate, sample rate, channel
Support many import and output audio & video formats
Cut and split MP3 into multiple tracks in original quality
Two processing modes for different requirements
Step 1

Import MP3 to Joyoshare Media Cutter

With an easy click of the "Download" button above, get the proper version of Joyoshare Media Cutter equipped on your computer. Open it and then start importing the MP3 file with discordant bitrate. You can do importing by clicking the "Open" button or using drag-and-drop function.

Step 2

Start encoding mode to change MP3 bitrate

When the MP3 file is uploaded, continue touching the "Format" button to the format customization. In the next window, highlight the encoding mode first, please, because only with it are you able to make changes of MP3 bitrate. Then, select MP3 under "General Audio" option. There is a gear icon appearing at the top right corner of the selected format. You should touch this icon to bring out a sub-menu, and then hit on the drop-down box of "Bit Rate" to select a proper bitrate for your MP3 file. You can set 64kbps, 96kbps, 128kbps, 160kbps, 192kbps, 256kbps, or 320kbps as MP3 bitrate, depending on your needs. Once done, click "OK".

Step 3

Export and save the final MP3 file

Return to the previous window. If there is something unwanted in your MP3 file, drag the timeline controller to simply remove or enter temporal interval to precisely cut. Besides, you are allowed to access the editing interface to trim MP3, apply sound effects, adjust volume, etc. to your heart's desire. When all you want is done, press on "Start" to export the resulting MP3 file.
Part 2. How to Change Audio Bitrate in Discord Using Audacity
Marketed as a free and multipurpose audio editor, Audacity is an excellent idea to change bitrate of MP3. It is developed to be open-source by a team of volumteers, so that you can enjoy it on Windows, Mac, Linux, and many other operating systems, almost at whim. Although the lack of an intuitive interface, it is not difficult to operate it to change audio quality. With a few of clicks as instructed below, you can reach the destination.


Step 1: Launch Audacity. If you have not yet had Audacity on your computer, please first download and install. Head to "File" > "Open..." to browse local folder and select the target MP3 file, or directly and simply drag it to the interface;
Step 2: Whereafter, select the top-menu "File" option and then to "Export" from the drop-down list > "Export as MP3";
Step 3: On the bottom of "Export Audio" screen, there are 4 bitrate modes - "Preset", "Variable", "Average" and "Constant". You need to specify one mode and set specific bitrate under corresponding "Quality" option;
Step 4: After everything else, customize a file name and select the output path. Hit on "Save" and ther will pop up the "Edit Metadata Tags" window. If necessary, edit your MP3 tags. On completion, press on "OK" to export the final MP3 audio.
Part 3. How to Change MP3 Bitrate Using Online Audio Converter
To finalize the task of changing MP3 bitrate, Online Audio Converter also works effectively. The free online tool supports processing audios in almost all formats quickly without requiring installation. Other than its proven conversion technique, it comes with an advanced option, which allows configuring the audio quality, bitrate, channels, and frequency. For those who are trying to complete all the things online, this web converting service is highly recommended.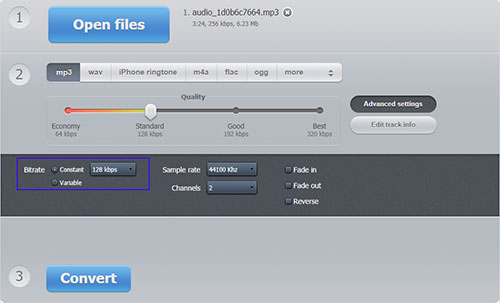 Step 1: Type https://online-audio-converter.com/ in the browser to get access to the main interface of Online Audio Converter. Click "Open files" to add your MP3 file;
Step 2: Wait until the MP3 audio file has been loaded up. Next, it's time to change its bitrate at your request. You can directly drag the "Quality" adjuster to modify the bitrate of MP3. Alternatively, go to "Advanced settings" > "Bitrate" and tap on the pull-down button of "Constant" to choose the right bitrate for MP3 to produce optimal audio quality;
Step 3: In the end, touch "Convert" to start converting your MP3 bitrate. After the conversion is completed, you are required to click "Download" to save the covnerted MP3 file to your system.
Frequently Asked Questions:
#1

What's bitrate of audio?

In digital multimedia system, bitrate of audio is broadly stated as the quality of the audio, referring to the number of kilobits of data contained per second in the audio. It is determined by the the bit depth - a container for the amplitude of audio, and the sample rate - a container for frequency information. Audio bitrate matters, as it is closely associated with audio quality.

#2

What's the best audio bitrate?

Technically, there is no best bitrate, just the proper birtate for every audio file. The higher the bitrate is, the better the audio quality is. In a very general sense, CD audios have a bitrate of 1411 kbps per second. The bitrate of MP3 audio range from 96kbps to 320 kbps. Bitrates of certain high-quality audio files like WAV are variations. Usually in this case, you can get the specific bitrate through multipling the sample rate with bit depth and the channel number. Though the highest bitrate means the best quality, you should note that a high bitrate is not necessary for all audio files. For streaming audio, the lower bitrate is better, which can make audio streamed more efficiently.

#3

Would bit reduction affect the audio quality and size?

The change of bitrate might affect both audio quality and size. The file size and quality would decrease as the file bitrate reducts. But the impact on audio quality could be negligible if you are not an audiophile who enjoys audio on the advanced hardware. sound equipment. With standard speaker and headphone, the sound quality you feel is hardly different with the original quality.