Q:"I have a major problem. We took a client who has 50 mobile devices that have Meraki MDM installed on them. We can't get any meaningful access to these devices. MDM is preventing us from removing old email servers and there are the bunch of other things we can not do. Can't remove Meraki MDM from mobile devices. Please help." – From Reddit
Meraki System Manager enrolls devices and associates them with the system manager network for centralized management, which is widely used by businesses and school organizers. This cloud-based platform allows managers to easily access any device for monitoring, diagnosis, and control. Like what described by above Reddit user, devices that're equipped with Meraki MDM are deployed with specified tools and set with limited permissions, so there are some restrictions that prevent you from using the device properly. If you are struggling with how to remove Meraki management from iPad/iPhone, then the solutions provided in this article are just what you need. Let's take a deeper look now.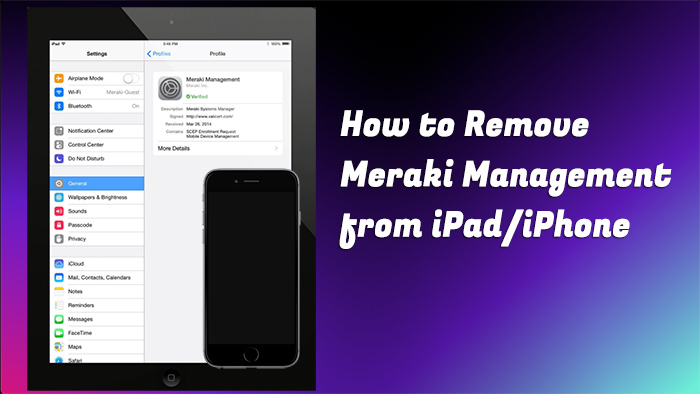 Part 1. How to Remove Meraki MDM from iPad/iPhone without Passcode
If your iPad or iPhone is supervised by an organizer, it's hard for you to remove Meraki management on your own. Even if it does, there's a good chance that the Meraki MDM profile will return to your device after it's updated or restored. Want a one-and-done solution to completely get rid of Meraki control? Here Joyoshare iPasscode Unlocker is worth a try. No matter which type of mobile device management your device is tied to, this powerful MDM removal can easily take it off from any iOS device you're using. Most importantly, your data won't be lost at all.
In addition, you can protect your device from all kinds of locking conditions. Simply unlock disabled iPad or iPad, turn off Screen Time without passcode, and remove Apple ID with no password request. All of these can be done independently by yourself at home.
Key Features of Joyoshare iPasscode Unlocker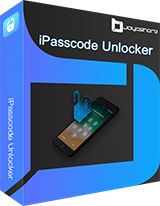 Remove Apple mobile device management with no data loss
Remove Meraki MDM profile from any iDevice and iOS/iPadOS version
Bypass Screen Time without passcode
Unlock Apple ID without password on iPhone/iPad
Factory reset device without passcode, Face ID and Touch ID
Step 1

Run Joyoshare Unlocker and Connect iPad/iPhone

Get Joyoshare iPasscode Unlocker downloaded from the official website and finish installation. Simply launch this software, plug your iPad/iPhone to computer using a USB cable, and then click on the "Remove MDM" section in the main interface.

Step 2

Remove Meraki MDM from iPad/iPhone

Make sure Find My feature on your device has been disabled. If not, go to Settings – [Device Name] – Find My, enter Apple ID password to turn it off. Afterward, you can click on "Start" button to begin removing process. Check if Meraki management profile has been removed from device after it's done.
Part 2. Remove Meraki MDM from iPad or iPhone in Settings
This is a free yet basic solution you can try on your device Settings. This can be done with few clicks, but the success rate is relatively low. You can see how to operate using steps below: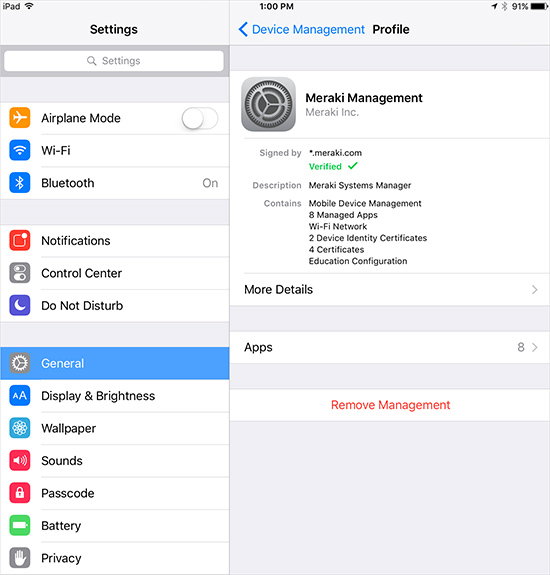 Step 1: Open Settings on your iPad or iPhone.
Step 2: Tap on General and scroll down to click "Profiles & Device Management".
Step 3: Tap Meraki Management profile and click on "Remove Management" on the screen.
Step 4: You'll be asked to enter your passcode to confirm MDM removal operation.
Part 3. Delete Meraki Profile from System Manager
The Meraki management profile removal will be prohibited if your iDevice was enrolled via ADE (Apple Automated Device Enrollment). Would like to permanently cast off management? You should adjust configuration and update settings via ADE Dashboard, Apple Business Manager, or Apple School Manager portal. Here's an example you can follow.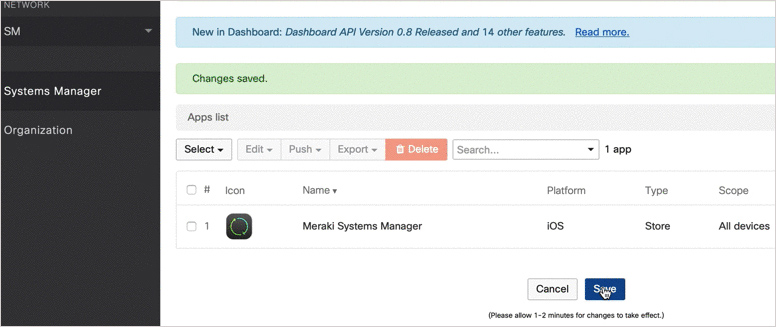 Step 1: Visit System Manager → Manage → Settings.
Step 2: Choose the profile in the list and click it to enter "Profile configuration".
Step 3: Scroll down the page and find "Delete this profile" at the bottom.
Step 4: Click "OK" to confirm Meraki profile deletion and then "Save" to finish permanent removal.
Part 4. Remove iPad/iPhone from Meraki Systems Manager Network
If you are the administrator, you have the right to use your login information to access the Meraki Systems Manager and remove the MDM restrictions from others' device easily. Here are steps to make it.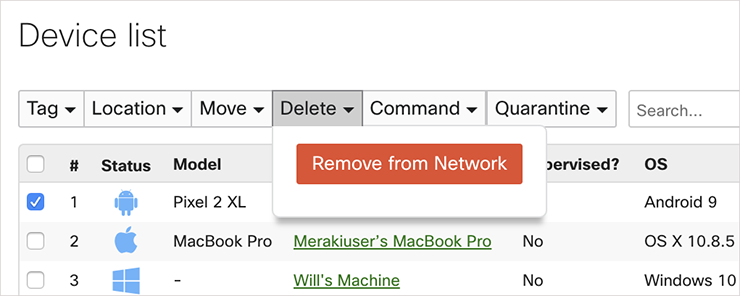 Step 1: Go to System Manager Dashboard, finish login, and choose a SM network.
Step 2: Head to Systems manager → Monitor → Devices.
Step 3: Now click the checkbox before your target device in the list.
Step 4: Hit "Delete" and then "Remove from Network" on the top to remove your device successfully.
Final Words
Now that you know these methods, should you no longer have to worry about how to remove Meraki MDM from iPad or iPhone. You can do it on your device Settings without help from administrator. However, it actually fails to work sometimes. To permanently get rid of management restrictions, you can delete the Meraki profile in SM, or remove device from network. As for me, a surefire way is to use afore-mentioned MDM removal - Joyoshare iPasscode Unlocker, which can bypass MDM without data loss, no requirement of login information and no need to resort to admin.