Q: "Is there any way to remove the MDM DEP profile from an iPhone without contacting the issuing company administrator?" - Question from Quora
Apple Devices have been favored by many enterprises for their creative design and enhanced features. Employees are equipped with Apple devices to improve work efficiency. However, the usage of device is limited under DEP. You may get confused about what it is, or you just want to remove Apple Device Enrollment Program on your iOS device like the user in Quora. Well, this post is intended to dispel puzzles for you. Let's take a close look at the DEP.

Part 1. What Is Apple Device Enrollment Program?
The Apple Device Enrollment Program or DEP in short is an online service in an organization's Mobile Device Management. It offers a quick, streamlined way to deploy and configure Apple devices. As long as the Apple device is enrolled in DEP, IT administrators could configure device settings in advance, define access to certain applications, etc. IT administrators could also enroll devices in DEP without manual configuration, which prevents users from bypassing management from their ends. There are lots of reasons managers prefer DEP. It supports remote supervision and zero-touch configuration. What's more, it greatly streamlines the setup assistance. DEP would help deploy each iPhone, iPad, Mac, and Apple TV for every scenario.
Part 2. How to Remove DEP from iPhone/iPad
Though DEP has a lot of benefits for enterprise or organization's management, we are limited to device's functions while it's enrolled in DEP. Is there any way to remove this service? The answer is yes. If you happen to know the password of the MDM profile or have the admin account, the first two methods below are suitable for you. Otherwise, skip to the solution three for further check.
Solution 1. Remove DEP in Settings
The problem can be easily fixed with the password of DEP profile. You could follow the steps to delete the profile.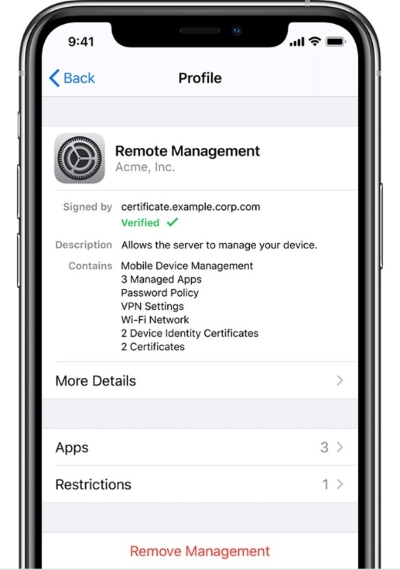 Step 1: Go to Settings → General on your iPhone or iPad.
Step 2: Scroll down to tap VPN & Device Management, then you'll see DEP on the next screen. Click on that.
Step 3: Tap Remove Management, and you're required to enter the password of DEP profile. If the password is correct, the profile will be deleted completely.
Solution 2. Remove DEP in Apple DEP Portal
Resetting your iPhone or iPad to factory defaults is not helpful in disabling DEP. However, if you could get access to the admin account, you could delete DEP in Apple DEP portal.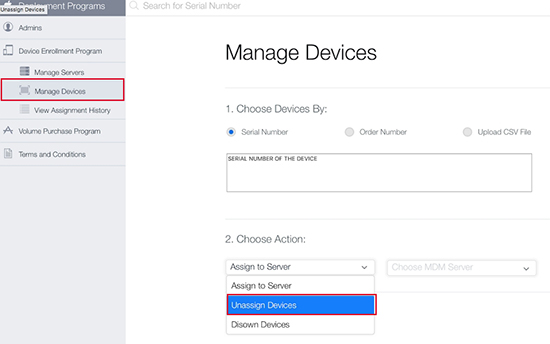 Step 1: Log into the Apple DEP portal with the admin account and password.
Step 2: Choose the Manage Devices in the left taskbar, then enter the serial number or order number.
Step 3: Then select Unassign Devices in Choose Action. Make sure you are not clicking Disown Device, which could only be selected when the device is damaged or lost.
Solution 3. Use the Best Removal Tool without Password [Zero Data Loss]
I know lots of users' devices are still remained enrolled because not knowing the password of DEP profile and the admin account. No worries, the best alternative method is illustrated here. Joyoshare iPasscode Unlocker is a powerful removal tool, allowing users to remove passcode in almost all scenarios, and removing MDM from iPhone/iPad/iPod is not a big challenge at all. It can not only remove MDM without losing data, but also crack screen locks, Apple ID, and screen time quickly and securely. And you don't need to reset the device to disable DEP, two simple steps are all you need to complete.
Key Features of Joyoshare iPasscode Unlocker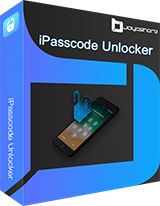 Remove DEP profile with 100% success
Support erasing up to 5 kinds of screen locks
Get rid of screen time restriction with zero data loss
Unlock Apple ID even with Find My feature is enabled
Work well with iOS 17 and iPhone 15 series
Step 1

Plug iPhone/iPad to Computer

After installing Joyoshare iPasscode Unlocker on your computer, put your device connected to computer. Then open the tool and choose Remove MDM.

Step 2

Remove DEP profile form iPhone/iPad

Here, the Find My feature needs to be disabled in advance. You could close it in Apple ID on Settings. Then click on Start button and Joyoshare iPhone unlocker would start to remove DEP profile in time. When the interface displays Removed Successfully, you could regain your device without restriction.
Part 3. How to Remove DEP from Mac
This is a method for bypassing DEP from Mac. And this also requires the admin account. Before following the steps below, make sure you could get in touch with the admin account: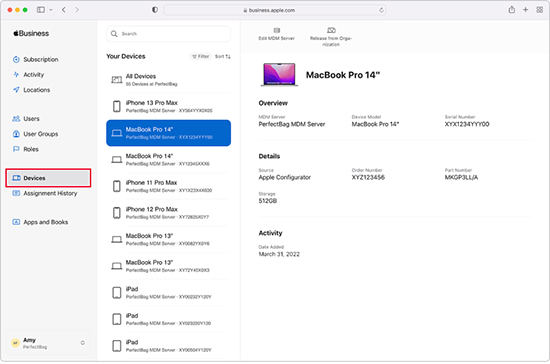 Step 1: You need to log in Apple Business Manager with the admin account.
Step 2: Select Devices in the left side of the interface, and you could search your Mac in the search box.
Step 3: Locate your Mac from the list and choose the Device icon.
Step 3: Check the content of the box - I understand that this cannot be undone, and click Release Devices.
Part 4. Conclusion
Now, you must know how to remove Apple Device Enrollment Program from your Apple devices. In summary, if you know the password of DEP profile or have the admin account, you can follow the first two methods. Instead, if you are looking for a highly effective way, I would recommend you to use Joyoshare iPasscode Unlocker to help you remove DEP in a short time without worrying about losing data. Hopefully, these ways could solve your problem.