Q: "I no longer have any funds on any credit card and I have no recurring subscriptions on my Apple ID. I just want to download a free app but it will not let me select None for payment information. Please help. I can't believe I wouldn't be able to download free apps and have None as a payment method?" – from Apple Community
Ideally, you could choose the None button when you download a free app or a song, etc. However, it is reported that there is no None option for Apple ID payment. It means that you cannot get any Apple service in iTunes, App Store, Apple Books and so on. To some extent, this problem will screw your life up. To help you get out of this trouble and resume downloading, this article explains why the None option is missing and provides corresponding solutions. Keep going to read it.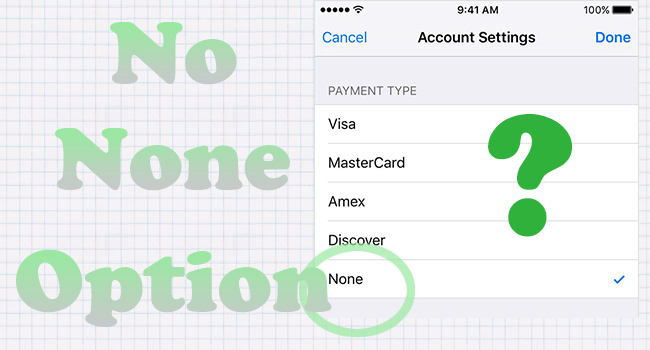 Part 1. FAQs about Apple ID Payment
Q1: Why do I need a payment method to download free apps on iPhone?
A: From Apple's explanation, a valid payment method is required to verify your personal information which indicates that you have an Apple account. Hence, you don't have to actually pay for free apps but need a credit or debit card tied to your Apple ID.
Q2: How do I select None as a payment method on my iPhone?
A: Go to Settings, tap your Apple ID, select Payment & Shipping, hit Payment Method, and find the Switch to None option.
Q3: Why is there no None option for Apple ID?
A: It could be caused by no payment method, Family Sharing control. unpaid purchases, incorrect location, etc.
Part 2. Fix No None Option for Apple ID Payment
Fix 1: Add a Payment Method
If you download something from App Store or iTunes Store for the first time, you may not add a payment method since before. You could open Settings, hit your Apple ID, tap Payment & Shipping, and you will be guided to the Add Payment screen. If not, select Add Payment Method, and edit your information.
Alternatively, open App Store, on the Apps interface, tap your account at the up-right corner, choose your Apple ID, select Manage Payments on the Account Settings screen, and you can add a payment method here as well. After you set up a valid payment method, you are allowed to enable the None option.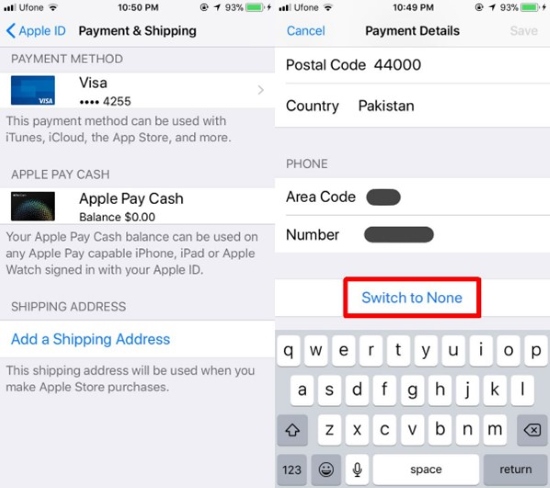 Fix 2: Complete Unpaid Bills
If there is a payment due or unpaid balance, you will be restricted to get other Apple services, and as a result, there is no None option for Apple ID when you request a purchase. Go to the Settings app to get the solution. Enter the Apple ID interface, choose Media & Purchases, select View Account, scroll down to Purchase History and check whether there is any unpaid bill.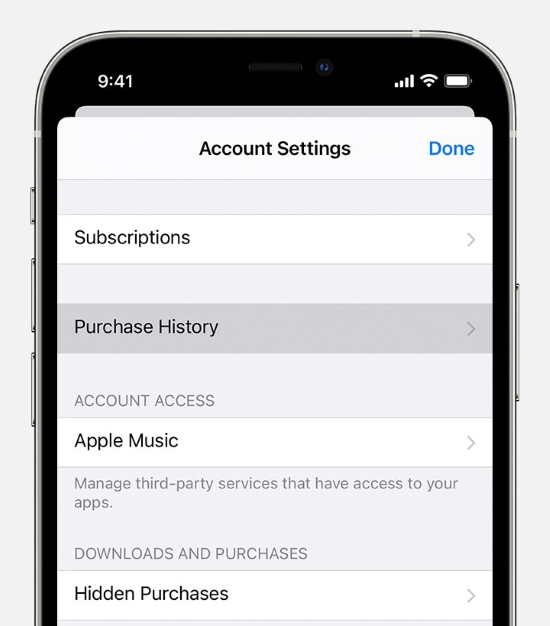 Fix 3: Stop Family Sharing
As a member of Family Sharing, your payment is supervised and restricted by the organizer. While as an administrator of Family Sharing, you will be impacted by other members' behavior. If there is some mistake that emerged on either side, the other will possibly be influenced as well. Therefore, for the former, launch Settings, tap Apple ID, choose Family Sharing, and hit the Leave Family Sharing button. For the latter, on the Family Sharing interface, select one member, and hit the Stop Family Sharing option instead.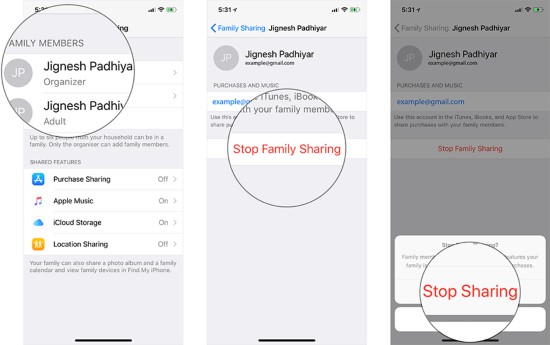 Fix 4: Remove Subscriptions
If you subscribe to several Apple services or In-app subscriptions, for example, Apple Music, Spotify, Netflix, iCloud storage plans, etc., and they are automatically and regularly renewed, a viable way to get None option for Apple ID payment again is to try removing them. On your Apple account interface, select Subscriptions, choose a service and tap Cancel Subscription.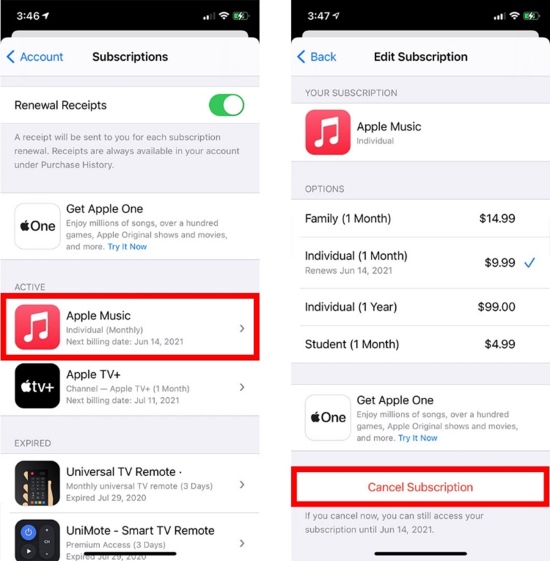 Fix 5: Correct Country or Region
When the country or region where you create your Apple account is not associated with the actual place where you register your credit card, your payment methods will be invalid and you are unavailable to see the Apple ID payment None option. Therefore, it would be better to correct your country or region and add a functioning method of payment for the new location. Likewise, enter the Apple ID interface on Settings, go to Media & App Store, tap View Account, select Country/Region, and hit Change Country or Region. Subsequently, you need to change an effective payment method.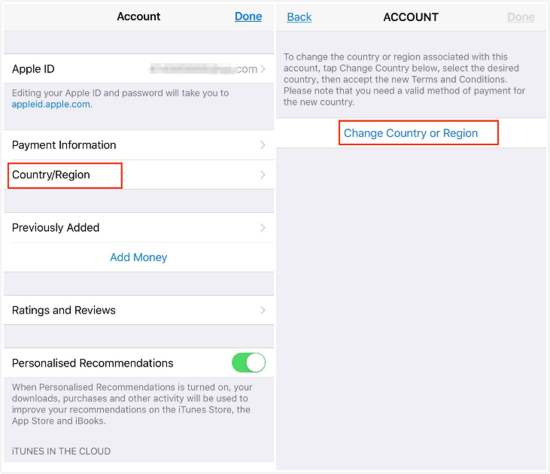 Fix 6: Remove Malfunctioning Apple ID
In case the None option disappears because of an issue existing in Apple Pay or Apple payment method, it could be inferred that your Apple ID gets into trouble. In light of this conjecture, you could remove your faulty Apple account to see if the problem is solved as expected. Joyoshare iPasscode Unlocker is an amazing passcode remover, except for Apple ID, it specializes in unlocking screen lock, turning off Screen Time and bypassing MDM. No matter which model of Apple device, you can use this program easily to remove passcodes.
Key Features of Joyoshare iPasscode Unlocker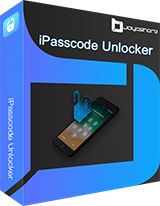 Bypass credit card Apple ID without losing data
Remove screen lock, Screen Time, and MDM restrictions
Compatible with all models of Apple devices
Easy steps and high security-factor
Step 1

Plug Device into PC and Select Unlock Apple ID

Launch Joyoshare iPasscode Unlocker, plug your device into your trusted computer and select Unlock Apple ID on the main interface. Then click the Start button.

Step 2

Check the Status of Find My

If you have disabled the Find My function on your device, you will be directed to the next screen. If the Find My feature is enabled, you need to ensure that the screen lock and two-factor authentication are turned on as well. One thing you should know is that the disabled Find My feature will preserve your data for good while the other status may cause some degree of loss.

Step 3

Remove No None Option Apple ID

On the next screen, download the firmware package after confirming the device information. Then, start to remove your no None option Apple ID.
Part 3. Conclusion
No None option for Apple ID payment when downloading and don't know why? This article answers some questions related to Apple ID payment, specifically for the None option, which could well explain the reason why the None option on the Apple ID payment information screen is missing. 6 fixes are listed to help you get out of this problem and regain the None option. You could get the service you need after following the solutions provided. So, try them one by one immediately.