Q: "I don't know why there is an iPhone passcode requirement that keeps popping up on my screen. It says that passcode requirement iPhone you must change your iPhone passcode unlock within 60 minutes. I'm afraid that it's something like a mobile telephone virus which will steal my personal information stored on my phone. What should I do to deal with this problem?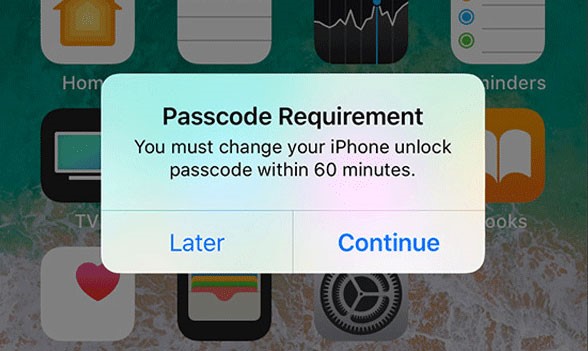 As the largest information technology company which highly focuses on the importance of brand value and user feedback, Apple builds a reliable system to ensure users' information security. Recently an issue has been reported – passcode requirement on iPhone saying that you must change your iPhone unlock passcode within 60 minutes. It leaves users two options – "Later" or "Continue". You can simply press "Later" to temporarily ignore this popup. But it will soon appear again.
What is all this about? Why does iPhone keep requiring passcode change? How to fix iPhone passcode requirement? In this article, we'd like to explain why it occurs and provide several methods, so you can get rid of passcode requirement message on iPhone.
Part 1. Why Does iPhone Passcode Requirement Pop Up?
On account of being regarded as a cell phone virus, a pop-up might cause anxiety to iPhone users. But iOS system is capable of coping with these risks and protects your phone from being attacked. There are four common reasons which result in iPhone passcode requirement pop up. They can be listed as follows.
Simply Passcode: If you set simple or common passcodes such as 1234, 2022 … which are relatively easy to figure out, Apple may detect it and suggest you change your passcode by frequently popping up iPhone passcode requirement.
Safari History: If you use Safari as a common browser to visit webpages on your phone, the searching and browsing histories are kept as cookies and cache. Once it reaches the limit, random pop-ups appear including iPhone passcode requirement. This is the most likely cause of such a case.
Email Accounts or Configuration Profile: The email accounts or configuration profiles which are generally reflected on business and education devices based on Microsoft exchanges have passcode policies inside and it leads to iPhone passcode requirement to change your passcode.
Mobile Device Management: If your iPhone isn't your device, but belongs to the company or organization you work for. Possibly, this iPhone has been enrolled in MDM or Mobile Device Management system, which is the main reason that causes popups on your screen.
Part 2. How to Stop Passcode Requirement Message on iPhone?
All the causes are listed above, now you can take measures to prevent this situation. There are 5 tips you can try to solve your problem till iPhone passcode requirement disappears.
Solution 1
Change Your iPhone Passcode
As we mentioned above, Apple may detect that you are using an unsafe passcode. In this case, you just need to change your passcode to see if the popups stop. The passcode changing procedures are as follows.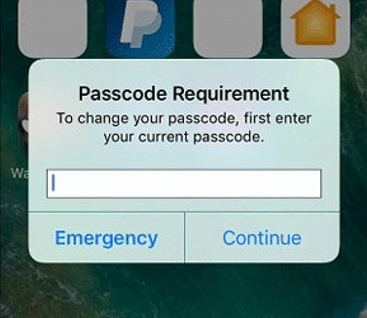 Step 1. When passcode requirement pops up, press "Continue"
Step 2. Enter your former passcode and hit "Continue" again
Step 3. Follow the instruction and enter new passcode and tap on the "Continue" button
Solution 2
Use iPhone Passcode Unlocker
If you accidentally forget your former passcode, then the first method is of no avail. You need an iPhone Passcode Unlocker to help you crack your iPhone passcode. We highly recommend Joyoshare iPasscode Unlocker – an iOS unlocking tool which aims to remove passcode from iPhone in various scenarios.
With the ability to unlock passcode in a few minutes securely, Joyoshare iPasscode Unlocker can deal with 4-digit or 6-digit numeric, or more complicated Touch ID and Face ID. Its concise user interface and quick operating speed are designed to give you a perfect usage experience. We have stated a specific step-to-step guide below to introduce how to use this unlocking tool.
Key Features of Joyoshare iPasscode Unlocker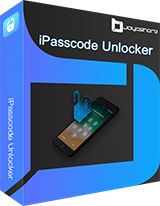 Able to crack 4 kinds of screen locks
Clean interface and easy to operate
Support iPhone, iPad, and iPod touch
Safely erase iPad without passcode
Step 1. Launch Joyoshare iPasscode Unlocker and connect iPhone

Get Joyoshare iPasscode Unlocker started on and connect iPhone with your computer by the original USB cable. Then click on the "Start" button. Please make sure that iTunes has already been downloaded on your desktop.

Step 2. Set iPhone into DFU mode

Follow the instructions which offer to you step by step. If your device is incapable of launching DFU mode, you can click the link at the bottom of the interface and turn it into Recovery Mode instead.

Step 3. Download the firmware package

If you fail to download it through this software, you can switch to downloading it on the website.

Step 4. Press the "Unlock" button and remove your passcode

We must inform you that after these procedures, your data will be completely erased. Please make sure that you have already known that before using it.

Solution 3

Clear Safari Browsing History

People who are experiencing the same annoying popups jump out from such a dilemma by clearing safari browsing history. The operating steps are listed below.

Step 1. Go to "Settings", then select "Safari"

Step 2. Tap on "Clear History and Website Data"

Solution 4

Remove Configuration Profiles

There are possibilities that you have installed a beta iOS or any other third-party application that trigged some configuration profiles to be downloaded on your iPhone. Thus, by deleting them, you are able to escape from being chased by iPhone passcode requirement pop up.

Step 1. Go to "Settings", then select "General"

Step 2. Tap on "Profiles & Device Management" to delete all installed profiles

Solution 5

Delete Exchange Email Account

It may be also helpful if you delete exchange email account from your iPhone to stop popups.

Step 1. Go to "Settings", then select "Accounts & Passwords"

In an earlier version of iOS, tap Mail or Mail, Contacts, Calendars, then go to Accounts.

Step 2. Choose the exchange email account and click on "Delete Account"

Part 3. The Final Word

We hope this guide could help you to flee from the bombing of popups which read as follows "iPhone passcode requirement you must change your iPhone passcode unlock within 60 minutes". The solutions are extremely easy to follow. What's more, using Joyoshare iPasscode Unlocker mentioned in this article, you could remove your screen passcode once and for all no matter what kind of scenario you are facing. Have a try if that's what you need!