Setting iPhone passcode is a very efficient way of encrypting your phone and restricting access to it. However, there are certain situations where you want to access your phone but have forgotten the passcode. Usually, such a situation is a cause of alarm to many as it requires a very complex process to recover your passcode. No need to worry anymore as there is a variety of iPhone passcode bypass software at your disposal. The software helps you access your phone under any possible circumstances. Let's have a look at some of the best passcode-bypassing tools that have good reputation in solving lockup issues.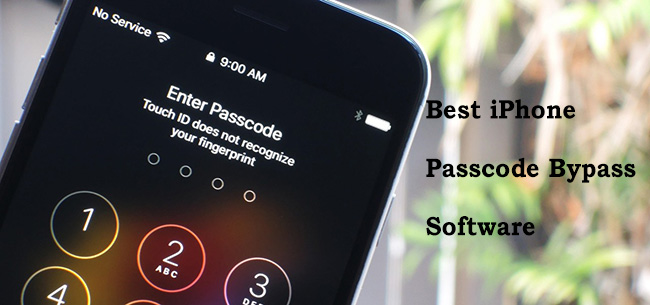 Part 1. Best iPhone Passcode Bypass Software
No.1 Joyoshare iPasscode Unlocker
Chances are that you have forgotten your passcode, cracked your screen or in the event of several failed passcode-entering attempts. Here Joyoshare iPasscode Unlocker can be a qualified assistant. This iPhone passcode bypass tool is compatible with both old and newer iOS devices, supporting even the recent iPhone 14 and the latest iOS 16.
Additionally, it deals with four typical passcode types, including Face ID, Touch ID, custom graphic passcode, and common numerical passcode. It works in three simple steps in bypassing your passcode which are iDevice connection, firmware package download, and removal of screen lock. Most importantly, there is a 100% safety guarantee so that you can operate it without worry. Apart from unlocking screen passcode, Joyoshare iPasscode Unlocker is capable of removing Screen Time passcode, Apple ID and device management.
Pros:
Support removal of four passcode types: 4-digit/6-digit passcodes, Face ID and Touch ID
Unlock disabled iPhone without iTunes and iCloud
Be compatible with all iOS devices and versions (iOS 16 included)
Bypass iPhone passcode in various situations with high success
Comprehensive unlocking solutions to remove Apple ID, MDM and Screen Time passcode
Cons:
Bad network may influence your unlocking speed
Step 1

Plug Device into Computer

After installing and opening Joyoshare iPasscode Unlocker on your computer, plug your iPhone/iPad/iPod into it. On the main screen, choose Unlock iOS Screen and click the Start button.

Step 2

Enter DFU or Recovery Mode

Put your device into DFU mode or recovery mode following the provided guide on the screen. It might be difficult to get into the DFU mode, so you could click the bottom link to see how to enter recovery mode.

Step 3

Get Firmware Package Downloaded

Check your device information and change it if there is something incorrect. Then, click the Download button to download the matching firmware package and wait for its verification.

Step 4

Unlock Screen Lock on Apple Devices

Click the Unlock button to start removing the screen locks on your device. When you see the Done button, your device will restart automatically.
No.2 MagFone iPhone Unlocker
MagFone iPhone Unlocker is a dedicated program to bypass iPhone passcode and it also works well for your iPad/iPod devices. This software is simple to operate with an uncluttered interface. You can finish the whole unlocking process easily at home without tech skills. You can bypass the passcode from your iOS screen and access the device again regardless of the actual lockup situations, like your screen is unresponsive, Face ID failed to recognize, iPhone is disabled connect to iTunes, your Home button not working, etc. Also, this program keeps updated and offers high compatibility with what released recently, such as the iPhone 14 series and iOS 16. At the same time, you can use MagFone iPhone Unlocker to restore and reset iOS device, and remove Apple ID without password.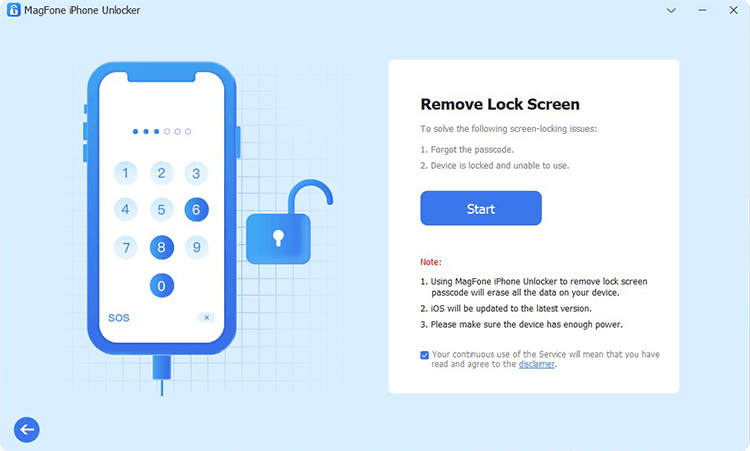 Pros:
Offer a high success rate to unlock different kinds of screen locks
Remove screen passcode easily without the need for technology
With the ability to bypass Screen Time passcode and MDM
Function well for removing Apple ID without password
Cons:
The free trial version cannot experience unlocking operation
No.3 iMyFone LockWiper
iMyFone LockWiper is a great iPhone passcode bypass program that is able to remove apple ID without password from iDevices. It is also a good option that is noted for its speed in bypassing the passcode to give you access to the iOS device. There is a free trial version that you can try out to have a taste of what the bypass tool has to offer. iMyFone LockWiper supports all iOS versions both old and new making it a convenient tool that works on all iOS devices including iPad. You can use the bypass tool if you have keyed in the wrong passcode over the limit, your screen is unavailable, device is frozen, etc. All screen encryption modes, like four and six digits passcodes, Face ID and Touch ID, can be supported.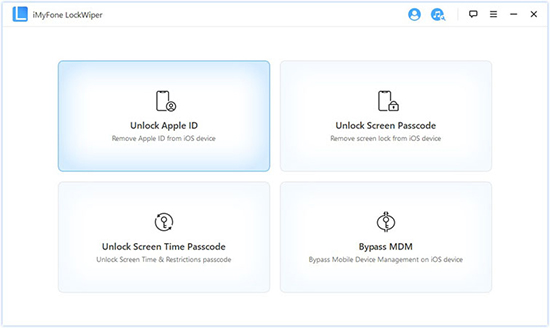 Pros:
Support all iOS devices including the older versions
Bypass Face ID, Touch ID and digit encryption easily
Make it possible to unlock Apple ID without password
Cons:
When "Find My iPhone" is enabled, you cannot unlock Apple ID on devices running on iOS 11.4 and later versions
The operating steps are more complex than others
It can only unlock 1 device at a time
No.4 Tenorshare 4uKey
Tenorshare 4uKey is among the best iPhone passcode bypass software more so in situations where you have a damaged phone. This program also comes through in scenarios where you have either forgotten your passcode or have blocked your iPhone after surpassing passcode entry limit. It can remove any type of passcode, such as facial and touch IDs, alphanumeric digits and also four and six-figure passcodes. Additionally, it allows for the factory reset of your iDevice without your password. Its speed is also recommendable and takes a short time to get the desired results. Meanwhile, like the above unlockers, Tenorshare 4uKey is available to unlock Apple ID, Screen Time limit and MDM restrictions.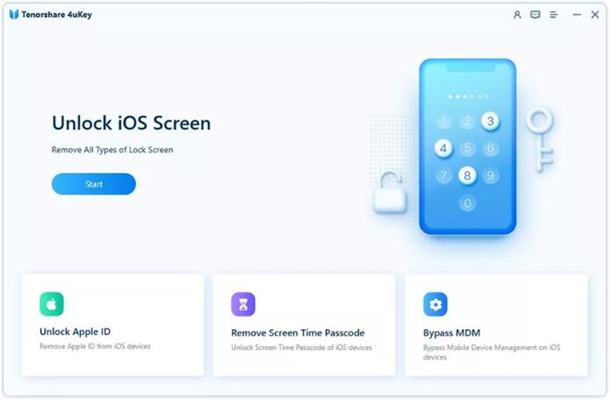 Pros:
Fast bypass process
Remove alphanumeric characters and both facial and Touch IDs
The bypass process is easy to initiate in three steps
Allow for the factory reset of iOS device without a password
Cons:
The free trial version does not have all the features as the paid version
Sometimes iOS devices cannot be detected by the program
No.5 Dr.Fone - Screen Unlock (iOS)
Dr.Fone - Screen Unlock (iOS) is another simple and efficient software to bypass iPhone passcode. You need no experience to run this program with guaranteed superb performance. The program is noted for its speed and within five minutes you are sure to be done with the whole passcode bypass process.
Additionally, it is a lightweight program that takes minimal space on your device. Similar to others in the market, it bypasses four encryption modes, including the four & six digits figure passcodes, face and fingerprint identification. The program works with all iPhone and iPad devices thoroughly. Furthermore, it takes a few simple steps to complete the whole procedure.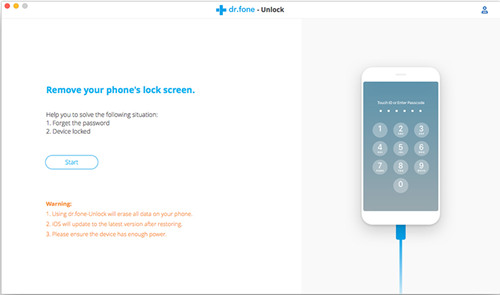 Pros:
It works fast in getting passwords bypassed
Available on all the screen passcode types, including Face ID and Touch ID
Support the latest iOS 16 and even older iOS devices
Consist of three simple steps in the password bypassing process
Provide the service for removing iCloud activation lock
Cons:
In its bypass process, you are going to lose data from your device
The success rate to unlock Apple ID is not sure
Packed together with other features, consuming too much space
No.6 iMobie AnyUnlock
As a reliable iPhone passcode bypass software, iMobie AnyUnlock is able to remove any screen locks quickly within 3 steps. The technical background information is not needed very much as it provides a full guide for you. It is also designed to unlock other types of locks such as Screen Time, iCloud activation lock, SIM lock, iTunes backup password and so on. Your remote device management could be bypassed with a high success rate with the help of this program. Using this tool, your personal information is safe because it never leaks any information.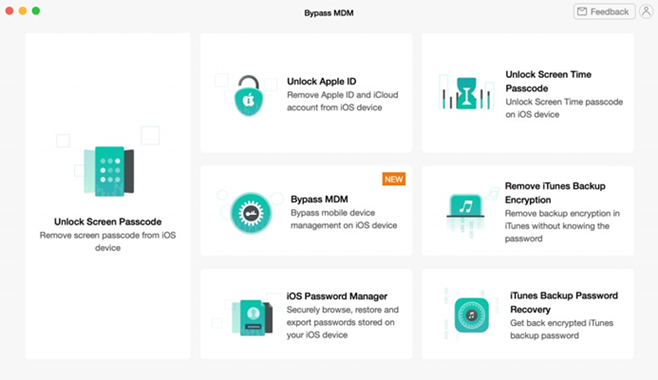 Pros:
Powerful features on unlocking screen lock, Apple ID, MDM lock, iCloud activation lock, iTunes backup password, SIM lock, etc.
Supports all iOS systems and iPhone/iPad models
View all the passwords saved on your iOS device with Password Manager
Cons:
Cluttered interface due to various unlocking features
Each feature is charged separately
No.7 EaseUS MobiUnlock
No matter why you are locked, no matter what kind of screen lock you have set up, no matter which system software you are running, EaseUs MobiUnlock only take a few minutes of your time to unlock 4-digit and 6-digit passcodes and as well as several other locks on your iPhone. In just 3 steps, you don't need any technical skills to use this passcode bypass software on iPhone, iPad and iPod. Screen Time passcode, Apple account, and iTunes backup encryption are all available to be removed safely. Its Password Manager can securely browse, restore and export passwords stored on your iOS devices.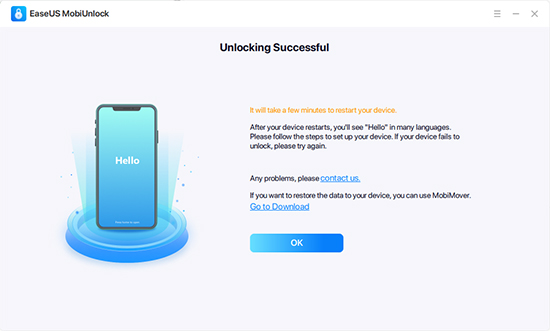 Pros:
Clear interface and tech-free steps
Works perfectly on iPhone, iPad and iPod touch
Able to remove iTunes backup encryption easily
Password Manager can be used to export saved passwords
Cons:
Incompatible with the latest iPhone 14 series
It takes a longer time to unlock iOS devices screen lock
No.8 FoneGeek iPhone Passcode Unlocker
How to remove different screen locks to regain access to your iPhone/iPad/iPod touch? FoneGeek iPhone Passcode Unlocker is a trustworthy choice. Regardless of the types of screen locks, this software can fix disabled iOS devices without iTunes or iCloud. Even if you don't remember your password, you can use FoneGeek to remove your Apple ID from your device. When you are using Mac, this application takes powerful techniques to quickly bypass MDM restrictions without losing data. With its broad compatibility, screen locks will be unlocked on the newest iOS 16.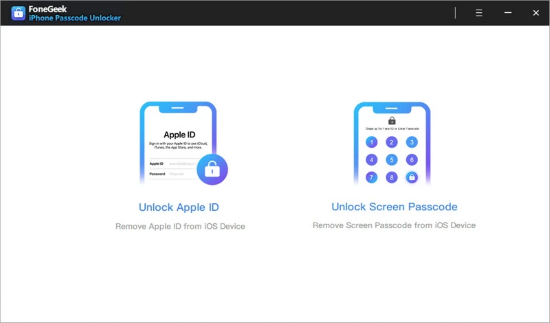 Pros:
Remove MDM profile with no data loss
Bypass various screen locks in minutes
Guarantee a high rate of success in the unlocking process
Easy to use for an IT newbie because of its user-friendly interface
Cons:
Some features are only available for Mac users
No.9 BuhoUnlocker
BuhoUnlocker is designed to resolve screen passcode problems on iPhone, iPad and iPod touch including forgotten passcode, remove Apple ID, unlock Screen Time passcode and bypass MDM. It has a super simple and intuitive interface to facilitate the unlocking progress. This iPhone passcode bypass software is compatible with both Windows and macOS. Most importantly, you could use BuhoUnlocker to exit recovery mode with one click.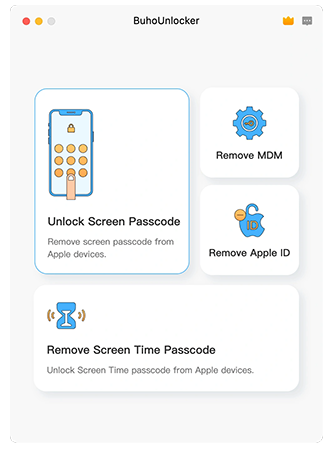 Pros:
Simple and clear user interface
Offer a channel to exit recovery mode with one click
Compatible with the latest iOS 16 system
Assure 100% safe to unlock screen locks on Apple devices
Cons:
Works better on Mac while Windows is overlooked
Part 2. Comparison: Best iPhone Passcode Bypass Tools
You can have a general understanding of the main features of all iPhone passcode bypass tools introduced above. However, there are must some points that you pay more attention to. Want to learn more about them? You can here check the following comparison tablet.
| | Supported Devices | Bypass Screen Locks | Remove MDM | Unlock Apple ID | Turn off Screen Time | Success Rate | Time Consumption | Price |
| --- | --- | --- | --- | --- | --- | --- | --- | --- |
| Joyoshare iPasscode Unlocker | iPhone 4 to iPhone 14 series | √ | √ | √ | √ | 99% | Much shorter | $35.95/yearly/5 iDevices |
| MagFone iPhone Unlocker | iPhone 4 to iPhone 14 series | √ | √ | √ | √ | 99% | Short | $39.95/yearly/5 iDevices |
| iMyFone LockWiper | iPhone 5 to iPhone 14 series | √ | √ | √ | √ | 95% | Short | $39.95/yearly/1 iDevice |
| Tenorshare 4uKey | Old iPhone to iPhone 14 models | √ | √ | √ | √ | 90% | Short | $39.95/yearly/5 iDevices |
| Dr.Fone - Screen Unlock (iOS) | Old iPhone to iPhone 14 models | √ | √ | √ | √ | 90% | Long | $49.95/yearly/5 iDevices |
| iMobie AnyUnlock | iPhone 3G to iPhone 14 series | √ | √ | √ | √ | 90% | Long | $59.99/yearly/5 iDevices |
| EaseUS MobiUnlock | iPhone 4s to iPhone 13 series | √ | × | √ | √ | 85% | A bit longer | $49.95/lifetime/5 iDevices |
| FoneGeek iPhone Passcode Unlocker | iPhone 6 Plus to iPhone 14 | √ | for Mac only | √ | for Mac only | 80% | Longer | $33.95/yearly/5 iDevices |
| BuhoUnlocker | N/A | √ | √ | √ | √ | 80% | Longer | $39.99/lifetime/5 iDevices |
View all programs
Hide the table
Part 3. FAQs about iPhone Passcode Bypass
In the process of bypassing and unlocking screen passcode on your iPhone, you may meet some issues and have several confused questions. Here are what asked by users frequently.
Q1: How to bypass iPhone passcode free?
A: Aside from bypassing passcode from iPhone screen using tools listed above, you can apply some free solutions on your own, including using Siri on iOS 8.0 to iOS 10.1, using "Restore iPhone" feature in iTunes, and using "Erase iPhone" in iCloud. All these three ways can bypass iPhone passcode for free.
Q2: Can I bypass iPhone passcode without restore?
A: No. If you don't know your screen passcode on iPhone, you cannot bypass the lock without restore. Using Siri loophole to unlock has been fixed by Apple already, so this method is almost impossible to succeed. Beside Siri, all solutions that you can take in current market, including our mentioned iPhone passcode bypass software, iTunes and iCloud, need to reset your device, restore to the factory settings, and then remove your screen locks.
Q3: Why should I choose passcode unlocker rather than iTunes or iCloud?
A: Because iTunes and iCloud have more requirements than iPhone passcode bypass software. And, these passcode unlockers assure you a higher success rate and consume less time to unlock your Apple devices.
Conclusion
Forgetting your passcode many times gives no access to your iOS device. This is usually quite frustrating. However, iPhone passcode unlocker software can come to your aid and let you access your device without your passcode. The above-listed iPhone passcode bypass software can be efficient in their duty and all come with a free trial version. You can choose a few you favor through the comparison table, experience their trial version, and then decide whether to buy them. Despite the paid versions being a bit expensive, their output is worth every coin you spend on their purchase. You can make careful consideration before choosing one.