For the matter of your iPhone locked after update, you might remain perplexed despite much thought. You must wonder why an iPhone is locked after an iOS update and even can't accept the passcode even it is correct. Actually for this, Apple can not offer reasonable explanations as well. But it doesn't mean there is no way out. Here we collect 5 possible solutions from some who have ever experienced the same issue. Try them to get your iPhone back to normal.
Part 1. Force Reboot iPhone
When the issue of iPhone locked after update is faced, an easy and possible way that you can adopt to bypass the lock screen is to force reboot your iPhone. It is tested to be efficient in certain cases and worth a shot.
On iPhone 6s or earlier: Press and hold the "Power" and "Home" buttons simultaneously until the Apple logo appears.
On iPhone 7 or 7 Plus: Hold down the "Power" and "Volume Down" buttons at the same time until you see the white Apple logo.
On iPhone 8 or later: Fast press and release the "Volume Up" button. Repeat the operation with "Volume Down" button. Next, hold the "Side" button until the Apple logo shows on the screen.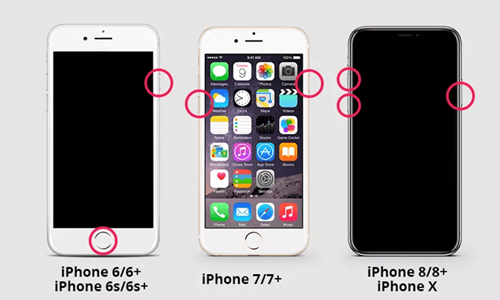 Part 2. Try Default Passcode to Unlock iPhone
Suppose you are still locked out of your iPhone after performing a force restart on the iPhone, don't forget to have a try with the default passcode. This simple trick shouldn't be neglected. There are times when it helps a lot, especially when iPhone asks for passcode after update or restart.
If the screen lock on your iPhone is a 4-digit passcode, please enter "0000" or "1234" to unlock your iPhone that is locked after update. If it is a 6-digit passcode, try "000000" or "123456" to bypass the iPhone locked after update trouble.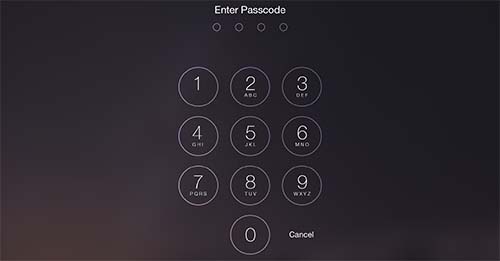 Part 3. Connect iPhone to iTunes to Restore
Hard resetting iPhone and trying default passcode can't give you a result? Don't give up. Making use of iTunes to restore your iPhone is also a practicable fix for your iPhone locked after update issue. Though, it is just directed to the situation where your iPhone has been synchronized with iTunes on a "trusted" computer. If this happens to be the case with you, do as instructed below.
Step 1. Open iTunes (On Mac with mac OS Catalina, open "Finder") and connect your iPhone to the trusted computer;
Step 2. After recognition, click your iPhone icon - head to "Summary" - choose "Restore iPhone...";
Step 3. Wait until the process is completed. The screen lock on your iPhone will be removed.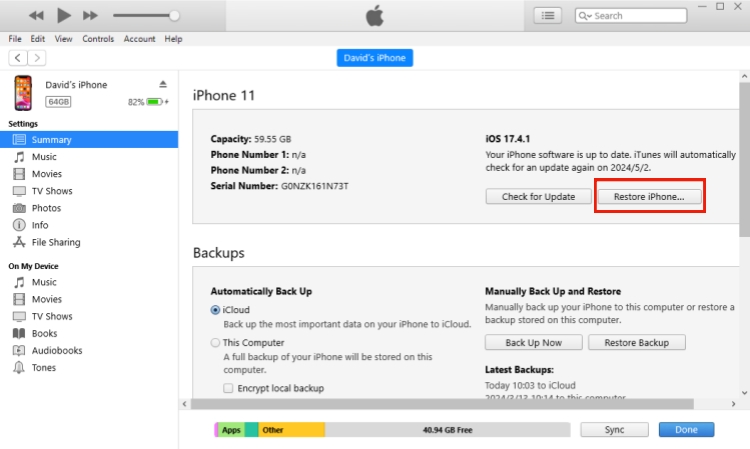 Part 4. Restore iPhone in Recovery Mode
Could those who have not synced the iPhone with iTunes use iTunes to hack the locked iPhone after update? Yes by all means. In this instance, just put the iPhone into recovery mode and restore the iPhone with iTunes. The steps to do it are as follows.
Step 1. Firstly, run iTunes and plug your iPhone to a computer with an Apple USB cable;
Step 2. Secondly, set your iPhone into recovery mode. If you have no idea on how to get it done, visit the text link;
Step 3. After iTunes recognizes your iPhone is in recovery mode, you are going to see a window pop up. Then, all you need to do is clicking "Restore" on this window.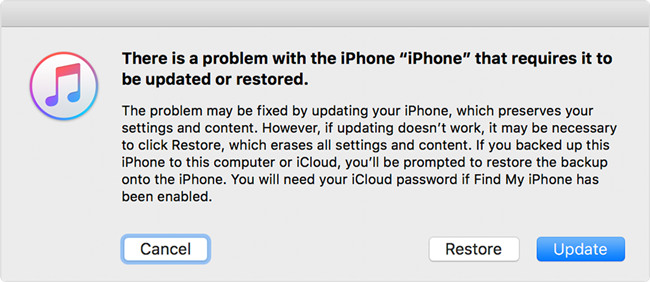 Part 5. iPhone Passcode Unlocker - Joyoshare iPasscode Unlocker
Actually, to deal with the situation where an iPhone is locked after update, the best way is by means of an technical iPhone passcode unlocker, Joyoshare iPasscode Unlocker, for one. Much as the above approaches are effective, they don't guarantee one-time success.
However, with Joyoshare iPasscode Unlocker, the issue of your iPhone locked after update can be tackled once and for all. It is a superb and easy-to-handle unlocking tool with the capability of cracking 4 sorts of screen locks (4-digit/6-digit passcodes, Touch ID, and Face ID) on any iOS device within 3 steps. What's more, it supports almost all iOS device models and even the latest iOS 13.
Key Features of Joyoshare iPasscode Unlocker:
Compatible with all iOS devices and iOS 13
Deal with 4 kinds of screen locks professionally
Help you to access locked iPhone without passcode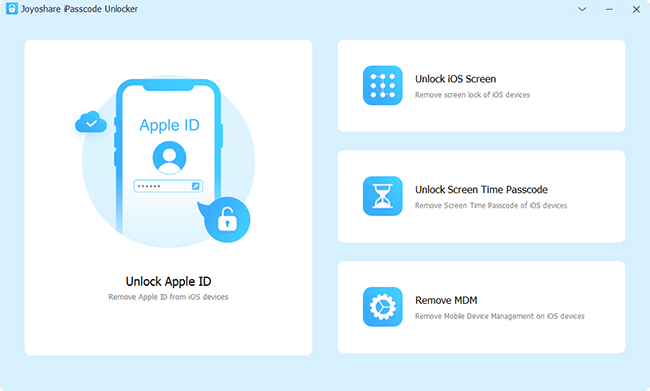 Step 1

Connect iPhone to Joyoshare iPasscode Unlocker

To begin with, please launch Joyoshare iPasscode Unlocker on your computer after installation. Then, use a proper USB cable to connect your iPhone to the computer. When your device is detected successfully, click "Start" to proceed.

Step 2

Set iPhone into DFU/recovery mode

After that, choose your iPhone model and follow the on-screen instructions to manually set your iPhone into DFU mode. In case of the inability to enter DFU mode, touch the text link at the bottom to switch. Wait until the "Next" icon turns blue. Then, go fo the third step.

Step 3

Download and verify firmware package

Once your iPhone is guided into DFU or recovery mode, Joyoshare iPasscode Unlocker will display all recognized info of your device on the screen. You need to confirm it before tapping "Download" to download and verify the firmware package.

Step 4

Unlock locked iPhone without passcode

At length, press on "Unlock" to make the verified firmware package unzipped. After finishing, Joyoshare iPasscode Unlocker start unlocking your iPhone that is locked after update without requiring passcode.