Inevitably, iPhone is running into difficulties after a period of use, for one, lack of storage that would cause iPhone to get stuck. Usually at this time, restoring your iPhone to factory settings is the path of least resistance you can take. Under normal conditions, you can get it done in a few seconds. But for special situations like iPhone is disabled, how to restore iPhone without updating has become a question worthy of consideration. If that's what you are facing, please just relax. This article presents 4 solutions to assist you in overcoming such a seemingly difficult issue in different circumstances.
Part 1. How to Restore iPhone without Updating in Settings
When it comes to restoring iPhone without updating, erasing all content and settings under "Settings" is an approach that can't get much simpler if you can access your device in a normal fashion. That it is almost certain that no one is unable to perform the operation, but even then, a brief guide is still given below.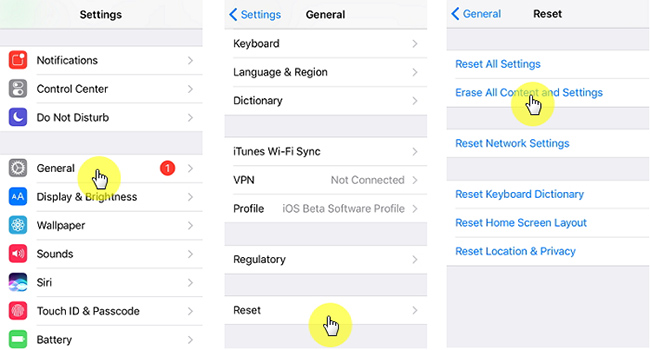 Step 1: Go for "Settings" on your iPhone and then to "General";
Step 2: Afterwards, please choose the "Reset" option and tap "Erase All Content and Settings";
Step 3: Now, just enter your passcode to confirm the action. A moment later, your iPhone will be restored without iOS update.
Note: To avoid losing data permanently, please do remember to back up your iPhone data before proceeding. After this manner, you can restore all the deleted data later on with the support of iTunes or Joyoshare iPhone Data Recovery.
Part 2. Restore iPhone without Updating via Joyoshare iPasscode Unlocker
Although erasing all content and settings is a great way to restore an iPhone without updating, it is not applicable to all cases. As the situation where iPhone is disabled, what should you do? By now, here is a dependable third-party program called Joyoshare iPasscode Unlocker that can perfectly suit your needs.
As a multifunctional program, Joyoshare iPasscode Unlocker has the capacity to restore all iOS devices to factory settings in all kinds of scenarios, such as factory reset a disabled iPhone, factory reset locked iPhone without iTunes, and all that. Furthermore, it can also be applied to remove 4 sorts of screen locks safely and instantly from iPhone/iPad/iPod touch. It is no exaggeration to say that there is no problem of this kind that cannot be settled with the assistance of such an unlocking program.
Key Features of Joyoshare iPasscode Unlocker:
Bypass digital passcodes, Touch ID and Face ID
Easily restore a disabled iPhone without updating
Support all iDevice models and the latest iOS version
Designed with a user-friendly interface and easy to use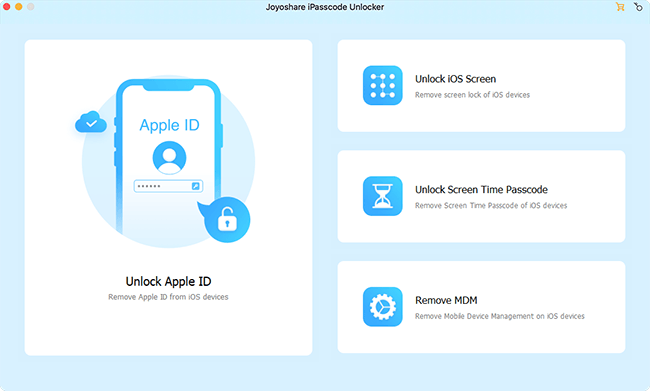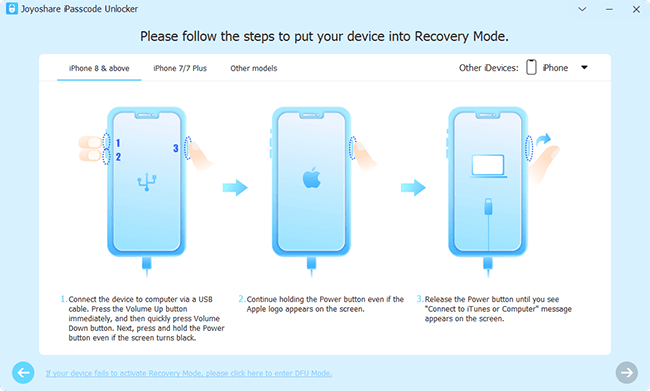 Select your iPhone model and then manually set the iPhone into recovery mode as indicates on the screen. If failed, you need to click the link in the same window to put it into DFU mode. When the gray "Next" icon turns to be blue, just touch it to reach step 3.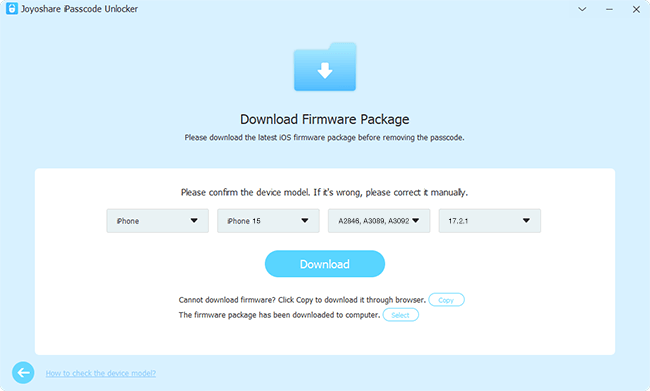 Confirm all the info about your iPhone and manually choose the previous firmware package to download and verify by hitting on "Download". If you do not manually select the firmware, the program will download the recent one by default.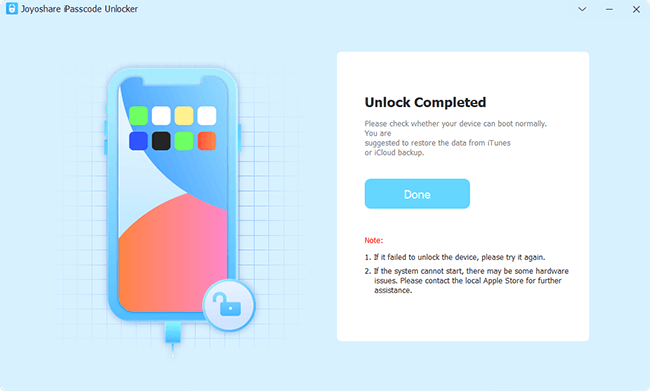 Now, you just need to touch the "Unlock" button to unzip the firmware package and then Joyoshare iPasscode Unlocker will restore your disabled iPhone without updating.
Step 1

Install and run Joyoshare iPasscode Unlocker
Part 3. How to Restore iPhone without Updating in Recovery Mode
When you can not get into your iPhone for some reason like the iPhone screen is broken or iPhone is locked/disabled, that putting iPhone into recovery mode and connecting with iTunes to restore it is another reliable means to an end besides adopting Joyoshare iPasscode Unlocker. Many might know how to do it. Just in case, below shows you how to boot iPhone into recovery mode and then use iTunes to restore it without updating.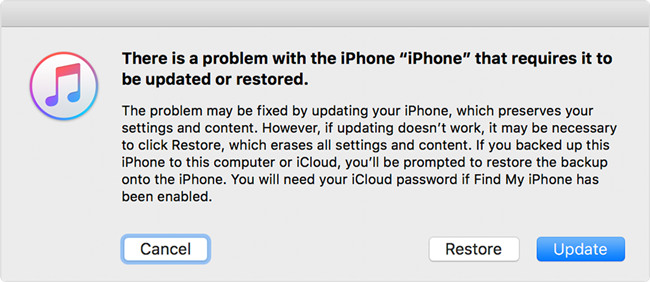 Step 1: Firstly, hold down the "Power" button and "Home" button at the same time. When your iPhone is powered off, you can release "Power" button and continue to press the "Home" button till the iTunes logo appears on your iPhone screen;
Step 2: Then run iTunes and connect your iPhone with the computer. Once iTunes detects an iPhone in recovery mode, it will pop up a window;
Step 3: In this pop-up window, you just need to click on "Restore" to restore your iPhone without updating.
Part 4. How to Restore iPhone without Updating via iCloud
Suppose the "Find My iPhone" feature on your iPhone stays enabled, then there is one more choice for you. With this feature, you can consider making use of iCloud to restore your iPhone to factory settings. In addition, what you have to keep in your memory is your Apple ID and password. Those are the sufficient and necessary conditions to get iPhone restored with iCloud. The following is what you need to do.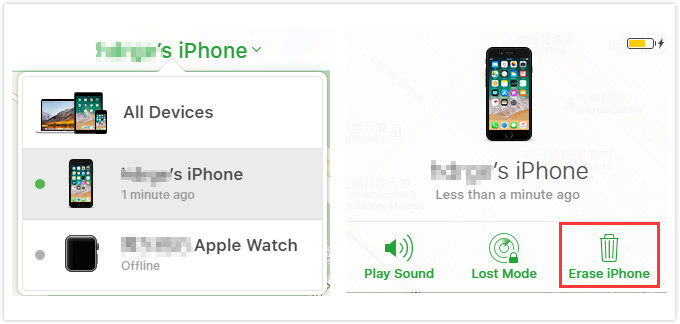 Step 1: First of all, on the computer or a different iOS device, visit www.icloud.com to log into your iCloud account with the Apple ID and password linked to the iPhone needed to be restored;
Step 2: After that, find and click "Find My iPhone". Then select the "All Devices" option from "Find My iPhone";
Step 3: You will see all devices related to this Apple ID on the screen. The thing you have to do is choose the iPhone to be restored;
Step 4: On a small pop-up window, touch "Erase iPhone" to restore your device to factory settings without updating.