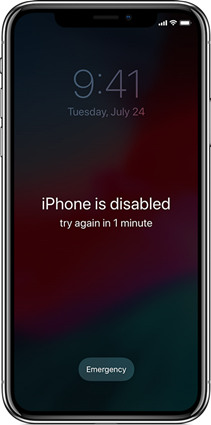 It is very annoying when you pick up your iPhone only to discover that it is displaying the message "try again in 1 minute". It becomes even annoying when you try inserting your details a few times but it returns "iPhone is disabled." At this point, you begin to question yourself, "What happened?" "Is it disabled forever?" "How can I fix it?"...
If you have experienced this problem with your iPhone, well, the good news is that you are not alone. iPhone Disabled is a common problem, and there are a number of ways that you can enable your iPhone and bring it back to its original status. This guide provides 4 solutions about how to unlock a disabled phone. Before that, let's explore why your iPhone is disabled.
Part 1. Why Do iPhones Get Disabled?
The main reason why iPhones are disabled is because of users entering too many wrong passcodes. In a normal situation, when you enter 5 wrong passcodes to your iPhone continuously, it will be disabled for 1 minute. If you enter 7 incorrect entries continuously it is disabled for 15 minutes, and for 9 incorrect passwords, you have to wait for 60 minutes. For 10 straight incorrect passcode entries, your iPhone gets disabled completely. It will ask you to connect it to your iTunes.
Apple understands that there are situations when you can wrongfully or unintentionally enter wrong passcodes. For instance, if you leave your child with your iPhone he can randomly push the buttons several times, a stranger can try to unlock your iPhone by entering random passcodes repeatedly and it is also possible that you forget your passcode and make several guesses which can all be wrong.
Part 2. How to Unlock a Disabled iPhone
Here are the expert recommendable methods to solve iPhone disabled how to unlock problems:
Method 1

Unlock Disabled iPhone Using iTunes

As long as you have your iPhone synced with iTunes before your phone was disabled, you can use iTunes to reset your locked iPhone. You need earlier trusted computer by your device or synced to recover and extract information from your iPhone. Follow this procedure to unlock your iPhone using iTunes:

Step 1. connect your device to the computer with iTunes installed, and it will detect your iPhone in a few seconds;

Step 2. Hit your iPhone icon after it recognized your device successfully, and go to the "Summary" > "Restore iPhone";

Step 3. Click the "Restore" again to start restoring your device. Wait until the process ends and your iPhone passcode will be removed.

Method 2

Fix Disabled iPhone Using Recovery Mode

When your device is not synced with iTunes, you should force your iPhone into Recovery Mode, so you can restore it to the factory settings. Your data and passcode will also be deleted. Follow the below procedure to recover your disabled iPhone:

Step 1. Launch iTunes and update it to the latest version;

Step 2. Conect your iPhone to the computer and follow the Apple guide to put your device into the recovery mode manually or use Joyoshare UltFix to put your phone into recovery mode in one click;

Step 3. When your device is in the recovery mode, iTunes will detect a problem and ask you to "Restore" or "Update" it before using it normally. You can choose the "Restore" button, and it will remove your screen lock when the restoring process is done.

Method 3

Unlock Disabled iPhone Using Find My iPhone

Another method to fix disabled iPhone is to try using Find My iPhone feature as long as you have enabled this option. Here are the steps to follow to unlock your device:

Step 1. Use a computer or another device and move to iCloud website (www.icloud.com);

Step 2. At the top of the browser window, click "All Devices". Select the device that you need to erase.

Step 3. Click "Erase iPhone" button, this will delete the device password and wide the device clean.

Step 4 (Optional). You can now restore device from a recent backup. To find your backups, go to iCloud contacts, photos, etc., before setting up as new iPhone.

Method 4

Fix Disabled iPhone Using Joyoshare iPasscode Unlocker

When the above methods do not work or when the methods are not suitable for your case, you need to use a professional iPhone passcode unlock tool. Joyoshare iPasscode Unlocker is the best solution to help you unlock your disabled iPhone. It gives you an easy and seamless solution to bypass iPhone passcodes. This tool offers you a lot more than unlocking your disabled iPhone including retrieving a forgotten password, broken screen solution, and locked second-hand iPhone solutions and many more.

Joyoshare has an intuitive and user-friendly interface, bringing a completely new and easy way to bypass the iPhone passcode. Most importantly, this tool allows you to clear four different kinds of passcodes: the 4-digit passcode, 6-digit passcodes, Face ID and Touch ID. You can now download either Windows or Mac version of this tool and follow these simple steps to unlock your iPhone:

Step 1. Install and launch Joyoshare on your computer. Press on the "Start" button to enable your iPhone to begin.

Step 2. Follow the instruction guide on the interface to get your device into Recovery Mode or DFU. If the mode you chose does not work, you can switch to another mode to have a try. Switch between the modes using the link at the bottom.

Step 3. Download the firmware and verify it. Once you are in DFU or recovery mode, you will be able to view all the listed devices. Use the drop-down list to connect manually after confirming the correct firmware is being used. Click the download button and the firmware will begin to download.

Step 4. It is time to remove the passcode and unlock your iPhone. Once the firmware downloaded, click the "Unlock" button to begin unzipping the firmware and start the unlock process. Ensure the iPhone is connected all this time. The Joyoshare software will automatically begin the process and unlock your iPhone.
Part 3. Conclusion and Extra Tips
Your iPhone could be problematic at times especially when you're doing an update to a new version, when jailbreaking or when the battery has some problems. Most of these problems can be solved using our suggested methods above. The Joyoshare iPasscode Unlocker especially helps you solve the problem with much ease about how to unlock iPhone when it is disabled. We hope one of our solutions worked for you and you can now peacefully use your iPhone once more.