There are occasions when you are locked out of your iPad which shows the message "iPad Unavailable". It is mainly attributable to forgetting the passcode of your screen lock. On this screen, you will be allowed to try to enter the passcode for several minutes or longer. What should you do if the passcode is incorrect no matter how many times you tried? How to solve the iPad unavailable problem to get into your iPad? Considering different demands and situations, this article provides 5 ways to unlock unavailable iPad, and they are feasible regardless of whether you possess a computer or not.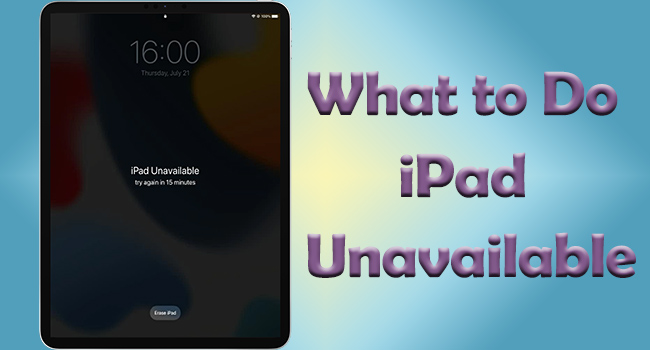 Part 1. Frequently Asked Questions about iPad Unavailable
Q1: Why is iPad unavailable?
A: After entering the incorrect passcode 5 times, iPad becomes unavailable and you need to wait for one minute. Due to too many wrong passcode attempts, your iPad will be locked for a longer time, even 8 hours.
Q2: Is it possible to fix iPad unavailable without losing data?
A: Yes, if you want to unlock an unavailable iPad without data loss, you must make a backup so that your data could be restored later. Only in this way, your iPad unavailable problem could be fixed with data preserving.
Q3: What should I do if there is no countdown on the iPad unavailable screen?
A: If it stops alerting you "try again in ……", your iPad no longer allows you to make attempts and it is completely unusable. You could apply iTunes, unlocking tools, Find My application, and iCloud to fix it if iPad says unavailable.
Part 2. How to Restore Unavailable iPad
2.1

Run iTunes to Reset Unavailable iPad

With a computer that preinstalled iTunes, you could remove the iPad's unavailable screen, and meanwhile, your data can be backed up with the help of iTunes. If you can't remember your screen passcode, and as a consequence iPad turns out unavailable, follow the steps below to get out of the trouble.
Step 1: Plug your unavailable iPad into the computer with iTunes preinstalled.
Step 2: If it is detected by iTunes, click the device icon at the top menu.
Step 3: Enter the Summary section, and look for the Back Up Now option.
Step 4: Back up your information if you haven't backed up before.
Step 5: Hit the Restore iPad button to erase all the content and settings. When the whole progress finishes, the iPad unavailable message goes away as well.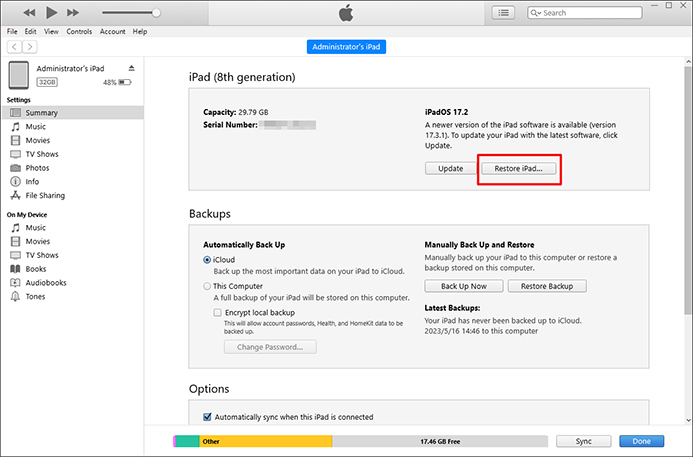 2.2

Adopt Unlocker to Bypass iPad Unavailable Screen

A more effective and viable method to unlock unavailable iPad without iTunes is to ask an unlocking tool for assistance. Joyoshare iPasscode Unlocker is a powerful program assuring a higher success rate to bypass the iPad unavailable interface. No matter whether your iPad passcode is forgotten or Face ID or Touch ID is useless, iPad lock screen problems can be easily solved within a short period of time. Joyoshare iPasscode Unlocker not only serves iPad but also all models of iPhone and iPod touch, thus it is the best choice for you to get into your device again. Apart from screen locks, Screen Time limit, Apple ID and device management restrictions are all available to be removed by Joyoshare iPasscode Unlocker.

Key Features of Joyoshare iPasscode Unlocker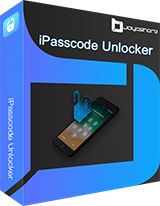 Available to remove Apple ID, Screen Time passcode and MDM
Support the newest iPad, iPhone, iPod and iPadOS 16
User-friendly interface and time-saving procedure
Step 1

Plug iPad into Computer and Choose Unlock iOS Screen

Download and launch Joyoshare iPasscode Unlocker on your computer, and make sure that iTunes is also preinstalled. Plug your unavailable iPad into the computer, choose the Unlock iOS Screen module on the homepage and click on the Start button.

Step 2

Put iPad into DFU Mode or Recovery Mode

Manually put your iPad into DFU mode or recovery mode following the instructions on the screen. If you feel difficult to enter DFU mode, click on the bottom link to see how to get into recovery mode instead.

Step 3

Get Firmware Package Downloaded and Verified

When your iPad successfully get into the DFU/recovery mode, it will be recognized by Joyoshare iPasscode Unlocker, and detailed information about it is shown for confirmation. If it is incorrect, you can change it by yourself. Then, click the Download button to get the corresponding firmware package.

Step 4

Bypass the iPad Unavailable Screen

At last, hit the Unlock button to unlock your unavailable iPad after the firmware package is verified. Once you see the Done button, the iPad unavailable message disappears and you can enter your iPad without the passcode.
Part 3. How to Fix iPad Unavailable without Computer
3.1

Erase iPad on iPad Itself

When iPad says unavailable, you have a chance to unlock it by using the Erase iPad option on the lock screen. But there are three preconditions to make this option appear. No.1, you have to run iPadOS 15.2 or later system versions; No.2, your Apple ID password must be kept in your mind; No.3, before being locked out of the unavailable screen, your iPad have been connected to a cellular or Wi-Fi network. Hence, if you can meet these conditions, you will see the Erase iPad button after entering the passcode 5 times on the iPad unavailable screen or Security Lockout screen.
Step 1: Enter the passcode 5 times or more until the Erase iPad option shows up on the screen.
Step 2: Tap Erase iPad, and enter your Apple ID password to sign out of your account.
Step 3: Confirm your action to erase all content and settings on your iPad.
Step 4: Once the resetting progress ends, set up your iPad and restore your data from the backup.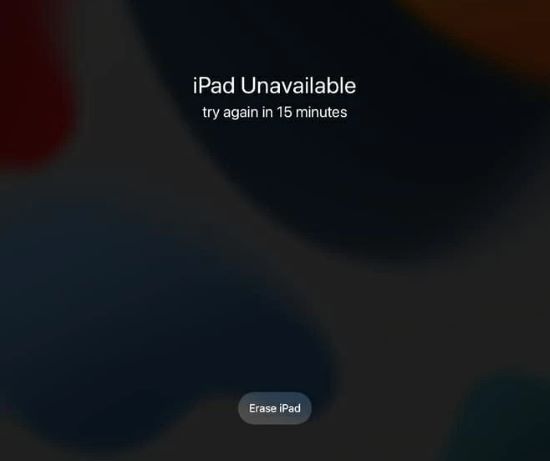 3.2

Use Find My App on Another Device

Alternatively, if you have enabled the Find My feature on your iPad, it is also available to erase the screen lock. One way is to take advantage of the Find My app on other Apple devices. Thus, if you own an iPhone, another iPad or Mac, you can sign in with your Apple ID on the Find My app to fix the problem of the iPad is unavailable.
Step 1: Open the Find My app on any other Apple device that is logged in with the same Apple account.
Step 2: Choose the Devices section on the bottom menu and select your iPad that is unavailable.
Step 3: Tap the Erase This Device option and confirm your action.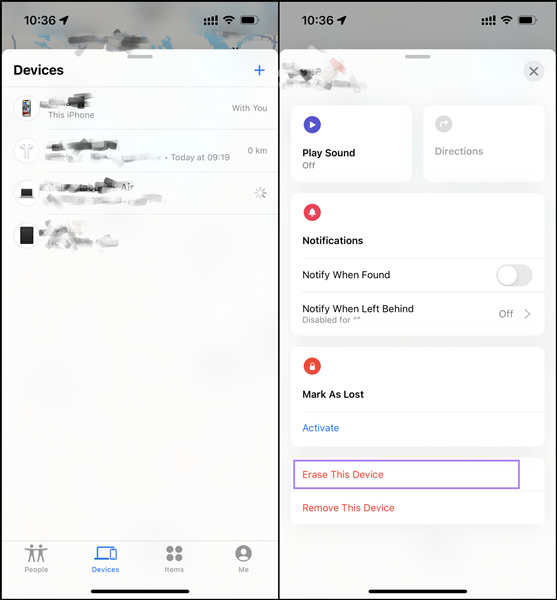 3.3

Go to iCloud Page on Browser

In case the computer or other Apple devices are not available, the last opportunity to use the Find My feature to reset your iPad is to visit the iCloud webpage on the browser. It means that you could take measures on your friend's or family's device, whether it's Apple or Android.
Step 1: Open a browser on a trusted device to enter the iCloud page.
Step 2: Sign in with your Apple ID and choose the Apple ID module.
Step 3: Look for the Find Devices link and get into a map.
Step 4: Choose your iPad from the All Devices list.
Step 5: Hit the Erase iPad option and confirm to erase, then, the unavailable screen will be removed.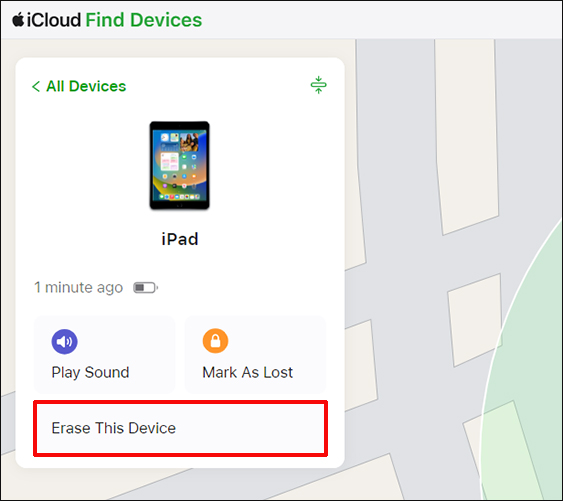 Part 4. Conclusion
There is no need to worry too much when your iPad is unavailable. To fix the iPad unavailable issue, you can use the Erase iPad option on the lock screen, the Find My app and the iCloud webpage. Meanwhile, you can hit the Restore iPad on iTunes to reset the unavailable iPad. Most importantly, Joyoshare iPasscode Unlocker provides an easy Unlock iOS Screen service to solve the iPhone unavailable problem in a few minutes. Whether you have a computer or not, hold other Apple devices or not, it is possible to find a viable method to unlock iPad's unavailable screen in this article.