Q: "How do I delete an old inactive Apple ID? It keeps asking me for a password but the id is inactive so it won't accept. I can set up iCloud on my new ID." – from Apple Community
When you don't want to use an Apple ID, you may sign it out of your iPhone and create a new account. But this is actually not safe enough as your old Apple account might be hacked by others resulting in privacy disclosure. Therefore, if you decide to stop using your Apple ID, or an old Apple ID has not been used for a long time, it is suggested to deactivate it or delete it permanently. Apple gives an official channel meeting your needs, so you can easily delete your account with password. In this article, you could get the method on how to delete old Apple ID without password. Read ahead to know how it's done.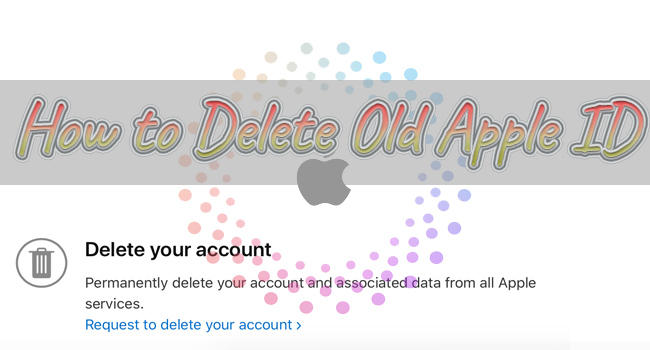 Part 1. Precautions of Deleting Old Apple ID
Before completely deleting your old Apple ID, it is essential to learn about what will happen if you delete your account and what should you do before deletion. Pay attention that the process of deleting Apple ID will take up to 7 days, during which time your account is still active and can be resumed.
What Happens When Apple ID Is Deleted

Primarily, you are unable to use Apple services including iCloud, App Store, iMessage, FaceTime, Find My, Apple Pay, etc. For iCloud, the photos, videos, and other documents you stored in it will be deleted and cannot be recovered. For App Store, the purchases you made before are not able to be accessed. For iMessage and FaceTime, you will not receive and sent messages anymore by using them. In a word, all the associated data with your Apple ID will be deleted.

What to Do Before Deleting Apple ID

On account that the data associated with your old Apple ID will be deleted with the deletion of your account, the first thing you should do is back up your photos, videos and other important information. Note that making a local backup instead of backing up to the cloud. Besides, you need to log out of the old Apple ID everywhere containing all your Apple devices and any browser. Moreover, check if there are active subscriptions of your Apple ID because they will be cancelled as long as your account is deleted.
Part 2. How to Delete Old Apple ID Permanently
Make sure you have completed all the actions shown on the precautions and determine that you want to delete the old Apple ID. Then, follow the steps below to completely delete old Apple ID. If you just want to pause activity on your account, you can temporarily deactivate your old Apple ID.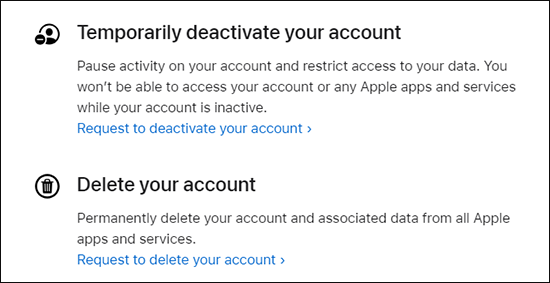 Step 1: Open a browser and visit Apple's Data and Privacy webpage.
Step 2: Sign in with your old Apple ID and the two-factor authentication will prompt asking for the verification code sent to your device.
Step 3: Under the Delete your account section, click the link at the bottom of the page displaying Request to delete your account.
Step 4: Look through the notes, and scroll down to select a reason for deleting your Apple ID. Then, click the Continue button.
Step 5: After reading the important things to know before deleting, hit the Continue button.
Step 6: Learn about the Deletion Terms & Conditions, tick the box and click on Continue.
Step 7: Choose a way to receive the process updates of deleting Apple ID, such as phone number and email address, and click the Continue button.
Step 8: Write down the given access code, which could be used to restore your account within a few days, and then click Continue.
Step 9: Type in the access code to confirm and then click on Continue.
Step 10: With the last check, click Delete Account and click Sign Out.
Part 3. Video Guide to Delete Apple ID in Seconds
If you have difficulties with the above-listed steps, follow this video to delete the old Apple ID within a few seconds.
Part 4. How to Remove Old Apple ID without Password
You can easily delete an old Apple ID when you can remember the password. However, what if your Apple ID is so old that you forgot the password as it has not been used for a long time? How to delete Apple account in this case? Joyoshare iPasscode Unlocker is the method you could take to remove the old Apple ID without password. It is compatible with all iOS system versions and all models of iPhone, iPad and iPod. You can employ it to unlock Apple ID from disabled iPhone, remove locked Apple ID without data loss, factory reset iPad without Apple ID, etc. By operating 3 steps, you can effortlessly remove old Apple account with no technical skills. Furthermore, Joyoshare iPasscode Unlocker is able to unlock all kinds of screen locks, including Face ID, Touch ID and other passcodes. If you need to turn off Screen Time without passcode or remove remote management from iOS devices, just ask Joyoshare iPasscode Unlocker for help.
Key Features of Joyoshare iPasscode Unlocker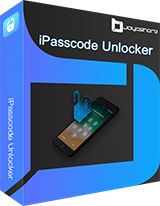 Remove previous owner's Apple ID without data loss
Unlock screen locks without passcode using a few clicks
Bypass Screen Time passcode and MDM restrictions
Guarantee high compatibility and a high success rate
Step 1

Select Unlock Apple ID on Joyoshare iPasscode Unlocker

Install and run Joyoshare iPasscode Unlocker on your computer and use a USB cable to connect your iPhone or iPad to it. On the main screen, select Unlock Apple ID and click on Start.

Step 2

Check the Status of Find My

Check if you have disabled the Find My feature. In case it is turned off, you can move on to remove Apple ID with no data loss. On the contrary, you need to confirm that you have set up a screen passcode and enabled the two-factor authentication. Click the Yes button to proceed.

Step 3

Start to Remove Old Apple ID from iPhone

With the confirmation of your device information, select a compatible version of the firmware package, and click the Download button to get it downloaded and verified. When your device restarts, the old Apple ID is successfully removed without password.
Conclusion
If you are unclear about how to delete old Apple ID, this article not only gives you an intelligible guide but also provides a detailed video tutorial. Before deleting Apple ID, you'd better follow the precautions at the beginning to back up your data and complete other operations. If you are unable to delete your Apple account as password is forgotten, this article recommends Joyoshare iPasscode Unlocker to you. It can remove old Apple ID without password from all Apple devices. Hope that this article is helpful to solve your problem.