Q: "My iPhone was stolen at 22.06.17 and I caught the thief after day. She tried the password a lot and locked my iPhone. Now I want to open him, but not erase all content. My backup was from Feb.2017. I am the owner. I have the password to Apple ID but when I try to connect him with iTunes, his not recognized my iPhone. What can I do? Thank you." – lavi-e from Apple Community
In order to protect user's privacy, iPhone will get locked screen after incorrect password inputs for many times. The "iPhone is disabled" message annoys many people and many of them want to unlock iPhone passcode without erasing the important data in their devices. Actually, iPhone's closed system improves device's safety, but it also increases the difficulty to unlock it when their owners forgot password. In this article, there are some solutions to help you solve this problem and you need to judge which method is applicable to you.
Part 1. The Possibility of Unlocking iPhone Passcode without Erasing
Based on the questioner's situation, people hope to unlock iPhone passcode without erasing can be divided into two kinds: users having backup and users not having backup. In practice, according to Apple official, you're recommended to restore your device via iTunes if you forgot the passcode of your iPhone or other iDevices, which means that there is no way you can remove your locked screen without erasing up all data.
Therefore, regular backup is a good habit for you to store your own information and data as much as possible. In other words, if you have a backup, you can restore your iPhone and then restore data by importing the backup.
Part 2. Ways to Make Backup
iTunes and iCloud are two common tools for Apple users to store their documents, photos, videos, etc. But there are some different restrictions when you use them. Making backup with iTunes will need your iPhone passcode and making backup with iCloud will ask for your Apple ID and corresponding password.
Option 1:

Make Backup with iTunes

Step 1: Make sure you have updated to the latest version of iTunes;

Step 2: Connect your iPhone to the computer and launch iTunes;

Step 3: A message will pop up and ask for your iPhone passcode or to Trust This Computer, please follow the onscreen steps for authorization;

Step 4: When the icon of your device appears in iTunes, click it. Then press on "Back Up Now";

Step 5: Wait for a while and see if the backup process is finished successfully.

Option 2:

Make Backup with iCloud

Step 1: The backup process needs a large number of traffic and you should connect your iPhone to a Wi-Fi network;

Step 2: Go to "Settings" and click [your name], then tap iCloud;

Step 3: Turn on iCloud Backup and wait until the process completes. Then you'll see the data and time of your last backup.
Part 3. Unlock iPhone Passcode with Joyoshare iPasscode Unlocker
Compatible with the newest iOS 17 version and a wide range of models of iPhone, iPad or iPod touch, Joyoshare iPasscode Unlocker can be regarded as one of the most powerful software for you to unlock iPhone locked screen in different situations, such as having no access to cope with a second-hand iPhone, cannot type in password because of broken screen, obtaining locked screen on account of continuous incorrect passcode entries, making iPhone reset password, etc. You are allowed to remove 4 kinds of passcode from screen, including 4-digit password, 6-digit password, Face ID and Touch ID.
Note : Before following the instructions below to remove locked screen, you should ensure that you have preinstalled iTunes on your computer.
Step 1: Download and install Joyoshare iPasscode Unlocker, then get it started. Connect your iPhone to the computer and click "Start" button.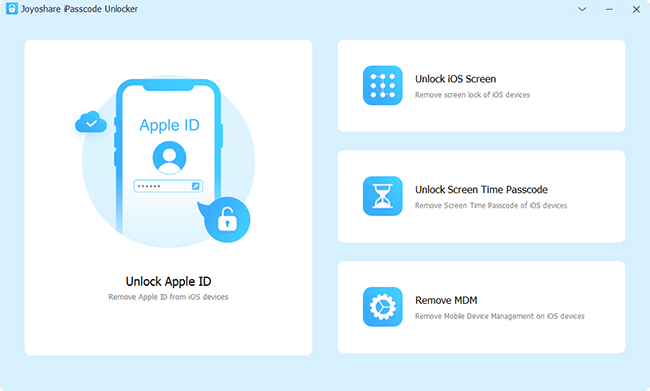 Step 2: Refer the steps on the interface to boot your iPhone into DFU or Recovery mode, which are both used to resolve software or app-related trouble on Apple devices.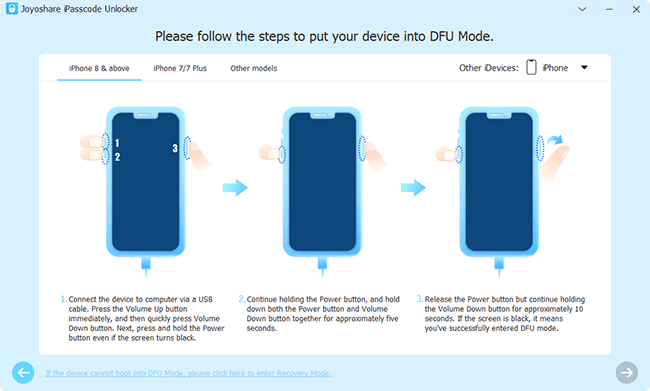 Step 3: After entering DFU or Recovery mode, Joyoshare iPasscode Unlocker will detect your iPhone and show related device information in detail. You need to check the information and then press "Download" button to download firmware package.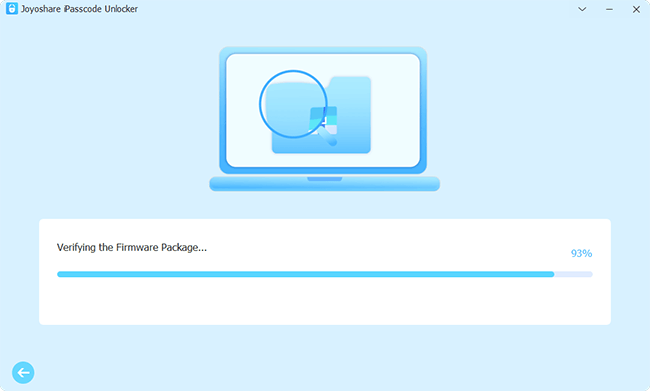 Step 4: Click on "Unzipping the Firmware" then "Unlocking the Passcode" button, Joyoshare iPasscode Unlocker will start unlocking process. After the process is finished, you can operate your iPhone without password.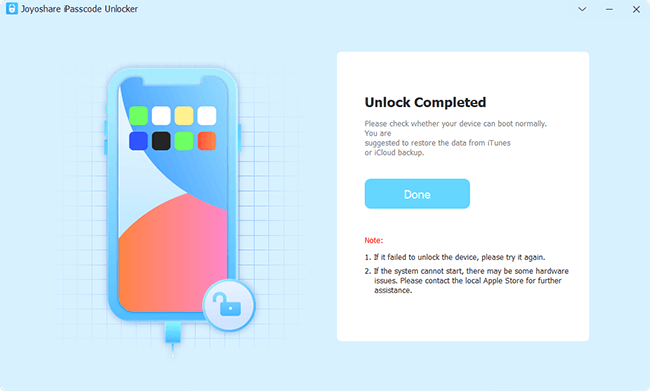 Part 4. Tools to Restore Data
Option 1:

Restore iPhone from iTunes

Note : If you want to restore iPhone from iTunes, you need to have previously backed up your device to iTunes on this computer.

Step 1: Connect your iPhone to your computer via a cable;

Step 2: Launch iTunes. If you have ever connected to this computer before, you should not be asked for a passcode for authorization;

Step 3: Select you iPhone and click on "Restore Backup" in the panel;

Step 4: Look at the date and size of each backup and pick the most relevant one;

Step 5: Click "Restore" and keep your iPhone connected. Wait for the restore time and sync time to finish.

Option 2:

Restore iPhone from iCloud

Step 1: Go to Settings, press General, then Reset;

Step 2: Tap Erase All Content and Settings;

Step 3: Go through the setup pages before you get to Apps & Data screen;

Step 4: Press Restore from iCloud Backup and log in your iCloud account;

Step 5: Proceed to choose the backup from the list displayed.

Option 3:

Restore iPhone from Joyoshare iPhone Data Recovery

You may find it is a little bit difficult and complexed to restore iPhone from iTunes, and maybe Joyoshare iPhone Data Recovery will be a more suitable option for you.

Joyoshare iPhone Data Recovery is a professional and efficient data recovery tool, which is able to help users recover iPhone notes, contacts, videos, pictures, App's messages, SMS, calendar, Safar's bookmark and many others. It supports more than 20 different types of files and offers 3 recovery modes: recovery from iDevice, recovery from iTunes backup, recovery from iCloud backup. If you forgot passcode, the latter two modes deserve a try and the software's intuitive interface will help to use it easily.

As the article explained, now there is no official and safe method in the market to ensure that you can unlock iPhone passcode without erasing. What you should do is backup important information consciously and use professional tools to remove locked screen. Then, restore the data from backup.