When your iPad is locked by the iCloud activation lock, you will unable to enter your iPad and not allowed to access all services offered by Apple. Using your Apple ID and password, if you are the original owner, you could easily unlock your iPad that is iCloud locked. Not only can you directly type in the account and password, but also sign in to the iCloud page with your Apple account to erase iPad. The problem you might encounter is that the Apple ID or password is forgotten, as a result, you are locked out of the iPad activation lock. How to unlock iCloud locked iPad? This article provides you with 4 solutions, keep going to learn how.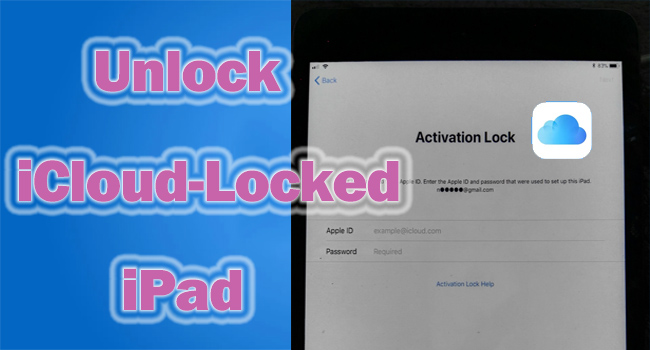 Part 1. Unlock iCloud Locked iPad with Apple ID and Password
It is easy to unlock iPad from activation lock if you know the correct Apple ID and password. Just enter them on the activation lock screen and you could activate your device without hassle. Alternatively, if you have made a backup, it is also available to unlock iPad on the iCloud webpage without losing data. Here is how.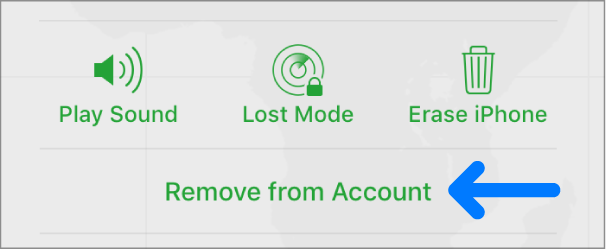 Step 1: Open a browser and visit icloud.com.
Step 2: Log into the associated Apple ID and choose the account section.
Step 3: Scroll to the Find Devices option and you will see a map.
Step 4: Click on All Devices and select the locked iPad from the drop-down list.
Step 5: Click the Erase iPad option from the three options and enter your password to confirm.
Step 6: After erasing, click Remove from Account to disassociate iPad from Apple ID, then, your iPad is unlocked.
Part 2. Unlock iCloud Locked iPad without Apple ID
Solution 1. Find Apple ID Back and Reset Password
The biggest problem that you can't unlock iCloud locked iPad is that the Apple ID or password is forgotten. To solve this problem, you only need to find your Apple ID back and then reset the password. With the found Apple account and password, you could unlock iPad that is iCloud locked effortlessly. Here is how you regain Apple ID and password.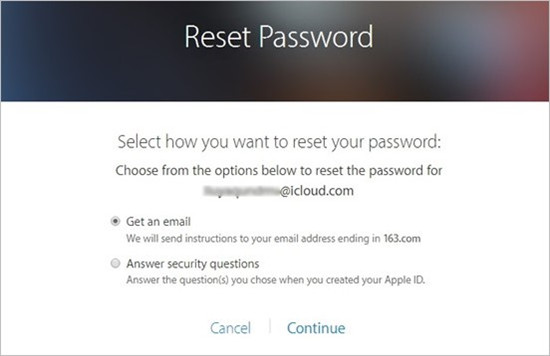 Step 1: Go to iforgot.apple.com and click on "look it up" to start finding Apple ID back.
Step 2: Enter your bound phone number to verify your identity and complete the whole process to regain your Apple account.
Step 3: Then, come back to the previous page to type in the found Apple ID and click on Continue to begin resetting password.
Step 4: Choose to answer security questions to verify your identity. Alternatively, use other devices to get the verification code.
Step 5: Create a new password once you are successfully verified.
Solution 2. Use Joyoshare Activation Unlocker to Unlock iPad
If you are indeed unable to retrieve your Apple ID and password by the former method, the activation lock on your iPad will be difficult to remove. Joyoshare Activation Unlocker offers an easy channel to unlock iCloud locked iPad without Apple ID and password. You could apply this software to remove the activation lock on iPhone, iPad and iPod with a high success rate. There is no need to worry even if you know little technical knowledge, Joyoshare Activation Unlocker instructs you with a full and detailed tutorial. In case you still have questions, our support team will answer patiently. Furthermore, this program is able to remove Apple ID and turn off the Find My feature at the same time.
Key Features of Joyoshare Activation Unlocker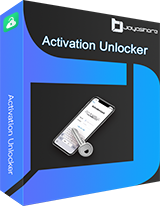 Unlock iCloud locked iPhone, iPad, and iPod
Remove Apple ID with a high rate of success
Turn off Find My function easily
Comprehensive guide is provided
Step 1

Connect iPad and Agree on Disclaimer

Run Joyoshare Activation Unlocker after installing it, and use a USB cable to connect your iPad to the computer. Click on the disclaimer at the bottom of the screen, and read it carefully. If you want to proceed, hit the Agree button, followed by Start.

Step 2

Jailbreak iCloud Locked iPad

The jailbreak tool will be downloaded automatically. You need to install it with a USB drive if you are a Windows PC user. After installation, view the Jailbreak Tutorial and do as it instructs to jailbreak your iPad.

Step 3

Start to Unlock iCloud Locked iPad

Once your iPad is successfully jailbroken, check your device information and click on the Start to Remove button to begin unlocking your iPad from the activation lock.
Solution 3. Use Device Passcode to Unlock iPad
With no Apple ID and password, you could also take advantage of your screen passcode to unlock the activation lock on iPad. But one thing that should be noticed is that it requires the original screen passcode, which means that in most cases, it can't accept the one you are using now. Anyway, this is worth trying. On the activation lock screen, tap "Unlock with Passcode" or "Activation Lock Help, and make attempts to enter passcode. If the passcode is correct, you will get the iCloud activation lock bypassed.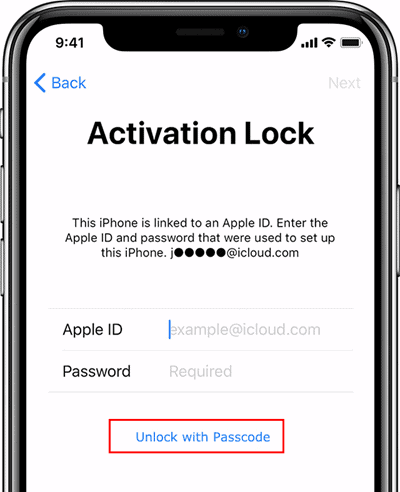 Part 3. FAQs about Unlocking iCloud Locked iPad
Q1: Does factory reset unlock iCloud locked iPad?
A: Unfortunately no. The reason is that you might be unable to open Settings on your locked iPad. And, removing the activation lock via erasing iPad on iCloud is a temporary method to access your device because the lock will occur again when you put iPad into default status.
Q2: Could I change DNS to bypass iPad activation lock?
A: Theoretically yes, deleting and adding DNS server has the potential on removing the activation lock. However, it merely works on limited system versions with a low success rate. If you want to try, just go to Settings → Wi-Fi → the connected network → Configure DNS, and modify related information.
Q3: Can Apple help unlock iCloud locked iPad?
A: Absolutely yes. If you can offer the receipt to prove that you are the owner of your iPad, Apple will gladly help you to unlock the iCloud activation lock and activate your iPad again.
Conclusion
This article tells you how to unlock iCloud locked iPad in 4 ways. When knowing the Apple ID and password, you could not only directly type in them to unlock the activation lock, but also use iCloud to erase the locked iPad. In case you forgot the Apple account and password, this post provides detailed instructions for finding Apple ID back and resetting password. If the account and password are unable to retrieve, the iPad iCloud lock could be unlocked with Joyoshare Activation Unlocker. There is always a solution that suits your situation in this article.