To avoid your iPhone being hacked when it is lost or stolen, the activation lock is activated with the enabled Find My feature. If someone intends to access your device, your Apple ID and password are both required. However, this activation lock is not very friendly to users who bought a second-hand iPhone. When Find My has not been turned off and the previous Apple ID is not untied with the device, it is necessary to unlock the activation lock. In this situation, some of you may ask "Does jailbreak remove activation lock?" The short answer is no. To know more detailed information, keep going to read this guide.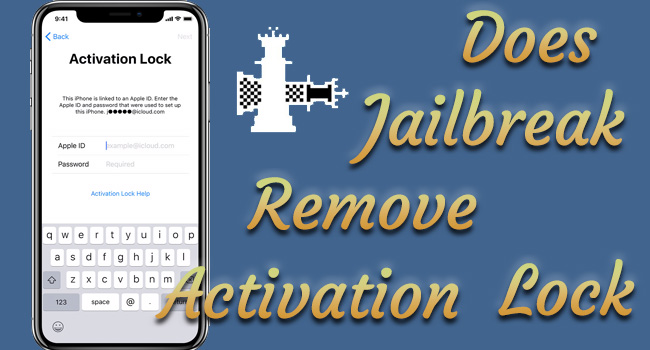 Part 1. Does Jailbreak Remove Activation Lock
No, jailbreaking iPhone will not remove the activation lock. However, it should be noted that jailbreaking is compulsory for bypassing the iCloud activation lock. Since Apple's activation lock is embedded in Apple's servers, your authorization is required to access it. If you cannot provide a valid Apple account and password, it is necessary to obtain higher privileges from jailbreaking. iPhone jailbreak gives you full access to the device's file system in order to make changes to the iCloud lock. Therefore, making your iPhone jailbroken is one of the steps to remove the activation lock. You will also need to bypass that lock.
Part 2. Other FAQs about Jailbreak and Activation Lock
Q1: What is jailbreak?
A: Jailbreaking is used to customize and adjust the functionality of your iOS device. This process also contributes to the installation of unofficial apps, themes and extensions that are not available in the Apple Store. You can also amend the settings of the restricted areas of your phone. Furthermore, on a jailbroken iPhone, it is possible to unlock the iPhone or different third-party applications.
Q2: What risks will I take to jailbreak my device?
A: If your device is jailbroken, it will be more likely to be attacked by more malware and be more vulnerable to virus damage. Meanwhile, jailbroken devices are not covered by Apple's warranty.
Q3: Can I jailbreak an activation locked iPhone?
A: Normal jailbreaking ways will not succeed due to the activation lock. But there are other methods provided below in this article, which will help you jailbreak your activation locked iPhone successfully if operate properly.
Q4: Is it possible to remove activation lock?
A: Yes, the activation lock could be unlocked if you are able to type in the correct Apple ID and password. Without knowing Apple account and password, there is also a possibility to remove the iCloud activation lock with third-party tools. Joyoshare Activation Unlocker is an outstanding program among them.
Part 3. How to Remove iCloud Activation Lock
To remove iPhone activation lock, Joyoshare Activation Unlocker is the one you could choose. As this software can not only get the activation lock bypassed on iPhone but also supports iPad and iPod touch, your worries about device compatibility could be relieved to some extent. Although the Apple ID and password are not unknown, you could ask Joyoshare Activation Unlocker for assistance no matter if your iPhone is locked to owner or stuck in Lost Mode. Additionally, if you want to turn off the Find My function on your device, this program is glad to help. Furthermore, Joyoshare Activation Unlocker is qualified to remove Apple ID as well.
Key Features of Joyoshare Activation Unlocker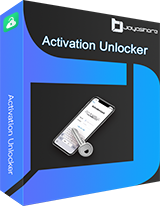 Bypass Apple ID on iPhone, iPad and iPod touch
Turn off the Find My feature effortlessly
Comprehensive and specific tutorial is provided
Here list the detailed steps to use Joyoshare Activation Unlocker to remove the activation lock and the comprehensive guide to jailbreak your iPhone.
Step 1

Plug iPhone and Run Activation Unlocker

After downloading the latest version of Joyoshare Activation Unlocker, you could launch it on your computer. Then, carefully read the notes and disclaimer to make sure you know the risks and still decide to continue. Click the Agree button, followed by the Start button, and plug your iPhone into the computer.

Step 2

Jailbreak iPhone

The method to jailbreak your iPhone is different on Windows and Mac.

On Mac: The jailbreak tool will start to be downloaded, and when it finishes, click the Start Jailbreak button and follow the Jailbreak Tutorial to jailbreak your iPhone.
On Windows: Identically, the jailbreak tool will be downloaded automatically. Then, insert a USB drive for installing the tool by clicking the Start Installation button. After then, click the Jailbreak Tutorial to see how to make your iPhone jailbroken.

Step 3

Begin to Remove Activation Lock on iPhone

When the jailbreak process ends, restart your computer. Then, your device information will be displayed on the screen for your confirmation. Hit the Start to Remove button to begin removing the activation lock.
Final Words
If you have a question about "Does jailbreak remove activation lock", you are at the right place. Jailbreak can't remove the activation lock on iPhone. This article explained the principle behind it and answered other related questions you might concern. Because solely jailbreaking cannot bypass the activation lock but requires further operations to achieve it, this article tells you how to use Joyoshare Activation Unlocker to remove iPhone activation lock. It is an entirely safe program and guarantees a high success rate. However, before operating it, you must be clear that your data will be erased.